UCLA's defensive rise will be tested by high-scoring Belmont on Saturday
It was the sort of game that UCLA appeared poised to lose. The Bruins missed nearly twice as many shots as they made. They struggled to move the ball against Notre Dame's zone. They went more than seven minutes in the second half with their top scorer sidelined because of cramps in a calf.
They won because of the continued reemergence of an old ally: their defense.
UCLA has not been known for stout defense under coach Steve Alford, never finishing higher than No. 66 nationally in Ken Pomeroy's defensive efficiency ratings after Alford's first season. The Bruins were ranked No. 37 that season, their roster primarily stocked with coach Ben Howland's players.
Perceptions might change if recent trends persist. UCLA (7-2) heads into a game against Belmont (7-1) on Saturday at Pauley Pavilion touting a No. 57 national ranking in defensive efficiency after stringing together strong outings during a three-game winning streak.
The Bruins held their opponents to 60.3 points a game, 33.7% shooting and 26.4% shooting on three-pointers during the streak, including long stretches in which they didn't give up a point. Notre Dame went scoreless over the final 7 minutes 40 seconds of the first half and the final 3:39 of the second, squandering a five-point lead on the way to a 65-62 loss.
Five times in the final minutes, the Fighting Irish had the ball.
Five times, they came up empty.
One possession ended when UCLA power forwards Jalen Hill and Cody Riley extended their arms to contest D.J. Harvey's drive to the basket, leading to a miss. Another possession resulted in a turnover when Hill applied pressure beyond the three-point line, leading to a kicked ball on a botched dribble handoff. A third possession went nowhere when Hill switched onto T.J. Gibbs on the perimeter and harassed him into a miss on a driving layup.
Later came what Alford called the biggest play of the game. It involved Hill ferociously swatting Prentiss Hubb's shot off the backboard with six seconds left and the score tied.
"He hit it so hard it started a fastbreak," UCLA guard Jaylen Hands said of the block that led to Kris Wilkes' game-winning three-pointer. "So that was crazy."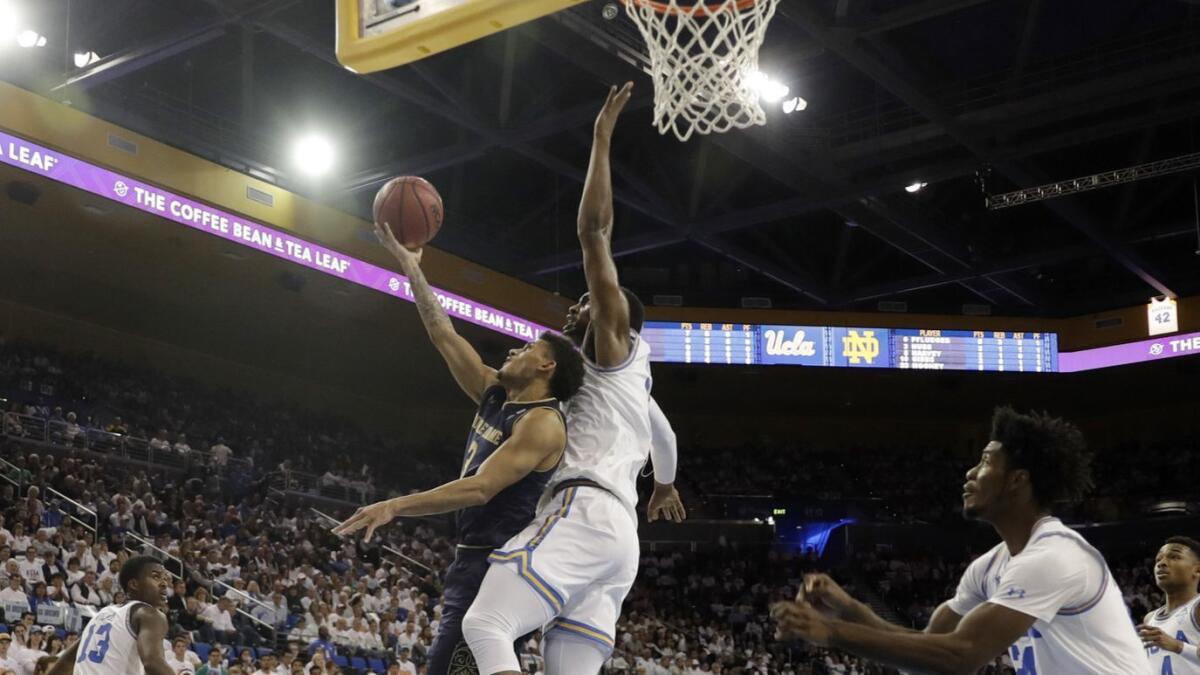 Hill and Riley, who have sparked the defensive renaissance, finished with a combined four blocks and 17 rebounds. Alford said that Hill graded the highest defensively among the Bruins, but it was a Riley block in the final seconds before halftime that got the coach to pump both of his arms in excitement.
"For us to continue to grow," Wilkes said while discussing Hill and Riley, "they gotta keep doing things like that and they gotta keep making big plays."
Belmont might not feature brand-name recognition but possesses an offense that could test UCLA. The identically nicknamed Bruins average 92.6 points a game, move the ball with precision and have three starters who have made at least 39% of their shots from beyond the three-point arc.
Alford compared Belmont's efficiency to that of Michigan State, which hammered UCLA by 20 points last month in Las Vegas.
"It's a huge test for us coming out of finals," Alford said, alluding to his players' class schedule, "so hopefully we can build on what we did defensively against Notre Dame."
UP NEXT
vs. Belmont
When: 2 p.m., Saturday.
Where: Pauley Pavilion.
On the air: TV: Pac-12 Network; Radio: 570.
Update: Belmont is ranked No. 4 nationally in the collegeinsider.com mid-major top 25 poll, but the Bruins' game against UCLA will be their first against a major-conference opponent this season. Belmont has gone 1-7 all-time against current members of the Pac-12 Conference, beating Stanford in November 2012.
Follow Ben Bolch on Twitter @latbbolch
Get the latest on L.A.'s teams in the daily Sports Report newsletter.
You may occasionally receive promotional content from the Los Angeles Times.