UCLA seniors who began the Jim Mora era look to go out with a bowl victory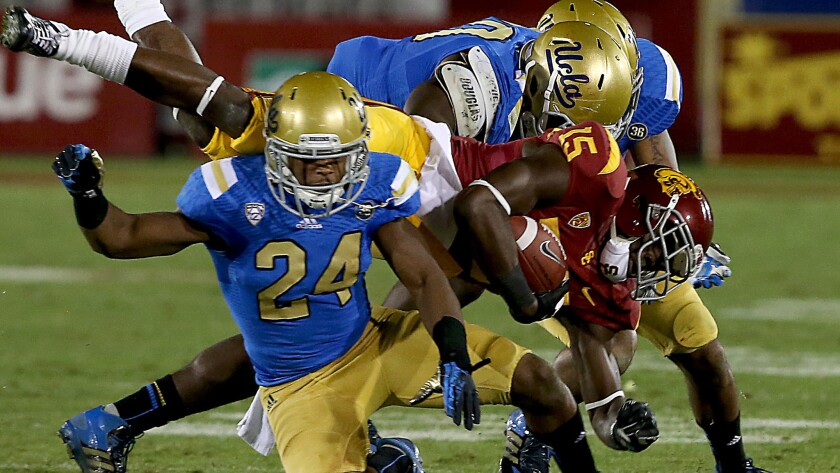 Reporting from San Francisco —
All the way into the morning hours of Feb. 1, 2012, national signing day, Jordan Payton spoke on the phone with UCLA football Coach Jim Mora, discussing Payton's future.
About five and a half weeks earlier, when Mora had become UCLA's coach, he said the staff made a choice. They could accept a class hardly ranked in the top 50 nationally and focus their efforts on 2013. Or they could concentrate their resources on a last-minute surge.
"Our option, our only option was we were going to attack 2012," Mora said at the time. "We were going to go after players all over the country that we thought could come in here and help us win football games."
By the morning of national signing day, the surge was working. UCLA had procured a class ranked in the top 15, a solid foundation for Mora's tenure. It already had secured commitments from Paul Perkins, Devin Fuller, Ishmael Adams, Randall Goforth, Fabian Moreau and Ka'imi Fairbairn.
Payton was the last piece. Mora had pitched him on building a program from the ground up. But his head was spinning.
He already had committed to USC, California and Washington. Twice, he had announced his decision on national television. Now, when he went to bed, he didn't know where he would sign. Mora left him with one piece of advice.
"I told him to block out the noise and follow his heart," Mora said.
At 6:50 a.m., Payton had just gotten out of the shower when he made up his mind. He called Mora.
"Coach," he said. "I'm going to follow my heart."
With that, Mora's first recruiting class was all but done.
Nearly four years later, most of that 26-player class will play its final game for UCLA on Saturday, against Nebraska in the Foster Farms Bowl.
Mora's gamble has paid off. That recruiting class, he said, was essential to building the program.
And he says that adds a nugget of motivation to this second-tier bowl game: with a victory, UCLA seniors will finish with 38 victories, the most of any UCLA class.
"Which is to me, a great tribute to those young men and the way they came in here and applied themselves and bought into what we're trying to become," Mora said. "It set the foundation for the culture that we're trying to build."
The seniors' final game will be an unconventional one. Nebraska (5-7) became bowl eligible only when there were not enough teams above .500 to fill out the bowl schedule.
But Nebraska is more dangerous than its schedule would suggest. It lost one game by one point, three games by two points and one game by three. Its first four losses in the last minute. It was the only team this season to beat Michigan State, a playoff team.
"Just playing Nebraska and just what that team stands for, that alone will push us and give us the motivation that we need," said center Jake Brendel, who is expected to make his 52nd start to extend a UCLA record. "I really don't feel like we're going to be flat."
Mora said he doesn't know how he'll react when the game arrives. This will be the first time he will say goodbye to a class that he recruited.
Payton said Mora has kept his usual distance this week. But the game, Mora said, will be emotional.
He began assembling it the very moment he took the job. Immediately after his introductory news conference, he walked to his office, where director of player personnel Patrick Girardi was waiting. Girardi handed him a phone.
"Start recruiting right now," Girardi said.
When the freshmen arrived on campus that summer, Payton recalled, it brought a tenacious work ethic. They broke traditions. All that mattered, he said, was winning. That set an example, he said, and validated his choice on that February morning.
This week, Payton said he is focused on Nebraska, and earning his 38th victory at UCLA. But in spare moments, he said, he has reflected on the last four years.
"A lot of people pick storied programs and they go in and just kind of filter through," Payton said. "When you get to join a whole 'revolution' as we call it, it's cool to see where we're at."
---
Get the latest on L.A.'s teams in the daily Sports Report newsletter.
You may occasionally receive promotional content from the Los Angeles Times.