USC's Sam Darnold's vision on the field makes a difference — so do his basketball skills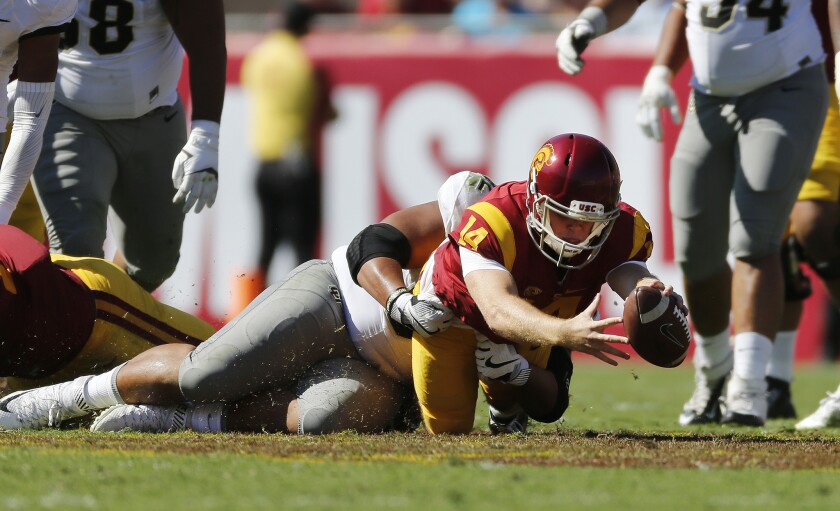 Sam Darnold's legs churned during a practice this week, motoring him past the defensive end trying unsuccessfully to keep him in the pocket.
In the secondary, USC's receivers variously noticed his distress. They swooped toward the same sideline to which Darnold was headed.
It was an impromptu scramble drill, practice for those times when Darnold goes rogue. The exercise is less for Darnold than for his teammates; the quarterback is often at his best when a play breaks down. It's up to his receivers to keep up.
Other gunslingers have arrived at USC with Darnold's sturdy build or sharp fastball. Yet few have begun their careers as successfully as Darnold — a 69% completion rate, six touchdowns and 963 yards in three starts — because few have possessed Darnold's ability to see the entire field and respond rapidly. It has been this ability, coaches say, that has set Darnold apart.
"You can't coach it," offensive coordinator Tee Martin said. "Some guys have it, some guys don't."
In the pocket, Darnold moves as if he were equipped with radar. Ask quarterbacks coach Tyson Helton where Darnold got the skill, and he'll laugh.
"God," he chortled.
More than any other attribute, Darnold's instincts and sense for the field have transformed USC's offense.
Since Darnold became the starter three weeks ago, USC has averaged 7.4 yards per play. Washington, with the fourth-most efficient offense in the nation, has averaged about the same over the season: 7.5 yards per play. Darnold boosts the average because he rarely loses yards. Missed opportunities become, simply, different opportunities.
Coaches and teammates describe different plays as their epiphany: Darnold's Manzielian scramble and pass for a touchdown to tight end Tyler Petite against Colorado — after fumbling at the beginning of the play. A confident step forward in the pocket and a third-down completion with a Utah defender clawing at his legs like a zombie in a bad horror film. A busted quarterback draw on a run-pass option, on which he caught an open receiver out of the corner of his eye and flung the ball to him against Arizona State.
"One of those things where, thank goodness, he was a point guard in high school on the basketball team," USC Coach Clay Helton said of that play.
It is a comparison Helton has made multiple times since Darnold's first start, that of a basketball player slashing hard into the lane but keeping his head up. Maybe that could explain Darnold's vision, he said.
In fact, Darnold played every position but point guard in high school, yet he still became one of the team's best distributors. His ability to see the floor and to anticipate where teammates would wind up was "uncanny," said Marc Popovich, his basketball coach at San Clemente.
"I think being a quarterback complemented his basketball abilities, and vice versa," Popovich said. "He was the only guy I've ever had who could get a defensive rebound and launch a 70-foot pass on target, pretty much in the same motion, to a guy breaking out in the fastbreak. It was almost Wes Unseld-like."
Those types of plays displayed enough athletic instinct that Darnold's football coach, Jaime Ortiz, included basketball clips in the tapes he sent to college football coaches. Popovich said Darnold was the best player he has coached in 15 seasons. He was two-time league most valuable player and an all-CIF selection who Popovich estimates could've played basketball in the Pac-12 Conference or "the Mountain West at worst."
Playing football as if it were a basketball possession without a shot clock isn't always the best approach, however. The decision to try to create after a broken play is an instinctive one, Darnold said.
"Sometimes when I go down, I can kind of feel or kind of hear people coming," he said. "I don't know how to explain it, but I can tell when people are around me and if the pocket's collapsing."
But, he acknowledged, that can lead to unnecessary risks. Too much self-trust can be dangerous.
"A lot of times it ends up in a fumble," he said.
Ball security has been Darnold's biggest shortcoming. He has fumbled three times this season. But Helton has been hesitant to limit Darnold's playmaking latitude.
For offensive teammates, Darnold's creativity is a blessing and a curse. Receiver Darreus Rogers said it can be hard to locate Darnold. Rogers can never tell which side of the field his quarterback could end up on when he looks back for the ball.
"I can't tell you either," Clay Helton said.
Linemen have to be careful not to block their defender into Darnold when he rushes out of the pocket.
"Sometimes, you've gotta slap him in the head and say keep your little happy [butt] in the pocket," right tackle Zach Banner said. "You might want to cuss him out for a little bit. But it's fun."
Follow Zach Helfand on Twitter @zhelfand
---
Get the latest on L.A.'s teams in the daily Sports Report newsletter.
You may occasionally receive promotional content from the Los Angeles Times.