Rasheem Green and friends on USC's defensive line show potential as they learn on the job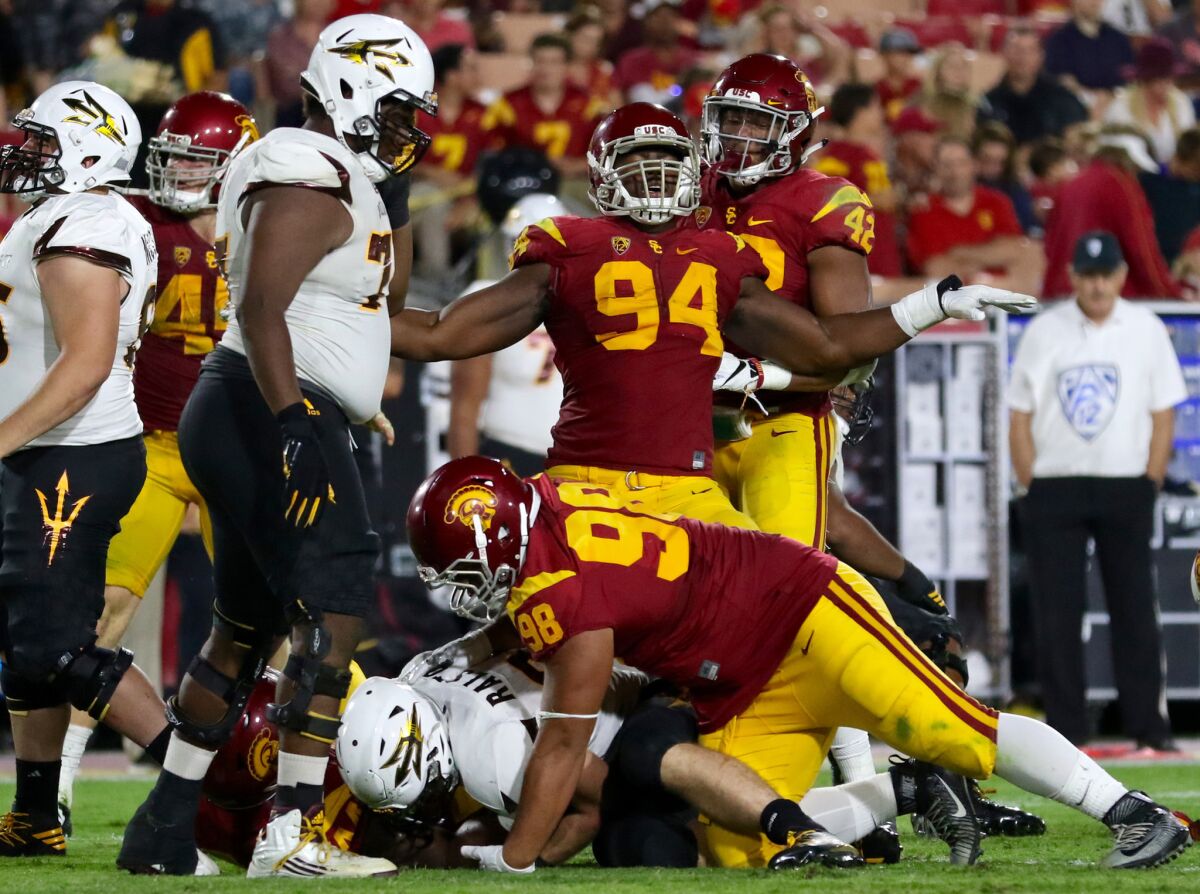 Not long ago, Rasheem Green discovered the importance of watching film.
Coaches had been harping on it — defensive line coach Kenechi Udeze, Green said, had explained the hours of study required each week of NFL players. But coaching lessons can go only so far. Usually, older teammates are the ones who pass on such lessons and explain what to look for on tape, how to read an opponent.
But USC is mostly devoid of older, experienced players on the defensive line. Green needed a push from elsewhere.
"I actually saw J.J. Watt in those 'Hard Knocks' [shows on HBO]," Green said, referring to the Houston Texans' All-Pro defensive end. "J.J. Watt would always watch film. He would always do the small stuff so he could be the best that he could possibly be."
Green, a sophomore, was a five-star recruit in high school, one of the best defensive tackles in his class.
"I probably never watched film," Green said.
At USC, he found, talent isn't everything. After he was thrust into a significant role this season, his development has mirrored that of USC's line as a whole. The starter is still learning many parts of the game. Because of his youth, he can be inconsistent. And, as he did last weekend against Arizona State, he can provide glimpses of great potential.
Green, and his teammates, are figuring it out on the fly.
In the off-season, Coach Clay Helton repeatedly mentioned the defensive line as his biggest concern. Early on, the unit exceeded his modest expectations. It collapsed in the second half against Alabama, but held its own against a talented front in the first half, and dominated when it was supposed to against Utah State.
But there have been gashes. USC has given up 171 rushing yards on average, 79th in the nation. Stanford bullied the Trojans on the ground. USC couldn't record a single sack against the Cardinal or Utah. Utes quarterback Troy Williams' comfort in the pocket allowed him to orchestrate a fourth-quarter comeback.
But against Arizona State, USC dominated again, harassing quarterback Manny Wilkins, sacking him three times and controlling the line of scrimmage.
"We're not where we need to be, but we're getting there," Udeze said. "We're doing a lot of good things now. It just comes back on the line, we've got to be more consistent in everything we do."
Against Arizona State, Green was the breakout star. He sacked Wilkins once and assisted on just one other tackle, but he was a constant disruptive force.
The Sun Devils averaged 4.3 yards per play. When Green was on the field, that plummeted to 2.1 yards per play, the best for any defensive player.
It was, Green said, "the best game of my career."
"By far," Helton said.
Green had an uneven start to the season, so he spent last week doing as Watt would. He absorbed more film than usual. He felt as if the game slowed down.
"I knew what they were going to do," he said. "I knew their formations. I knew what each O-lineman liked to do. I know the way they stepped. I know their hand placement."
Green now holds himself to a routine. He watches one hour of extra film each evening.
The line has had to build such routines and habits from scratch. The loss of Kenny Bigelow Jr. meant USC has just two upperclassmen on the defensive line: Stevie Tu'ikolovatu and Josh Fatu. Both transferred into the program this season.
Udeze said the younger linemen arrived in training camp talented but lacking refinement.
"You can put talent right next to technique, and I promise you, technique's going to win over and over and over again," he said.
Development has come, but haltingly. Defensive coordinator Clancy Pendergast said they needed live repetitions to grow. The start of the season saw a steep learning curve.
"I just think their understanding of blocking schemes has been the biggest jump they've made," Pendergast said.
The experience should help in future seasons. Helton said he is even considering using Oluwole Betiku Jr., who, as a freshman, already has the build of an NFL defensive end but is in just his third season of playing football, at any level. Betiku could redshirt, but Helton said he is ready to contribute soon. And players like Betiku, Helton said, could get drafted for a fifth season.
With normal depth, Betiku might not play at all. Green might not start. But this season, Green is one of USC's most important defensive players.
Green, Helton said, is best as a pure pass rusher. He matches up well against the one-on-one matchups in spread offenses, which USC will see often in the middle of its schedule.
"I would expect him to be in his element over the next four or five games," Helton said, and that should make for happy film watching.
Quick hits
Tight end Taylor McNamara (back strain) was limited in practice Thursday. Helton said he would probably be available Saturday against Colorado but in emergency situations only. … Right tackle Zach Banner (ankle sprain), Ykili Ross (shoulder sprain) and linebacker Jabari Ruffin (concussion protocol) are all doubtful. … Jordan Simmons and Chuma Edoga would rotate in at right tackle in place of Banner, Helton said, with Simmons starting the first series.
zach.helfand@latimes.com
Twitter: @zhelfand
---
Get the latest on L.A.'s teams in the daily Sports Report newsletter.
You may occasionally receive promotional content from the Los Angeles Times.