USC has to plug more holes on offensive line because of injuries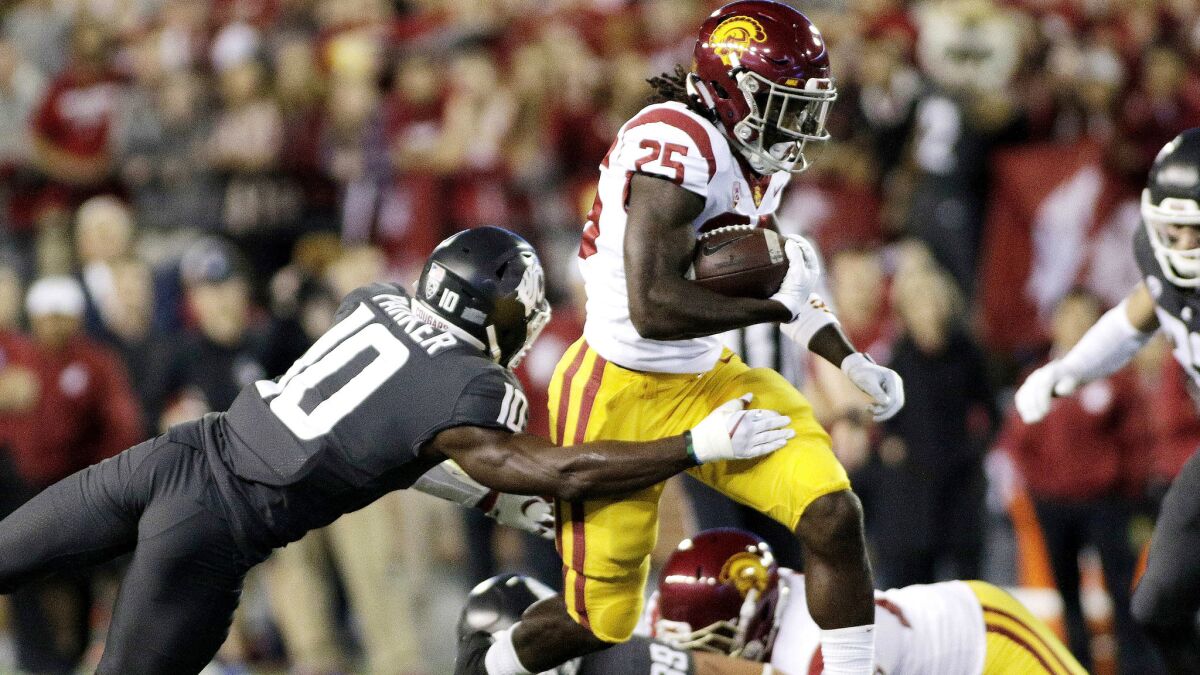 Reporting from Pullman, Wash. —
A couple of weeks into training camp in August, USC coach Clay Helton remarked on how nice it felt having three veterans, each with plenty of game experience, leading his offensive line.
Center Nico Falah, right guard Viane Talamaivao and left tackle Toa Lobendahn had combined for 78 starts entering Friday's game.
"Everything works smoother when they're in there," Helton said during camp.
On Friday, USC found what happens when two of them aren't in there. Lobendahn did not make the trip. He practiced this week but was diagnosed with a skin infection in his lower body, a school spokesman said.
On USC's third possession, right tackle Chuma Edoga left the game with an injury to his left leg. He was helped off the field and could not put any weight on his left foot.
And soon after that, Talamaivao left the game holding his left shoulder.
So USC was left with a ragtag offensive line. Clayton Johnston played at right tackle, Austin Jackson at left tackle and Andrew Vorhees at right guard. Jackson and Vorhees are freshmen.
How did they do?
On the same drive Talamaivao was injured, the right side of USC's line blasted a hole big enough to spring Ronald Jones II 86 yards for a touchdown.
During training camp, Helton cycled linemen between positions liberally. He said he needed his reserve linemen to gain experience in case of injury. Helton said his hope was that his freshmen would be in a position to play meaningful snaps by this point in the season.
"With those freshmen a lot of times you look at maybe not the first game, but you really hope by the Cal game, by that fourth game, hoping they're making a great contribution for you," Helton said.
Johnston had more experience, but his start completed a long journey. The redshirt sophomore was marooned on the bench and appeared briefly in only three games last season.
But Johnston played with the first-team offense during the spring because of injuries.
His offensive line coach, Neil Callaway, was not impressed.
"He needs to get better," Callaway said.
Johnston split time with Lobendahn at left tackle during training camp while Lobendahn double-trained at center. Helton praised Johnston's progress.
"For a kid from where he was from last year to now, he has really invested a lot in himself, has put good weight on, really gotten in his playbook, and you see his athleticism for the position, he's a natural at it," Helton said.
More injuries
Lobendahn was the third offensive starter, and the fourth overall, who did not make the trip to Pullman. Receiver Steven Mitchell Jr., who was listed as doubtful with a groin injury, did not travel with the team, nor did tight end Daniel Imatorbhebhe (hip flexor) or outside linebacker Porter Gustin (torn biceps, broken big toe). Starting receiver Jalen Greene emerged from the halftime tunnel without his pads with an unspecified injury.
Not so special
USC's special teams have had a rough start to the season.
The Trojans had a delay-of-game penalty on a kickoff, sent 10 men on the field for an extra point, gave up a return touchdown, have failed to return or even fair catch punts with regularity and ranked 121st in the nation in opponent kickoff return average through four games.
On Friday, USC was a fortuitous bounce away from another big mistake. In the first quarter, Washington State punted out of its end zone. Returner Ajene Harris was too deep to field the short kick, which bounced into a USC blocker, Isaiah Langley. Fortunately, Harris fell on the ball to keep possession.
In the second quarter, USC was whistled for a delay of game while on defense, on a punt return.
Quick hits
Jones' 86-yard run was USC's longest rush since LaVale Woods set a USC record with a 96-yard run against Oregon State in 1996. ... Coming into Friday's game, USC had lost only three games in Pullman. … There were 22 NFL scouts and executives credentialed for the game.
Follow Zach Helfand on Twitter @zhelfand
Get the latest on L.A.'s teams in the daily Sports Report newsletter.
You may occasionally receive promotional content from the Los Angeles Times.