Menswear designer John Moore rides a wave of popularity
Designer John Moore poses in the studio of his L.A.-based luxe retro-surf label M.Nii. Moore was recently named by GQ as one of the best new menswear designers in America for 2014.
(Kirk McKoy / Los Angeles Times)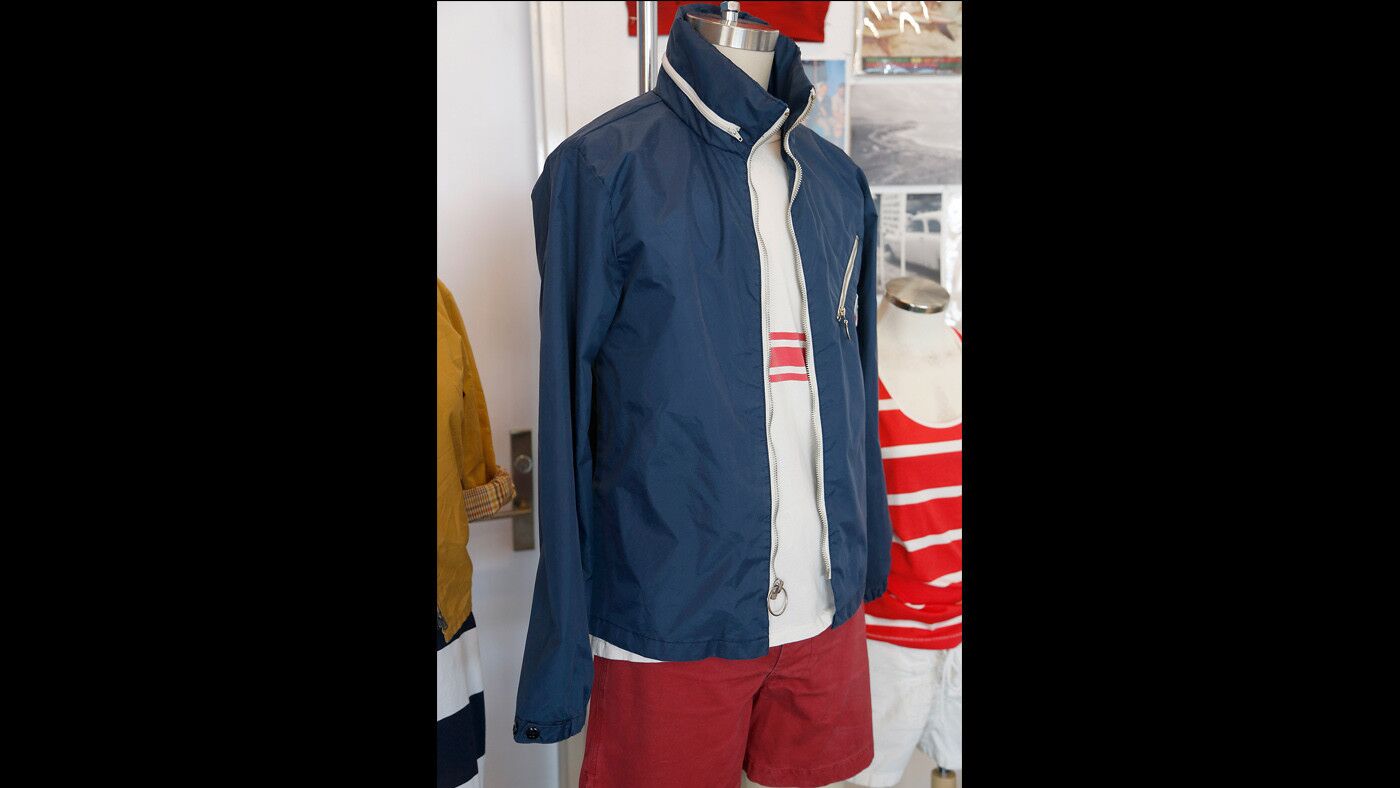 A mannequin in the M.Nii showroom showcases the "Surfrider Windbreaker" in Indigo, the "Spinner Tee" in White Water and the "Two Time Makaha Drowner" in Molten Red ($75-$240, www.mnii.com).
(Kirk McKoy / Los Angeles Times)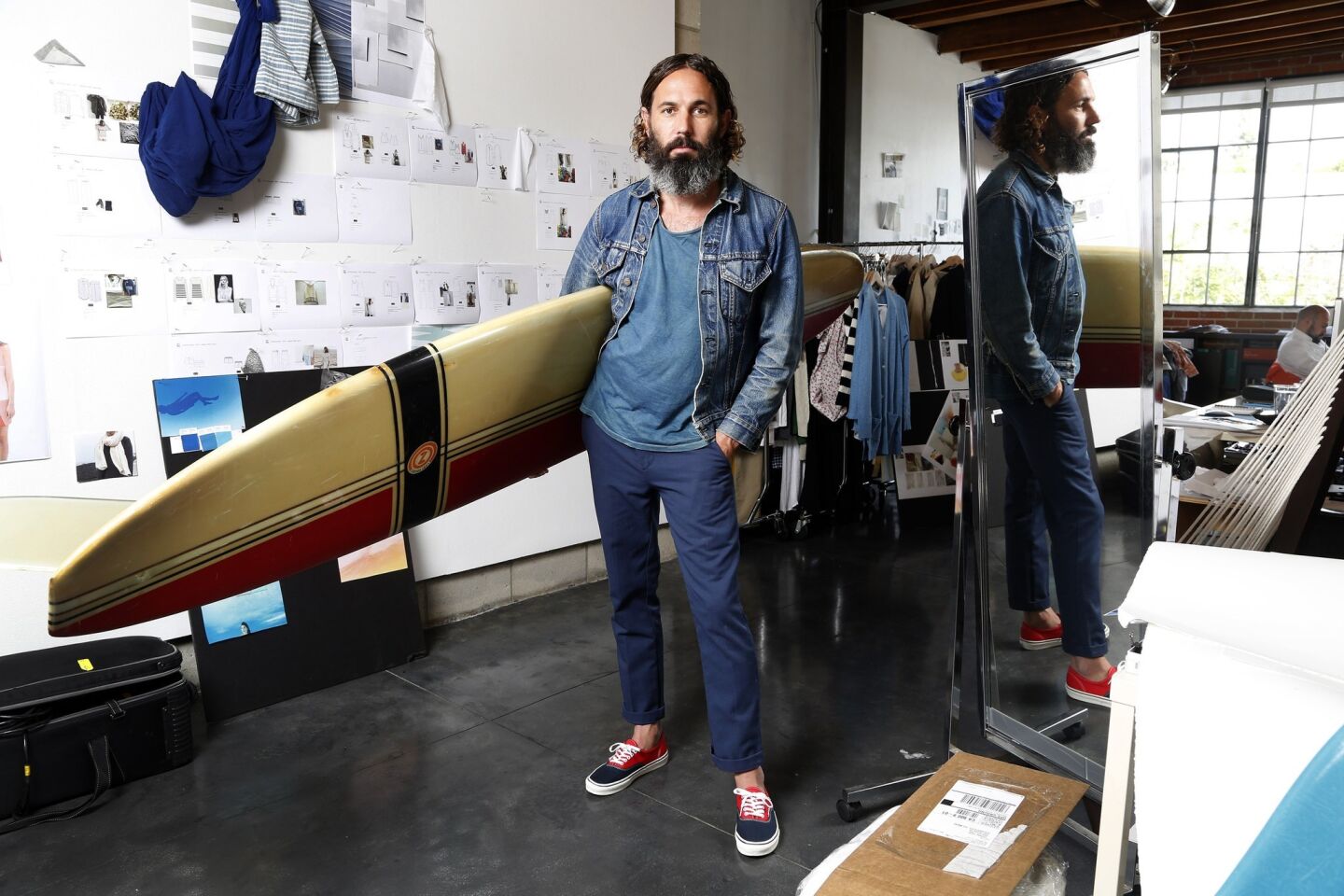 Before M.Nii, Moore came up with the name of Abercrombie & Fitch's Hollister line and helmed Pop Studios, which crafts compelling brand stories for fresh concepts. Up next for the designer? A collaborative collection with Gap for the upcoming fall season.
(Kirk McKoy / Los Angeles Times)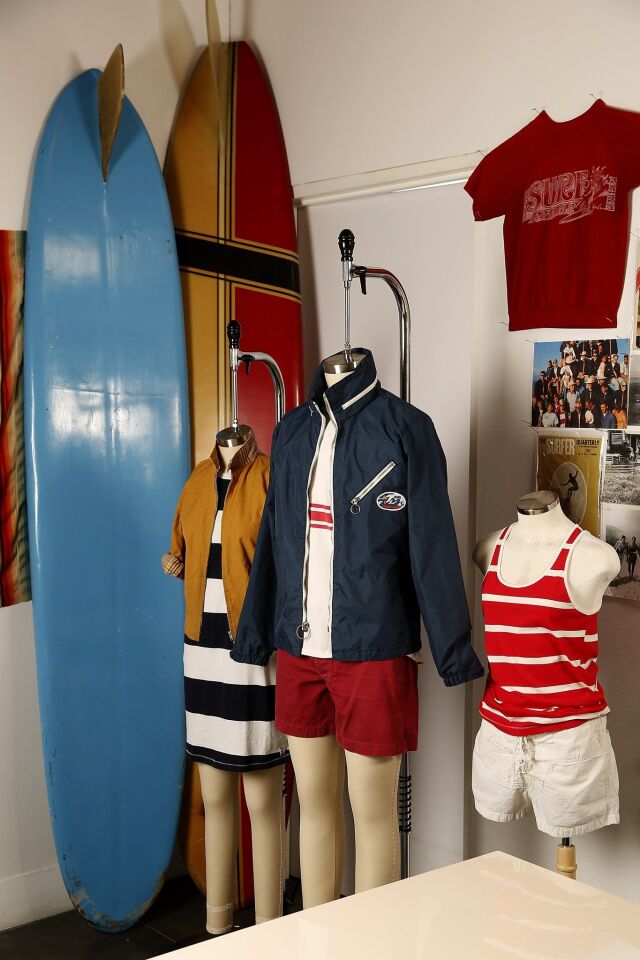 Though M.Nii is primarily a menswear label, the line also offers a small selection of tanks, T-shirts and shirtdresses for women.
(Kirk McKoy / Los Angeles Times)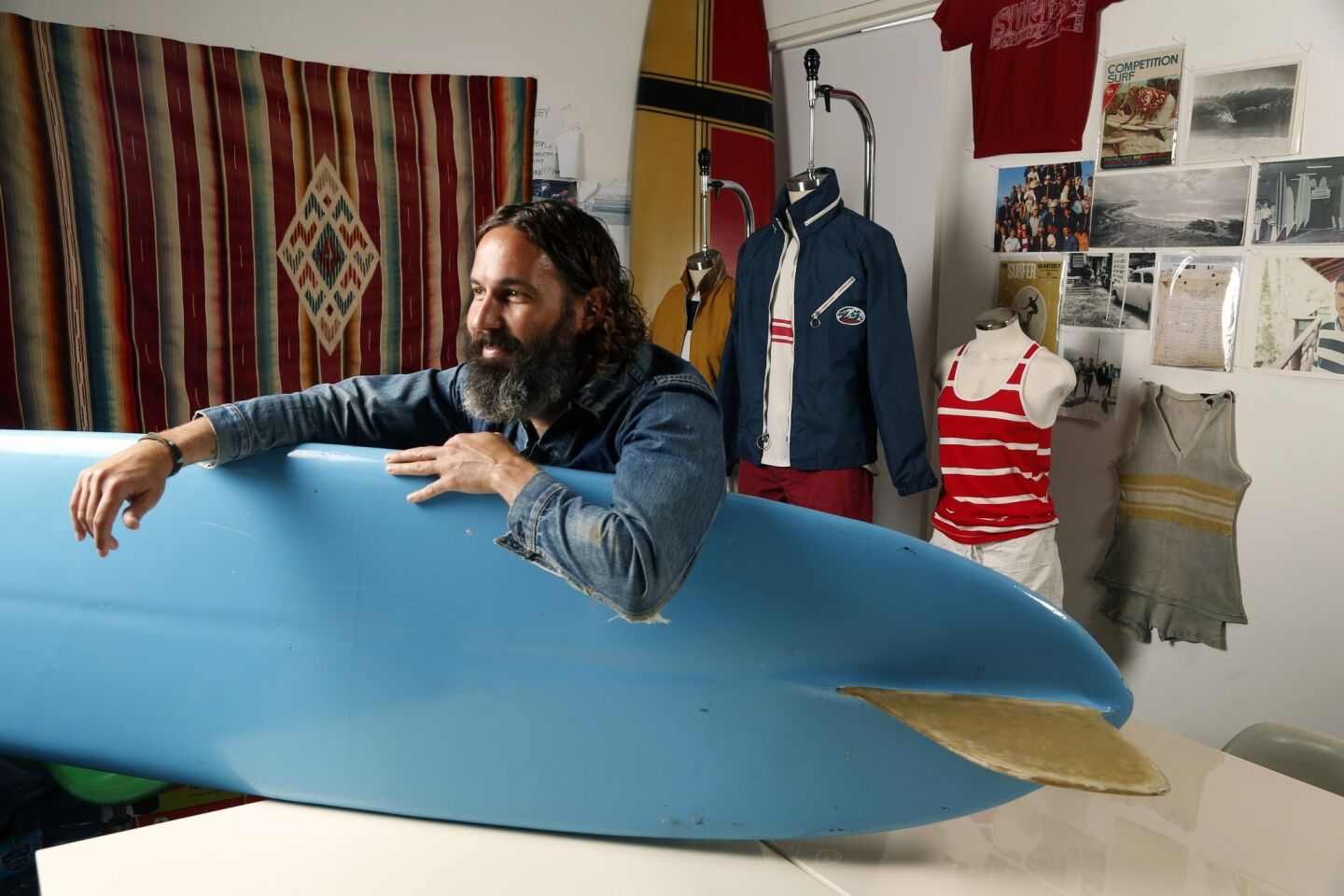 Moore poses with a surfboard in the M.Nii studio. The M.Nii brand was inspired by the original M. Nii, a tailor shop that made custom swim trunks for surfers in Hawaii.
(Kirk McKoy / Los Angeles Times)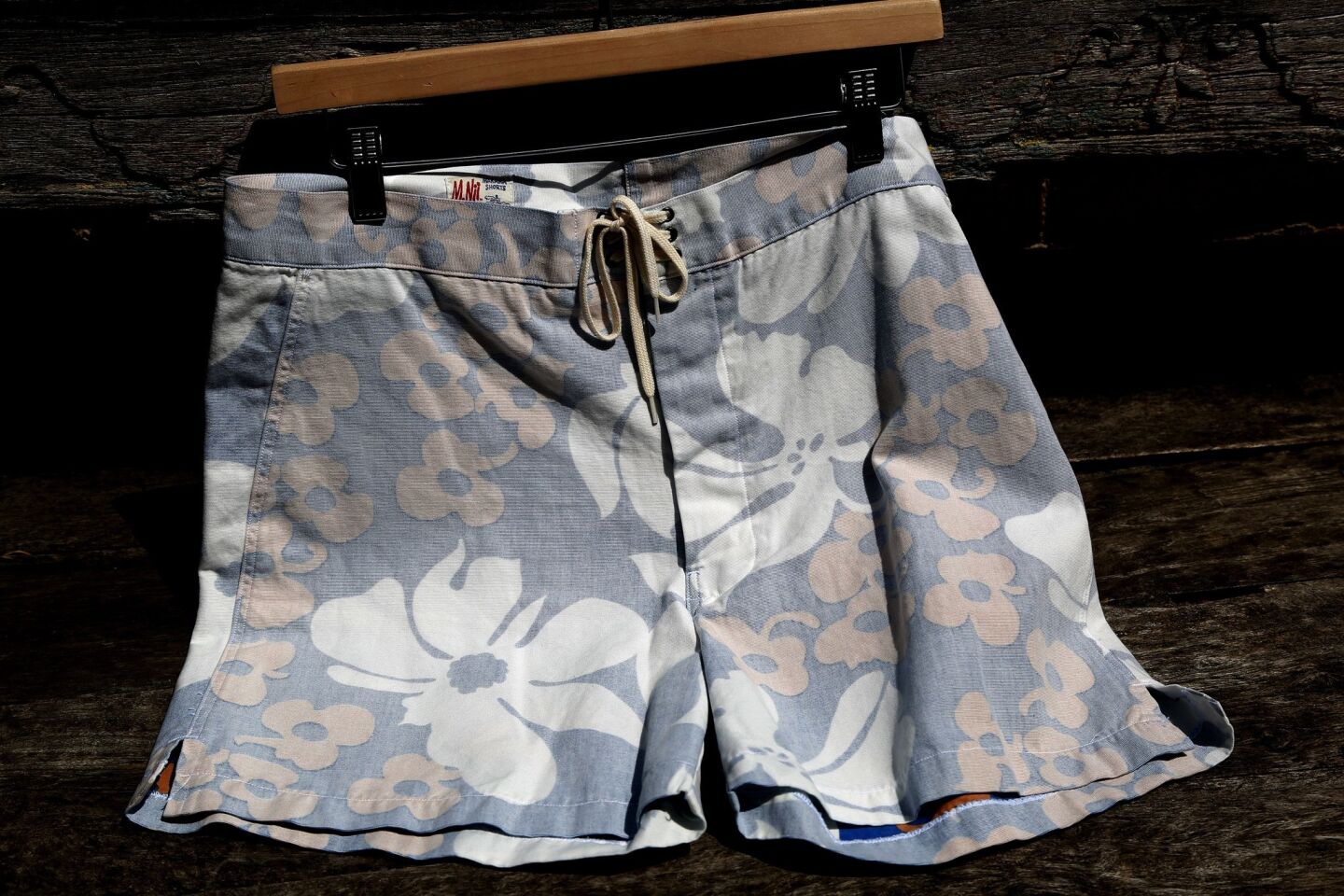 Although the brand has now expanded, the first collection consisted of variations of twill surf trunks. Pictured here, a pair of "Canyon Bloom Drowner" trunks in Seventies Blue ($163, www.mnii.com).
(Kirk McKoy / Los Angeles Times)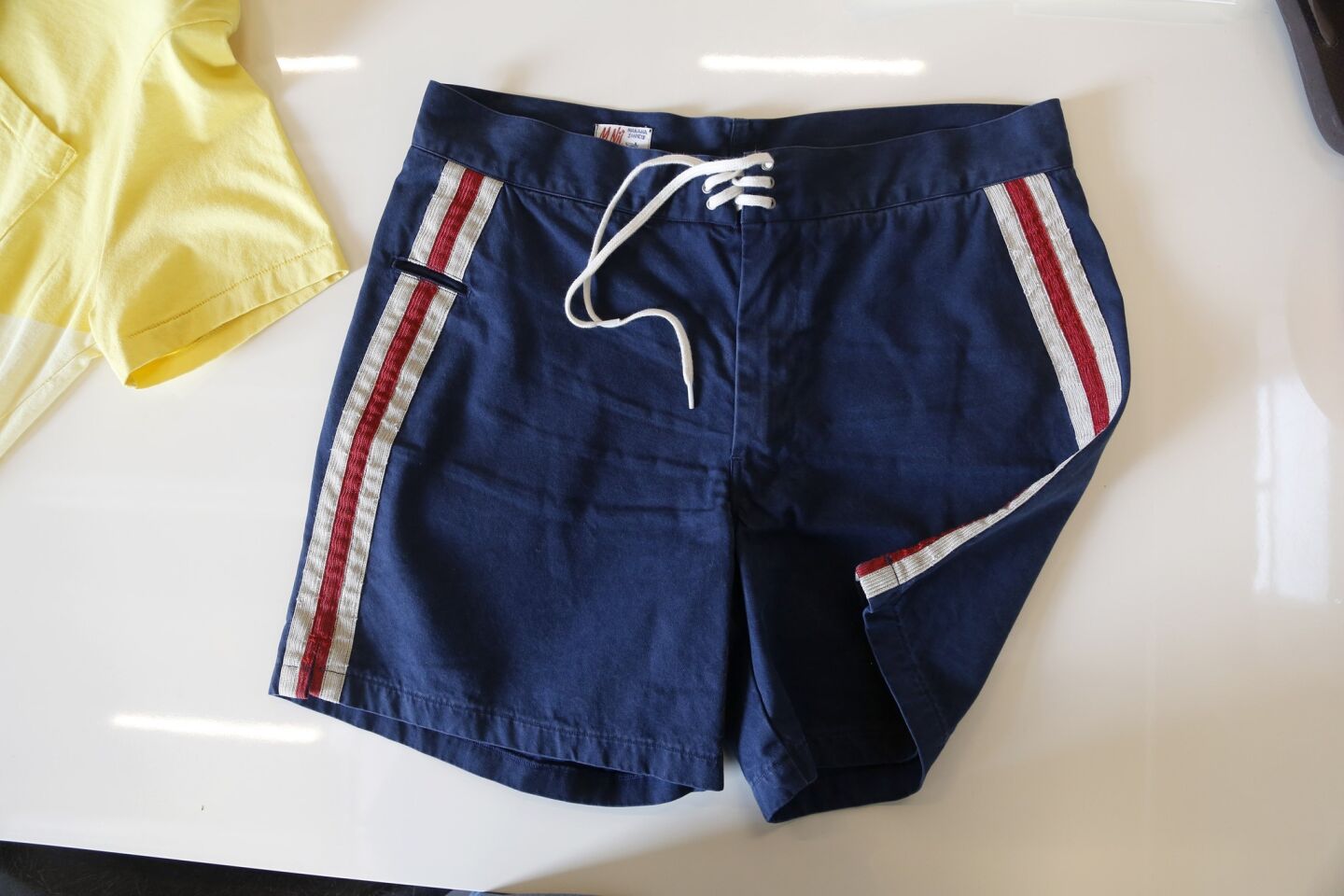 M. Nii includes pockets in many of its swim trunks for surfers to put wax in. Pictured here, "The Waxer" in Indigo ($195, www.mnii.com).
(Kirk McKoy / Los Angeles Times)
When John Moore was named to GQ magazine's 2014 class of best new menswear designers in America for his retro-cool surf label M.Nii, it was the branding equivalent of catching the perfect wave. Not just because the 3-year-old label is stealth-brand small (with barely 50 retail accounts globally, retail sales are about $1.5 million annually) but also because the entire line was born out of a chance flea market find — a single pair of navy blue twill surf shorts.
"This is what started it all," Moore says, sliding a photograph across the conference table in his Culver City studio. "My [business] partner Randy [Hild] is a ferocious surf memorabilia collector, and he found these — I think there was a fight over them, actually. When he threw them in front of me, I just fell in love with them. I had this immediate reaction to the label. But we didn't know the story; we had no idea."
It turned out to be a story that stretches all the way back to the birth of the first surf-specific boardshorts, which Moore and company discovered as they started researching the name in the waistband label — M. Nii (pronounced EM-nee-ee).
That, Moore says, was the first initial and last name of a mom-and-pop tailor shop in Waianae, Hawaii, on the island of Oahu. In business from roughly 1948 to 1968, it crafted everything from men's jackets and trousers to school band uniforms.
At a time when most surfers were tackling the waves clad in nondescript cutoff military-issue chinos, standout styles evolved as a way for surfers to distinguish themselves from afar, Moore says. He shares a tale imparted to him by surfing legend Greg Noll.
"Greg told us he'd be out there charging these waves, and at the end of the night, everyone's drinking beers and watching footage, and some of the guys were claiming his waves," Moore explained. "So his whole vibe was: 'I need something to stand out.' So he went to the M. Nii Tailor Shop."
Since it made band uniforms, the shop not only had a range of heavy-duty twill fabrics on hand but also all manner of decorative taping, which helped make Noll's trunks distinctive.
"Word spread fast," Moore says, "and every guy who would go in there would have a different tape or color."
In pretty short order, M. Nii's surf trunk business quickly moved beyond the waves — and all the way into the White House. Moore slides a photo dated Aug. 16, 1962, across the table. In it, a bare-chested, dripping wet JFK sports a pair. Moore follows that with the photocopy of an M. Nii invoice for $187.90 — across which his brother-in-law Peter Lawford has scrawled: "Who is going to pay for the president's shorts?"
The boardshorts with a backstory couldn't have found their way into a more capable pair of hands. Moore, a bearded, surf-loving 40-year-old Venice Beach resident, has been steeped in the art of storytelling for more than a decade. He was the guy who came up with the name of Abercrombie & Fitch's Hollister line, and, for the last six years, he's helmed Culver City based Pop Studios, whose bread and butter is crafting compelling brand stories for fresh-out-of-the-box concepts.
Moore could hardly believe his good fortune. With the tailor shop long closed, he, Hild and a third business partner, Ramez Toubassy, set about breathing new life into the dormant label. Using that serendipitous flea market find as a jumping-off point, they launched M.Nii for summer 2011 (jettisoning the original's space between initial and last name).
The debut season consisted of variations on that surf trunk — dubbed the Makaha Drowner — made of heavy-duty twill, with a lace-up waist, button-fly closure and a wide, vertical red and white contrast taping down each hip. While the trunks look retro-surf short at first glance, the design is such that the waistband sits lower on the hips and the leg opening sits lower on the thigh than one might expect, making for a fit anyone can wear.
Successive seasons slowly built on the nostalgia-infused DNA. Grounded in a muted base palette of blue, white, gray and red, with many pieces riffing on the stripe motif, the current collection includes super-soft cotton T-shirts (most in the $70 to $75 range), laid-back takes on classic chinos and corduroy trousers ($187-$190), a range of sweaters and light outerwear pieces ($125-$275) and a pair of smartly patterned blazers ($480). Although mostly menswear, the brand also offers a small selection of tanks, T-shirts and shirtdresses for women ($70-$88).
The boardshort range has grown too. For summer 2014, nylon fabrications were added, which dropped the price on the low end to $110. Currently, the most expensive offering is a pair of cotton twill trunks with a pocket (suitable for stashing surf wax) and contrast side taping that sells for $195.
It's not a bad price point for luxe surf, especially when you take into account that the entire line is designed in Culver City and made in the U.S., most of it here in the L.A. area. The line is carried at a range of retailers from high-end department stores such as Barneys New York and Nordstrom to smaller, upscale menswear shops, including Ron Herman, Unionmade and Wittmore locally.
"This is our first season [carrying M.Nii], and it's done extremely well," said Paul Witt, owner of the Wittmore menswear boutique on L.A.'s West 3rd Street. "It reminds me of an adult surf [brand]. It's modern and clean, and it's not logo-heavy. Every guy wants to wear something from the surf world, particularly in the summertime, and everything is usually so young. M.Nii is kind of ageless in that sense."
The brand has proved so popular that he's expanding his merchandise buy for the fall season. "I really believe in it," Witt said.
According to Moore, growth has been steady since launch, but M.Nii still remains a relatively unknown cult surf brand. That's about to change. As part of the best new designer class, he and his label have already appeared in the April issue of GQ magazine, and he's currently at work on a collaborative fall collection for Gap that's one of the perks of the GQ recognition.
"I don't even think we've hit our growth spurt," Moore said. "[And] I think with the GQ recognition we're entering the next phase."
---
Get our L.A. Goes Out newsletter, with the week's best events, to help you explore and experience our city.
You may occasionally receive promotional content from the Los Angeles Times.