Cool and close to home for the April 13-15 weekend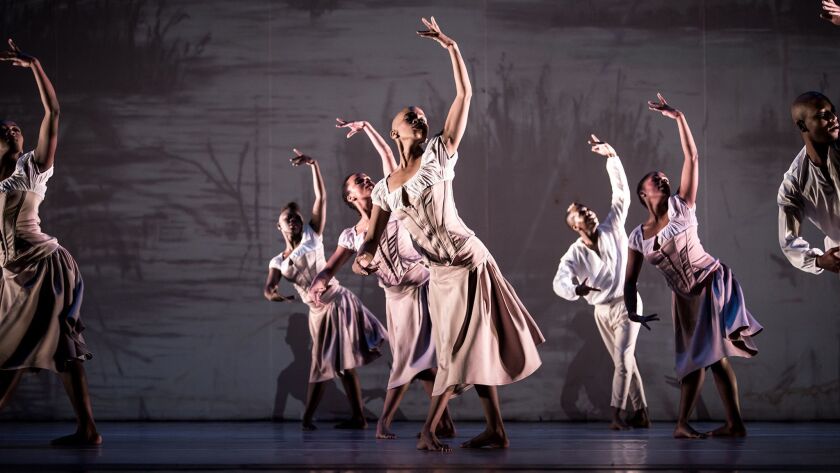 You'll find Africanized ballet, flowers aplenty, heavy-duty exercise and art, animation and dance next weekend in Southern California.
Beverly Hills
African dance and classical ballet combine in South African choreographer Dada Masilo's Johannesburg dance troupe's performance of "Giselle" at the Wallis Annenberg Center for the Performing Arts. The dance will be unusual, fast-paced and rich with African ritual.
When: 7:30 p.m. April 12-14
Cost, info: From $45; students with student ID on day of show, $20. Partial nudity and adult language, so parental discretion advised; recommended for children 14 and older. No dogs. (310) 746-4000, thewallis.org/giselle
Hollywood
Get a jump-start on Earth Day by watching the Pixar film "Wall-E" at El Capitan Theatre. It's about a robot trash-compactor left to work alone in an apparently abandoned city until (spoiler alert!) he meets the love of his life. "Wall-E" deals with environmental issues, consumerism and human impact on the planet in a charming way. And it's a rom-com.
When: 10 a.m. and 1, 4 and 7 p.m. April 12-15
Cost, info: $10. Family-friendly. No dogs. (800) 347-6396, lat.ms/wall-e
Los Angeles and Santa Monica
The Dance Camera West Film Festival begins with short films about dance and a party at the UCLA Fowler Museum. The festival continues over the next three days with dance films at the Laemmle Film Center and dancing on Santa Monica Pier.
When: Times vary. Films April 12-15; dancing on pier 6:30 p.m. April 13-15
Cost, info: Film April 12 $25, films April 13-15 $12 each, dancing free but RSVP is required. Family-friendly. No dogs. (323) 620-3495, dancecamerawest.org
Los Angeles
Are you ready for some serious exercise, as in climbing 1,393 steps up 63 floors in the American Lung Assn.'s Fight for Air Climb? Show your strong/fit side while raising funds and trotting up the stairs at the Aon Center. At the top you'll be greeted with a completion medal, snacks, games, a food truck and a beer garden.
When: 9 a.m. April 14
Cost, info: $50. Children 7 and older permitted to participate as long as they are supervised by adults at all times. No dogs. (310) 735-9177, lat.ms/laclimb2018
Burbank
The Burbank Arts Festival is not just a fair for painters, potters and jewelry designers. It also includes animators, digital special-effects artists, live drawing demonstrations, video-game designers and more. During the Doodle Run, participants visit different artists to collect pieces of "mini-art" and draw doodles on their festival maps to enter a raffle to win prizes.
When: April 14 and 15.
Cost, info: Free. Family-friendly. Dogs on leash OK. (818) 238-5180, lat.ms/burbankfest
Carlsbad
The photography workshops during the Petal to Plate festival take place at the barn at the Flower Fields at Carlsbad Ranch and focus on using macro lenses, making family portraits, using flash and printing. Participants can go on a 90-minute guided photo walk by fields of flowers. Photographers may borrow cameras, but they must provide their own memory cards.
When: Photo workshops at various times April 15.
Cost, info: Flower fields admission: adults 11 to 59, $16; seniors 60 and older, $14; children 3-10, $8; children 2 and younger free. No extra charge for workshops. Only certified support animals permitted. (760) 431-0352, lat.ms/flowerphotos
---
Get inspired to get away.
Explore California, the West and beyond with the weekly Escapes newsletter.
You may occasionally receive promotional content from the Los Angeles Times.