15 destinations for travelers to set their sights on in 2015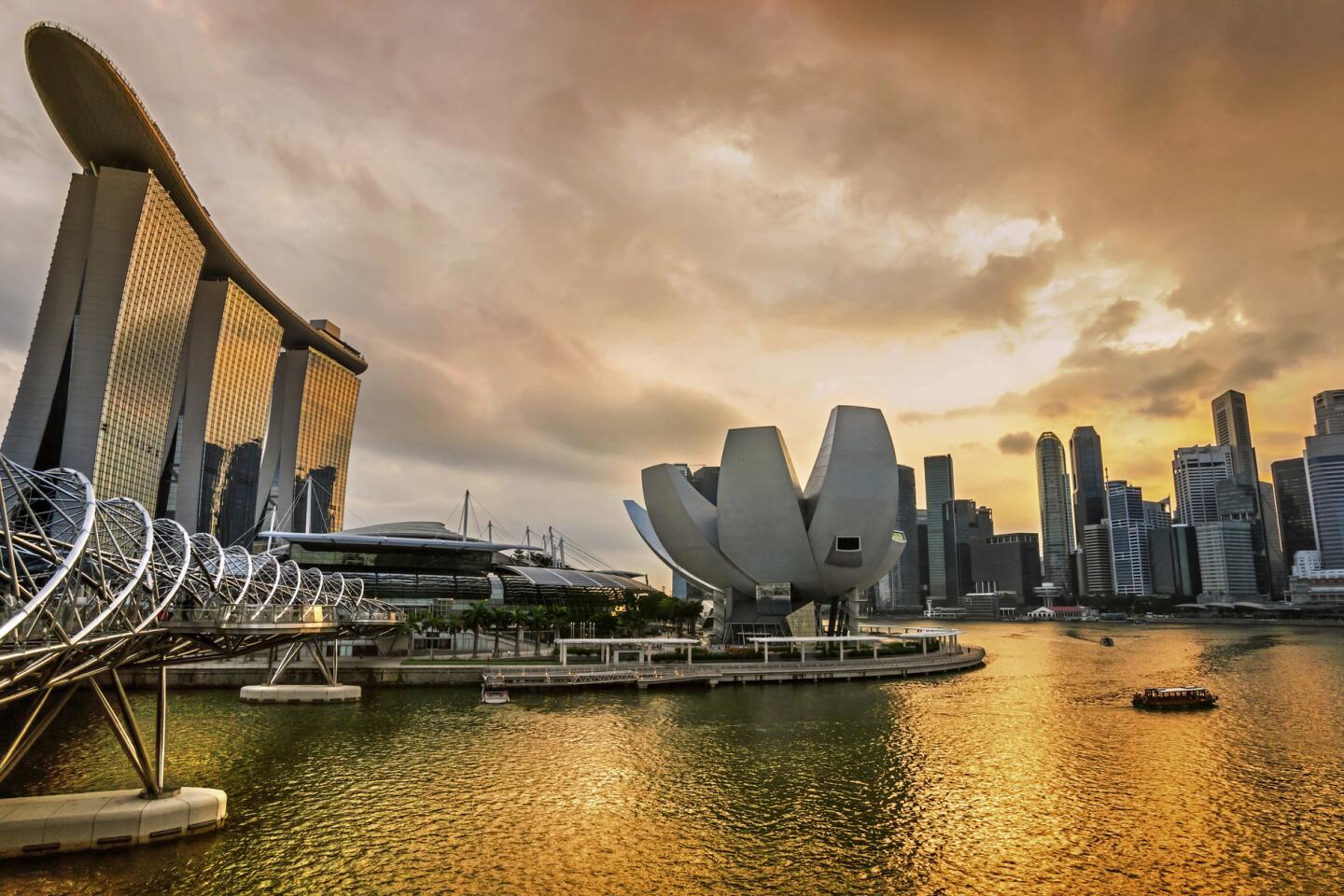 The dramatic Singapore city skyline at sunset, with the striking Marina Bay Sands Hotel to the left, three towers with a Skypark atop them. On Aug. 9, 2015, Singapore celebrates its golden jubilee.
(MasterLu / Getty Images)
The 12 golf courses in the area should all be back in playing shape and open by the end of December, and two new ones should be in service.
(Andrew Penner / Getty Images)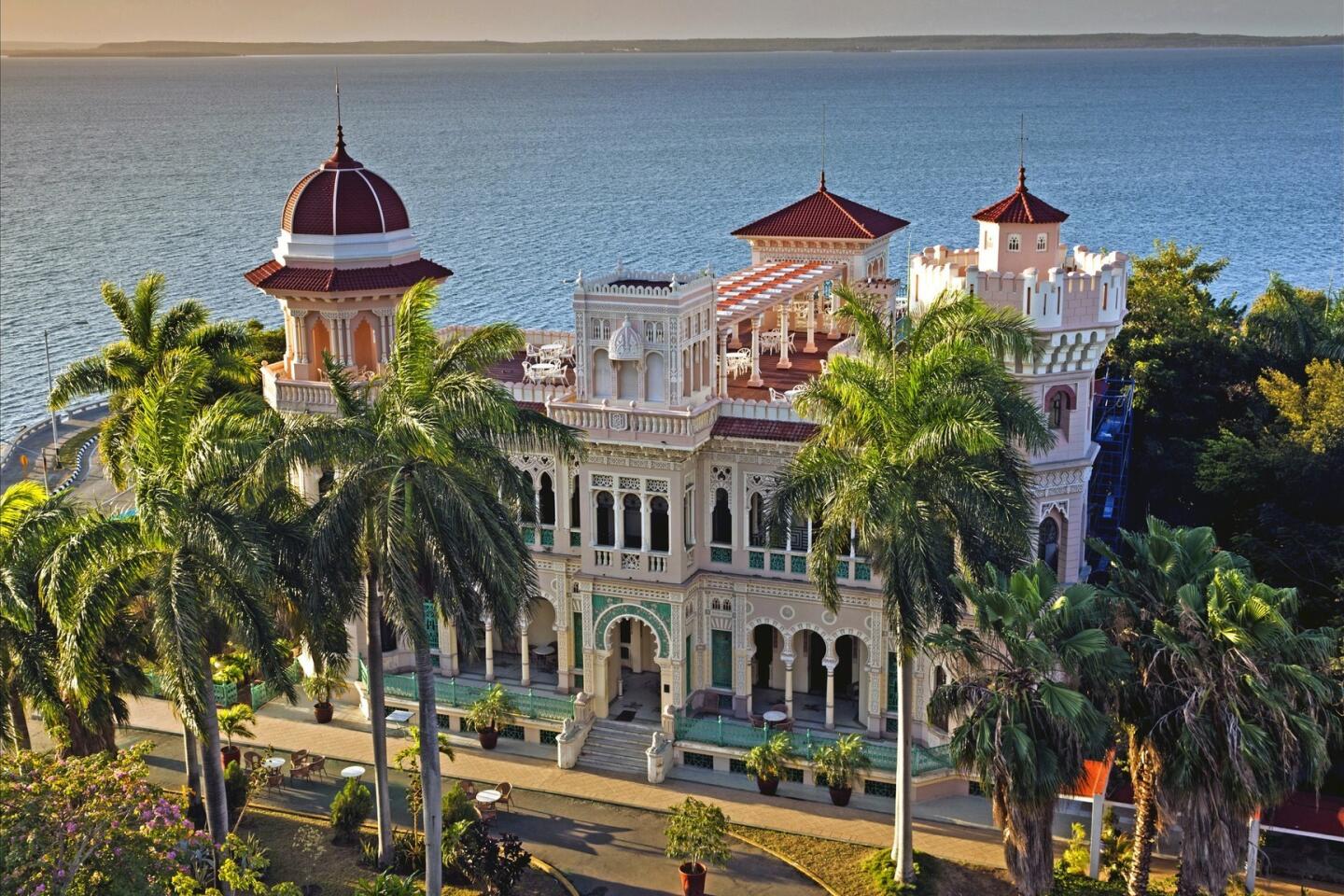 Palacio de Valle, a restored sugar baron house, is an architectural jewel located in the city of Cienfuegos. It hosts cultural events and also houses restaurants (specializing in seafood), a museum and bar.
(Danita Delimont / Getty Images)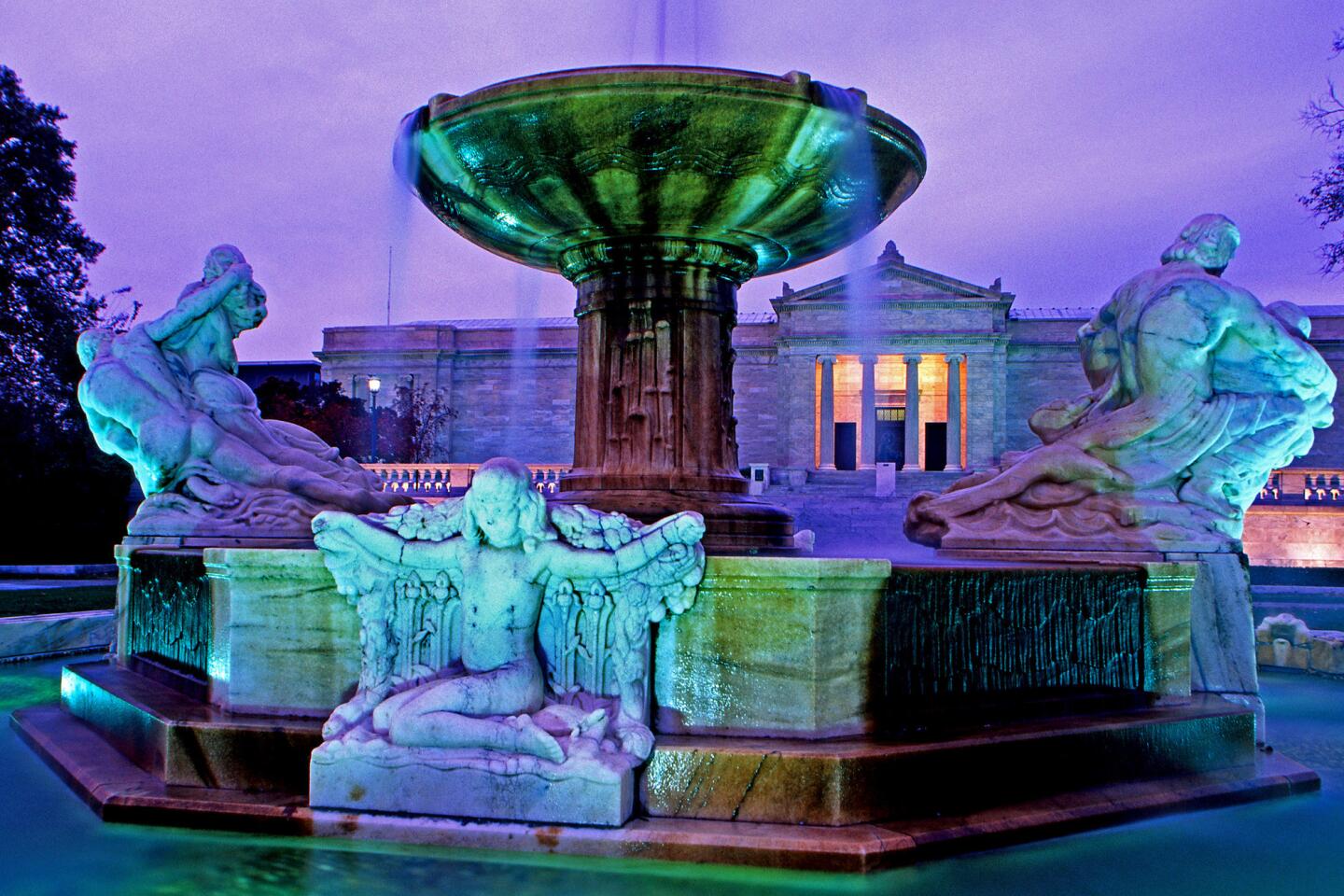 Chester Beach's "The Fountain of Waters" sits in the Fine Arts Garden at the Cleveland Museum of Art.
(Richard Cummins / Getty Images)
Mont-St.-Michel, with a population of less than 50, ranks as France's third most popular tourist attraction. And years of recent work by French officials should bring water back to the area surrounding the island.
(Julien Fourniol / Getty Images)
Historic geisha and tea houses in Kanazawa, Japan. New bullet-train service will shorten travel times from Tokyo from four hours to two hours and 30 minutes.
(David Hill / Getty Images)
Terraces, plazas and buildings at the Inca city of Choquequirao. A 3-mile-long aerial tram that could be completed as early as late 2015 could bring in 3,000 tourists a day to the area -- which only saw 3,000 visitors over all of 2013.
(Alex Robinson / Getty Images)
A youth takes a selfie photograph in front of Queen Elizabeth II earlier this year. On Sept. 9, the queen is expected to become the longest-reigning monarch in British history -- more than 63 years on the throne.
(Peter Macdiarmid / Associated Press)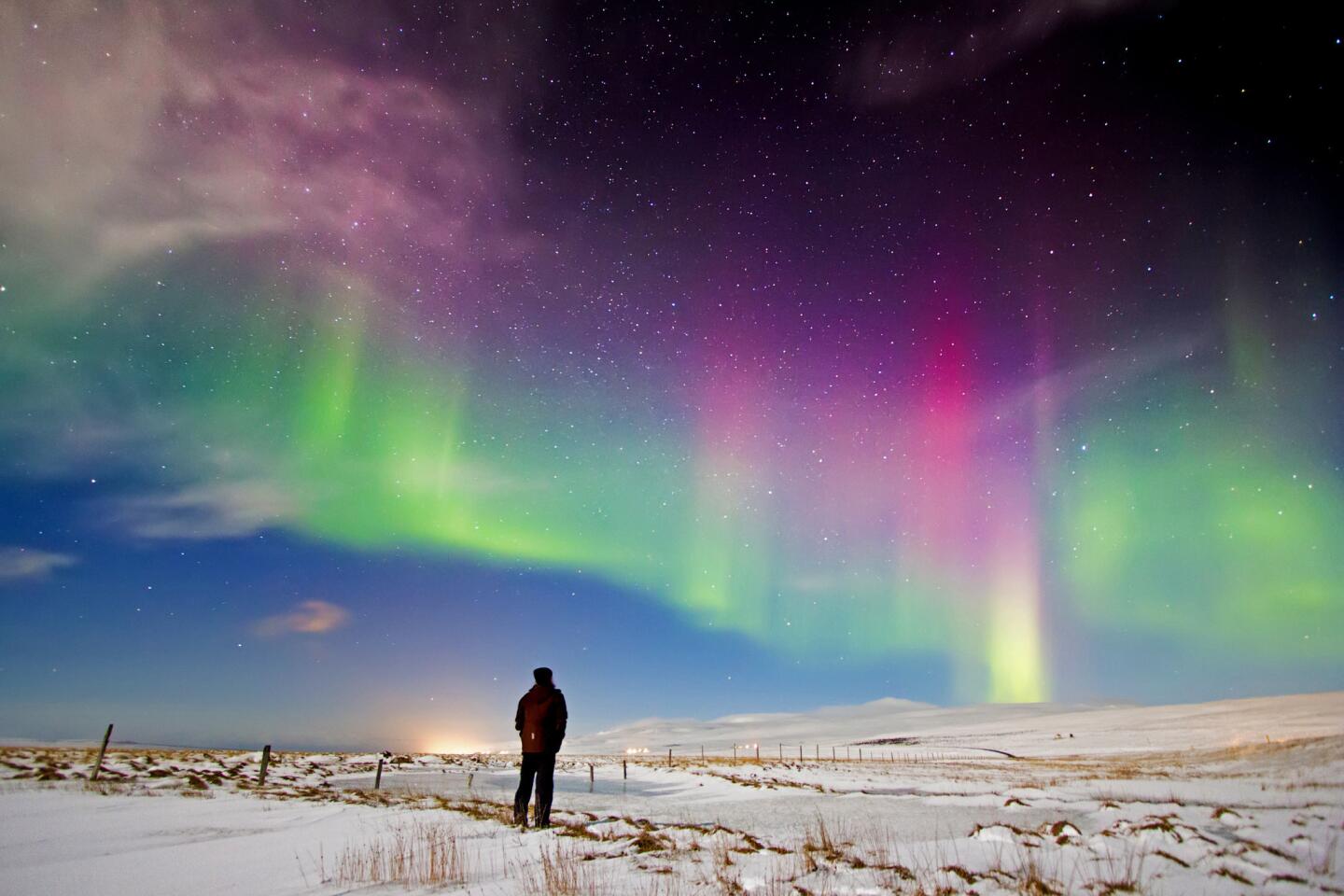 Looking at the aurora borealis in north Iceland with the snow-covered ground and stars and northern lights dancing in the sky.
(Ingolfur Bjargmundsson / Getty Images)
Lake Pehoe in Torres del Paine National Park, Chile.
(Eastcott Momatiuk / Getty Images)
Clouds roll in over Namibia's Skeleton Coast. The southern African country celebrates 25 years of independence in 2015.
(Buena Vista Images / Getty Images)
As 2014 slips into history, these 15 destinations look better and better.
Some are nations, some are stations, some are cities and one is a mere neighborhood.
But in just about every case, there's something particularly compelling about them right now. Maybe it's because gasoline is so cheap (I'm thinking about you, Coachella Valley), or because hurricane recovery is marching along (Los Cabos, Mexico) or the French government has the tides figured out (Mont-St.-Michel) or perhaps (in the case of Choquequirao, Peru) because an aerial tram might change everything. Here are my picks for the new year:
Los Cabos, Mexico
In September, Hurricane Odile tore up huge chunks of Cabos San Lucas and San José del Cabo, closing more than half the area's lodgings, along with scores of restaurants and other businesses and the airport.
But these twin towns at the tip of Baja have too much at stake to lie still. The airport and more than two dozen hotels reopened in October and November.
By the end of this month, tourism officials expect to have 10,000 of the area's 16,000 hotel rooms in service, along with its 12 existing golf courses and two new ones. Several more of the best-known resorts (including One&Only Palmilla, Esperanza and the Westin Resort & Spa, Los Cabos) expect to reopen by the end of March.
Whenever you get to Los Cabos in 2015, odds are good you'll get a warm welcome and lower rates than last year's.
For a status list of hotels — and real-time webcam views of 11 resorts — check https://www.unstoppablecabo.com.
Info: visitloscabos.travel
Cuba
Long known for its beaches and culture, Cuba became mostly forbidden territory for American travelers soon after Fidel Castro seized control in 1959.
But relations have gradually thawed in recent years, leading to a watershed agreement announced Dec. 17 by President Obama and Cuban leader Raul Castro (who took over from brother Fidel in 2008).
These normalized relations could mean a rush of U.S. tourists to Cuba. Under restrictions on the books, Americans can travel to Cuba on "people-to-people" educational trips operated by companies licensed by the Treasury Department.
Thousands of Americans have visited already; Cuban authorities counted 92,348 American tourists in 2013, a slight dip from 2012, but much more than the 73,566 in 2011.
Info: Among U.S. companies licensed to run tours to Cuba: InsightCuba (insightcuba.com), Road Scholar (www.roadscholaradventures.org) and Grand Circle Foundation (grandcirclefoundation.org). Info: www.state.gov/p/wha/ci/cu/
Cleveland
In the last five years, the city has added eight hotels (with a ninth, a Kimpton, coming in 2015) and built a convention center, an aquarium and the new Museum of Contemporary Art Cleveland.
The Rock and Roll Hall of Fame (rockhall.com) will hold an induction ceremony April 18.
The city's Playhouse Square — which includes five grand old venues dating to the 1920s — in May added a 20-foot-tall outdoor chandelier at Euclid Avenue and East 14th Street.
By summer, the Cleveland Institute of Art (a.k.a. the CIA) is due to complete a $75-million, 80,000-square-foot expansion (including new gallery space and an auditorium).
You can expect more prettification around town; the city will host the Republican National Convention in 2016.
Info: www.thisiscleveland.com
Charleston, S.C.
Buildings and food, people. This architecture-rich city, born in the late 17th century, is where the Civil War began (in 1861 when Confederate troops attacked Ft. Sumter at the mouth of Charleston Harbor).
Scores of historically important buildings survived the war, an earthquake (1886) and hurricane (1989) and are listed on the National Register of Historic Places. Since 1977, the Spoleto Festival USA (May 22-June 7, spoletousa.org) has been filling the city with opera, dance, theater, jazz and chamber music.
In recent years, the city has won wide attention for its cuisine. (To catch Charleston at its foodiest, visit March 4-8 for the city's 10th Wine + Food festival (charlestonwineandfood.com).
Or come on your own timetable to sample old favorites such as McCrady's Restaurant (where President Washington is said to have convened a 30-course dinner in 1791) or newcomers such as Brasserie Gigi (opened in April near the 19th century Charleston City Market) or Prohibition Charleston (a restaurant and bar with live music most nights).
Also keep an eye out for proliferating distilleries, including Charleston Distilling Co. and Striped Pig Distillery, which make spirits from local ingredients and offer tasting and tours.
Info: www.charlestoncvb.com
Mont-St.-Michel France
This site in Normandy — a tiny island at the mouth of the Couesnon River, subject to dramatic tidal surges and home to a 1,000-year-old abbey and hamlet — has been seducing visitors for generations.
Mont-St.-Michel, with a population of less than 50, ranks as France's third most popular tourist attraction. But over the decades, silt has been accumulating around the island, as have parking spaces and a causeway used by countless tourists.
As a result, it was often surrounded by mud flats instead of water. To bring back the water, French officials have spent years building a dam, moving sand and devising a shuttle system.
In 2012, they closed the parking lot. In 2014, came a new bridge. In 2015, to mark the project's completion, workers will destroy the old causeway (which, dating to 1879, is older than the Eiffel Tower).
Nowadays, when the tides are right, visitors can follow a boardwalk 1.2 miles from the mainland to the island, or take a shuttle. Gradually, officials say, the surrounding silt will disperse and the island's maritime character will return.
Info: lat.ms/1x5Vgw0
Japan
More trains, more hotels, more visitors and Olympics on the horizon — that's Japan in 2015.
With Tokyo's 2020 Olympics in mind, officials say they want to double foreign tourism in the next six years.
New bullet-train service will shorten travel times from four hours to two hours and 30 minutes from Tokyo to Kanazawa, which is known for its Kenrokuen Garden and Chaya (teahouse) districts.
Also, trips from Tokyo to Toyama Prefecture, known for its mountain scenery and traditional villages, will be shortened from about three hours to about two. And, of course, there's plenty to see and do in Tokyo. The 30-story Hotel Gracery Shinjuku is due to open in April near the city's busiest rail station.
The Aman Tokyo, due to open this month, is the first city hotel from a global hotel chain known for ultra-luxe properties in remote settings. It will occupy the top six floors of Tokyo's Otemachi Tower.
Info: foreign.info-toyama.com/en, www.jnto.go.jp
Choquequirao Archaeological Park, Peru
As Machu Picchu gets busier and the tourist economy surrounding it gets bigger, people will consider visiting this Inca ruin, about 30 miles away.
To reach Choquequirao, a mountaintop stone complex that dates to the 15th century, travelers drive five hours from Cuzco to the village of Cachora, then trek two days. (If you like, you can continue the trek to Machu Picchu.)
In 2013, authorities tallied just 3,000 visitors to Choquequirao. But solitude-seekers should get there soon because the Apurimac regional government has proposed construction of a 3-mile-long aerial tram that could bring in 3,000 tourists a day, with completion possible by the end of 2015.
The project has been delayed by a court decision, but once regional leaders in Cuzco and Apurimac agree on plans, the construction could be rapid.
Info: Among the tour operators that go to Choquequirao: Crooked Trails (crookedtrails.org), a U.S.-based nonprofit organization; SAS Travel Peru (www.sastravelperu.com) and Choquequirao Trek (choquequiraotrail.com).
Britain
In January, mark the 50th anniversary of Winston Churchill's death by going to his family's Blenheim Palace just outside Oxford.
In March, queue up at Leicester Cathedral to see the reburial of the remains of Richard III, which were found in 2012 beneath a parking lot. In June, stop by the British Library to glimpse a copy of the Magna Carta, the foundation of Britain's common law, signed by King John at Runnymede 800 years ago. (The library will mount a Magna Carta exhibition March 13-Sept. 1.)
On Sept. 9, nod in the direction of Balmoral Castle in Scotland, where Queen Elizabeth II is expected to become the longest-reigning monarch in British history — more than 63 years on the throne. The current record-holder is Queen Victoria, Elizabeth II's great-great-grandmother.
Info: www.visitbritain.com
Milan, Italy
This capital of design and art history has been a fetching destination for years. Besides its vital fashion industry and many iconic buildings (including the 14th century Milan Duomo, the Sforza Castle and the skylighted hall of the Galleria Vittorio Emanuele II), it is home to Leonardo da Vinci's "The Last Supper."
In 2015, it gains an additional charm: Expo Milano, set to open May 1 and close Oct. 31. Granted, world's fairs aren't the world-shaking spectacles they used to be.
But it can't hurt to see a cosmopolitan city dolled up for the rest of the world. Some 147 countries are readying exhibits for the occasion. Even if organizers fall short of the 20 million visitors they're seeking, newcomers to Milan and the north of Italy have fun ahead.
Info: www.expo2015.org, bit.ly/1zvR9sj
Singapore
For years, the city-state of Singapore has been one of the easiest places in Asia to visit — great street food, sparkling streets, dozens of high-end shops and hotels along Orchard Road.
But 2015 will be especially festive, because it's Singapore's golden jubilee.
On Aug. 9, 1965, Singapore (which at about 270 square miles is bigger than Guam but smaller than Hong Kong) split from Malaysia and became an independent republic.
Also in 2015, the National Gallery Singapore is due to open, occupying the country's reconfigured City Hall and Supreme Court buildings, focusing on Southeast Asian art from the 19th century to now.
Info: www.yoursingapore.com, www.orchardroad.org, www.nationalgallery.sg
Coachella Valley
A lot has happened in the last year, including the openings of the Ritz-Carlton Rancho Mirage in May and the Palm Springs Art Museum Architecture and Design Center (www.psmuseum.org) and the Triada Palm Springs hotel (triadapalmsprings.com) in November.
Several more restaurants and hotels are due in 2015, along with the 25th Dinah Shore Weekend (a lesbian-centric celebration that's now officially the Club Skirts Dinah Shore Weekend) April 1-5.
Meanwhile, Modernism Week (Feb. 12-22) draws more mavens of Midcentury design every year, and the long-anticipated revitalization of downtown Palm Springs inches ahead. A new Palomar Hotel (part of the Kimpton chain and central to the redevelopment) is due to open in 2016.
Info: www.visitgreaterpalmsprings.com
Lower Manhattan, N.Y.
On May 1, the Whitney Museum of American Art opens on Gansevoort Street in the old meatpacking district between the High Line (more on that in a minute) and the Hudson River.
The new Whitney building, designed by Renzo Piano, replaces the museum's longtime home (now closed) on Madison Avenue near East 75th Street, which will be taken over by the Metropolitan Museum of Art.
As for the High Line, it's a former elevated rail route born in 2009 as a much-celebrated linear park. In September it added a new northern section at West 34th Street near 11th Avenue, making it 1 1/2 miles long.
With luck, a spur featuring a leafy amphitheater will open by the end of 2015 near 10th Avenue and West 30th Street.
Info: whitney.org, www.thehighline.org
Iceland
No important anniversaries in Iceland in 2015, no new major museums, no revolutionary tours. But wild, remote, cool Iceland is beckoning.
It would be good to get in and out before the next unpronounceable volcano erupts, and the coming year is as good as any to confront the glaciers and fiords, the expanses of Vatnajokull National Park (which covers 13% of the country), the sleek urban design of Reykjavik, the northern lights and that steaming blue lagoon you've seen in ads (www.bluelagoon.com).
Info: www.visiticeland.com, www.iceland.is
Patagonia
Neither a nation nor a state, Patagonia is the southernmost stretch of South America — a 386,000-square-mile outback of wind-scrubbed mountains, glaciers, lakes and coastline, shared by Chile and Argentina.
On the Argentine side: Los Glaciares National Park and, farther north, San Carlos de Bariloche, the foremost ski resort in South America. On the Chilean side, there's Torres del Paine National Park (which includes a 52-mile trekking circuit with breathtaking views). There's also the Patagonia National Park project led by American activists Doug and Kristine Tompkins, which covers nearly 200,000 acres in rugged Chacabuco Valley, including the Lodge at Valle Chacabuco (conservacionpatagonica.org).
The park (which closes for the South American winter) had its soft opening in October, with a grand opening planned sometime in 2015.
Info: REI Adventures (lat.ms/1sHPc5F) offers four different tours of Torres del Paine. Vancouver-based Bikehike Adventures (www.bikehike.com) has Argentina and Chile itineraries.
Namibia
Formerly colonized by Germany and ruled by South Africa, this southern African country celebrates 25 years of independence in 2015.
Though its population is just 2.2 million, its territory is epic, with remarkable landscapes, including the Kalahari Desert and the Skeleton Coast. The coast is renowned and feared for its remote, wind-raked shipwrecks, dunes and whale bones. At one edge is Hoanib Skeleton Coast Camp, opened in 2013 and affiliated with Wilderness Safaris (lat.ms/1sQsyOp).
It has just eight tents (with concrete foundations and private baths; inclusive rates about $500 per person per day) and is reached only by air from Windhoek, the capital. Guests keep an eye out for elephants, lions and giraffes.
If weather permits, there are flights over the coastline. Meanwhile at Sossusvlei (in Namib-Naukluft National Park), visitors can climb some of the planet's tallest known sand dunes or just admire their orange hues.
Info: www.namibiatourism.com.na.
Twitter: @mrcsreynolds
Get our L.A. Goes Out newsletter, with the week's best events, to help you explore and experience our city.
You may occasionally receive promotional content from the Los Angeles Times.