Arguably the best vantage point in town: the view from Luna Rooftop Tapas Bar, atop the Rosewood hotel.
(Stacy Suaya)
Candy-colored private casitas at the Rosewood hotel, designed to mimic the traditional homes of San Miguel.
(Stacy Suaya)
A tourist explores San Miguel de Allende. Not only is San Miguel delightfully walkable, staying on foot is the best way to stumble upon its many treasures.
(Stacy Suaya)
Recreo San Miguel, an upscale boutique selling Mexican serapes made from the world's finest fabrics.
(Stacy Suaya)
One of many callejones (narrow streets or alleys) in the heart of San Miguel de Allende.
(Stacy Suaya)
Artisans at work, constructing and painting all manner of papier-mache wares. This was one of three stops on a private factory tour with Mario Hernandez.
(Stacy Suaya)
Sea bass with onion cream, Hoja Santa and kale vinaigrette, served with potato terrine and fried kale at Aperi.
(Stacy Suaya)
Woman selling corn, cactus and eggplant at Mercado de Artesanias. There are several markets in San Miguel de Allende, selling handicrafts, produce and street food.
(Stacy Suaya)
Crispy suckling pig al pastor, with achiote sauce, pineapple, grilled onions and mustard leaves at Aperi.
(Stacy Suaya)
Mojigangas (giant pageantry puppets that range from 5 to 15 feet tall) greet you at Belmond Casa de Sierra Nevada.
(Stacy Suaya)
A woman selling Otom' dolls in El Jardin, the central plaza. Otom' Indians are one of the oldest and largest indigenous groups in Central Mexico.
(Stacy Suaya)
Cuttlefish cooked in brown butter with chanterelles, sweetbreads and leeks at Aperi.
(Stacy Suaya)
Bartender at Hank's New Orleans Cafe and Oyster Bar. This popular expat haunt has a rollicking 2-for-1 happy hour.
(Stacy Suaya)
Seared tuna tacos at Donnie Masterson's The Restaurant.
(Stacy Suaya)
Some consider the neatly laid-out town of San Miguel de Allende a Mexican Disneyland. Full of stucco colonial buildings whose paint jobs I would describe as watermelon gelato, electric cantaloupe and tres leches, San Miguel is an Instagrammer's playground. With a festive vibe and burgeoning food scene, this UNESCO World Heritage Site 170 miles northwest of Mexico City attracts visitors from all over. From Los Angeles, Delta and United offer nonstop service to León airport. You will need to arrange a transfer to San Miguel, a 90-minute drive. The tab: $368 a night for a suite at the Rosewood and $150 for two seats at the chef's table at Áperi (without drinks). Round-trip airfare from LAX is about $500.
The bed
The Rosewood [11 Nemesio Diez, Colonia Centro, (888) 767-3966, www.lat.ms/1QIwydu] has expansive grounds, a top-notch art collection and a rooftop bar with the best view in town. Most rooms have balconies and fireplaces, and three pools bask in the city's pleasant year-round weather. The 12-room Dos Casas Boutique & Spa [101 Quebrada, Colonia Centro; 011-52-415-154-4073, www.doscasas.com.mx], in the historic heart of the city, was built by connecting two adjacent colonial houses. It skews younger and hipper, with a spa program and hammam. It skews younger and hipper, with a spa program and hammam. Doubles from $300.
The meal
Áperi [101 Quebrada, Colonia Centro; 011-52-415-152-0941, www.aperi.mx/en] is sometimes called the city's best restaurant. Chef Matteo Salas' year-old restaurant is booked one month in advance for the dining room and chef's table. Anyone who has tried the lechón al pastor, soft and crunchy as crème brûlée, or the cuttlefish fried in brown butter with chanterelles, sweetbreads and leeks, can attest to why. The tasting menus are seven or 12 courses, and it's recommended they be paired with Casa Dragones Joven (Casa Dragones, a premium sipping tequila, has its headquarters in San Miguel de Allende). As a second option, Donnie Masterton (who apprenticed under Daniel Bouley in New York and recently worked as the executive chef at the Hollywood Bowl) opened the Restaurant [16 Sollano, Colonia Centro; 011-52-415-154-7862, (213) 471-2833, www.therestaurantsanmiguel.com] and it's rightfully popular. Lunch in the Moroccan-style courtyard is a romantic's delight, and if you're in town on a Thursday, consider attending its burger night, when a selection of 12 house-ground patties are transformed into such creations as "La Mafiosa" and "The Dude."
The find
A great tour guide: Mario Hernandez of Angelica Transportation & Tours (011-52-415-152-6305, www.lat.ms/1TqBCnw) led us on foot — bring your sneakers because the city is highly walkable — through the cobblestoned streets while reciting the history of the city. The next day, he took us to the outskirts of San Miguel, where we wandered through factories that produce the city's famous tin stars, hand-painted papier-mâché animals and dolls, and wool rugs woven on ancient looms. Fábrica la Aurora (www.fabricalaaurora.com) is the city's largest and finest art and design center, with galleries, studios and shops.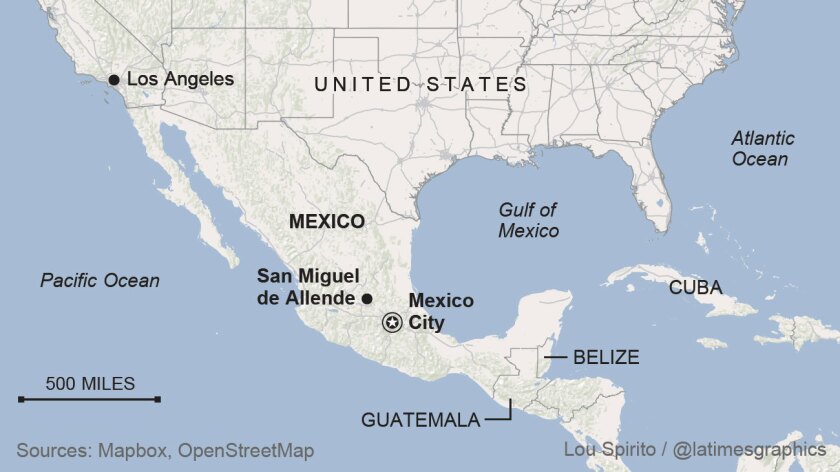 Lesson learned
The colonial spirit (expect parades and parties celebrating San Miguel's rich heritage) is laid-back and down-home. Consider the city a charming antidote to Los Cabos or Mexico City.
---