In Dallas, events mark the 50th anniversary of JFK's assassination
The corner window of the Sixth Floor Museum is where Kennedy's accused assassin is said to have taken his shot. The boxes are duplicates of the originals, stacked precisely as they appear in crime scene photographs from Nov. 22, 1963.
(Brendan Smialowski / AFP/Getty Images)
The sixth floor of the former Texas School Book Depository building takes visitors back to the day President Kennedy was shot and provides an in-depth look at his legacy.
(Brendan Smialowski / AFP/Getty Images)
The suit worn by Dallas homicide Det. Jim Leavelle on the day he was escorting Lee Harvey Oswald at Dallas Police headquarters is superimposed alongside a photo of Jack Ruby shooting the accused assassin.
(Brendan Smialowski / AFP/Getty Images)
Sandra Saldana of San Antonio and Samuel Goodman of Rockville, Md., look at displays in the Sixth Floor Museum.
(Matt Rourke / AFP/Getty Images )
Items for sale at the Sixth Floor Museum gift shop.
(Brendan Smialowski / AFP/Getty Images)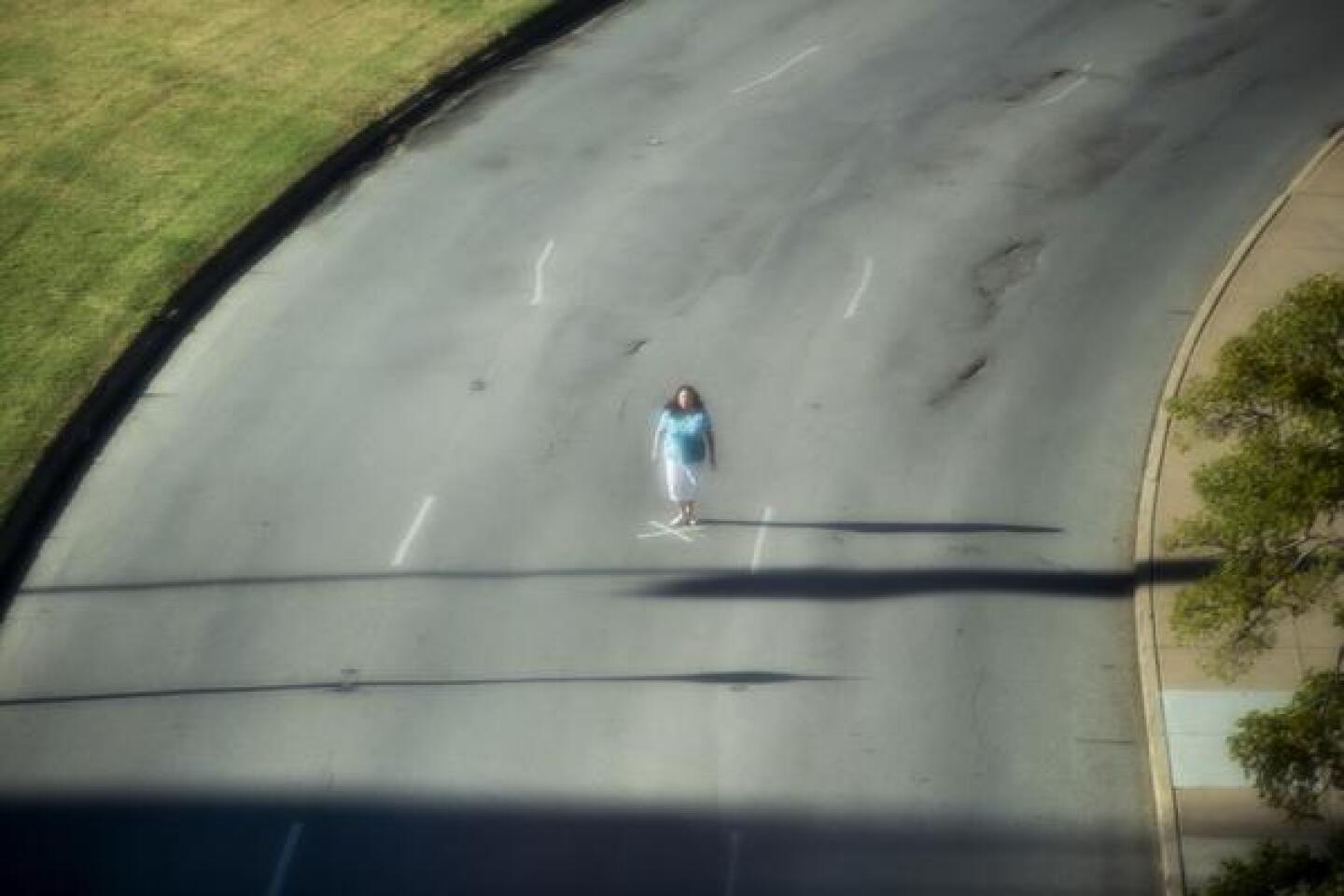 A white X in the roadway, as seen from the sixth floor of the former Texas School Book Depository building, marks where Kennedy was struck.
(Brendan Smialowski / AFP/Getty Images)
Visitors take photos on the John F. Kennedy Memorial Plaza in Dallas, about a block away from Dealey Plaza. The memorial, designed by Philip Johnson, was built in 1970 to mark the assassination of JFK.
(Brendan Smialowski / AFP/Getty Images)
Flanked by Jacqueline Kennedy and his wife, Lady Bird Johnson, Vice President Lyndon Johnson takes the oath of office following the assassination of President Kennedy. The image is one of many on display at the Sixth Floor Museum.
(Cecil Stoughton / AFP/Getty Images)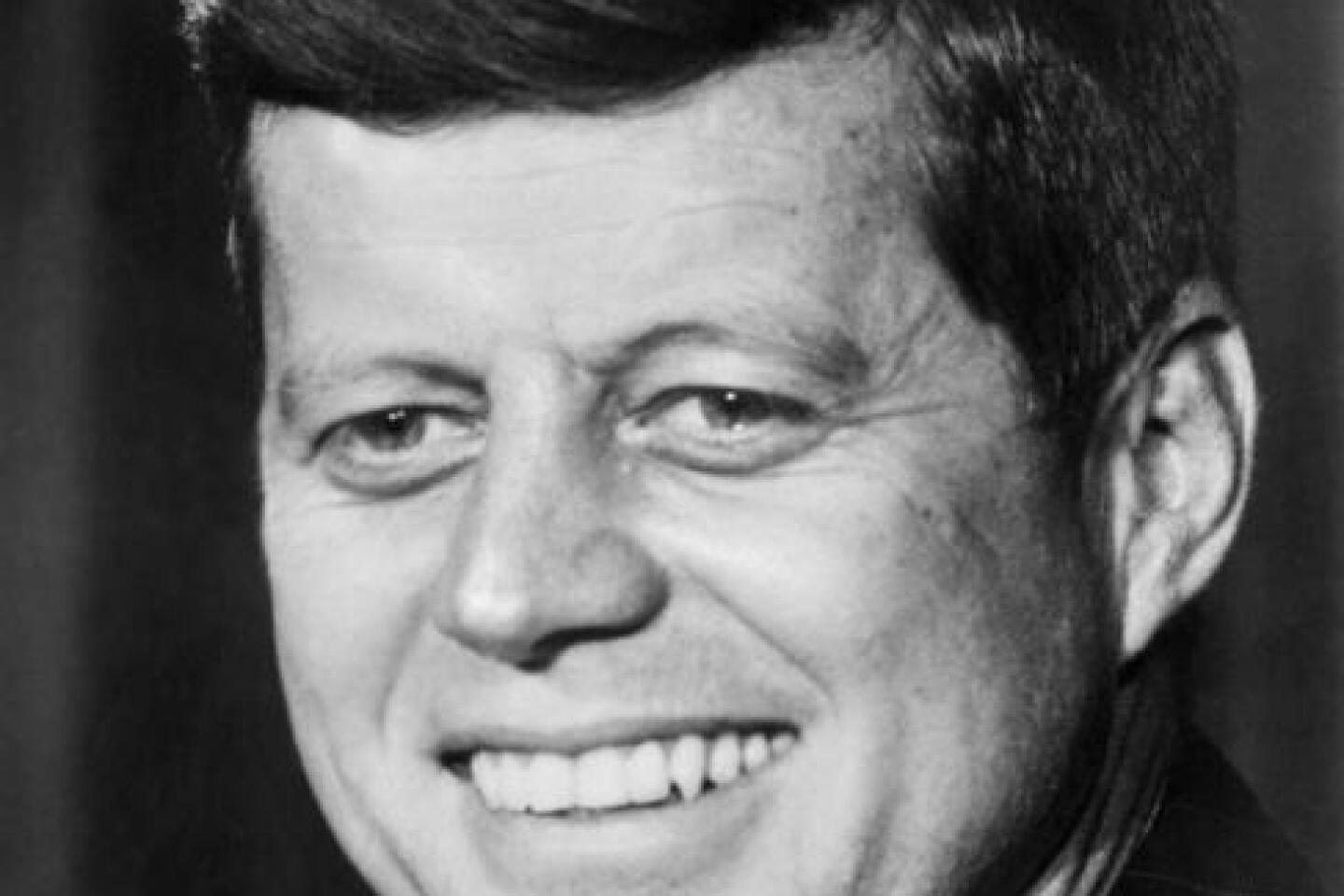 The Sixth Floor Museum highlights Kennedy's presidency along with events like the Bay of Pigs fiasco in April 1961 and the Cuban missile crisis in October 1962.
(AFP / Getty Images)
DALLAS — The city's official commemoration event, "The 50th: Honoring the Memory of President John F. Kennedy," will be Nov. 22 in Dealey Plaza and includes historian and Pulitzer Prize-winning author David McCullough reading excerpts from some of Kennedy's speeches; the tolling of church bells throughout the city and a moment of silence at 12:30 p.m., the time Kennedy was shot; a performance by the Naval Academy Men's Glee Club; and a ceremonial flyover of military aircraft.
Attendance is limited to the 5,000 ticket-holders who have already been selected from among more than 13,000 who applied for admission. The program also will be simulcast live on screens in several locations, including AT&T Plaza at Victory Park, about a mile and a half from Dealey Plaza.
"I think for 'The 50th' commemoration to be a success, it has to keep the spirit of President Kennedy alive for younger generations who don't have a firsthand memory of him," said Ruth Altshuler, a longtime civic leader and philanthropist who chairs the committee planning the event. "We want younger citizens to learn about his remarkable life and legacy, and to know how the world truly mourned for him."
Altshuler and others hope that with the passing of five decades the "City of Hate" moniker Dallas earned undeservedly after Kennedy's death will finally be forgotten.
For her, the issue is personal. In 1966 her daughter, Sally Sharp Harris, was refused service at Saks Fifth Avenue in New York City when the salesperson, noting the Dallas address, returned her driver's license and personal check.
The city's disgrace was "a commonly shared experience," said Nicola Longford, the Sixth Floor Museum's executive director. "People from Dallas were shamed and treated rudely. This happened for years in the aftermath of the assassination. Many young people today can't understand that."
Moreover, she said, for many years, Dallas residents perceived the museum as a tourist attraction.
"Partly because it was a painful reminder of what happened here," she said. "But this perception has been slowly changing as the museum offers public programs and is finding engaging ways to provoke conversation and discussions about what happened here, how it affected the city, the inhabitants who lived through the assassination and in the ensuing decades."
In preparation for the anniversary, the museum has enhanced its visitors' center, introduced a new multimedia audio tour and will be unveiling new artifacts and a legacy film to accompany the main exhibit, "John F. Kennedy and the Memory of a Nation." Other activities include:
-- A book signing Saturday by author and former Secret Service agent Clint Hill, who jumped onto the back of the limousine to shield the president and First Lady Jacqueline Kennedy from more gunfire.
-- A performance Saturday of "One Red Rose" by Grammy Award-winning composer Steven Mackey. It is a three-movement piece, whose title reflects a blood-soaked rose retrieved from the floor of the presidential limousine.
More than 350,000 people visited the Sixth Floor Museum last year; 35% to 40% traveled from other states, especially California, New York and Florida, and 10% to 15% from other countries, primarily Canada, Mexico, Australia, Japan, Brazil and Europe.
Several world leaders and celebrities have toured the museum, but when asked about a reported 1998 visit by former Soviet President Mikhail Gorbachev, Longford demurred, noting names of well-known visitors are not divulged
"For many of them, it is a very personal visit and we remain discreet," she said.
-- One very public aspect of the commemoration is the "Dallas LOVE Project," a collection of more than 30,000 pieces of art reflecting unconditional love inspired by quotes from world leaders, poets, artists and musicians. The works have been placed at nearly 150 venues throughout Dallas, including locations along the route of Kennedy's motorcade.
Visitors interested in retracing that route may want to take the JFK Trolley Tour, which includes stops outside the rooming house where Oswald lived and the Dallas city jail where he was shot two days after the assassination by nightclub owner Jack Ruby. The tours start near the Sixth Floor Museum.
In the Sixth Floor Museum, just before exiting, visitors are encouraged to leave their comments in one of three binders. One reflection seems to capture what many Americans probably will be thinking on the anniversary of that tragic day.
"So sad! I feel my generation, which came after JFK's death, was robbed of the hopes and dreams he brought to the White House by a cowardly act. It makes me wonder what might have been."
Get our L.A. Goes Out newsletter, with the week's best events, to help you explore and experience our city.
You may occasionally receive promotional content from the Los Angeles Times.