28 Images
28 photos from around the world show life during pandemic
Coronavirus is affecting the entire world. These startling photos show how.
France: A victim of the COVID-19, the disease caused by the coronavirus, is evacuated from the Mulhouse civil hospital, eastern France.
(Jean-Francois Badias / AP)
South Africa: A minibus taxi driver wearing a face mask looks on during his journey in Johannesburg, South Africa.
(Themba Hadebe / AP)
Russia: A woman wearing a face mask amid concerns about the coronavirus, walks past graffiti depicting Soviets in World War II.
(Alexander Nemenov / AFP via Getty Images)
Iran: In the Office of the Iranian Presidency, Cabinet members wearing face masks and gloves attend their meeting in Tehran.
(AP)
Italy: Medical workers transport a patient from an Italian Red Cross ambulance into an intensive care unit.
( Miguel Medina / AFP via Getty Images)
South Africa: A barber wears a surgical mask at a hair salon in Soweto, South Africa.
( Themba Hadebe / AP)
CHINA: A man wearing a face mask makes a bubble at a park in Shenyang in China's northeastern Liaoning province.
( AFP via Getty Images)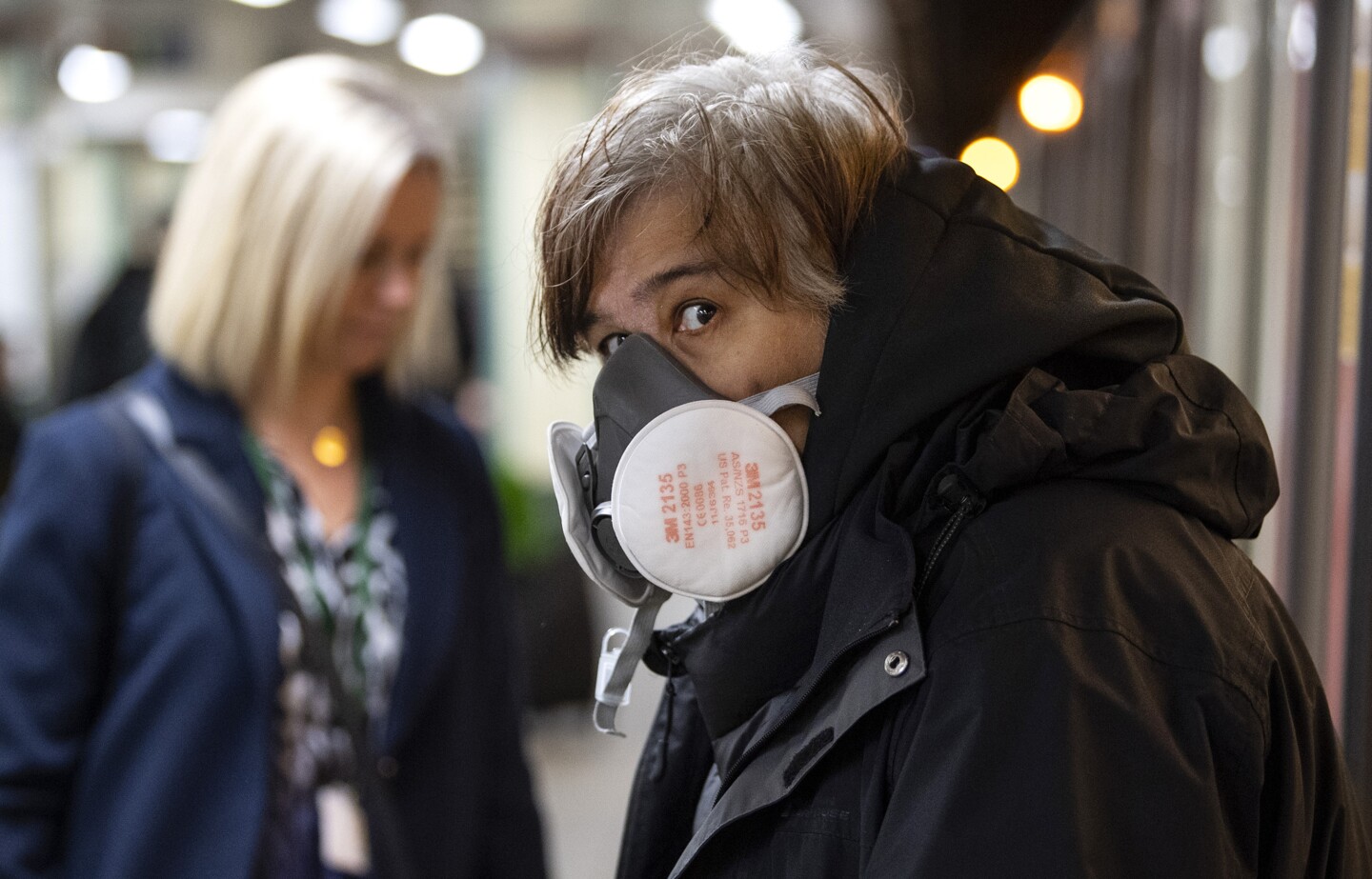 Britain: A commuter wearing a face protection mask travels on the Underground tubes.
( Justin Setterfield / Getty Images)
South Korea: Red Cross workers prepare emergency relief kits packed with basic necessities like instant food for delivery to impoverished people experiencing difficulties amid the spread of the new coronavirus.
( Ahn Young-joon / AP)
Canada: A medical professional collects a sample from a young girl at a drive-through coronavirus screening clinic in Montreal.
(Paul Chiasson / AP)
Argentina: People wearing masks as a precaution against the spread of the new coronavirus ride a nearly empty train in Buenos Aires.
(Natacha Pisarenko / AP)
Nigeria: People wearing face masks walk through a busy market in Lagos, Nigeria.
(Sunday Alamba / AP)
Ukraine: A Ukrainian medic service worker checks the body temperature of a woman arriving from Poland to Ukraine.
(AP)
U.S.: Beachgoers take pictures on a sea wall in Honolulu. Honolulu has closed all public parks and recreation areas.
(Marco Garcia / AP)
Turkey: A municipality worker wearing a face mask and protective suit disinfects chairs outside the historical Sultan Ahmed Mosque, also known as Blue Mosque in Istanbul, Turkey.
( Emrah Gurel / AP)
Italy: Coffins wait to be transported to a cemetery in a church in northern Italy.
( Claudio Furlan / AP)
Mexico: Central American migrants seeking asylum, some wearing protective face masks, return to Mexico via the international bridge at the U.S-Mexico border.
( Christian Chavez / AP)
Spain: Health workers react as people applaud from their houses in support of the medical staff working on the coronavirus outbreak in Madrid.
( Manu Fernandez / AP)
Spain: Volunteer workers of Search and Rescue (SAR) with special equipment disinfect a volunteer after disinfecting a police car at a local police station to prevent the spread of coronavirus in northern Spain.
( Alvaro Barrientos / AP)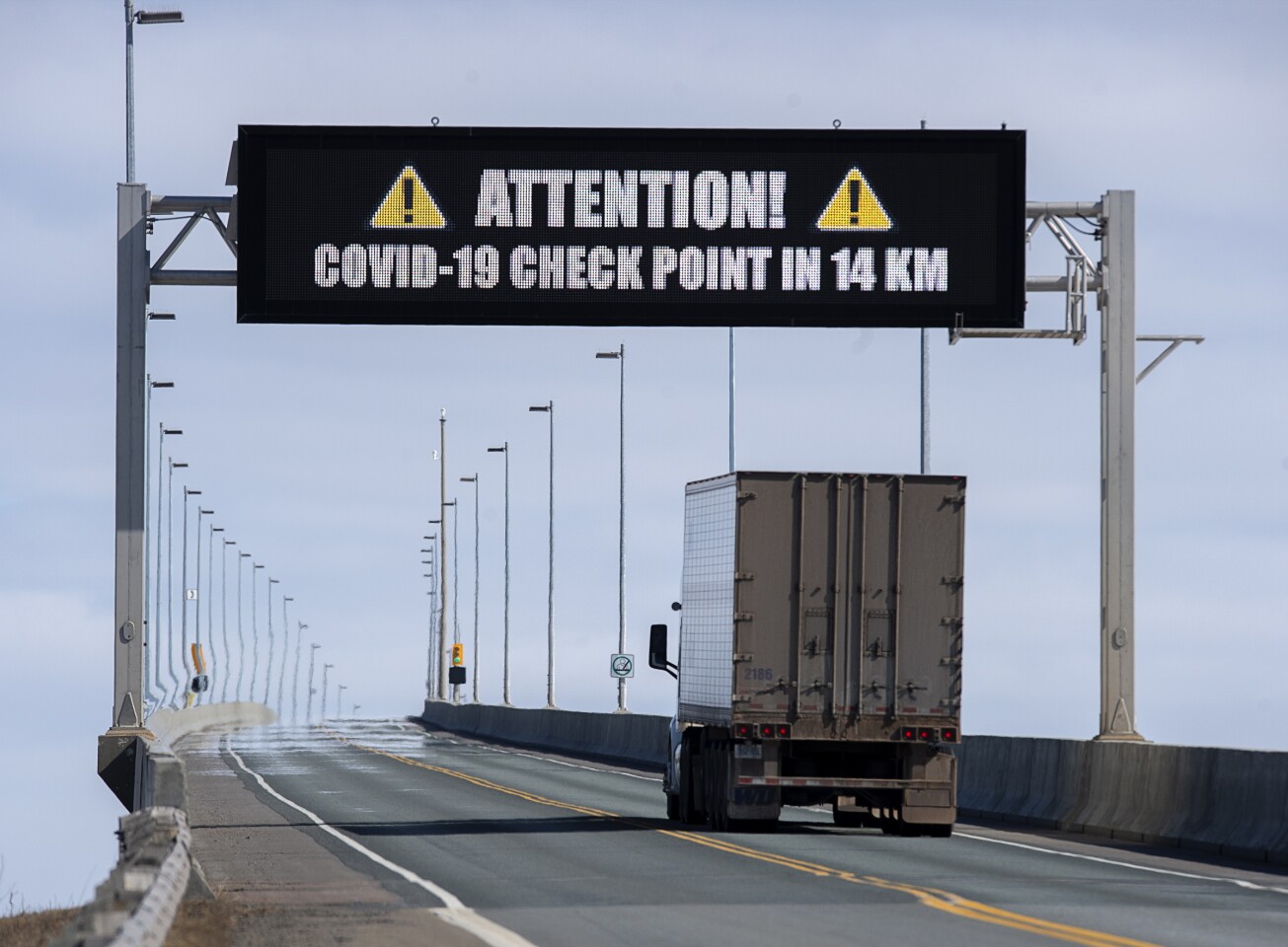 Canada: A sign indicates that provincial health department workers will stop traffic that has crossed the Confederation Bridge in Cape Jourimain, New Brunswick, Canada.
( Andrew Vaughan / AP)
Germany: A man laughs after he plays Beethoven's "Ode to Joy" on a balcony at the district Prenzlauer Berg in Berlin.
( Markus Schreiber / AP)
Russia: Russian Orthodox priests deliver a religious service for deliverance from the coronavirus at the St. Peter Monastery in the center of Moscow.
( Pavel Golovkin / AP)
South Korea: Members of a local residents group wear protective gear as they disinfect a local park as a precaution against the new coronavirus in Seoul.
( Lee Jin-man / AP)
Brazil: Tourists pose for a photo in front of the sealed-off Selaron Steps during a lockdown aimed at stopping the spread of the coronavirus outbreak in Rio de Janeiro.
( Wagner Meier / Getty Images)
Inida: Indian commuters wearing masks arrive at a railway station in Jammu, India.
( Channi Anand / AP)
Egypt: A worker disinfects the area around King Tut's famous mask in the Egyptian Museum in an effort to help prevent the spread of the coronavirus in Cairo.
( Hamada Elrasam / AP)
Sweden: Prime Minister Stefan Lofven addresses the nation about the coronavirus crisis, broadcast on Swedish national public television.
( Anders Wiklund / AP)
Germany: Doctors and nursing staff meet in the central emergency room of the University Hospital in Essen, Germany.
( Marcel Kusch / AP)