Indians on social media mock Bobby Jindal candidacy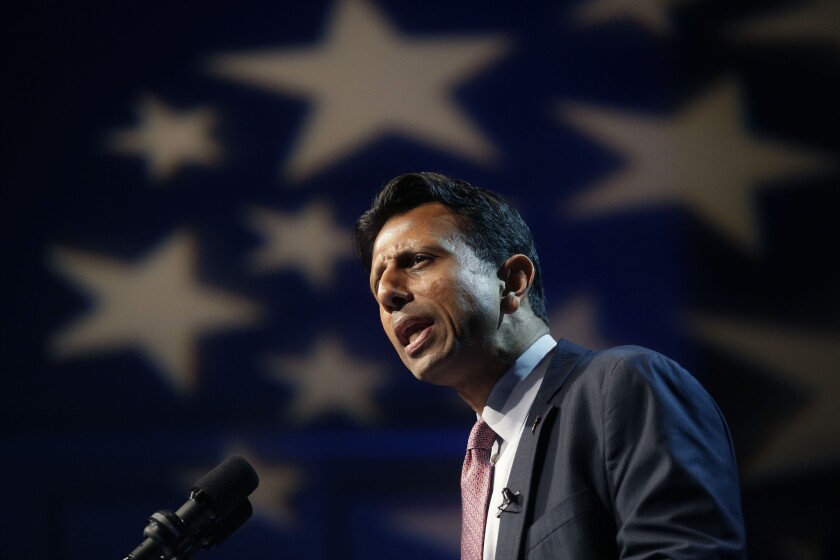 As a rising power, India is obsessed with its image in the world, so the announcement of the first U.S. presidential candidate with Indian roots figured to create a stir.
It probably wasn't the kind Louisiana Gov. Bobby Jindal wanted.
Indians on Thursday roundly mocked Jindal's campaign kickoff announcement, particularly for the 44-year-old Republican's line that he was "tanned, rested and ready" to run. It was widely seen as an attempt to play down his skin color to appeal to conservative voters, and fit with what Jindal's critics say is a longstanding effort to disassociate himself from his Indian heritage.
The Twitter hashtag #BobbyJindalIsSoWhite trended in India for several hours.
#BobbyJindalIsSoWhite that he couldn't win a spelling bee if he tried.

— Priti (@pritiriyer) June 25, 2015
Yo #bobbyjindalissowhite that he thinks Cricket is a corrupted form of Baseball. pic.twitter.com/57rfi1OyUm

— VeeGee Narendra (@VeGeEn) June 25, 2015
#BobbyJindalIsSoWhite he's never been randomly selected at the airport

— Misha Choudhry (@MishaChoudhry) June 25, 2015
Some of India's leading newspapers ran front-page mentions of Jindal's announcement, although the coverage was less than effusive. Lalit K. Jha, longtime Washington correspondent for the Press Trust of India, wrote in a news report that Jindal's announcement "has failed to generate much enthusiasm among the Indian-Americans because of his recent statements in which he sought to distance himself from being an Indian-American."
Jindal was born in Louisiana in 1971 to Indian immigrants from the northern state of Punjab. As a child he changed his birth name, Piyush, to Bobby after the character from "The Brady Bunch." Raised by devout Hindus, he converted to Catholicism as a teenager and says his faith inspires his conservative principles, including a staunch opposition to same-sex marriage.
Jindal invoked his parents at the start of his kickoff speech Wednesday but used the word India only once: in his oft-repeated accusation that Democrats were dividing the country along ethnic, gender and class lines. "We are not Indian Americans, Irish Americans, African Americans, rich Americans or poor Americans," he said. "We are all Americans."
Jindal enters the Republican presidential race near the bottom of the pack and has failed to inspire much support from U.S. voters of Indian origin, most of whom lean Democratic.
"Bobby has never supported a single Indian issue, he refused to join the India Caucus when he was a congressman [on] Capitol Hill and is conspicuously absent from any event with a visiting Indian leader," Shashi Tharoor, an Indian politician and author, wrote in a recent book, "India Shastra."
"It is as if he wants to forget he is Indian, and would like voters to forget it too."
Jindal is an object of fascination for a rising Indian middle class that assiduously tracks their country's stature in the world. When Prime Minister Narendra Modi led scores of countries in marking the first International Day of Yoga last weekend, many Indians beamed with pride.
But they are less charitable when it comes to Indians abroad who are seen to betray their heritage. Preet Bharara, the U.S. attorney in Manhattan, has received less than favorable press coverage for the perception that he has targeted Wall Street executives with South Asian roots, such as Sri Lankan-born hedge fund billionaire Raj Rajaratnam, for prosecution of financial crimes.
Young Indians flooded social media sites with sarcastic comments when Jindal unveiled his official governor's portrait earlier this year because his skin looked shockingly white. A photo his office tweeted this week of his family playing Monopoly inspired mockery because his young children had their shoes on inside the house, a cultural no-no here.
Monday Funday. pic.twitter.com/x593WUMrJF

— Gov. Bobby Jindal (@BobbyJindal) June 23, 2015
Mihir Sharma, a columnist for the Business Standard newspaper, accused Indian Americans of a "tendency to turn viciously on those they see as less Indian." But even he balanced his words with a critique of the candidate.
"Typical: smug Indians trying to shame Bobby Jindal for his choices on identity, and not his awful politics," Sharma tweeted.
---
Must-read stories from the L.A. Times
Get all the day's most vital news with our Today's Headlines newsletter, sent every weekday morning.
You may occasionally receive promotional content from the Los Angeles Times.