South Korean man lights himself on fire during anti-Japan protest in Seoul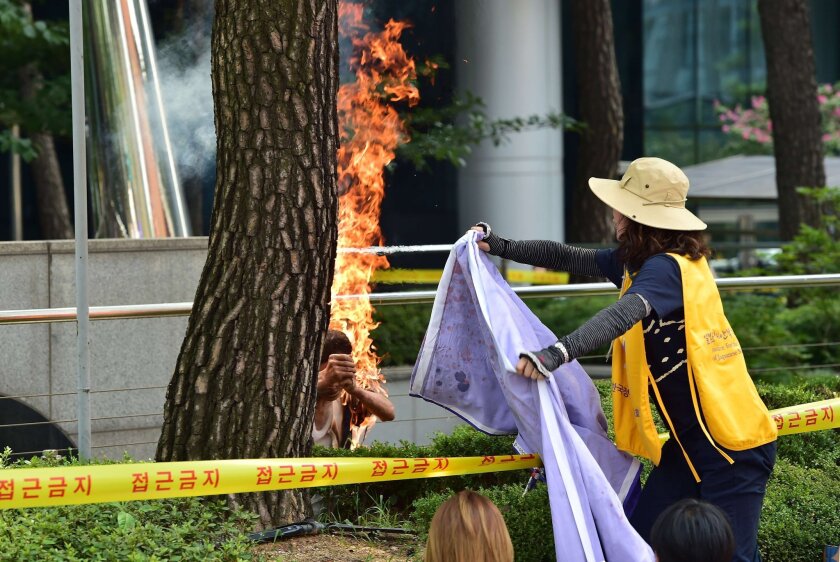 Reporting from Seoul —
An elderly South Korean man set himself on fire on Wednesday outside of Seoul's Japanese embassy during a protest by so-called "comfort women," survivors of enslavement at Japanese military brothels during World War II.
Photos from the scene showed the 81-year-old man, whose name has not been released, engulfed in flames while seated, his hands clasped in front of his face. Onlookers doused the flames and emergency workers rushed the man to the hospital, according to South Korea's Yonhap News Agency. His injuries were not life-threatening, the agency reported, but his current condition remains unknown.
The comfort women and their supporters have gathered in front of the embassy every Wednesday since 1992, demanding that the Japanese government formally apologize and compensate them for their grievances.
Between 1,000 and 2,000 people participated in Wednesday's protest, according to local media.
South Korea was a Japanese colony from 1910 to 1945, and unresolved disputes from that era still loom large over the two countries' relations.
The two sides signed a treaty establishing diplomatic relations in 1965. Japan, under the treaty's obligations, provided economic aid and loans as redress for its colonial occupation.
Tokyo has argued that the treaty settled all wartime grievances and that it is under no obligation to address additional claims. But the comfort women say that they have not been properly compensated for the brutality they endured during the occupation. They contend that the treaty was strictly a governmental agreement, and failed to address their individual grievances.
A South Korean government registry counts only 47 surviving comfort women.
NEWSLETTER: Get the day's top headlines from Times Editor Davan Maharaj >>
On Aug. 15, South Korea will mark the 70th anniversary of its independence from Japan with a nationwide celebration -- many streets in Seoul are already bedecked with banners and flags.
On that same day, Japanese Prime Minister Shinzo Abe is scheduled to deliver a speech to mark the anniversary of the end of World War II. The South Korean government will be watching Abe's choice of words closely as Abe has been known to skirt around sensitive issues involving his country's wartime conduct. On Wednesday, South Korea's foreign minister called on Abe to uphold statements of remorse made by his predecessors in the 1990s.
The Japanese embassy in Seoul is a large, red brick structure surrounded by high, barbed-wire-topped walls and guarded at all hours by dozens of police officers. It has been the site of violent activism before: In 2012, a Chinese man was arrested after throwing Molotov cocktails at the compound. Six months later, a South Korean man rammed a pickup truck into its main gate.
Across the street stands a statue of a young comfort woman dressed in traditional Korean garb, glaring pensively at the building's walls.
Analysts have pointed out that the comfort women issue has a way of provoking the most extreme actions from Korean activists, as it "has come to represent all the unpleasantness of the Japanese occupation," said Michael Breen, a Seoul-based historian and author of "The Koreans."
"Japan has apologized, but could apologize more, and that bit of resistance can sometimes inflame Korean sensibilities," Breen said.
Borowiec is a special correspondent.
ALSO
Questions about Malaysian prime minister don't stop at Flight 370
Japan restarts nuclear reactor, 4 years after Fukushima. What's at stake?
Five songs the Chinese censors don't want you to hear
---
The stories shaping California
Get up to speed with our Essential California newsletter, sent six days a week.
You may occasionally receive promotional content from the Los Angeles Times.