Nepal businesses, people out of work after quake wonder what's next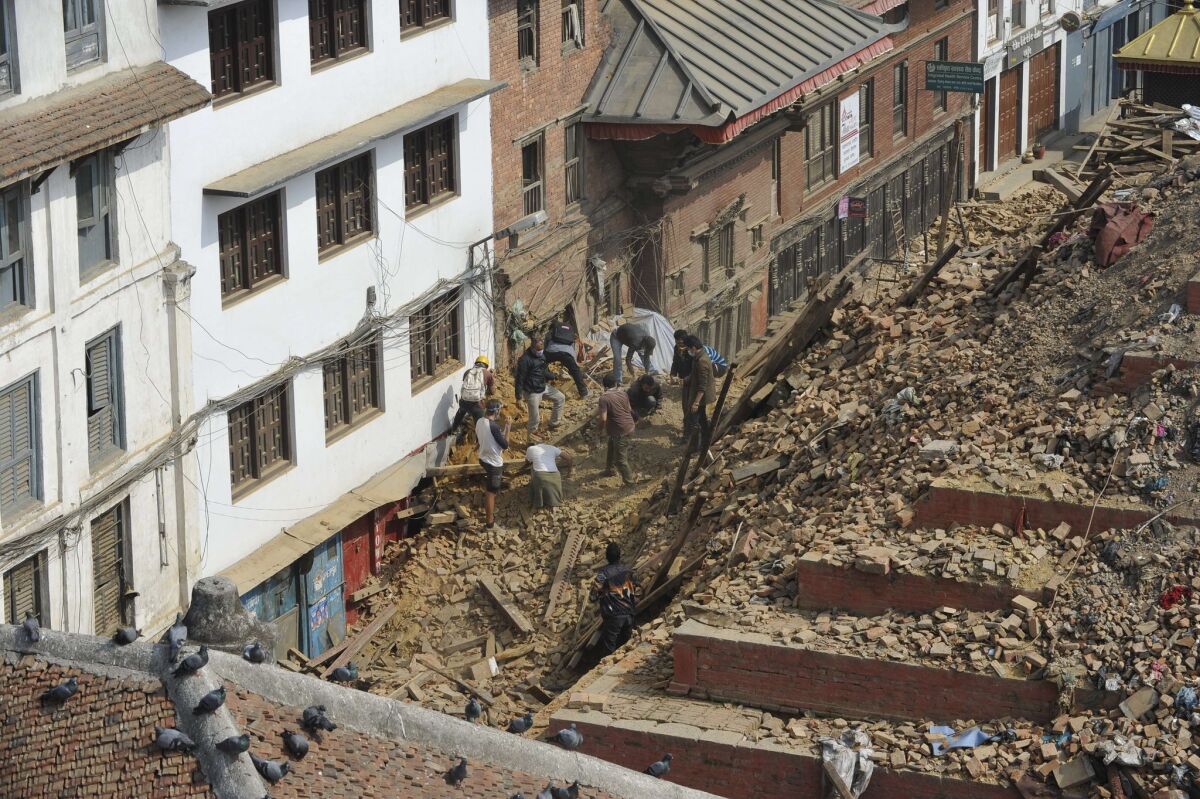 Reporting from Katmandu, Nepal —
For 18 years, he toiled in other people's eateries, venturing as far as Bahrain to work as a restaurant manager and saving up $50,000 to start his own establishment.
Finally, four years ago, Pradip Kumarshrestha threw open the doors to Mc Fast Food, serving Chinese, Nepalese and Indian cuisine out of a turquoise-and-orange building across the road from a hotel called the Mystic Buddha.
But on Wednesday, Kumarshrestha's dream lay in a crumpled heap, with Russian, Indian and Nepalese rescue workers picking over the rubble of his Katmandu restaurant – and his family's apartment above -- looking for corpses. He was camping out on the playground of the nearby Shine Model School with his wife and two sons, ages 10 and 12, tears welling in his eyes.
"It's finished. I have nothing. I don't know what to do; I'm still thinking about it," said the 40-year-old businessman, pulling his neckerchief over his face.
It wasn't just his family Kumarshrestha was worried about. His 12 employees -- seven kitchen workers, three waiters, a receptionist and a manager -- are out of work as well. "My staff, that's also my responsibility. I am helping and feeding them."
The magnitude 7.8 earthquake that rocked Nepal on Saturday killed more than 5,000, injured many thousands and left countless homes and apartments uninhabitable. As the extent of the disaster comes into focus, it's becoming clear that the temblor also shattered innumerable livelihoods in a country where many people are self-employed, insurance is a rarity and the government's social safety net is almost nonexistent.
Nepal, a country of 28 million, is one of the world's poorest. Its gross domestic product in 2013 was barely $20 billion, lower than any U.S. state. Remittances sent by Nepalese working abroad account for as much as 25% of GDP.
But the nation, long reliant on agriculture for much of its economic output, has recently tried to diversify and economic growth reached 5.2% last year. The earthquake threatens to reverse that progress, damping tourism, slowing foreign investment and harming other businesses.
The tents, blankets, food and medical supplies pouring into Nepal from other countries will help ease immediate needs. But such relief efforts cannot reconstruct a crushed furniture shop or rebuild the smokestack of a brick factory that was toppled by the earth's shaking.
Utam Pande, 46, who ran a general store in Katmandu's Satungal neighborhood, had his kneecap split in two during the quake when a cooking-gas cylinder fell on his leg. His shop is a total loss.
"I'm afraid I'm never going to be able to work again," he said from his bed at Birendra Military Hospital as his wife, Muna, sat beside him.
It's not just small businessmen like Pande and Kumarshrestha who are feeling at loose ends. Even landlords like the family who owned the structure where Mc Fast Food was located are anxious about their financial future.
"We own all three buildings that collapsed here," said Bhuwan Man Shakya, 63, estimating their total value at $600,000. "We had a bank loan for one of them, so we had insurance on that one only."
Whether the insurer will pay remains to be seen. "We have not talked to the insurance company," he said. "We will have to negotiate and look at the [contract] to see what it says."
His son, Rukesh Man Shakya, a 35-year-old radiologist, said he feared the family would have to finish paying off the bank loan if the insurance company did not come through with restitution.
Asked whether he thought the government would help, Kumarshrestha was pessimistic. "I don't think so. Because there are so many people like me. What can they do?"
Although the domestic and international rescue squads were combing through the Shakyas' turquoise-and-orange pile of concrete, glass and steel, neither they nor Kumarshrestha were impressed with the government's general response to the disaster.
"They'll send 50 people here, but they have no proper equipment to do the rescue. The foreign forces have to come.... The Nepalese just come with picks and their hands. I lent a generator to the Indian team to power their cutter tools and lights," Kumarshrestha said.
He hopes he can rebuild his business. He said he named it Mc Fast Food because he was "inspired from McDonald's," adding modestly that his dishes might be a bit tastier than the fast-food giant's.
"I hope I can do it again," Kumarshrestha said. "I have goodwill in this area – people here, they know me, they know I have good food and a good restaurant."
Special correspondent Michael Edison Hayden in Katmandu contributed to this report.
Twitter: @JulieMakLAT
---
Must-read stories from the L.A. Times
Get the day's top news with our Today's Headlines newsletter, sent every weekday morning.
You may occasionally receive promotional content from the Los Angeles Times.