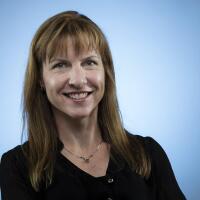 Julie Makinen
Julie Makinen is a former reporter and editor at the Los Angeles Times.
Latest From This Author
Some water from the crippled Fukushima complex is being released to make room for more severely contaminated water in a government-approved measure. Officials say the move does not pose an immediate threat to humans.

When news surfaced last month that Panda Express was considering introducing a new half-fork, half-chopsticks plastic utensil known as the chork, reaction among American patrons of the Chinese fast-food chain was swift and largely enthusiastic: Finally, a common flatware for the both the deft and the less dexterous devotees of tangy orange chicken.

It's midday on a Thursday and Yoshihiro Ueuchi is preparing to preach some culinary gospel.

For more than a century, Chinese typewriters have been objects of curiosity, confusion and even a fair bit of ridicule — after all, how do you type a language that has no alphabet?

In April 1960, not yet finished with high school, 17-year-old Eiko Kawasaki boarded a Soviet ship called the Kryl'ion in the Japanese port of Niigata and set sail on the journey of a lifetime, to a place she was told was paradise: North Korea.

For American film and TV show creators and distributors, it hasn't exactly been smooth sailing in China recently.

Since being dispatched from North Korea to London as a foreign service officer, Thae Yong Ho had developed some very un-North Korean tastes, friends say.

Mired in the dog days of summer with no major foreign or domestic releases driving audiences to theaters, China's box office crown last week went to the holdover adventure fantasy "Time Raiders."

A week into the Rio Games, NBC and some other U.S. news outlets have taken a drubbing for a sexist approach to female athletes.

For five days last week, the confessions poured forth from Chinese human rights activists and attorneys rounded up last summer and held incommunicado for a year.