Japan calls latest North Korean missile launch a 'serious act of provocation'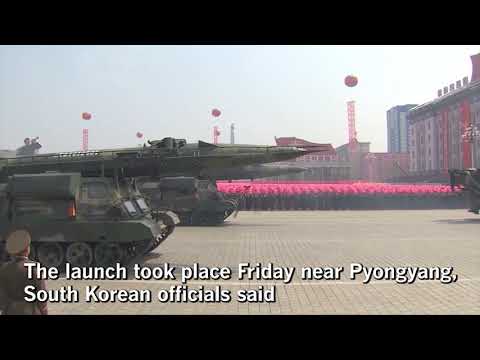 North Korea has test-launched another ballistic missile over Japan. (Sept. 15, 2017)
Reporting from Seoul —
North Korea on Friday test-launched yet another ballistic missile over Japan, South Korean officials said, the latest provocation in an escalating standoff with the international community over its illicit nuclear program.
The apparent intermediate-range missile was launched Friday morning near Pyongyang, the capital, flying for roughly 2,200 miles before landing in the North Pacific Ocean, according to South Korean defense officials.
In a show of defense, South Korean military officials said they immediately retaliated by sending a missile of their own about 150 miles into the East Sea, also known as the Sea of Japan — the same distance as the base where the North Korean missile originated.
"Our military is closely monitoring the North Korean army for further provocations with strengthened vigilance by following their movements and maintaining our readiness," the Defense Ministry said in a statement.
South Korean President Moon Jae-in said his government would hold an emergency meeting in response to the launch.
The initial assessment indicates it was an intermediate-range ballistic missile that launched at 6:57 a.m. near Sunan, North Korea, just north of Pyongyang, said U.S. Navy Cmdr. Dave Benham, a U.S. Pacific Command spokesman. Sunan is the site of Pyongyang's international airport.
"We are working with our interagency partners on a more detailed assessment, and we will provide a public update if warranted," Benham said. "We continue to monitor North Korea's actions closely."
President Trump was briefed on the launch by White House Chief of Staff John F. Kelly, Press Secretary Sarah Huckabee Sanders said.
U.S. Secretary of State Rex Tillerson called on other countries to take new measures aimed at further isolating North Korea economically and diplomatically.
"China supplies North Korea with most of its oil. Russia is the largest employer of North Korean forced labor," he said. "China and Russia must indicate their intolerance for these reckless missile launches by taking direct actions of their own."
In Japan, the government sent warnings by text messages and broadcasts across 12 prefectures. It also urged its citizens to stay away from anything that might be missile debris, according to the Japanese broadcaster NHK.
"Japan cannot condone this serious act of provocation," said Yoshihide Suga, Japan's chief Cabinet secretary. "The government will coordinate closely with the United States, South Korea and other relevant countries."
He said Japan would consult with the United Nations to ensure the safety of its residents.
Japan has been increasingly rattled by North Korea's aggressive missile program. This was North Korea's 15th missile test in 2017 and among more than 60 since Kim Jong Un took power in 2011.
The launch represents another example of the North's brash refusal to listen to the international community's concerns. Perhaps more troubling, it is further evidence of an advancing technical capability, including the launch of three missiles in recent weeks and the underground test of a powerful nuclear device.
North Korea has boasted recently about acquiring the ability to arm a missile capable of reaching the U.S. mainland with a hydrogen bomb. Security experts say that moment gets closer with each test.
Both intelligence and history had North Korea watchers expecting another test. South Korean lawmakers received a report from the nation's spy agency that a suspected missile had been moved across the country.
Many of the launches in recent years have involved short- and medium-range missiles launched into the East Sea between North Korea and Japan. The launches violate United Nations resolutions intended to curb Pyongyang's nuclear ambitions.
Kim's father, Kim Jong Il, also oversaw missile tests — roughly two dozen — before he died in late 2011.
The younger Kim has drastically stepped up testing, both of nuclear devices and missiles, since taking power. In a televised speech earlier this year, he said the country had a national goal of building and deploying powerful missiles — and of arming them with nuclear warheads — that could reach the U.S. mainland.
Last week, one of the country's vice ministers for foreign affairs, Choe Hui-chol, briefed foreign ambassadors on the most recent nuclear test, the country's sixth, according to the state-run Korean Central News Agency.
Choe reportedly said the test, North Korea's most powerful, was significant in the country's drive for a "state nuclear force." He also said the nation's leaders are studying U.S. reactions to its efforts.
"We will not take even a step back from the road of our option but keep bolstering the nuclear deterrence for self-defense to defend our government and people from the U.S. nuclear war threat," Choe said, according to KCNA.
The Comprehensive Nuclear-Test-Ban Treaty Organization now estimates that the most recent nuclear test produced a yield of 100 to 600 kilotons, backing North Korea's claims that it was a hydrogen bomb.
Also this week, South Korea's Nuclear Safety and Security Commission announced the detection of trace amounts of radioactive xenon, which may have originated from the test. The agency said the radioactivity poses no threat to the public.
As the fallout from Kim's decision to continue testing continues, few claim to understand fully the leader's real intentions. Some speculate that the missile and nuclear programs are defensive to protect the family dynasty's hold on power.
Others believe the cash-strapped country might use its new power to extract concessions from its neighbors and the United States — or perhaps use it as leverage to gain more influence in the discussion about Korean unification.
The latest launch came as U.S. Defense Secretary James N. Mattis was in Omaha visiting the headquarters of U.S. Strategic Command, which oversees the military's nuclear arsenal.
A day earlier, Mattis had toured Minot Air Force Base in North Dakota, where nuclear-capable B-52 bombers and nuclear-tipped intercontinental ballistic missiles are based. The long-planned trip was intended for Mattis to get an update on the nation's strategic nuclear weapons complex.
The United States has more than 28,000 troops on the Korean peninsula. The forces conduct annual military drills that aggravate the North. Some countries, such as China and Russia, have suggested the U.S. halt those maneuvers in exchange for a freeze in North Korea's testing.
Neither side has shown a willingness to explore such a plan, however.
Meanwhile, military officials here say they have approved installing more United States anti-missile systems on a former golf resort-turned-military base in a southern region of the country, Seongju County.
The system, known as Terminal High Altitude Area Defense, or THAAD, was deployed to counter North Korea's shorter-range missiles — not those that might threaten United States targets in the Pacific, such as Guam, or the U.S. mainland.
"We have temporarily installed four additional THAAD launchers to protect our citizens from North Korea's growing nuclear and missile threats," Defense Ministry spokesman Moon Sang-gyun said this week.
The missile system has been controversial, both at home and abroad.
Locals residents have protested, even trying to block the system physically on roads leading to the base, saying the system might make their villages military targets. There's also concern, some said, about health hazards from the system's powerful radar, though it's unclear whether those worries have merit.
China, a key South Korean trade partner and counterpart on any North Korea solution, has vigorously opposed the THAAD deployment. In addition to diplomatic objections, China has in the past blocked its residents from booking tours to Seoul and forced the closure of dozens of shopping centers in the country run by Lotte Co., a major South Korean retailer.
Global Times, a Chinese Communist Party tabloid, linked the defense system with North Korea's nuclear weapons development, calling them a "malignant tumor" that threatens regional stability.
The newspaper insisted the system's deployment ignores China's safety. "How self-centered is that?" it said. "Are these conservative South Koreans delusional because they had too much kimchi?"
Still, the stepped-up North-South tensions seems to have smoothed over South Korean government hesitation, for now.
"We will conduct a strict environmental analysis of the THAAD site, and once the results are out we will make a final decision on whether to permanently deploy THAAD," defense spokesman Moon said.
The Defense Ministry also said last week that South Korea could seek to acquire its own defensive missile systems.
Stiles is a special correspondent. Times staff writers W.J. Hennigan and Tracy Wilkinson in Washington contributed to this report.
---
UPDATES:
7:25 p.m.: This article was updated with a comment from U.S. Secretary of State Rex Tillerson.
6:05 p.m.: This article was updated with President Trump being briefed on the launch.
5:20 p.m.: This article was updated with more U.S. comment and Mattis' visit to the U.S. nuclear site.
5:05 p.m.: This article was updated with Japanese reaction, background and analysis.
This article was originally posted at 3:20 p.m.
Sign up for Essential California for the L.A. Times biggest news, features and recommendations in your inbox six days a week.
You may occasionally receive promotional content from the Los Angeles Times.