North Korea's Kim Jong Un places nation's border in 'semi-state of war'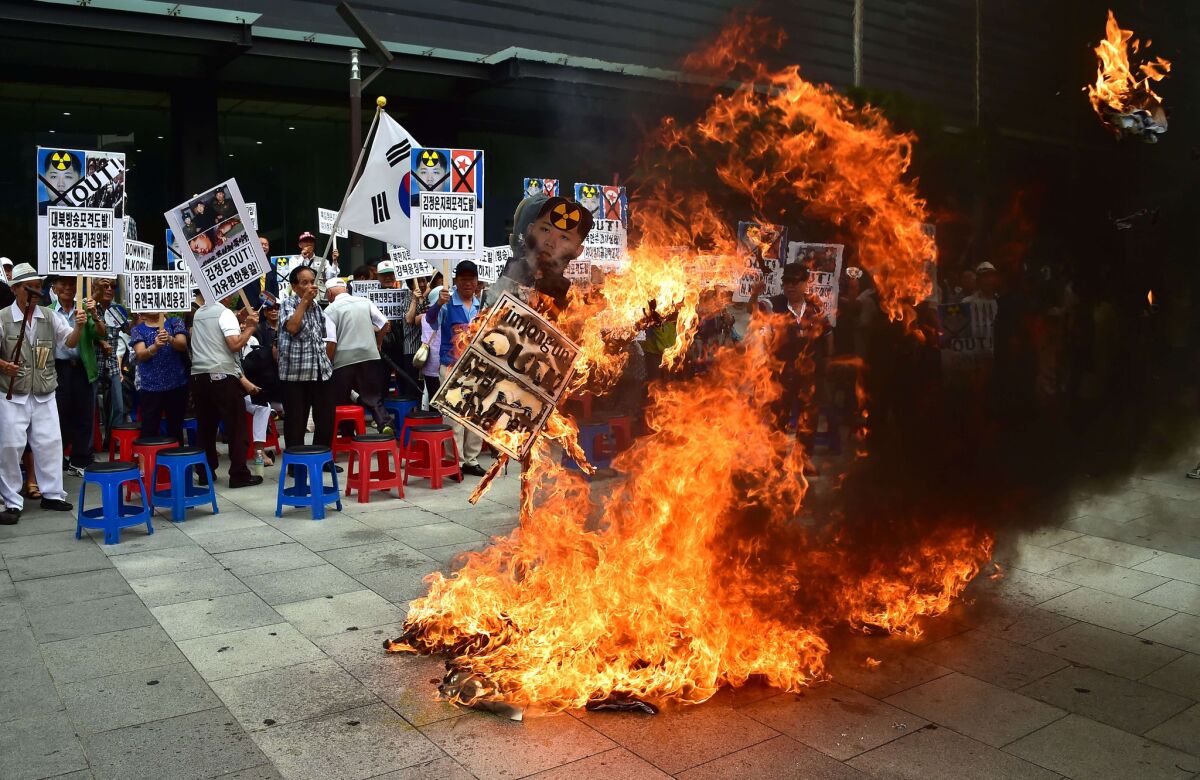 Reporting from Beijing —
North Korean leader Kim Jong Un has ordered troops on the country's heavily armed border with South Korea to be ready for war, one day after the two countries exchanged artillery fire in a spat over propaganda-spewing loudspeakers.
Speaking at an emergency meeting of his Central Military Commission, Kim ordered soldiers to be "fully battle ready" and placed the border region in a "semi-state of war" beginning at 5 p.m. Friday, according to the state-run Korean Central News Agency.
------------
For the Record
Aug. 21, 9:03 a.m.: An earlier version of this article incorrectly quoted the Korean Central News Agency report as saying Kim had ordered soldiers to enter a "fully armed state of war" beginning at 5 p.m. Friday. He ordered soldiers to be "fully battle ready" and placed the area in a "semi-state of war."
------------
The North and South have been technically at war since the Korean War in the 1950s, which ended in an armistice, not a formal peace deal.
Pyongyang is notorious for issuing bellicose statements at times of diplomatic strife. On Aug. 14, after South Korean activists sent propaganda leaflet-bearing balloons across the border, North Korea threatened to turn Seoul into a "sea of fire."
On Thursday, North Korea fired a projectile at a South Korean loudspeaker that was broadcasting anti-Pyongyang messages over the border, a no-man's land that has divided the two countries since 1953.
South Korea retaliated by firing dozens of 155-millimeter artillery shells at the source of the attack, according to a statement from the South Korean Defense Ministry. Neither side has reported injuries or damage.
North Korea warned Seoul on Friday that it would take "military action" if the South did not halt the broadcasts by 5 p.m. Saturday, according to South Korean media.
South Korea has ordered evacuations in villages close to the border. The Associated Press reported that the nation has put its military on top alert and vowed to sternly deal with any North Korean provocations.
In a message sent to the North, the Ministry of National Defense said: "South Korea will strongly retaliate against any kind of North Korean attacks and the North will have to take all the responsibility for such ... actions."
NEWSLETTER: Get the day's top headlines from Times Editor Davan Maharaj >>
About 100 people gathered in Seoul on Friday to protest North Korea's shelling, according to the Associated Press; in Pyongyang, vans equipped with loudspeakers rolled down the streets broadcasting the news that the country was in a "semi-state of war."
The most recent round of tensions began in mid-August, when Seoul accused North Korean soldiers of sneaking across the border and planting land mines near a military post. The mines detonated, maiming two South Korean soldiers.
In retaliation, South Korea activated the loudspeakers, arrayed at 11 sites along the zone, for the first time in 11 years. North Korea responded by blaring propaganda from loudspeakers of its own.
Large-scale joint military exercises between the U.S. and South Korea began on Monday and are ongoing, despite strong protests from Pyongyang. North Korean officials have called the annual drills a rehearsal for an invasion.
David Shear, assistant Defense secretary for Asian and Pacific security affairs, said the exercises, which involve 30,000 U.S. and 50,000 South Korean troops, were suspended Thursday but resumed in a matter of hours.
"We call on Pyongyang to refrain from actions and rhetoric that threaten regional peace and stability," Shear told a news conference Friday at the Pentagon. "We are at one with our [South Korean] ally."
The U.S. and South Korea maintain that the military drills, scheduled to run for another week, are meant to ensure readiness for a possible North Korean invasion of South Korea.
Kim's order "is a strange concept because North Korea lives in a sort of perpetual quasi-state of war -- though this could be significant as it's directed at the troops, not the whole country," said John Delury, a professor at Seoul's Yonsei University.
Delury said that if the volley of provocations escalates further, it could resemble a period of heightened tension in 2013, when North Korea cut a military hotline between the two countries and temporarily closed a jointly administered industrial zone.
Pyongyang's ultimatum that South Korea shut off its loudspeakers before Saturday raised the stakes for both sides, he added.
"The ultimatum is unusual. Because it's a game of chicken -- one side or the other has to back down, unless they find some sort of face-saving subterfuge. And it doesn't seem like they're looking for face-saving subterfuge."
Times staff writer W. J. Hennigan in Washington contributed to this report.
For news from Asia, follow @jrkaiman on Twitter
ALSO:
In a swipe at Japan, North Korea creates new time zone
After leaving North Korea, writers are penning stories about their home
South Korea resumes anti-North Korea broadcasts after land mine explosions
Must-read stories from the L.A. Times
Get the day's top news with our Today's Headlines newsletter, sent every weekday morning.
You may occasionally receive promotional content from the Los Angeles Times.