Former Rio de Janeiro governor sentenced to 14 years in prison for corruption and money laundering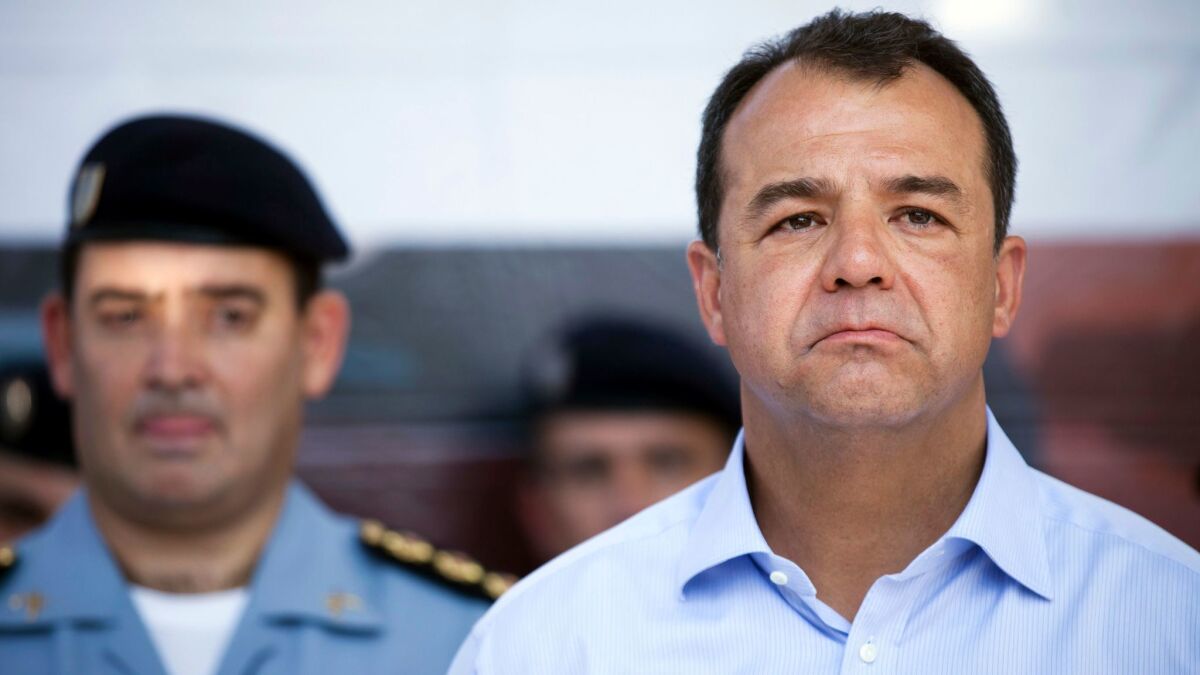 Reporting from SAO PAULO, Brazil —
Former Rio de Janeiro state Gov. Sergio Cabral was sentenced Tuesday to 14 years and two months in prison for corruption and 12 counts of money laundering in connection with Brazil's billion-dollar corruption investigation known as Lava Jato, or Car Wash.
The Lava Jato investigation has already led to the arrest of several high-ranking politicians and businesspeople, including former lower house Speaker Eduardo Cunha and Marcelo Odebrecht, chief executive of construction giant Odebrecht.
Initially meant to look into a money laundering scheme, it has since expanded to cover allegations of corruption at state-run oil company Petrobras, where executives allegedly awarded lucrative contracts to those willing to hand out large kickbacks.
Many other politicians have been accused of lining their pockets with bribe money, including former Presidents Luiz Inacio Lula da Silva and Dilma Rousseff, as well as current President Michel Temer and Brazilian Social Democracy Party leader Aecio Neves.
Cabral, who served two terms as governor from 2007 to 2014, was accused of heading a scheme that allowed him to receive kickbacks from a construction company in return for awarding it profitable contracts.
He will also have to pay a fine of $203,000.
Judge Sergio Moro absolved Cabral's wife, Adriana Ancelmo, of the same charges for what he said was "a lack of sufficient proof of authorship or participation."
He sentenced the former governor's right-hand man and former state Interior Minister Wilson Carlos Carvalho to 10 years and eight months in prison, and his associate Carlos Miranda to 10 years. Both were accused of corruption and money laundering.
Moro said Cabral, who was detained in November 2016, took $814,000 in bribes from contractor Andrade Gutierrez from 2007 to 2011 in order to award the company contracts for the construction of the Petrobras petrochemical complex Comperj.
According to the attorney general's office, the Comperj contract was initially worth $247.4 million, but ended up costing $543.2 million.
The bribe money has not yet been found, and Moro said he suspects Cabral and Carvalho transferred the funds before their bank accounts were blocked in November as part of the investigation.
The former governor is a member of the Brazilian Democratic Movement Party, the same as President Temer, who is also under investigation for alleged corruption and who was cleared last week of accusations that he had broken finance rules in his 2014 election campaign.
Cabral is also a defendant in nine other cases being tried in Rio de Janeiro. He is being investigated on suspicion of corruption, money laundering and gang formation for allegedly diverting funds from works completed on the Maracana World Cup soccer stadium, laundering corruption funds through offshore accounts, defrauding the bidding process for public contracts and receiving $16.5 million in bribes from former businessman Eike Batista, who has also been accused of corruption and money laundering.
Moro said in his Tuesday decision that he did not take any of these cases into account when handing down Cabral's sentence, as none of them had yet been tried.
Langlois is a special correspondent.
---
Must-read stories from the L.A. Times
Get the day's top news with our Today's Headlines newsletter, sent every weekday morning.
You may occasionally receive promotional content from the Los Angeles Times.