Armenia's Velvet Revolution culminates with opposition leader's election as prime minister
Reporting from YEREVAN, Armenia —
A month ago, Nikol Pashinian, a bearded former journalist and skilled political orator, seemed an unlikely candidate to break a decade of one-party rule in Armenia that was tainted by corruption and cronyism.
Armenia's opposition was fractured. Pashinian was a recognized opposition politician but lacked widespread support. Moreover, political consultants warned him that any protest he organized would draw only a few hundred people and make the opposition look weak.
So it was a remarkable moment on Tuesday when Armenia's parliament elected him prime minister, culminating an unprecedented nonviolent street protest movement that forced the ruling elite to forfeit their grip on power.
Pashinian's Velvet Revolution employed acts of civil disobedience that gave Armenians a voice in the country's peaceful transition of power, largely uniting the former Soviet republic.
"Today you won," he told the crowd during a postelection speech in Republic Square, the central gathering point in Yerevan, Armenia's capital. "It is not a victory that I have been elected prime minister. It is a victory that you have chosen who will be prime minister!"
Now, entrusted with the hopes of this tiny nation of 2.9 million, Pashinian faces the bigger challenge of keeping his promises. Better known for his street politics than his political prowess, Pashinian must prove to his followers that he can be both a practical and pragmatic leader capable of steering Armenia out of its biggest political crisis since independence from the Soviet Union in 1991.
"We knew him as a protester, and his program was always against something," said Alexander Iskandaryan, the director of the Caucasus Institute, a think tank in Yerevan. "But now he is prime minister, and there should be something proposed. And there's nothing on the table yet."
Even before Pashinian took the stage in Republic Square on Tuesday afternoon to give his victory speech, euphoric Armenians had been celebrating in the street for several hours.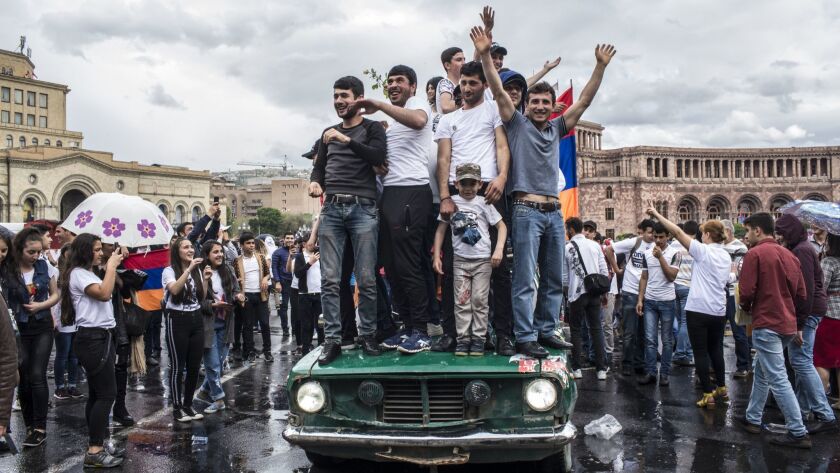 Crowds dressed in white shirts began streaming into the square in the morning. Many came draped in Armenia's red, blue and orange flag. They wore hats and shirts with the slogans of the revolution, such as "Dukhov," which roughly translates as "with courage."
Cars honked in rapid succession as they drove down the capital's main drags. Before the parliament debate began, the square was nearly full, with tens of thousands coming to watch the proceedings on a large screen.
As the votes were tallied and Pashinian was declared prime minister around midday, shouts and cheers erupted from the crowd. Chants of "Nikol!" and "Victory!" echoed across the square and bounced off the walls of the columned, Stalin-era buildings that encircle its oval shape. Champagne corks popped. Small circles formed for the traditional Armenian kochari dance.
"This change will be good because we've been static for so long," said Mesrop Harutyunyan, a journalism professor at Yerevan's State Linguistic University. "But the demand for change is different for everyone, and it's hard to see what will happen next."
The demonstrators saw Pashinian's election as a victory over an attempted power grab by the ruling Republican Party, which had tried to make former President Serzh Sargsyan prime minister.
Sargsyan served 10 years, during which the country's economic growth benefited those closely linked to the Republican Party. Meanwhile, ordinary Armenians watched as the poverty rate grew to 30%, and hundreds of thousands left the country in search of work.
Constitutional reforms enacted this year turned Armenia into a parliamentary republic from a presidential one. The Republican Party nominated — and eventually elected — Sargsyan as prime minister to keep its hold on the country's power and wealth.
Protests took to the streets, at times paralyzing Yerevan with roadblocks and labor strikes. Sargsyan capitulated and resigned April 23, paving the way for a new election in parliament.
The Republican Party, still in the majority, failed to elect Pashinian on May 1 in a special session. Hundreds of thousands of demonstrators returned to Yerevan's streets. On May 3, the Republican Party said it would support Pashinian's nomination, and it called for the new election that was held Tuesday.
Pashinian ran as a member of Civil Contract, an opposition party in coalition with two other parties.
He immediately called for new parliamentary elections, which will most probably be held in the fall, and said he would begin setting up a temporary government to implement popular demands for economic and political reforms.
To accomplish this, he will need to change election laws, for which he will need the majority Republican Party to support him, Iskandaryan of the Caucasus Institute said.
"We still don't know if he will be able to convince them to support his initiatives," Iskandaryan said. "We just don't know what his plan is."
Meeting the high expectations of those who supported Pashinian's populist movement is likely to be a challenge.
"We have a lot of trust in this guy, but he needs to not just destroy corruption, but to construct the new system here," said Artak Manukyan, chairman of the National Center for Public Policy Research, a think tank in Yerevan. "People really want to see immediate, short-term effects, which is difficult. We are winning a battle, but not the whole game yet."
Pashinian will have to keep the faith of supporters such as Artyom Gasparyan, 40, who set off in his 1973 white Volga sedan from his northwestern village at 5 a.m. in order to get his parking spot on Republic Square. Dressed in a white T-shirt with "You are Nikol" written across it in Armenian, Gasparyan stood proudly in front of his 45-year-old Russian-made car as others climbed onto its roof to get a better view of the stage where Pashinian was expected to appear.
Pashinian would be able to turn things around in Armenia within "a maximum of two years," Gasparyan said with confidence.
Bureaucracy and the Republican Party's lack of support for small enterprises had forced too many Armenians to emigrate in search of ways to support their families, Gasparyan said. His construction materials business once had 30 employees. He's had to reduce it to 12 in order to keep supporting his family, he said.
"If things don't change, I'm going to have to leave myself, and this whole country will be nothing but a nation of pensioners like my parents," he said. "I want Pashinian to help us make it better, so all the diaspora come back and build the motherland we deserve."
In addition to keeping promises to his base, Pashinian would eventually have to deal with another reality in Armenia's future: how to maintain the delicate balance between Russia and the West.
Armenia is deeply dependent on Russia for economic and security reasons. Pashinian has promised to not alter Yerevan's relationship with either Moscow or Europe.
Russia, for its part, stayed "uncharacteristically passive and permissive" toward the Velvet Revolution despite the fact that the Republican Party and its closely linked oligarch class have traditionally been friendly to Moscow.
This, in turn, was matched by an absence of Western influencers, allowing Pashinian's movement to remain Armenia-centric.
But this is "just a snapshot in time," warned Richard Giragosian, the director of the Yerevan-based Regional Studies Center. "No matter which government comes, the geopolitical element is inevitable, and the reason is the clash of values."
Rule of law and democratic values are all seductive values in Armenia, Giragosian said.
"Russian values, of corruption and authoritarianism, are affiliated with the old regime," he said. Eventually, the seductive European values could shift Armenia further away from Moscow, he said.
"We are in the gravitational orbit of Russia for the short or medium term whether we like it or not," Giragosian said. "There is no exit strategy yet."
Twitter: @sabraayres
Ayres is a special correspondent.
---
UPDATES:
12 p.m.: This article has been updated with additional analysis, quotes, description.
This article was originally posted at 8:05 a.m.
---
Must-read stories from the L.A. Times
Get the day's top news with our Today's Headlines newsletter, sent every weekday morning.
You may occasionally receive promotional content from the Los Angeles Times.