Sebastian Kurz to be Europe's youngest leader as Austria swings sharply to the right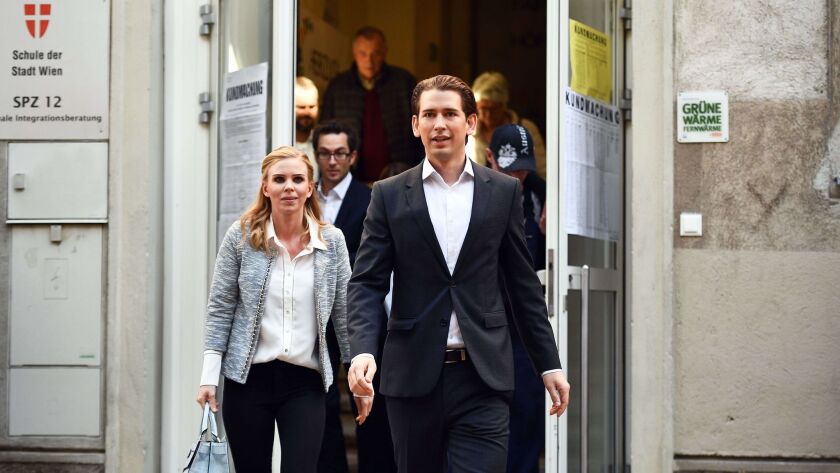 Reporting from Berlin —
Austria picked a new conservative leader on Sunday who triumphed by promising to take a hard line on the tens of thousands of refugees who have poured into the country from Syria and elsewhere.
Sebastian Kurz, 31, who will become the youngest leader in the European Union, is expected to attempt to form a coalition with a far-right populist party that was long ostracized for its extreme nationalism.
Kurz led the conservative People's Party into first place in Sunday's parliamentary election with 31.4% of the vote, according to preliminary results. That was an increase of 7.4 percentage points from the last election and put Kurz, who has been serving as foreign minister, on track to become the Alpine republic's 12th postwar chancellor. Final results are not expected for several days until absentee ballots are counted.
The country's sharp tilt to the right after a bitter election campaign centered on migrants and taxes, reflecting both rising tensions toward a growing number of immigrants in Austria as well as growing support for far-right populists crusading to preserve national identities across Europe.
"This is a clear mandate for change," said Kurz, a stylish dresser and flashy orator who wrestled control of the once-stodgy People's Party in May and quickly turned it into a vibrant movement, similar to that of France's Emmanuel Macron, another young leader who molded his party largely on his own forceful personality.
"We've got a lot of work to do. We need to create a new political style and a new political culture," Kurz told cheering supporters in Vienna.
A wealthy country of 8.7 million people lodged between Germany and Italy, Switzerland and Slovakia, Austria served as a gateway into Germany for more than a million refugees fleeing Syria and other troubled spots over the last two years.
Austria took in about 100,000 refugees, equal to more than 1% of its population, before Kurz as foreign minister sensed public apprehension and designed a plan to shut its borders and stop the stream of refugees moving north.
"There's been a clear shift to the right in Austria and that shows in the issues that dominated the campaign: migration, Islam, border security and xenophobia," said Dieter Segert, a political science professor at the University of Vienna. "The People's Party and the Freedom Party went all out to outdo each other in promising to cut benefits for refugees."
Kurz forced the snap election when he refused to continue in a coalition as a junior partner to the Social Democrats and quickly attracted voters by vowing to shut down the flow of migrants to Austria and limit benefit payments to refugees.
The far-right Freedom Party, led by unabashed populist Heinz-Christian Strache, had rather remarkably accused Kurz of stealing some of its anti-migrant demands. It finished second Sunday with 27.4% of the vote.
Now, Kurz's People's Party and the Freedom Party, which was founded by former Nazi party members in 1956, have more than enough support to form a hard-right coalition that would replace the left-center grand coalition that has ruled Austria for the last decade and that until now has been led by Chancellor Christian Kern, head of the ruling Social Democrats.
With a clear mandate to form a new government, Kurz refrained from making any immediate overtures to the Freedom Party, whose brief inclusion in the Austrian government from 2000 to 2005 caused the country to be scorned and sanctioned by the European Union. But Kurz's party was clearly revitalized by its lurch to the right, and its policies are now more similar to the Freedom Party's than to the People's Party's previous partners on the left.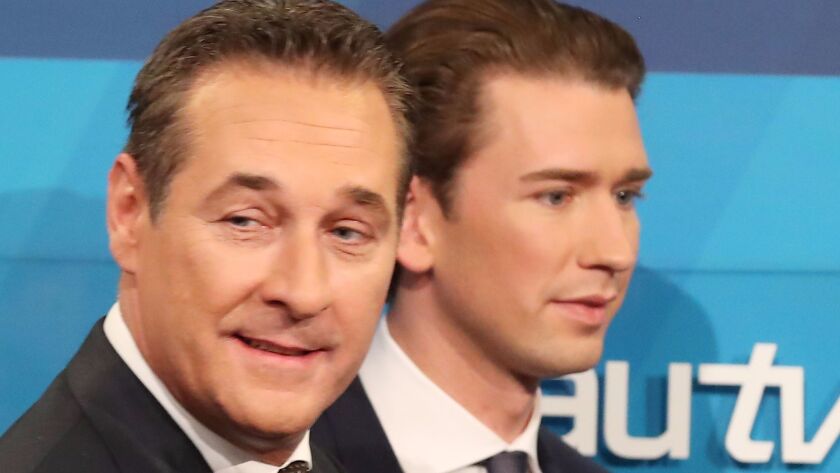 Kurz and Strache share at least one biographical detail: Both are college dropouts.
The EU has changed since its blanket condemnation of Austria was lifted in 2005. Populist right-wing parties are now in power in some countries, such as Hungary and Poland, and winning sizable shares of the electorate in other lands, such as France and the Netherlands.
"The Freedom Party are clearly cleaning up their act to make it past the election but there are no guarantees which way they'll go once in office," said Jackson Janes, president of the American Institute for Contemporary German Studies at Johns Hopkins University, who notes right-wing populist parties are gaining traction and clout across Europe. "The EU may hope it can deal with a Kurz-led government and hold him accountable for right-wing agitation in the Freedom Party."
The Freedom Party narrowly missed out on winning Austria's presidency in December when Norbert Hofer was defeated by Alexander Van der Bellen of the Greens for the largely ceremonial office.
The Social Democrats suffered a humbling defeat in Sunday's election, falling to third with 26.8% of the vote. Three smaller parties ended up with about 4% to 5% each and will play no role in the next government.
"We've made mistakes," said Kern, who has made it clear he will continue leading the Social Democrats in opposition. He decried what he called "a brutal shift to the right."
Kirschbaum is a special correspondent.
---
UPDATES:
1:50 p.m.: This article has been updated with latest results, quotes, background.
This article was originally posted at 9:45 a.m.
---
Must-read stories from the L.A. Times
Get the day's top news with our Today's Headlines newsletter, sent every weekday morning.
You may occasionally receive promotional content from the Los Angeles Times.