Hunt is on for Brussels bombings suspect; Islamic State warns of more, worse attacks
The immediate aftermath of the explosion at the departure terminal at Brussels' Zavantem airport was caught on camera on Tuesday.
Reporting from Brussels —
Just days after a suspect in last year's Paris attacks was taken into custody, another set of coordinated assaults was launched on a city that serves as the de facto capital of Europe.
Explosions at Brussels' two main transit hubs Tuesday left at least 30 people dead and scores injured, and police launched a massive manhunt for one suspect seen wheeling a luggage cart at the airport shortly before the first of the blasts.
Bloodied travelers found themselves stranded in the Belgian capital, home to the headquarters of the European Union and NATO, as it was forced into virtual lockdown. Residents and visitors were ordered to remain indoors as armed police and emergency services swept through the streets.
Islamic State claimed responsibility for the explosions, attributing them to a "security group from the soldiers of the caliphate." It warned ominously of more attacks: "What is coming is worse and more bitter, God permitting."
French President Francois Hollande summed up what was on the minds of many. "Last year it was Paris. Today it is Brussels. It's the same attacks."
The Brussels attacks were precipitated by the arrest of a man who was believed to be a mastermind of the Paris attacks in November.
Denouncing the attacks as "cowardly," and asking for people to remain calm, Belgian Prime Minister Charles Michel publicly mourned the dead.
"These are lives broken in mid-flight — people who were going around most likely without a care in their minds, on their way to work or to school, and who have now been cut down by barbarism of the most extreme kind," Michel said.
About 8 a.m., two bombs exploded at Brussels Airport, sending terrified travelers fleeing across baggage carousels and floors littered with splintered glass and crumbled ceiling tiles. Both explosions were believed to have been carried out by suicide bombers. Images captured on shaky cellphone videos showed injured people walking in a daze or lying down. Some were herded onto the tarmac. Witnesses described victims with severed limbs.
Video from RTL Belgium showed overturned luggage strewn around a terminal thick with smoke and dust. In the background, the sound of a woman screaming could be heard.
"Everything is devastated. Nothing is left," one man, who was inside the airport at the time, told Belgian TV.
About an hour later, another bomb exploded, this time at the Maelbeek metro station, near the political hub of the city and close to European Union offices. Witnesses said they saw about a dozen people lying outside on the sidewalk.
A spokeswoman for Brussels Metro told Belgian TV that the explosion appeared to have been detonated inside a train car as it pulled into the station.
Officials reported that 20 people were killed at the station and 14 at the airport, although they acknowledged that the numbers were provisional. Well over 100 people were injured.
All flights at the airport were canceled until further notice.
President Obama, in Havana, prefaced a speech to the Cuban people by condemning "these outrageous attacks against innocent people."
"We will do whatever is necessary to support our friend and ally Belgium in bringing to justice those who are responsible," he said. "We can and we will defeat those who threaten the safety and security of those all around the world."
The White House said the president had spoken with Michel by phone, offering condolences and assistance. In Washington, the Justice Department said that FBI and counter-terrorism officials were working with their Belgian counterparts and that Atty. Gen. Loretta Lynch had been briefed.
Among the seriously injured were three Utah men who had been in Europe to serve the Paris mission of the Church of Jesus Christ of Latter-day Saints. The men, identified by church officials as Richard Norby, 66, of Lehi, Joseph Empey, 20, of Santa Clara, and Mason Wells, 19, of Sandy, were at the airport to accompany a French missionary who was on her way to Ohio. The Mormon church website said all four were hospitalized.
A U.S. Air Force lieutenant colonel stationed at Brunssum, the Netherlands, and his family were also injured in the airport attack, according to the Air Force, which did not give details about the injuries.
The State Department said it was unaware of any Americans who had died in the attacks. Belgian authorities did not immediately identify any of the dead.
Islamic State issued a statement saying its attackers chose the sites "carefully" and were "wrapped in explosive belts and carrying explosive canisters and machine guns."
"Thanks be to God for his accuracy and success, and we ask God to accept our brothers among the martyrs," the terrorist group said.
Belgian federal police released a still image taken from a Brussels Airport CCTV camera that shows three suspects. Two of the men were "probably involved in a suicide attack," according to a statement released by the office of Belgium's federal prosecutor.
On Wednesday morning, Belgian police have identified two suicide bombers who blew themselves up at the Brussels Airport as brothers who had police records but until now had not been linked to terrorism, according to Belgium's public television network RTBF.
Citing police sources, the network said brothers Khalid and Brahim El Bakraoui had been positively identified from images captured on a surveillance camera
A cropped version of the photo was posted on the federal police's official Twitter account, showing only the third man. "Who knows this man?" the agency asked, referring to the suspect wearing a light-colored jacket, hat and glasses and pushing a luggage cart with a black bag.
During a raid conducted in Schaerbeek, a district in the wider Brussels-Capital region, authorities found chemicals, an Islamic State flag and an explosive device containing nails, according to the federal prosecutor's office.
The attack on Brussels came four months after Paris found itself under siege in a series of coordinated explosions and shootings that killed 130 people. During raids led by French officials, some of the attackers were killed while others were taken into custody.
One suspect was on the run until authorities apprehended him Friday in Brussels. Salah Abdeslam, a French national who was born in Belgium, had planned to be a suicide bomber, but backed out, authorities said. They also said Abdeslam had helped create a jihadist network centered in the city and was planning a fresh attack. A large cache of weapons had been discovered along with Abdeslam.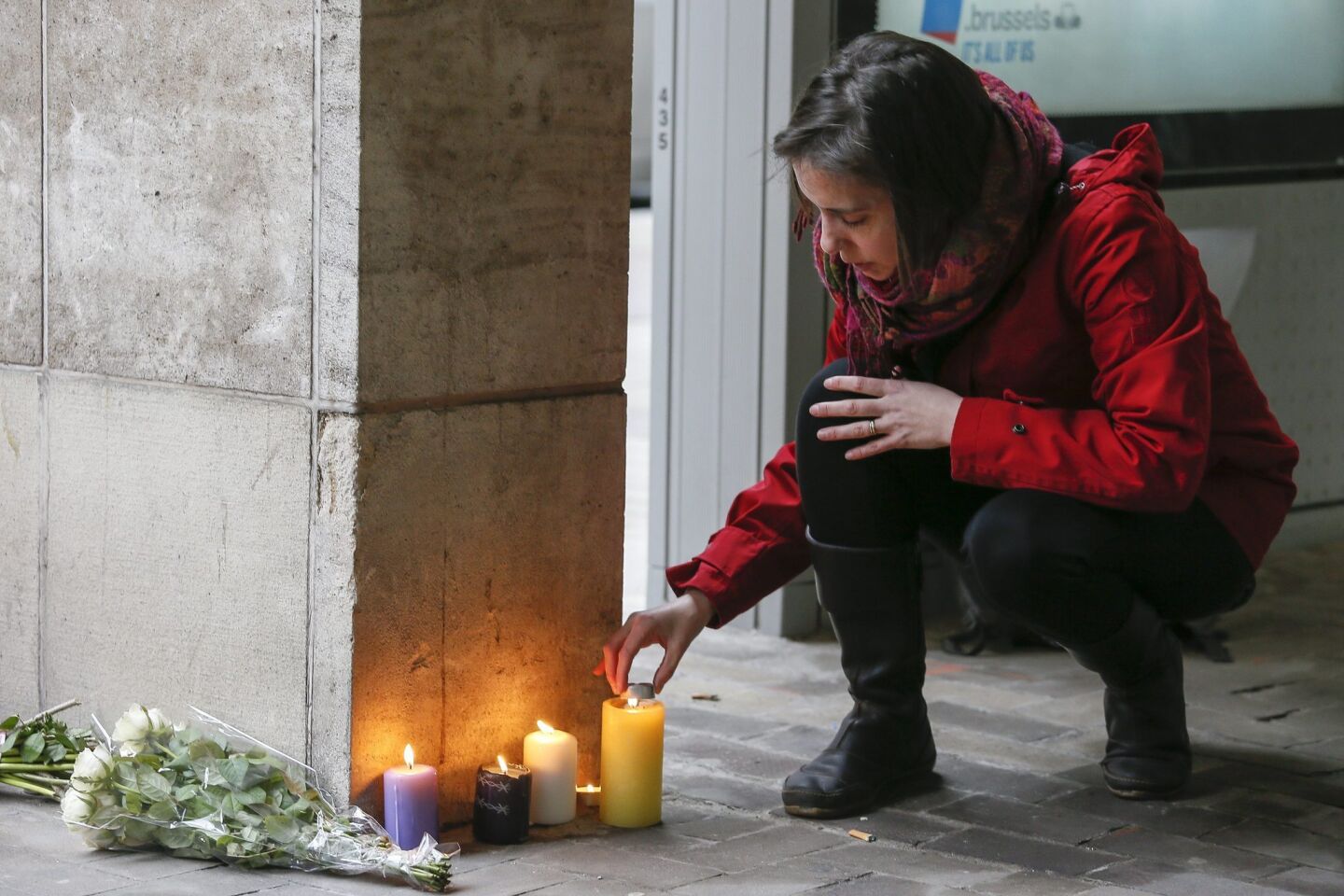 A woman lights a candle in the area of the explosion at the Maelbeek subway station in Brussels, Belgium.
(JULIEN WARNAND / EPA)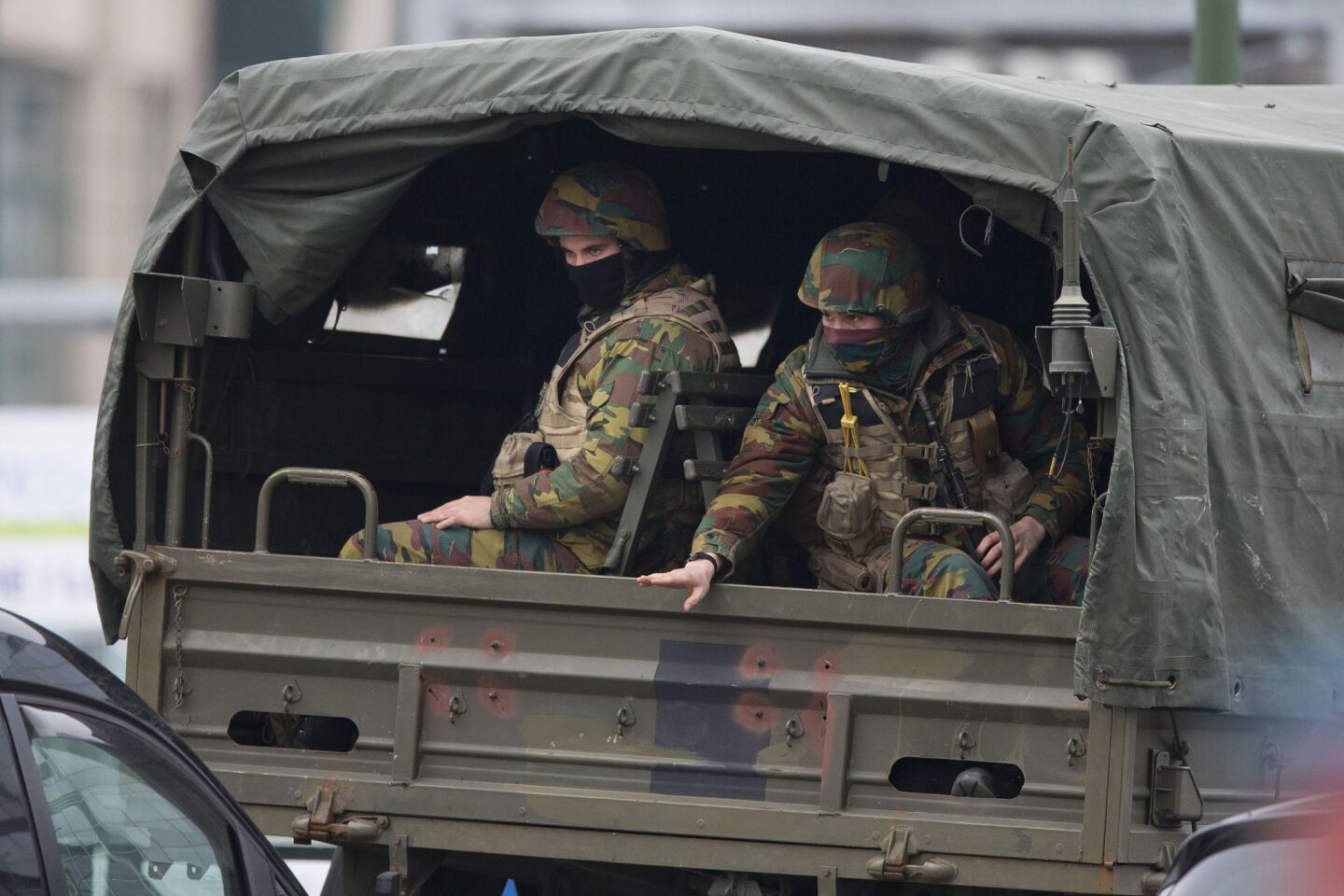 Belgian soldiers gesture for vehicles to keep clear as they patrol near a Brussels court building where Paris terror suspect Salah Abdeslam was expected to appear.
(Peter Dejong / Associated Press)
A Belgian police officer and soldier guard a Brussels court building where Paris terror suspect Salah Abdeslam was expected to appear.
b
(Peter Dejong / Associated Press)
A police officer stands guard outside the Council Chamber of Brussels during investigations into the Paris and Brussels terrorist attacks.
(Kenzo Tribouillard / AFP/Getty Images)
A woman and children sit and mourn for the victims of the bombings at the Place de la Bourse in the center of Brussels.
(Martin Meissner / Associated Press)
Hundreds gather at Place de la Bourse in Brussels to mourn on Wednesday evening.
(Martin Meissner / Associated Press)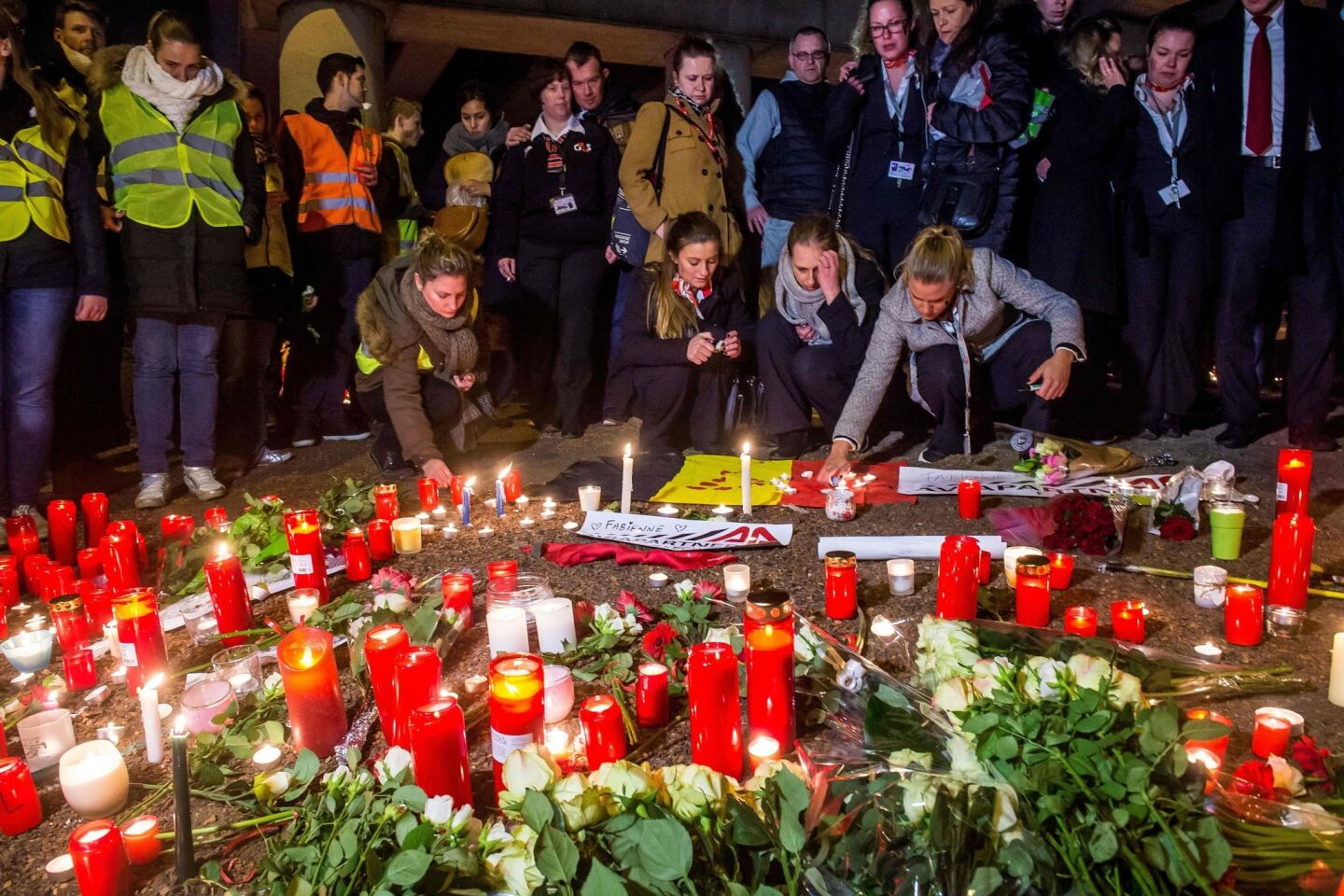 Brussels Airport workers and relatives pay tribute to the victims of Tuesday's attacks.
(Philippe Huguen / AFP/Getty Images)
Police leave after investigating a house Wednesday in the Anderlecht neighborhood in Brussels, one day after Tuesday's deadly suicide attacks.
(Peter Dejong / Associated Press)
Soldiers and police carry out checks at the Central Station in Brussels on Wednesday, a day after blasts hit the Belgian capital.
(Patrik Stollarz / AFP/Getty Images)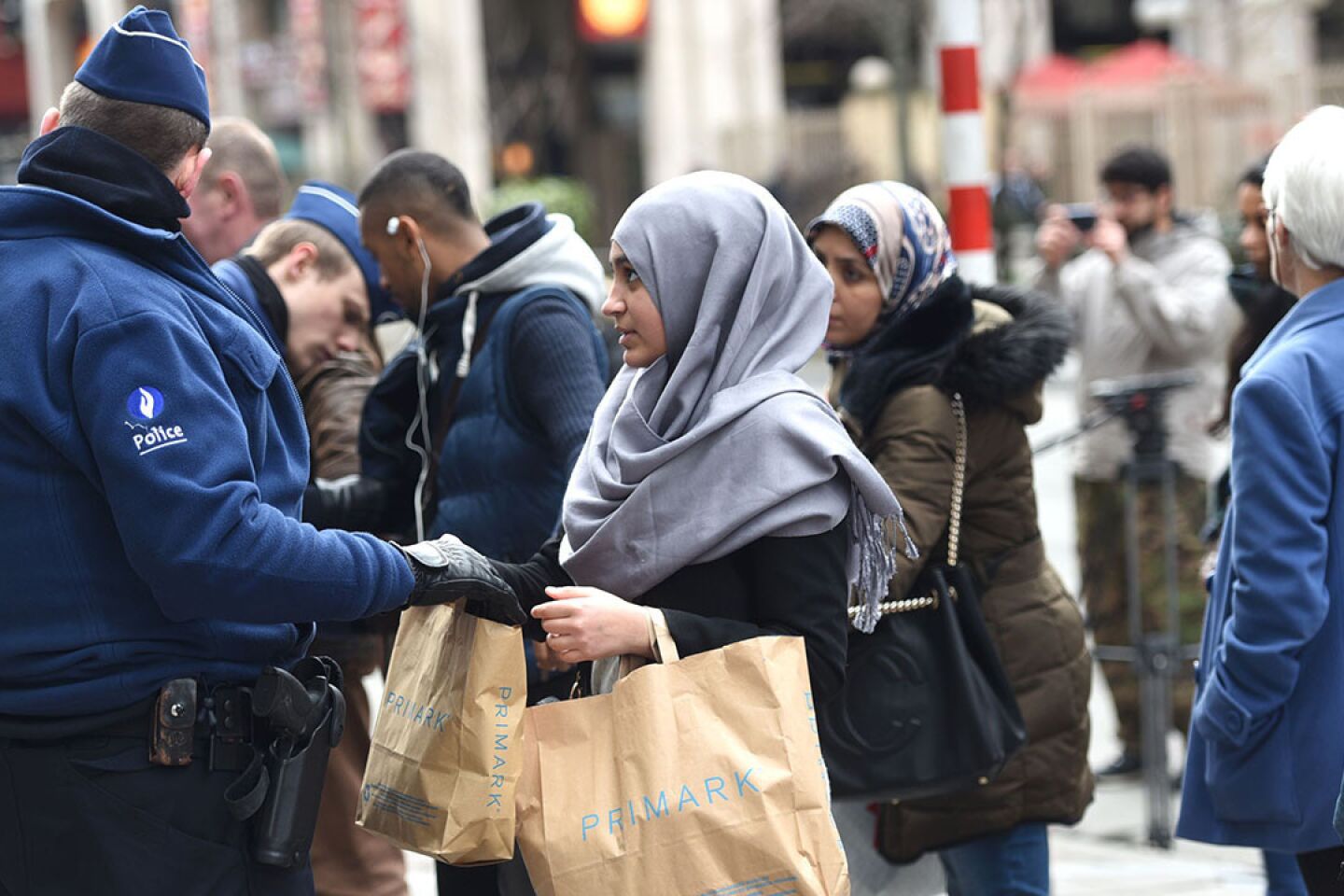 Police carry out checks at the Central Station in Brussels on Wednesday.
(Patrik Stollarz / AFP/Getty Images)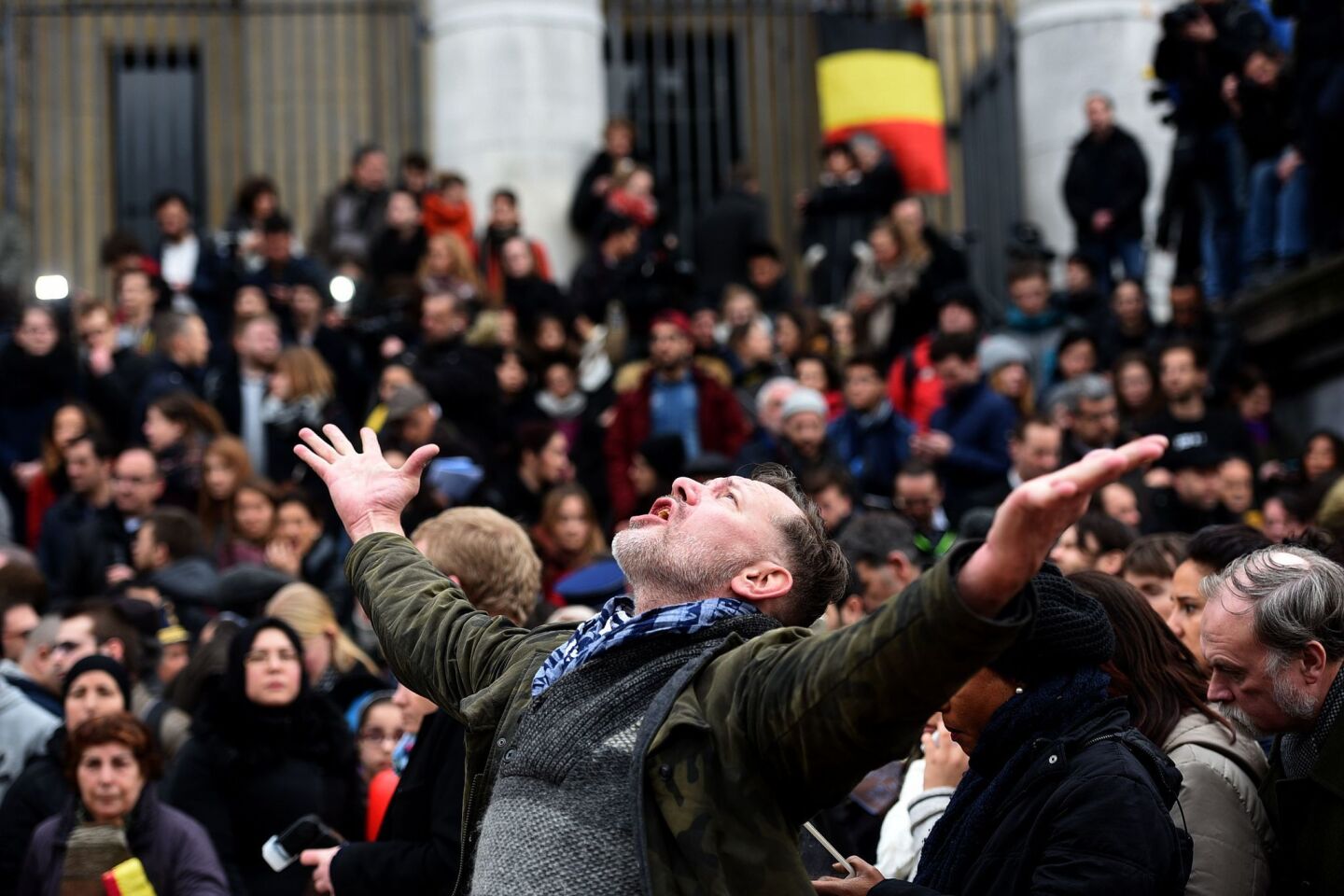 A man reacts as people gather to observe a minute of silence in memory of the victims of the Brussels airport and metro bombings, on the Place de la Bourse in central Brussels.
(PATRIK STOLLARZ / AFP/Getty Images)
People gather in Brussels to pay tribute to the victims a day after deadly terrorist attacks struck the city.
(Aurore Belot / AFP/Getty Images)
People gather around floral tributes, drawings, candles and notes in front of the Bourse of Brussels on Tuesday
(AURORE BELOT / AFP/Getty Images)
A woman writes a message on the ground as people leave tributes at the Place de la Bourse following today's attacks in Brussels, Belgium.
(Carl Court / Getty Images)
Police officers conduct searches inside the North station (Gare du Nord - Noordstation) on Tuesday in Brussels.
(NICOLAS MAETERLINCK / AFP/Getty Images)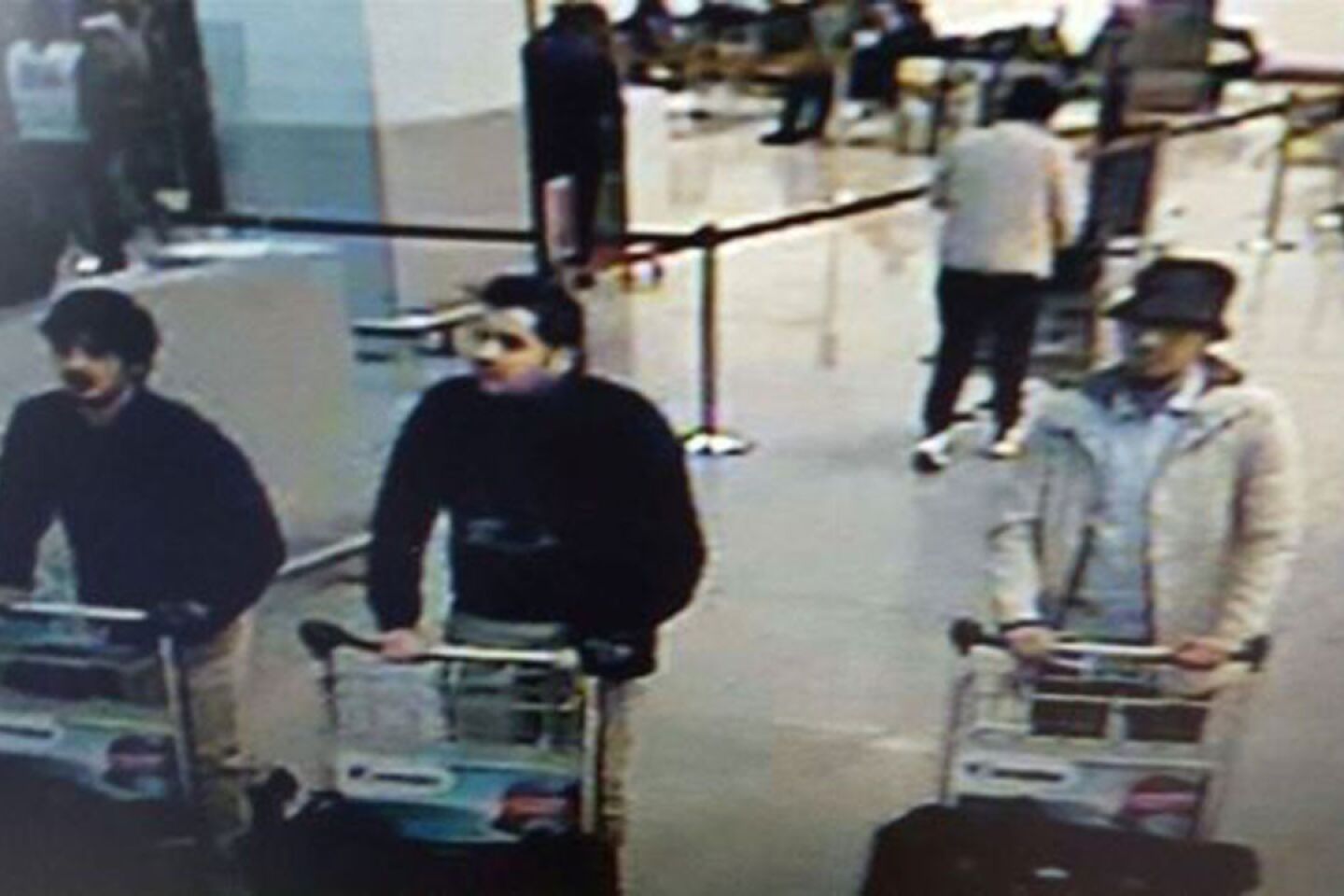 A security camera photo released on March 22 by Belgian authorities shows three suspects in the attack at Brussels Airport.
(AFP/Getty Images)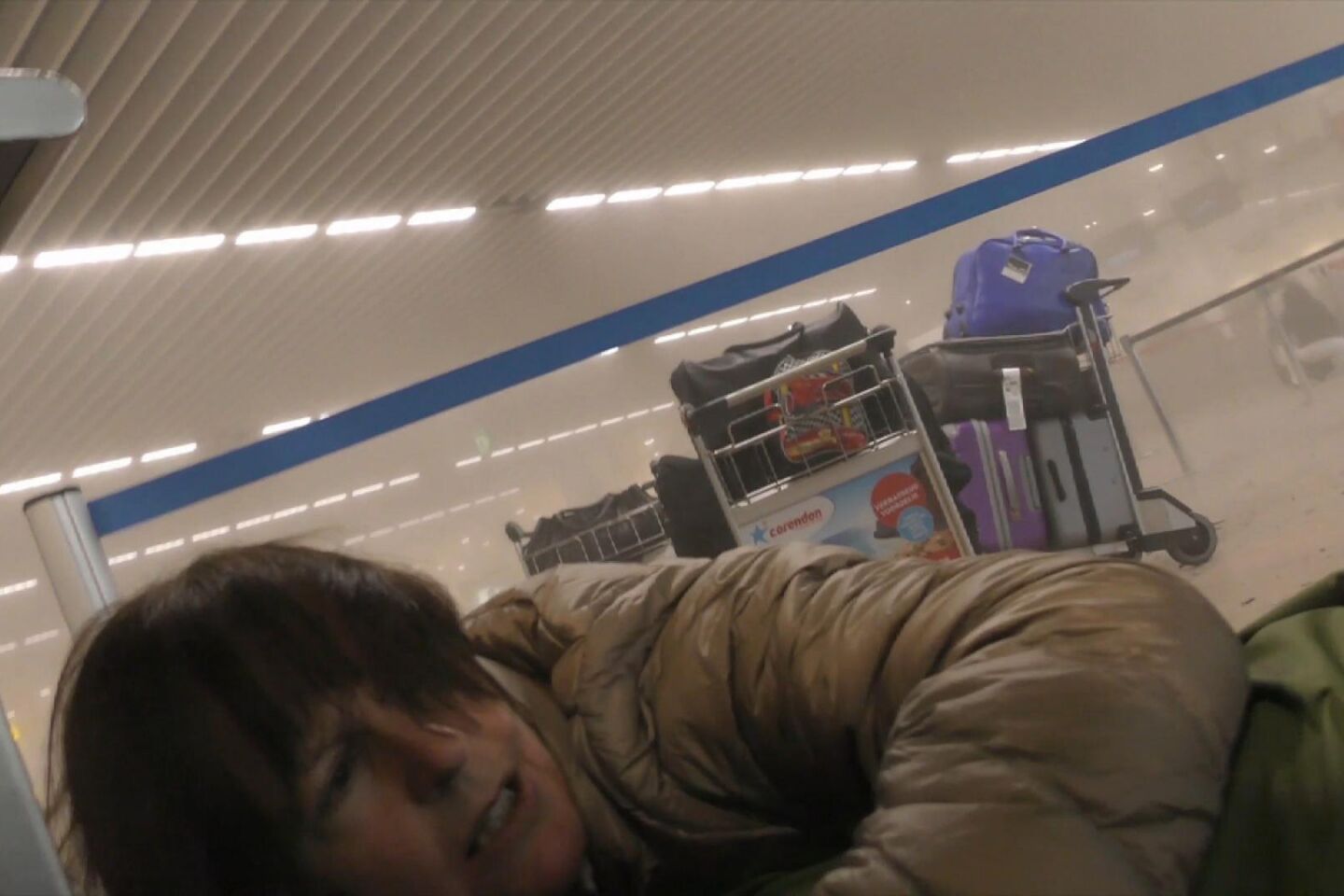 An unidentified traveler lies on the ground in a smoke-filled terminal after an explosion at Brussels Airport on Tuesday.
(Ralph Usbeck / Associated Press)
An injured man lies on the floor waiting for aid at Brussels Airport.
(Ketevan Kardava / Associated Press)
Smoke fills the terminal at Brussels Airport, where a pair of explosions killed at least 11 people.
(Ralph Usbeck / Associated Press)
Brussels commuters climb out of a Metro subway car after an explosion at the Maalbeek station. A series of coordinated explosions ripped through Brussels Airport and the Metro station with dozens killed.
(AFP/Getty Images)
Police and rescue teams set up outside the Maelbeek Metro station in Brussels.
(Martin Meissner / Associated Press)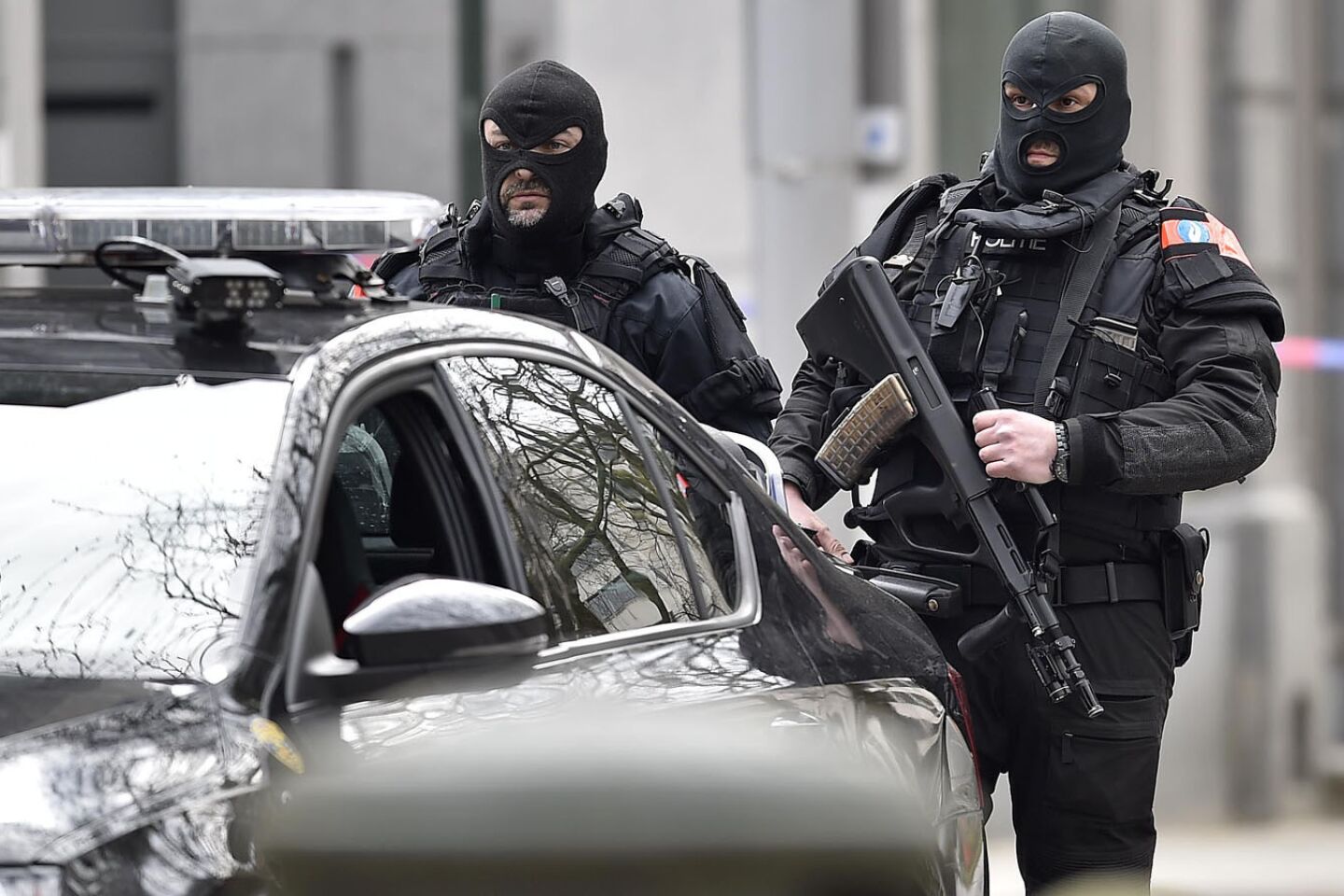 Special police secure the Brussels city center as Belgium raised its terror alert to its highest level on Tuesday.
(Martin Meissner / Associated Press)
A victim receives first aid from rescuers near Maelbeek metro station in Brussels after an explosion.
(Emmanuel Dunand / AFP/Getty Images)
A man with bloodstains on his sweater leaves Brussels Airport following explosions.
(Dirk Waem / AFP/Getty Images)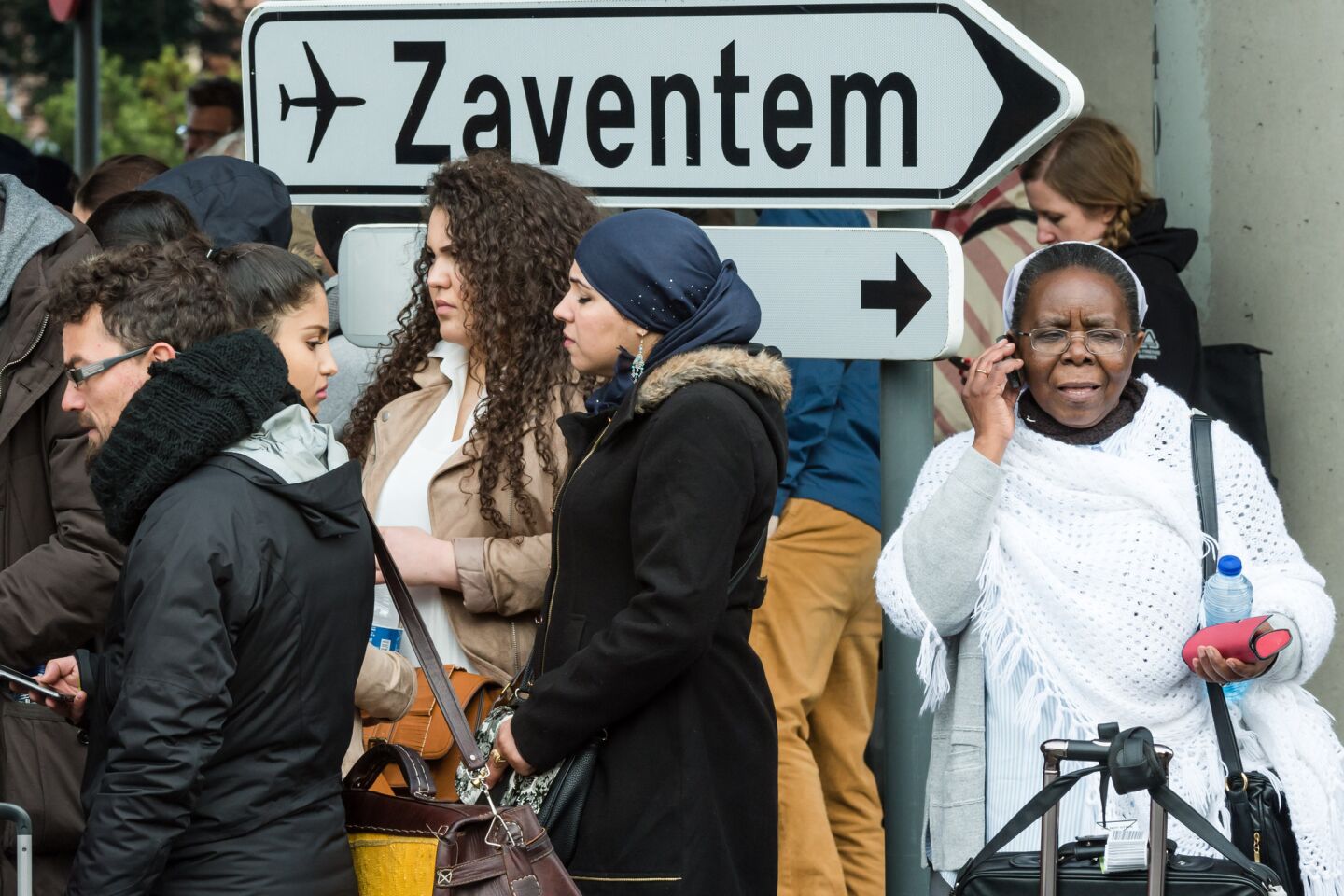 People stand near Brussels Airport after being evacuated.
(Geert Vanden Wijngaert / Associated Press)
Passengers are evacuated from Brussels Airport after explosions.
(John Thys / AFP/Getty Images)
Soldiers block the access to roads close to a metro station in Brussels after a series of apparently coordinated explosions in the city.
(Philippe Huguen / AFP/Getty Images)
A victim is evacuated after a explosion in a main metro station in Brussels.
(Virginia Mayo / Associated Press)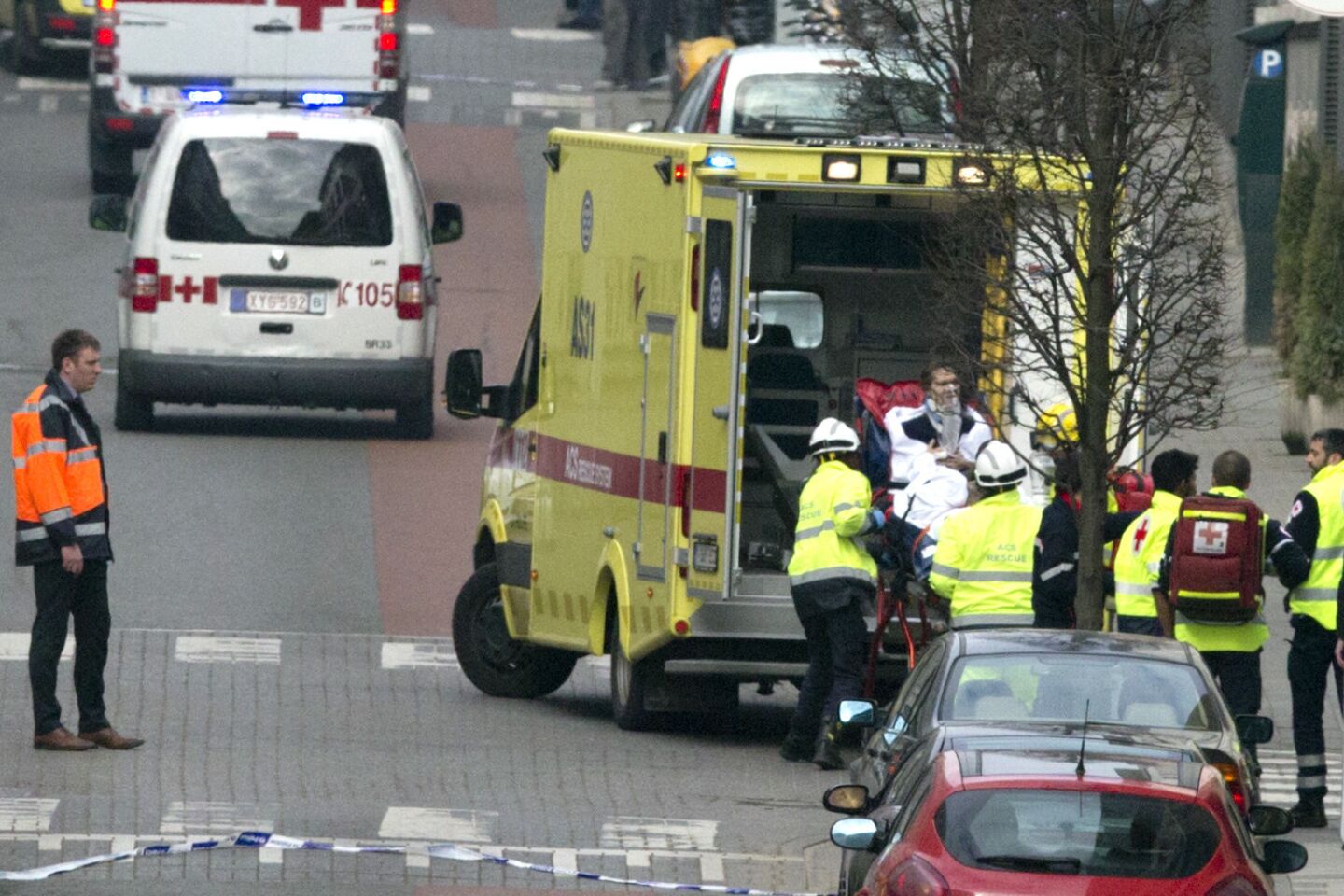 A woman is evacuated in an ambulance after a explosion in a Brussels metro station Tuesday.
(Virginia Mayo / Associated Press)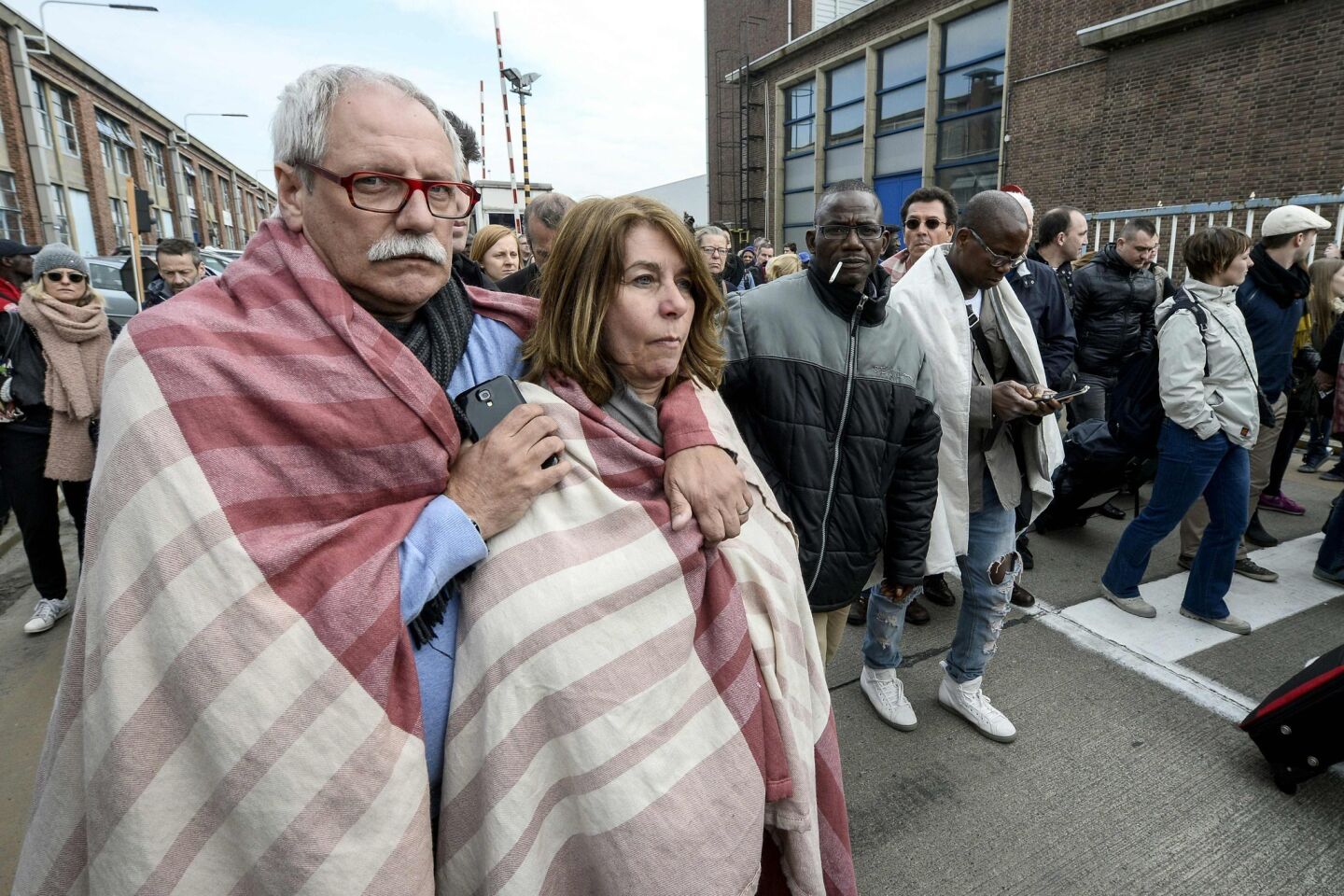 People are evacuated from Brussels Airport on Tuesday following explosions.
(Dirk Waem / AFP/Getty Images)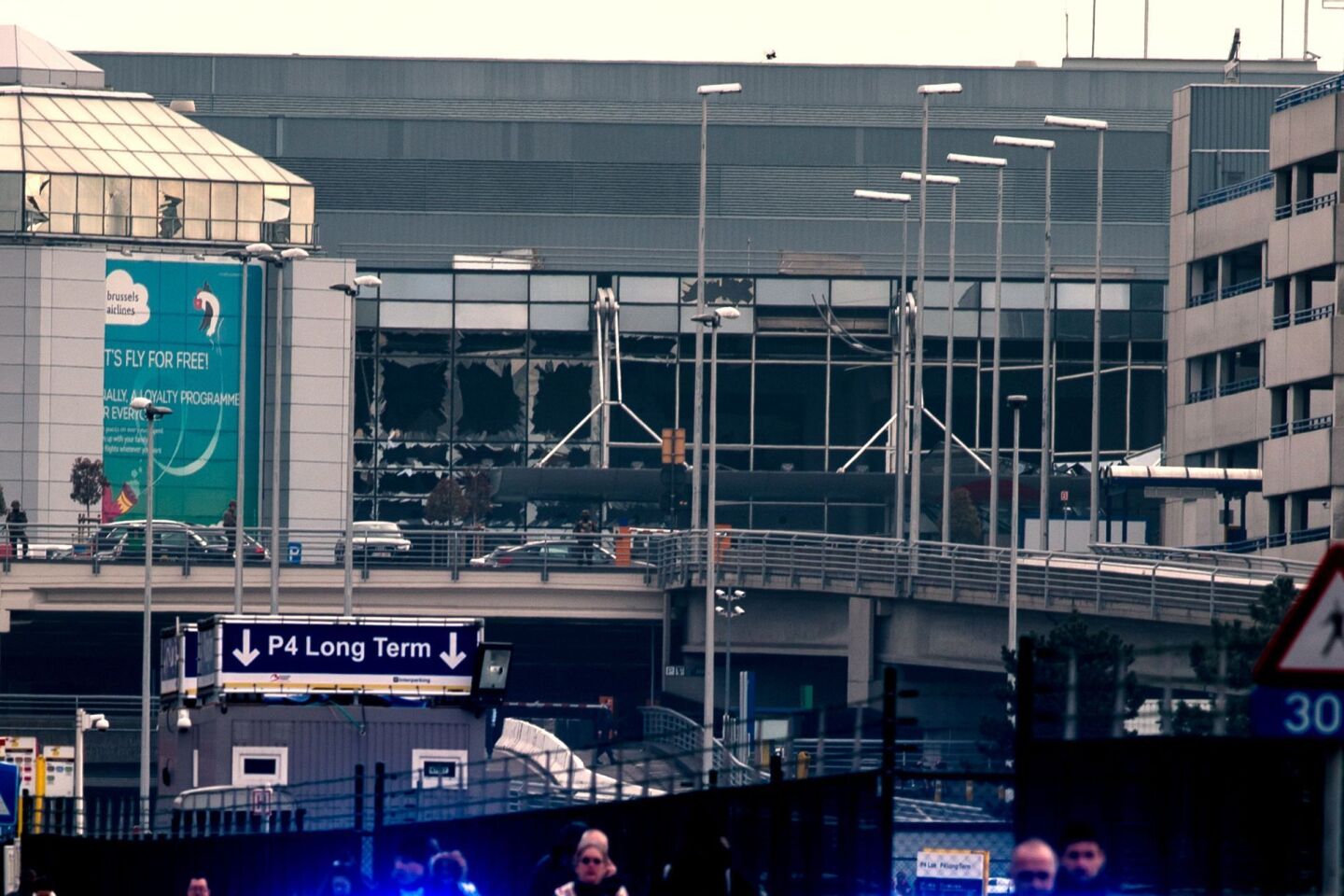 A Belgian police vehicle drives past passengers who are evacuating the Brussels Airport.
(Jonas Roosens / AFP/Getty Images)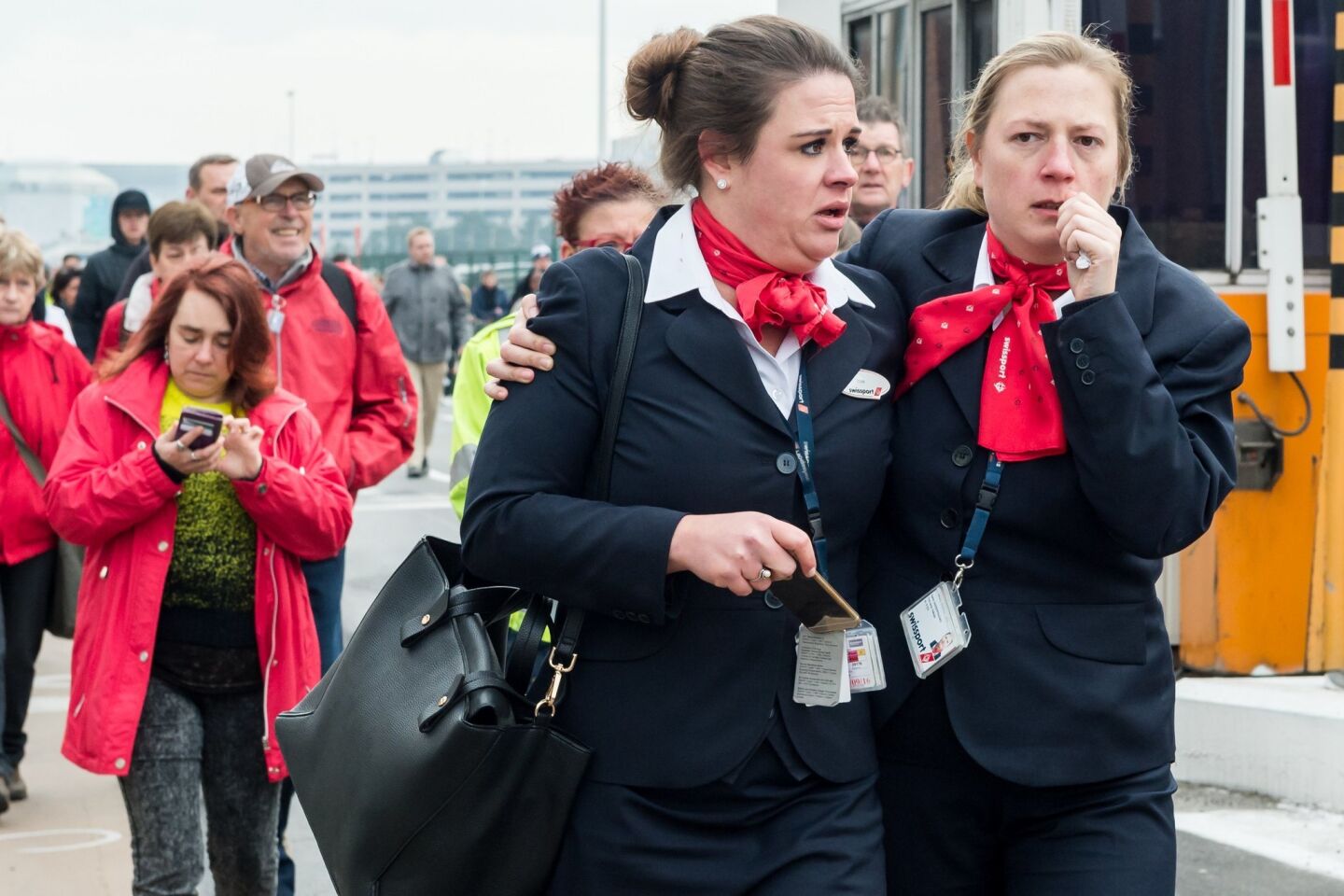 People walk away from Brussels Airport on Tuesday after it was rocked by explosions.
(Geert Vanden Wijngaert / Associated Press)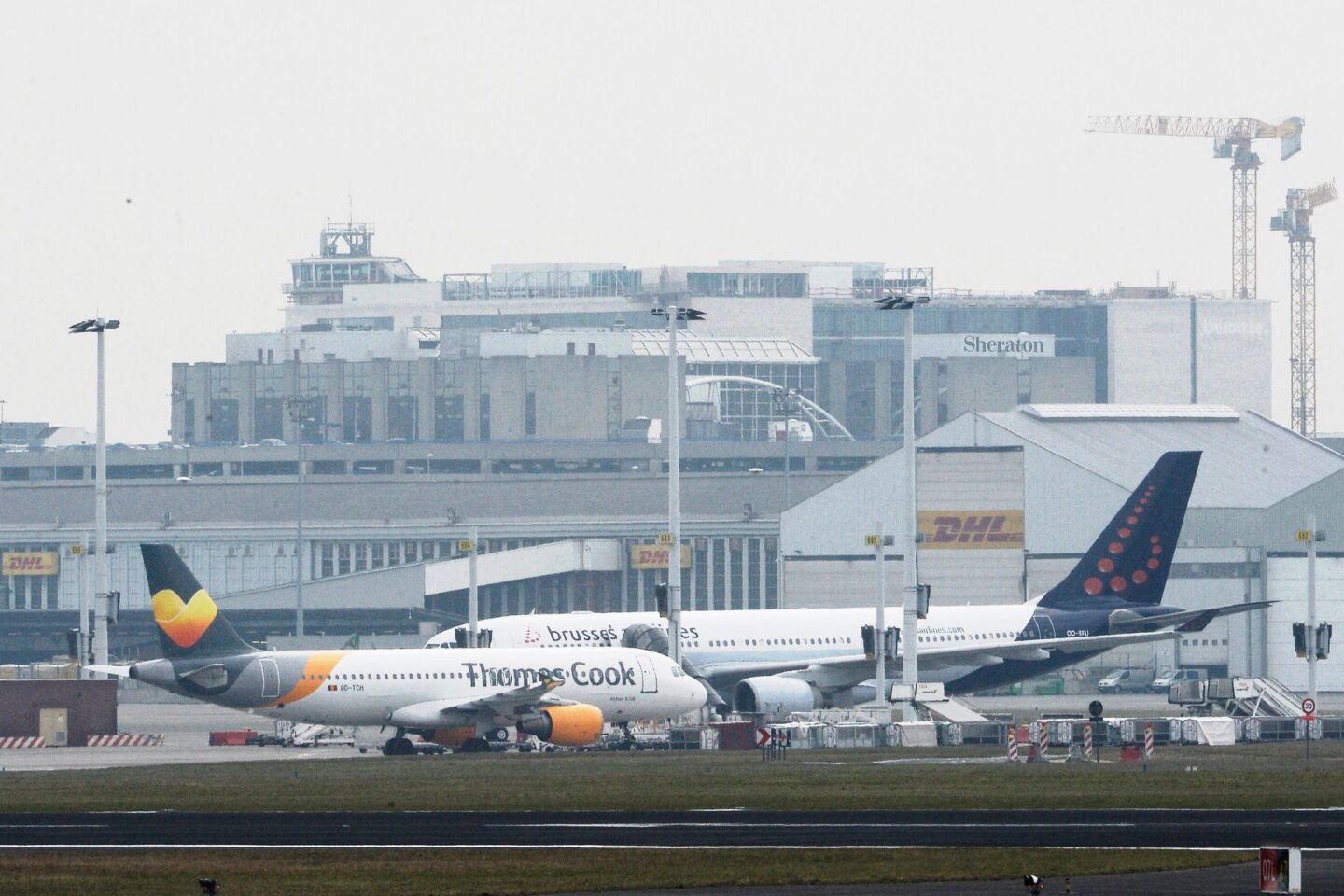 All flights were canceled at Brussels Airport after two explosions rocked the main hall.
(AFP/Getty Images)
Although the capture was touted as a success — and Abdeslam was reportedly cooperating with French authorities — it also appeared to show that the number of people involved in the Paris attacks could be far larger than first thought. Officials had warned of possible retaliatory attacks because other terrorists were still operating.
The Brussels attacks struck two obvious targets, demonstrating once again how difficult it is for governments to prevent terrorism.
They also shed light on the power of Islamic State to utilize radicalized Western Muslims already in place. Much as in Paris, some areas of Brussels have long had a reputation as incubators of Islamist radicalism.
Still, Belgium was among the first countries to join the U.S.-led military coalition against Islamic State, carrying out airstrikes in Iraq and helping Americans train, advise and assist the Iraqi army. The North Atlantic Treaty Organization, the international military alliance, is based in Brussels.
The U.S. European Command, which oversees military operations on the continent, prohibited any Defense Department personnel from traveling to Brussels on Tuesday "as a precautionary measure" unless specially approved.
The State Department warned all Americans to be vigilant when traveling in Europe.
"Terrorist groups continue to plan near-term attacks throughout Europe, targeting sporting events, tourist sites, restaurants and transportation," the department said.
U.S. cities stepped up security measures Tuesday, especially at airports and in transit systems, in the aftermath of the bombings in Brussels. However, the Department of Homeland Security said no credible threats have been detected against U.S. targets.
Shortly after the attacks, British, French and German government officials issued statements pledging support for Belgium. German Chancellor Angela Merkel called for "solidarity with the victims" in the "fight against terrorists."
The Eiffel Tower glowed in black, yellow and red — the colors of the Belgian flag.
Belgium's King Philippe asked his people for a display of dignity.
"We are faced with a threat, but we will continue to work together," he said. "We must continue to trust ourselves. This is our strength."
Social media buzzed with condolences. Belgians began to reach out to stranded travelers via Twitter, offering shelter, food, even beer. And around the city, symbols cropped up that showed many refused to panic or live in fear.
On a sidewalk, someone had scrawled in chalk, "Faites des frites, pas le guerre": Make French fries, not war.
Special correspondents Chad and Boyle reported from Brussels and London, respectively. Times staff writer Knoll reported from Los Angeles. Contributing to this report were special correspondents Erik Kirschbaum in Brussels, Kim Willsher in Paris and Nabih Bulos in Beirut; Times staff writers W.J. Hennigan, Brian Bennett and Tracy Wilkinson in Washington and Richard Winton and Braden Goyette in Los Angeles.
ALSO
What we know so far about the fugitive Paris terror suspects
Full coverage of the Paris terror attacks
Video shows Paris attackers committing earlier Islamic State atrocities
Must-read stories from the L.A. Times
Get the day's top news with our Today's Headlines newsletter, sent every weekday morning.
You may occasionally receive promotional content from the Los Angeles Times.