French candidates condemn terrorism as officials identify gunman in Paris shooting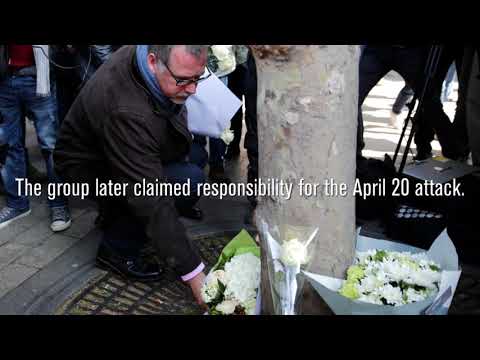 The Paris prosecutor said Karim Cheurfi had a note defending the Islamic State group with him. (Sign up for our free video newsletter here http://bit.ly/2n6VKPR)
Reporting from PARIS —
Several French presidential candidates canceled campaign events and some declared war on terrorism Friday amid heightened security concerns a day after a gunman fatally shot a police officer on the Champs-Elysees in Paris.
Far-right National Front leader Marine Le Pen and conservative Francois Fillon of the Republicans nevertheless held separate news conferences to speak out against what they described as potentially violent threats to France.
The presidential candidates condemned the Thursday night shooting, which authorities on Friday said was carried out by 39-year-old Frenchman Karim Cheurfi.
Authorities said Cheurfi, who was shot and killed by police after he opened fire on officers, had a note defending the Islamic State extremist group with him.
Anti-terrorism prosecutor Francois Molins said during a news conference that the note apparently fell out of Cheurfi's pocket. Other pieces of paper found in the car used by the gunman had addresses of security sites.
The extremist group claimed responsibility for Thursday's attack.
Le Pen, speaking at her Paris campaign headquarters, called for all foreigners suspected of posing a threat to national security to be expelled from the country. And French nationals "known for their support of an enemy ideology" should be subject to "immediate administrative or criminal action," she said.
Fillon, who spoke at his own Paris campaign headquarters, said he had been warning for years about the threat of "Islamic totalitarianism … an ideology that is radical, organized and expansionist." Its goal, he said, was "to destroy our civilization."
Independent candidate Emmanuel Macron of the En Marche! party did not name other candidates, but he warned against fear-mongering to score political points.
Macron, also during a news conference at his Paris campaign headquarters, said "We must not give way to panic nor in any way allow any attempt to manipulate these events."
Prime Minister Bernard Cazeneuve spoke as well against reactions he called "excessive and divisive."
"We must not give in to fear, intimidation and manipulation and must not fall into divisions and extremes. … Tolerance must win, unity must prevail," Cazeneuve told reporters outside the Elysee.
The shooting generated a tweet Friday by President Trump which went ignored, at least publicly, by the presidential candidates and was mentioned only briefly by French media.
"Another terrorist attack in Paris. The people of France will not take much more of this. Will have a big effect on presidential election!" Trump wrote.
Marc-Olivier Padis, research director at the Terra Nova think tank, and an analyst of French politics, said he had heard Trump had reacted to Thursday's terrorist attack, but did not know what the U.S. president had said until he was told.
"The president of the United States wrote this? This tweet suggests he hopes that [the attack Thursday] will have an effect on the vote. That's incredible," Padis said. Trump's tweet "won't have any great impact."
The deadline for campaigning ahead of Sunday's voting in the two-part presidential election was midnight Friday. The race includes 11 candidates, but the two who receive the most votes Sunday will advance to the second part of the election May 7.
Opinion polls suggest Macron and Le Pen will continue to a second-round runoff, but a predicted high rate of abstention and an estimated 28% of voters still undecided mean at least Fillon and far-left Jean-Luc Melenchon of Unbowed France are still serious contenders.
French officials on Friday reviewed the government's heightened security plans for the presidential election.
Authorities said Cheurfi had a long criminal record and an apparent hatred of the forces of law and order and had been jailed for attempted homicide after attacking two police officers in 2001.
Cheuri drove up the Champs-Elysees on Thursday evening, stopping alongside a police van. He jumped out of the car and began shooting at police. One officer eating a sandwich in the front of the van died instantly from a shot in the head. Two other officers were injured, one critically. Police shot and killed Cheurfi as he ran.
The slain officer was identified as Xavier Jugele. The two injured in the attack were expected to survive, officials said.
Molins said Cheurfi was not on France's Fiche S — a list of those considered to pose a threat to national security — and "had not shown any signs of radicalization" during his 14 years in jail. Molins said three members of Cheurfi's "close circle" had been taken into police custody.
"A pump action shotgun, ammunition, two kitchen knives and [shears] were found in the trunk" of Cheurfi's car, he said.
Willsher is a special correspondent.
ALSO
Defense Secretary Mattis: 'No doubt' Syria still has chemical weapons
French presidential race looks tight — and a far-left Bernie-Sanders-like candidate has been surging
He's been deported twice and survived bandits, trains and swamps, but this Honduran immigrant remains hopeful about reaching the U.S.
---
UPDATES:
3:45 p.m.: This article was updated throughout with Times reporting.
This article was originally published at 10:30 a.m.
Sign up for Essential California for the L.A. Times biggest news, features and recommendations in your inbox six days a week.
You may occasionally receive promotional content from the Los Angeles Times.