French presidential race looks tight — and a far-left Bernie-Sanders-like candidate has been surging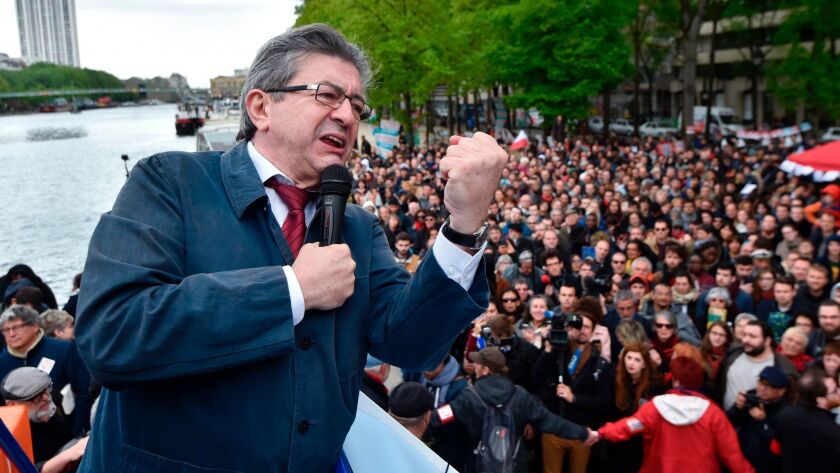 Reporting from Paris —
France's eternal revolutionary, Jean-Luc Melenchon, man of the people, is sitting in the first-class carriage of the TGV (train à grande vitesse, or very fast train) returning to Paris from a meeting in the city of Rennes.
His journeys crisscrossing France on the campaign trail for the nation's presidency are used to study speech notes, for team debriefings and interviews with journalists, hence the first-class ticket.
At the moment, Melenchon is tired. He has just held a rally at which he spoke for more than three hours with barely a glance at his notes. But his weary look brightens when he is asked about being compared to former U.S. presidential candidate Bernie Sanders, the democratic socialist senator from Vermont.
"You know, we sent someone to the U.S. to study Bernie Sanders. I like the comparison. And he's 10 years older than me, which makes me feel young," Melenchon said recently. "Yes, I like him."
On Sunday, French voters will go to the polls for the first part of a two-part process to elect a new president. The two candidates with the most votes are expected to face off in the second part of the election May 7.
In a remarkable turnaround, the hard-left Melenchon, who is not just a fan of Sanders but also of the late socialist Venezuelan President Hugo Chavez, has risen to be a serious contender.
An opinion poll by Ipsos for the Sciences-Po university and Le Monde newspaper published Wednesday suggested independent candidate Emmanuel Macron of the En Marche! party was favored to win the presidential race (23%) with far-right National Front leader Marine Le Pen just behind (22.5%).
The poll showed Macron and Le Pen followed by the scandal-hit conservative François Fillon of Les Republicains (19.5%), Melenchon of France Insoumise (Unbowed France) (19%) and Socialist Party candidate Benoît Hamon trailing (8%). Six other candidates are polling lower.
Melenchon's campaign, run on a shoe-string budget using volunteers and employing a high profile on the Internet and social media — tactics relatively new to France — are credited to Sophia Chikirou, the "someone" dispatched to the United States last year to join Sanders' team.
"Melenchon shares many points in common with Sanders," Chikirou, Melenchon's communications director, told Europe 1 radio in January. "Sanders relied on having the people campaign for him and mobilizing them through social media. That's mainly what we took from him."
The Sanders strategy has helped Melenchon. Just weeks ago, the idea that the 65-year-old head of the France Insoumise movement, a poetry and opera-loving former Trotskyist and onetime teacher, could make it to the Elysee Palace would have raised a good laugh. Today, nothing could be more serious, according to French political analysts.
Melenchon is on a roll with his calls for a nonviolent "citizens' revolution," proposed minimum monthly wage of $1,790, anti-capitalist, anti-globalization rhetoric and plans to renegotiate European Union treaties to put an end to "economic liberalism."
The man who asks supporters not to chant his name because it is all about "the program," not the person, is drawing support from French millennials with pop-star-like hologram appearances that on Tuesday allowed him to address rallies in seven different cities at the same time. Fans even created a game called Fiskal Kombat in which Melenchon walks down a street shaking money from the pockets of men he meets.
Melenchon says he is appealing to voters who feel abandoned by the mainstream parties.
"If things were going well in society, nobody would need me. Now, we have to have a citizens' revolution and change things bit by bit. It has to start somewhere in Europe and I hope France will lead the way," he said in an interview.
"The thing about revolution is that there is no instruction book, people just act because they can no longer tolerate a society in which people have nothing to eat, cannot afford healthcare or look after themselves."
France goes into this election, after five years of President François Hollande's Socialist administration, having weathered the global economic crisis, but with a stuttering recovery. Unemployment remains stubbornly around 10% — and twice the figure among the young — public debt is high, growth feeble and consumer spending power has declined.
Last year, the Organization for Economic Cooperation and Development said France had "an enviable standard of living" and had "come through the crisis without suffering too heavily," but that a lack of growth was the "fundamental economic problem".
Dominique Reynie, founder of the French think tank Fondapol and a professor at the Sciences-Po university, said a Macron-Le Pen runoff was the most likely outcome of Sunday's vote, but acknowledged there was "a lot of uncertainty."
Le Pen, 48, the youngest daughter of National Front founder Jean-Marie Le Pen, is a trained lawyer and is standing on an economic nationalism program that includes a referendum on pulling France out of the European Union and dumping the euro, halting immigration, closing France's borders and giving French nationals priority for housing, social benefits and jobs.
Le Pen is under investigation for allegedly using EU funds to pay for party staff, including a personal bodyguard.
At 39, Macron is the youngest of the 11 presidential candidates and the only one of the front-runners to have never held elected office. The former Rothschild investment banker was recruited by Hollande first as deputy general secretary at the Elysee Palace and then as economy minister.
He resigned in 2016 after two years at the ministry to launch his own political movement, En Marche!, insisting he was not left, not right, not even a centrist, but a "pro-Europe progressive."
Reynie described the prospect of the "radical socialist and revolutionary" Melenchon getting into the second round as "extraordinary" and a "great risk to the country."
"Melenchon represents the 'anti-system-left,' not a left of government, and the prospect of the complete overturning of France's political system," Reynie said.
Manuel Bompart, Melenchon's campaign director, suggested the idea that the candidate was a threat to the country was fearmongering.
"The situation in France is not exactly very reassuring at the moment," Bompart said. "There's nothing to fear by voting Jean-Luc Melenchon. He is presenting a reasonable response to the problems confronting France."
On the TGV, Melenchon was in a reflective mood.
"Everything in the middle is being blown apart, society is disintegrating, and many, like me, are outraged by the greed of certain people and the destruction of social norms," he said.
"This disorder serves me well. You would be surprised how well my message goes down in some of the country's renowned business schools where I am welcomed and where my diagnosis is shared."
Willsher is a special correspondent.
---
Must-read stories from the L.A. Times
Get all the day's most vital news with our Today's Headlines newsletter, sent every weekday morning.
You may occasionally receive promotional content from the Los Angeles Times.