Reeling from its deadliest forest fire, Portugal finds a villain: eucalyptus trees
Reporting from Elvas, Portugal —
Once shaded in canopies of leaves, the N-236-1 is a rural road that cuts through central Portugal, hugging hillsides pungent with eucalyptus and pine.
Now it is littered with husks of burned cars. Along the shoulder, ashen wisps of tree trunks stand sentinel like totem poles. A headline in Portugal's Expresso newspaper calls it "The Saddest Street in Portugal."
It's where many of the 64 victims of Portugal's deadliest wildfire were burned alive last weekend, trapped in their cars.
Even as thousands of firefighters still battle the flames, and coroners identify the charred remains of those who were unable to escape, investigators are probing the cause of the fire. Portugal's prime minister says dry lightning was likely to blame.
But as its accomplice, environmentalists finger a newcomer, which has populated these hills as quickly as Portuguese have abandoned them for jobs in the city: eucalyptus trees.
Non-native eucalyptus and gum trees, with their medicinal fragrance and frosty blue-green leaves, now cover a quarter of all forested land in Portugal. First imported from Australia in the 18th century, they are among the world's fastest-growing trees, and have become Portugal's most common one — a profitable cash crop for paper and pulp. Portugal is Europe's largest producer of eucalyptus pulp. It's one of the country's biggest exports.
But eucalyptus trees can exacerbate deadly fires. Their sap is flammable, and so is their bark, which flies off when burned, igniting new fires up to 100 yards away.
California has had a similar history with eucalyptus trees, which bore at least some of the blame for the second-deadliest fire in the state's history — the 1991 Oakland hills fire that claimed 25 lives.
"Our climate is like California. It's normal to have fires here. But with the introduction of eucalyptus, they have lots of material to burn," said João Branco, with the Portuguese environmental group Quercus. Its name is Latin for "oak," a native tree the group is lobbying to have planted instead of eucalyptus.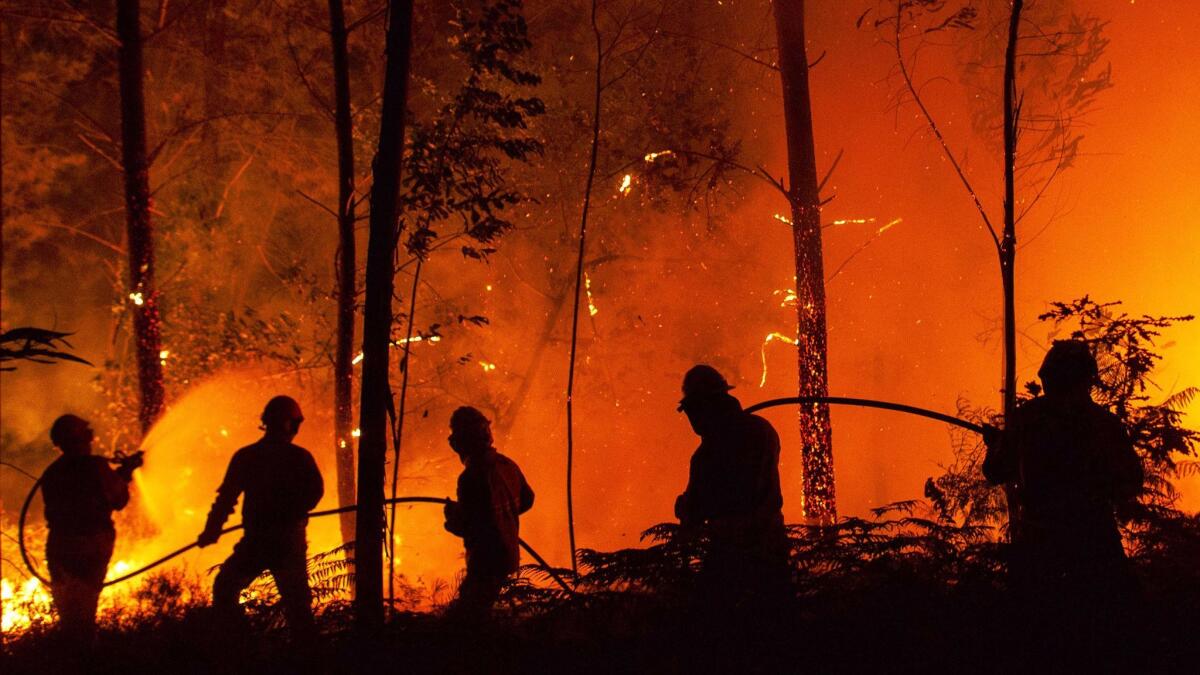 Native oaks and laurels are more resistant to fires, but eucalyptus trees burn faster and hotter, making wildfires harder to control. The Portuguese government has pledged to ban new eucalyptus plantations, but the law has not yet been finalized.
"The government was negligent. This was a predictable fire, because it's very well known in Portugal, the problem of eucalyptus and its connection to fires," Branco said. "Everybody knew this could happen. It was a matter of time."
Tiny Portugal is one of the most heavily forested countries in Europe, and suffers more wildfires than its larger neighbors. Last summer, Portugal was home to half of the total acreage lost to wildfires across the European Union. Most of the land is privately owned, not managed by the government.
The World Wildlife Fund's Portugal branch in a statement said "human negligence" and "a lack of adequate forest management" led to the deadly fire. A one-word front-page headline on Portugal's Público newspaper asked: "Why?"
The local paper industry is fighting any eucalyptus ban, warning that it would cost thousands of jobs and hurt Portugal's trade balance. It points out that more fires erupt on abandoned land than on managed plantations.
This was a predictable fire, because it's very well known in Portugal, the problem of eucalyptus and its connection to fires.
— João Branco, with the Portuguese environmental group Quercus
Visiting the fire lines 95 miles northeast of Lisbon, President Marcelo Rebelo de Sousa told reporters Sunday "it was not possible to do more than what has been done" to prevent and respond to the blaze. Firefighters are among the dead and injured.
In the past half-century, parts of Portugal's countryside, especially in the central hills where this fire broke out, have been largely abandoned, and vegetation is overgrown. There are fewer farmers plowing fields, and fewer farm animals to graze on otherwise flammable underbrush.
"What drew us to our land was the history: the grapes, olives and cork oaks — the heritage trees of the area," said Nicole Hayes, 27, who moved 18 months ago to the town of Pedrógão Grande, now at the epicenter of the fire. "Unfortunately, now these farming communities have broken down and the land has been sold off to eucalyptus plantation companies."
When the fire broke out Saturday, Hayes happened to be in her native Wales for her grandmother's funeral. Otherwise, she said, she, her partner and their 7-month-old baby might have been caught on route N-236-1, along with their neighbors.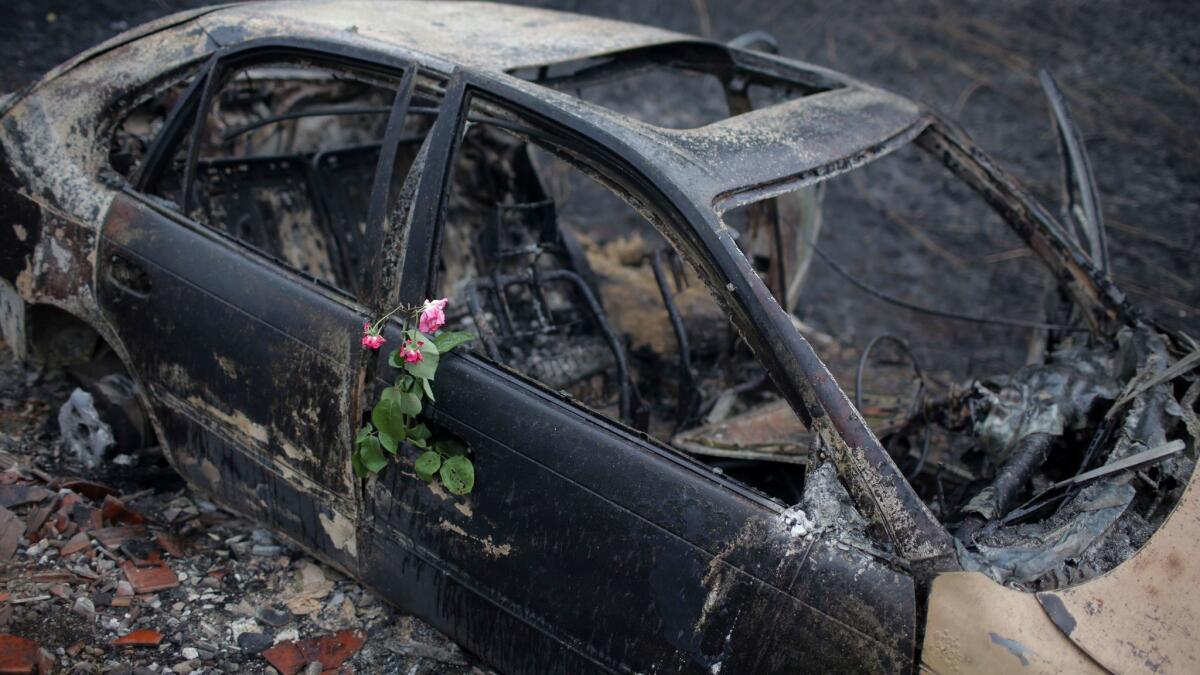 "The road we usually use as our main exit was the road that the fatalities happened on. It's overwhelming," she said. "There's a very high possibility that we would have been one of those families that was taken by the fire."
Hayes has since returned to Portugal from the U.K. She can't reach her house yet, but heard from a neighbor that it is still standing. Staying with relatives 40 minutes away, she said smoke from Pedrógão Grande is visible. "You can smell it. The sky is aglow. The swimming pool was filled with ash and debris. And we're 40 minutes away. That's how far it's traveled."
Locals inside the fire zone recount phoning emergency services more than 20 times on Saturday night, when the flames erupted. No one came. One group of elderly residents survived by jumping into a water storage tank. Officials say telephone lines, cellphone towers and electricity pylons were felled by the fire. Police couldn't close roads quickly enough.
"There are sirens, but these sirens go off so frequently that we've become complacent to them," Hayes said. "It was so easy for so many people to leave it to the last minute to escape."
About 40 miles away in Mata Da Rainha, Portuguese officials held a fire prevention seminar for farmers this past spring, said Laurence Manchee, who attended after recently buying a plot of land that had burned almost completely in a forest fire five years ago.
Like Hayes, he's part of a small community of foreigners repopulating abandoned areas of central Portugal, attracted by affordable fertile land and an off-the-grid, sustainable lifestyle.
"A lot of our trees are still there, but they're like charcoal, and they've regrown from the shoots. The issue with eucalyptus is that when you chop one down, five grow back. It's great for someone who wants to sell eucalyptus, but it's not good for us," said Manchee, 35.
Although eucalyptus trees burn quickly, they also regenerate fast, from buds buried deep in their inner bark. They have adapted to dry, fire-prone climes. Fires actually help spread eucalyptus, by clearing out native trees.
Manchee is trying to thin out eucalyptus regrowth on his land, and cultivate native cork and holm oaks. But invasive eucalyptus spread fast and suck water from the soil, depriving other plants and drying out the ecosystem — making it more vulnerable to wildfires.
At least six fires are burning across Portugal, but all of the fatalities so far have been in the Pedrógão Grande area.
"It's a lot of work. We need to chop down trees to create fire breaks," Manchee said. "Every day, you see smoke from a different place on the horizon."
ALSO
Wildfire burning near Big Bear Lake grows to 950 acres amid sweltering California heat wave
Residents lash out at officials over response before and after London apartment tower fire
Desperation is driving an indigenous tribe in Venezuela to make the trek into Brazil
Frayer is a special correspondent.
Sign up for Essential California for the L.A. Times biggest news, features and recommendations in your inbox six days a week.
You may occasionally receive promotional content from the Los Angeles Times.