Residents lash out at officials over response before and after London apartment tower fire
Reporting from london —
On the streets around the charred Grenfell Tower, Prime Minister Theresa May's name is being uttered in angry tones with rising frequency.
"She didn't speak to anyone when she came here."
"She's supposed to be our leader."
"Coward."
Those are just some of the words local residents have said during often-emotional debates in the shadow of the 24-story burned tower that now looms ominously over the neighborhood.
Police said Saturday that at least 58 people have either been confirmed dead, or are missing and presumed to have perished, after the public housing apartment complex was consumed by the raging blaze in the early hours of Wednesday. The death toll could still rise.
May, who was reelected prime minister just last week in an election that saw her Conservative Party majority in Parliament wiped out, has been accused of dramatically — perhaps even catastrophically — misjudging the public mood when she visited the site of the devastation Wednesday afternoon. She chose to speak only to emergency crews at the scene before being swiftly whisked away.
Comparisons have been made to George W. Bush's "Katrina moment," when the president was photographed staring down at New Orleans from a plane window, instead of interacting with distraught residents on the ground.
By contrast, opposition leader Jeremy Corbyn, whose Labor Party made huge gains in the election on a platform of representing "the many, not the few," mingled with residents, listened to their anger and concerns and promised to get answers for the bereaved and homeless.
May's actions left a bitter taste in many mouths, and by the time she returned Thursday to visit the injured in hospital as well as volunteers at a makeshift collection center in a nearby church, there was palpable anger among the crowd. People booed and heckled her departing vehicle, shouting, "Shame on you."
The differing responses from the two most high-profile political leaders in the country in many ways reflects the forces that undermined May's majority during the election earlier this month in which she sought — and failed — to make the debate all about her strong leadership and ability to navigate the country through upcoming negotiations to leave the European Union.
Corbyn meanwhile talked little of that departure, known as Brexit, and instead made the election about the electorate feeling beaten down and disenfranchised after years of Conservative Party austerity cuts that have affected welfare services, the National Health Service, education provisions and local council budgets.
Although the Labor Party gained 56 fewer seats overall compared to the Conservatives, it won 40% of the vote share and hailed the results a victory.
There have been brief moments in recent days where the grief and anger have boiled over into physical confrontation. Ahead of a vigil Friday night, crowds marched through the streets chanting: "What do we want? Justice. When do we want it? Now," while holding banners reading "Tenants die when landlords don't listen" and "Tories have blood on their hands."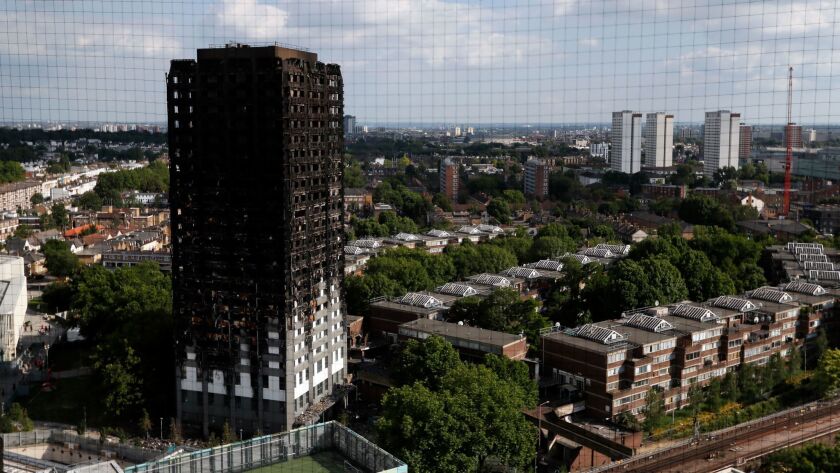 "I think after this tragic event, people want to be heard and are using this to express their overwhelming emotions at all these cuts," said Micky Mesic, 57, who lives in a neighboring residential block on the Lancaster West estate and watched in horror as people burned. "I believe it's going to be a turning point. Everyone has a bad experience about repairs, but when [they are] asking for rent, they're very prompt. They have to look after the people that live in these buildings."
The blackened residential tower that housed low-income residents is visible from multiple vantage points: the subway platform, the corner store, the public phone booth, all of which are now plastered with "Missing" posters. And the demand for answers is mounting rapidly as people question how a tragedy of this scale could have happened in one of the richest boroughs in London, which is one of the most prosperous cities in the world.
"People are just angry now; where are the leaders?" said Sabu Hussain, 25, who lives near the tower. "We want to know what are the changes taking place from today to stop this happening in any other building. We need changes in this country. Everybody is sick and tired. This is real."
A public inquiry and police investigation have been launched, but the speed with which the building caught fire has already led experts to believe the exterior cladding may have been the cause. It was installed during a recent multimillion-dollar refurbishment, and reports in the British media say a cheaper, non-fire-resistant material was used — about $2.56 cheaper per square yard — and banned in the United States and Germany. The total savings was estimated to be around $6,400.
We want to know what are the changes taking place from today to stop this happening in any other building.
Sabu Hussain, 25, who lives near the tower.
Residents of the tower had repeatedly raised concerns about fire safety, and even ominously warned in a November 2016 post on the Grenfell Action Group resident's website that the Kensington and Chelsea Tenant Management Organization, which manages the block on behalf of the council, were "playing with fire."
"[We] believe that only a catastrophic event will expose the ineptitude and incompetence of our landlord," the post reads. But their pleas fell on deaf ears because, many believe, the inhabitants were low-income.
"It's about profits, power and greed," said Londoner Simon Higgins, 40, who mingled with the crowds on Friday evening airing his views about the government's failings and disregard for average, working-class people. "It's been that way for a long time and I think it's about time that things changed. If this is not done properly, and quickly, it will kick off big time. We'll have more riots."
In the wake of the London Bridge terrorist attack earlier this month, where three men drove a van into pedestrians and then knifed pub and restaurant-goers in Borough Market killing eight and injuring dozens, Corbyn managed to successfully turn the discourse into a debate about security and cuts to public services, spotlighting a decision May made while home secretary to reduce police numbers by 20,000.
In the days after the Grenfell Tower tragedy, Corbyn successfully captured the public's outrage once again and made May look out of touch.
"If you cut local authority expenditure then the price is paid somehow," he was quoted as saying.
Although there is no implication that the fire department was understaffed or ill-equipped in the early hours of Wednesday morning, the Grenfell Tower fire has also sparked questions about cuts to London fire departments under then-London Mayor Boris Johnson, who is now the foreign secretary.
Under his tenure, 10 fire stations were shuttered and 552 firefighter jobs were cut.
May looked rattled during a tough BBC TV interview Friday night in which she was asked repeatedly whether she misjudged the public mood and failed to act quickly enough to support victims. She had earlier announced a $6.4-million fund to help victims.
"Something terrible has happened," she said, but stopped short of admitting any government wrongdoing.
On Saturday, as 1,000 protesters gathered outside the gates leading to 10 Downing Street to voice their anger at May's leadership and she met privately with victims within the prime minister's residence, her office issued a statement suggesting they realize this is not a tragedy that can be alleviated with words alone.
"Frankly, the support on the ground for families who needed help or basic information in the initial hours after this appalling disaster was not good enough," May's statement said. "The fire at Grenfell Tower was an unimaginable tragedy for the community, and for our country. My government will do whatever it takes to help those affected, get justice and keep our people safe."
ALSO
7 reported missing after U.S. Navy ship collides with merchant ship off Japan
Islamic State claims responsibility for fatal stabbing of police officer in Jerusalem
Macron's party upbeat about Sunday's second-round vote in run for Parliament
---
UPDATES:
3:55 p.m.: This article was updated to add Prime Minister Theresa May's announcement of a $6.4-million fund to help victims of the fire.
This article was originally published at 3:20 p.m.
---
Must-read stories from the L.A. Times
Get all the day's most vital news with our Today's Headlines newsletter, sent every weekday morning.
You may occasionally receive promotional content from the Los Angeles Times.