Spread of bird flu in Africa threatens poultry, profits and people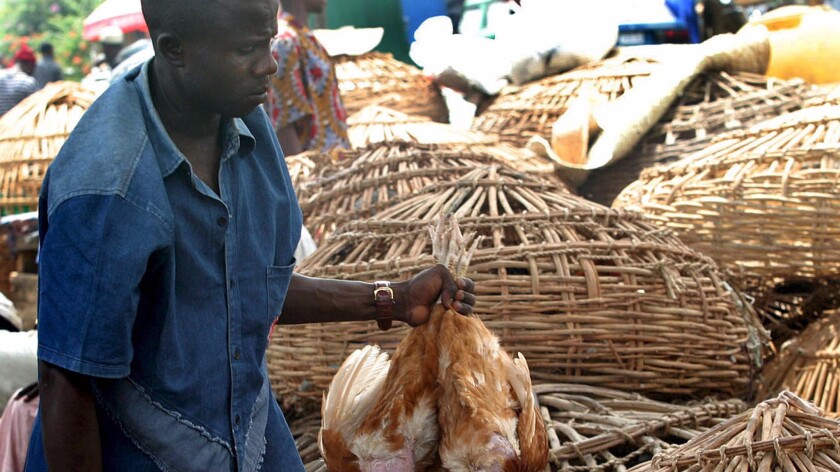 An outbreak of avian influenza virus in Cameroon is raising concerns that the disease, already entrenched in parts of West and Central Africa, might advance southward and ravish the poultry industry.
"The risk is real," Eran Raizman of the Food and Agriculture Organization said in an email. Raizman is the Rome-based head of the emergency prevention system for the animal division at the FAO, a United Nations agency.
According to the FAO, the virus — primarily found in poultry, waterfowl and migratory birds, and commonly called bird flu — was recently confirmed on chicken farms in Cameroon.
The H5N1 strain of the virus found in Cameroon also can infect and kill humans. It is the first time the disease has been found in Central Africa since 2006, the U.N. agency said.
"We're looking at a quickly spreading disease that has devastating effects on livelihoods in communities," Abebe Haile Gabriel, the FAO's deputy regional representative for Africa, said in recent written remarks.
"H5N1 causes major losses of nutritious food and threatens farmers' livelihoods, particularly in resource-poor environments where governments have difficulty providing financial compensation for losses," Gabriel said.
Global outbreaks of the virus since 2013 have caused the death of tens of millions of poultry and the loss of tens of billions of dollars worldwide, according to the FAO.
Last year, the U.S. Department of Agriculture reported three deadly avian flu strains in commercial and backyard poultry flocks totaling more than 43 million birds in 15 states. In Iowa alone, the nation's top egg-producing state, nearly 30 million chickens died or had to be euthanized as a result of the virus. The outbreak sent the average wholesale price of a dozen large eggs from the hard-hit Midwest skyrocketing to $2.62, a record high.
In addition to Cameroon, five other countries in West and Central Africa have also been hit since 2014 by bird flu — Burkina Faso, Ivory Coast, Ghana, Niger and Nigeria.
In Nigeria "avian influenza has become so entrenched in poultry production and marketing systems" it will be difficult to eliminate, according to the FAO.
Nigeria has had more than 750 outbreaks of bird flu, with nearly 3.5 million birds dead or culled, the agency said.
Raizman said this recent outbreak of the disease in Nigeria was detected in December 2014, the first instance in seven years.
It reached Cameroon in May of this year.
According to WHO spokesperson Fadéla Chaib, H5N1 was first detected in domestic poultry in China in 1996. In 1997, it caused outbreaks of disease in poultry in Hong Kong and Macau, as well as 18 cases of human infections with the virus.
Although transmission of the virus to humans is rare, "once the virus is present in an area in birds, there is a risk of human infection," Chaib said in an email.
The majority of human cases have been associated with direct or indirect contact with infected live or dead poultry. There is no evidence the disease can be spread to people through properly cooked food, according to WHO.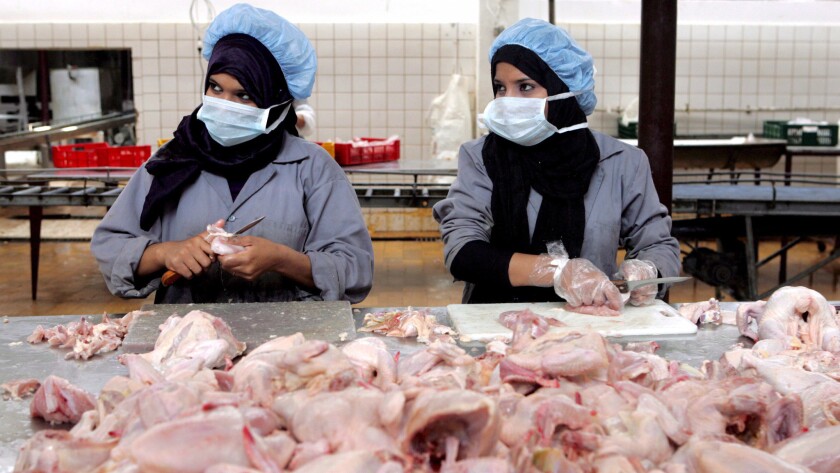 Chaib said that of the 851 human cases reported to WHO since 2003, 450 were fatal. And overall, Egypt, Indonesia and Vietnam have reported the largest numbers of human cases of avian influenza virus infection to the health agency.
So far, there have been no human cases of illness or death associated with the recent outbreak of avian flu in West Africa, according to Raizman.
What has been ailing is the region's poultry economy. Although the recent outbreaks in Cameroon have so far been contained, the economic impact has already taken its toll.
Cameroon losses have totaled an estimated $20 million, the FAO said, citing local media reports. This is a huge blow to this country of around 23 million people, where in rural areas, the percentage of the poor rose from 52% in 2001 to 56.8% in 2014, according to World Bank data.
The FAO said it had joined forces with WHO and the World Organization for Animal Health to provide assistance to affected countries, such as "risk assessments, contingency planning, technical advice and laboratory material."
Raizman said the FAO was also "putting a lot of effort in convincing governments and the private sector to enhance their surveillance of the disease and to report it to the authorities as soon a possible."
Affected countries were also being urged to strengthen bio-security measures such as prohibiting non-authorized people, like traders, from entering infected farms, Raizman said.
Meanwhile, Chaib of WHO, said the agency was focusing on public health and preventing human infections by helping to ensure that local laboratories have the capacity to detect the virus, provide clinical treatment and manage any incidents, among other measures.
For more on global development news follow me @AMSimmons1 on Twitter
---
Must-read stories from the L.A. Times
Get all the day's most vital news with our Today's Headlines newsletter, sent every weekday morning.
You may occasionally receive promotional content from the Los Angeles Times.