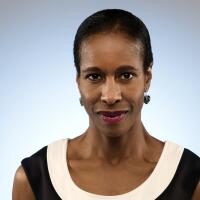 Ann M. Simmons
Ann M. Simmons is a former global development writer/editor for the Los Angeles Times; she left in 2018. Previously she served as a video and multimedia journalist, a metro reporter and national and foreign correspondent. She has been based in Russia, Kenya and South Africa and has reported from Iraq and several other countries across the globe. A Brit, Simmons holds a double honors bachelor's degree in Russian and Norwegian from the University of East Anglia in Norwich, England, and a master's degree from Columbia University's Graduate School Journalism. She was a Nieman fellow at Harvard in 2003.

As the United Nations Educational, Scientific and Cultural Organization puts it, "language is one manifestation of cultural diversity" and "every language reflects a unique world-view with its own value systems, philosophy and particular cultural features."

Fresh out of Loyola Marymount University in Los Angeles with a degree in applied information management systems, Ishaan Khanna landed an internship at Ticketmaster.com.

Critics of Peruvian President Pedro Pablo Kuczynski reveled this past week in what must have seemed a rare and fitting political demise: his resignation amid allegations of vote buying, illegal campaign contributions and other corrupt practices.

The idea that a Franco-Dutch company would make Britain's new, blue passport for use after the U.K.'s exit from the European Union has triggered a mix of outrage, bemusement and ridicule.

Until his retirement from the professional game in 2005, Garry Kasparov was widely considered to be the greatest chess player of all time.

In a widely anticipated victory, Russian President Vladimir Putin was reelected for a fourth term Sunday, delighting supporters, dismaying detractors and triggering speculation over what lies in store for the Eastern European nation under six more years of the former KGB intelligence officer.

News that a former Russian spy and his daughter were likely poisoned by a military-grade nerve agent in the British city of Salisbury has spread fears over possible secondary contamination and piqued curiosity about a toxic substance that is as mysterious as it is potentially lethal.

The recent killings of three humanitarian aid workers in Nigeria by suspected Boko Haram militants have sent shock waves throughout the humanitarian aid community and illuminated the increasingly precarious landscape such personnel must navigate to help people in areas of conflict and instability.