China sends forces to its first military base abroad, in Djibouti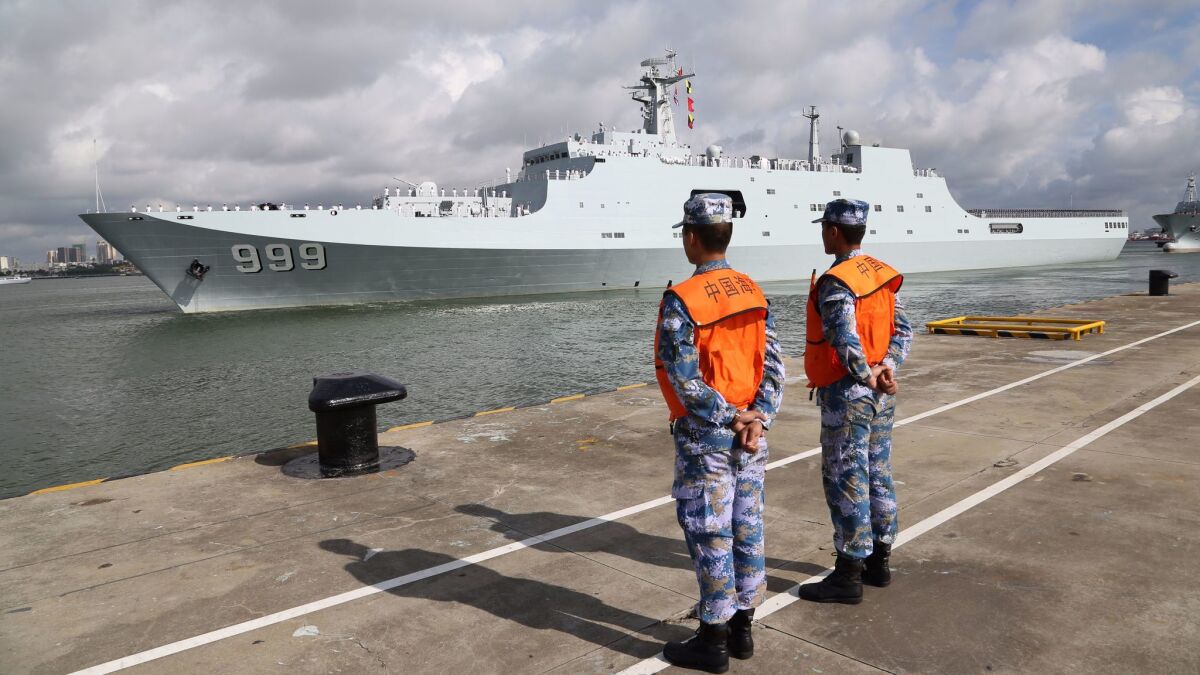 Reporting from BEIJING —
China on Tuesday dispatched members of its People's Liberation Army to the Horn of Africa nation of Djibouti to man the rising Asian giant's first overseas military base, a key part of a wide-ranging expansion of the role of China's armed forces.
The defense ministry said on its website that a ceremony was held at a naval pier in the southern Chinese port of Zhanjiang presided over by navy commander Vice Adm. Shen Jinlong.
It said the personnel would travel by navy ship but gave no details on numbers or units. Photos on the website showed naval officers and marines in battle dress lining the rails of the support ships Jingangshan and Donghaidao.
China says the logistics center will support anti-piracy, U.N. peacekeeping and humanitarian relief missions in Africa and western Asia. It says it will also facilitate military cooperation and joint exercises as the PLA navy and other services seek to expand their global reach in step with China's growing economic and political footprint.
Djibouti is already home to the center of American operations in Africa, Camp Lemonnier, while France, Britain, Japan and other nations also maintain a military presence in the small but strategically located nation.
Multinational anti-piracy patrols in the Gulf of Aden that China joined in 2008 have also given its navy ready access to the Mediterranean, and, in 2011, it took the unprecedented step of sending one of its most sophisticated warships together with military transport aircraft to help in the evacuation of about 35,000 Chinese citizens from Libya.
In 2015, China detached three navy ships from the anti-piracy patrols to rescue Chinese citizens and other foreign nationals from fighting in Yemen. The same year, it took part in its first Mediterranean joint naval exercises with Russia.
ALSO
India's highest court temporarily lifts a nationwide ban on cattle slaughter
What led to beating death of 22-year-old U.S. tourist in Greece? Police search for answers
India's highest court temporarily lifts a nationwide ban on cattle slaughter
Must-read stories from the L.A. Times
Get the day's top news with our Today's Headlines newsletter, sent every weekday morning.
You may occasionally receive promotional content from the Los Angeles Times.