India's highest court temporarily lifts a nationwide ban on cattle slaughter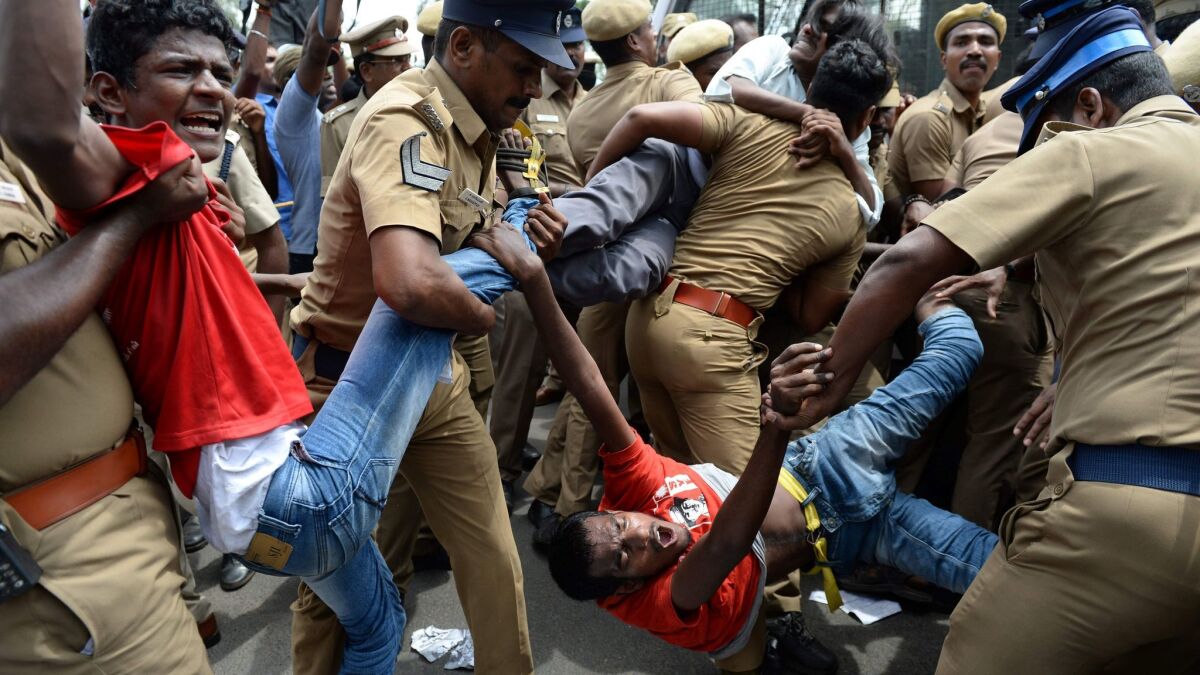 Reporting from Mumbai, India —
India's Supreme Court on Tuesday temporarily lifted a government ban on selling cattle for slaughter, a reprieve for the country's multibillion-dollar cattle industry.
Under a nationwide ban imposed in May, cows or buffaloes could not be sold at livestock markets in India except for plowing or dairy production.
The rules instituted by India's Hindu nationalist government were aimed at appeasing orthodox Hindus, who regard the cow as sacred, but critics said they encouraged vigilante attacks against cattle traders and imposed excessive regulation on an already struggling livestock industry.
The Supreme Court order said the ban would be lifted until the central government can hear suggestions on changes to the rules, which is expected to take about three months.
Representing Prime Minister Narendra Modi's government, additional solicitor P.S. Narasimha said authorities "are looking into various suggestions and objections" to the rules and would submit changes next month, the Press Trust of India reported.
Hindus are a large majority among India's 1.3 billion people, and many do not consume beef. But beef from buffaloes is part of the diet of Muslims, Christians and Hindus from the lowest rung of the ancient caste system, known as Dalits, or "untouchables."
Although India's government argued that the rules would prevent animal cruelty, many critics said they were an attempt to impose a de facto ban on beef by targeting livestock markets, where nearly all cattle for slaughter are sold.
In May, the top court in the southern state of Tamil Nadu temporarily suspended the ban in the state after petitioners argued that the rules violated India's Constitution and people's right to choose what they eat. The Supreme Court order on Tuesday extends that stay nationwide.
In recent months, India has been gripped by a series of brutal attacks by self-described "cow protectors" against Muslims and other minorities accused of transporting cattle or possessing beef.
Last month, protests were held nationwide after a 16-year-old Muslim boy was attacked and knifed to death on a train outside New Delhi by a mob that called him and his brothers "beef-eaters."
Follow @SBengali on Twitter for more news from South Asia
ALSO
Fake news fuels nationalism and Islamophobia — sound familiar? In this case, it's in India
Iraqi forces and rescue crews in Mosul look to save civilians and pull bodies from the rubble
Israel's Labor Party chooses newcomer Avi Gabbay as leader in an effort to unseat Netanyahu
Must-read stories from the L.A. Times
Get the day's top news with our Today's Headlines newsletter, sent every weekday morning.
You may occasionally receive promotional content from the Los Angeles Times.