Johnny Hallyday's fans fill Paris streets to bid adieu to 'French Elvis'
Reporting from PARIS —
The name Johnny Hallyday will mean little if anything to most Americans.
But on Saturday, a million French people turned out on a bitterly cold December morning to bid adieu to the man they called the "French Elvis."
Central Paris ground to a halt as President Emmanuel Macron led what he described as a "people's tribute" to the rock and roll star who died on Wednesday aged 74.
In a country that dispatched its monarchy to the guillotine in the 18th century, Hallyday was mourned like a beloved king who, for one brief moment, had unified his people in grief.
In scenes reminiscent of the widespread public mourning in Britain following the death of Princess Diana, fans wept, threw flowers and chanted "Johnny, Johnny" as the funeral cortege passed one Paris landmark after another — from the noble Arc de Triomphe, down the Champs Elysees, around the Place de la Concorde and on to the grand Catholic Church of La Madeleine.
The crowds stretched down boulevards as far as the eye could see, and thousands of cellphones and cameras were raised to take photographs as the procession slowly passed.
Hallyday's band played a selection of his celebrated hits, including "Quelque Chose de Tennessee" ("Something of Tennessee"), and leather clad bikers on Harley-Davidsons joined the parade following the coffin that was white, like his idol Elvis Presley's.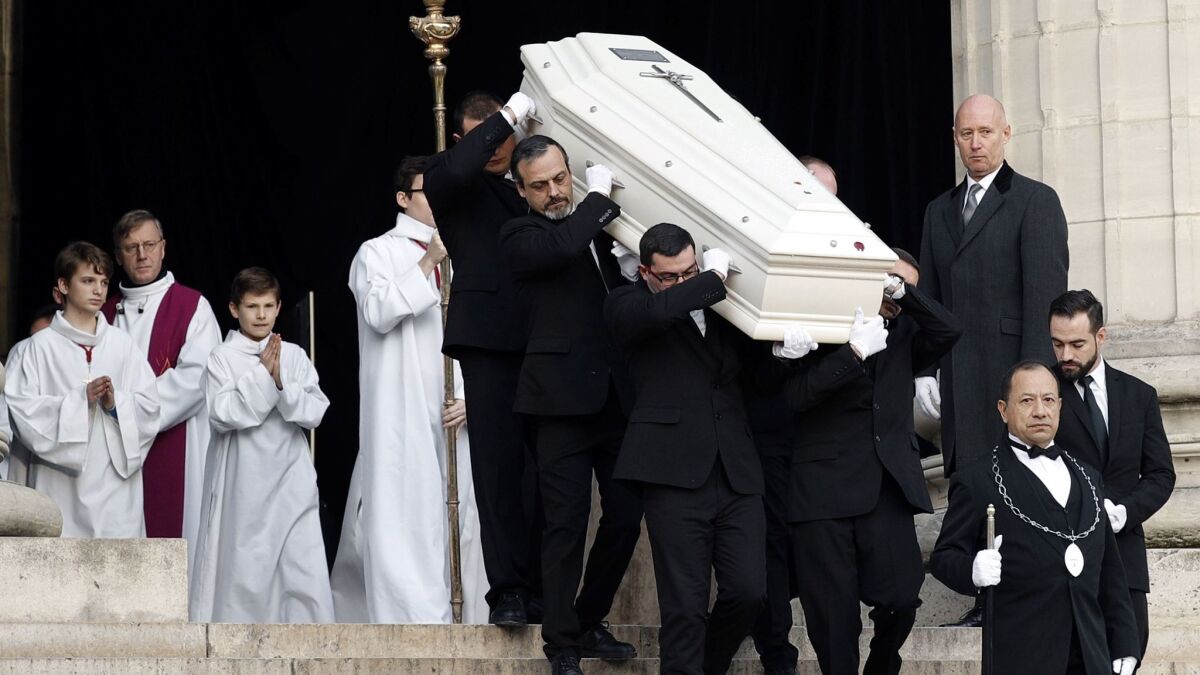 Inside the church, two former French presidents, the current prime minister, and a galaxy of music, film, literary and cultural stars joined Hallyday's friends and family for an emotional two-hour funeral service.
Hallyday owed his fame to American musical influences of the 1950s and '60s; the blues of African Americans and Tennessee rock 'n' roll in particular. But despite selling more than 110 million records — making him one of the most successful recording artists ever — he never conquered or convinced the English-speaking world. He did covers of classic American rock but also performed original songs in French.
Outside France, those who had heard or seen Hallyday, tended to mock the cheesy glitz and over-the-top showmanship of a man who never quite outgrew the 1950s. In 1996, when he performed in Las Vegas, fans were flown out from France to fill the venue, and USA Today described him as "the greatest rock star you've never heard of."
No matter. The French adored him, lapping up his trademark theatrical entrances — he was once winched onto a stage from a helicopter — and his excesses with drink, drugs and women. In the press, they avidly followed his tax scandals, marriages and his narrow escapes from early death. For three nights beginning Friday, the Eiffel Tower was lit up with the message, "Merci Johnny." (Thank you, Johnny.)
In a career spanning more than half a century he recorded more than 1,000 songs and around 28 million people attended his 180 sell-out tours. Even in his seventies, French media still called him "the young person's idol."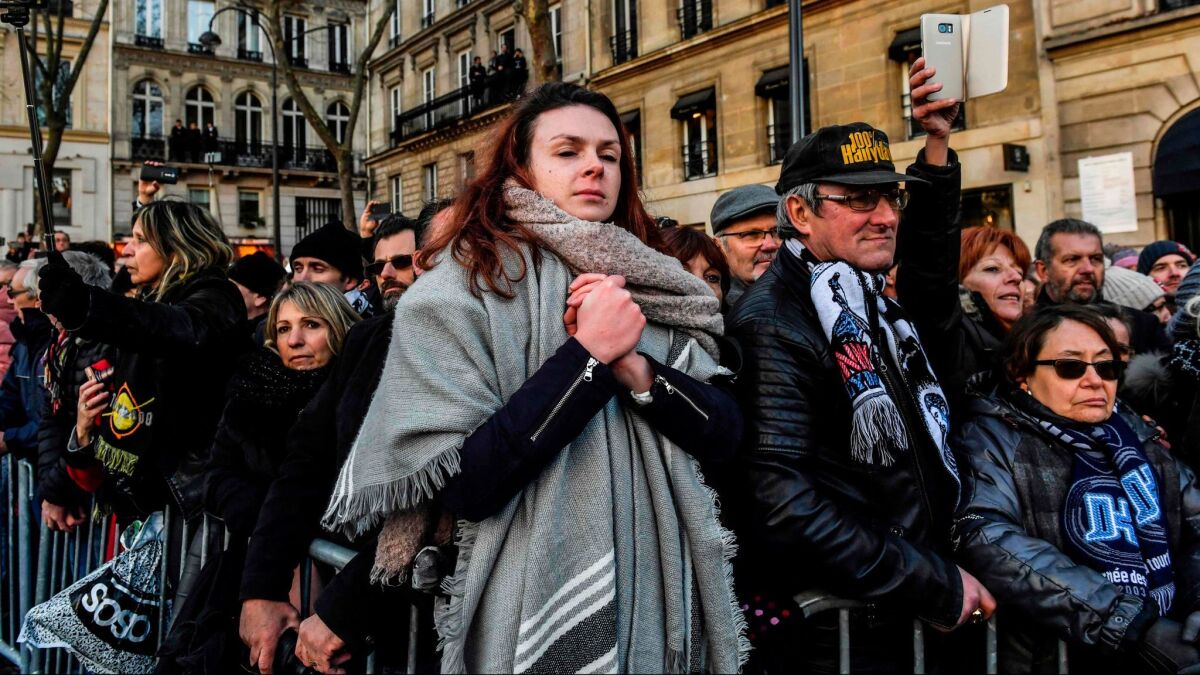 On Saturday, Macron and his wife, Brigitte, stood alongside Hallyday's widow, Laeticia, who became his fourth wife in 1996 when she was 21 and he 52, and their two daughters Jade, 13, and Joy, 9. In a tribute to the singer whose coffin was first placed on the steps outside La Madeleine before being carried inside, Macron told the crowds Halladay was "a part of France."
"I know you're waiting for him to appear from somewhere," Macron said, in reference to Hallyday's penchant for surprise stage entrances, like roaring into a concert on a Harley-Davidson. "He's on a bike, he comes towards you and starts the first song and you start singing with him….
"In moments of your life one of his songs translated something you had in your heart … an indefinable humanity that made us feel less alone. That's how Johnny came into our lives. … He became a necessary presence, a friend, a brother."
Since spring, Hallyday's friends, family and fans had known the star, a lifelong smoker of filterless Gitanes, was being treated for lung cancer.
Despite his showbiz flair, Halladay was described in eulogies as "modest and humble," and in an interview with French television in 2006 he dismissed the suggestion he'd be given a state funeral as "not a great idea."
"I'm not an absolute star; I'm just a simple man," he said.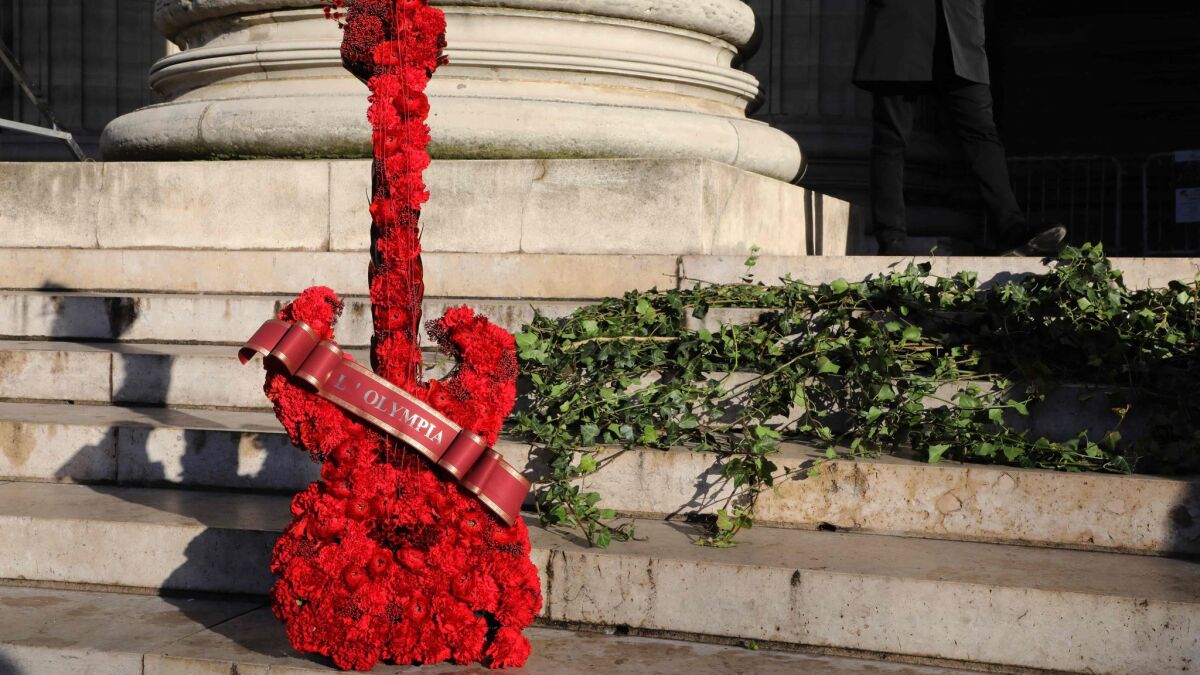 ---
UPDATES:
5:40 p.m.: This article has been updated throughout with staff reporting.
This article was originally published at 11:50 a.m.
---
Must-read stories from the L.A. Times
Get the day's top news with our Today's Headlines newsletter, sent every weekday morning.
You may occasionally receive promotional content from the Los Angeles Times.