After days of unrest in Iran, pro-government demonstrators take to the streets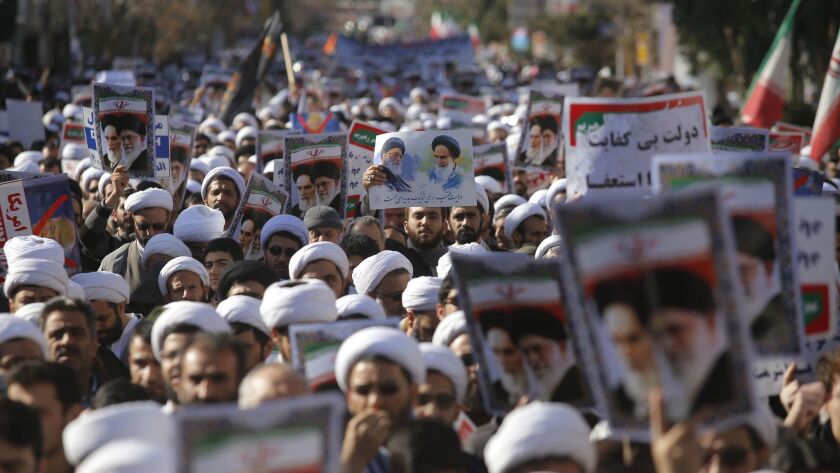 Reporting from Tehran —
Iranian state media broadcast video of pro-government demonstrations in several cities on Wednesday, after a week of unrest sparked by economic grievances has left 21 dead.
The rallies were an opportunity for Iranians "to renew their allegiance to the Islamic establishment and condemn the recent wave of deadly violence," said state-run Press TV, which aired the demonstrations live.
The video showed orderly government supporters flying Iranian flags and holding pictures of Supreme Leader Ayatollah Ali Khamenei — a bid by Iran's leaders to counter the angry rallies that have raged over the last seven days in which protesters chanted, "Death to the dictator."
Iran is seeing the biggest antigovernment protests in years. What's driving the unrest? »
The pro-government marches, which Iran's leaders frequently organize as shows of defiance and to mark national holidays, took place in at least six provincial cities, Press TV reported.
Iran has moved swiftly to quash the protests that began last Thursday in the city of Mashhad and spread quickly to more than 30 cities, showing the deep frustration among working-class Iranians with high unemployment, rising prices and official corruption.
Authorities have blocked Instagram and Telegram, a popular messaging app. In Tehran, the capital, police and plainclothes security officers loyal to the hard-line clerical establishment have rounded up hundreds of anti-government demonstrators and forced others into hiding.
State-run Fars News Agency published a nighttime photograph of pedestrians, with a caption saying Tehran was "in complete peace and order." The mood around Enghelab Square, site of running clashes between police and protesters, was noticeably less tense.
President Hassan Rouhani said he hoped "the protests will end in a couple of days" in a phone call with Turkish President Recep Tayyip Erdogan, according to the Turkish pro-government newspaper Daily Sabah.
But elsewhere in the country, anti-government protests continued overnight in at least five cities, according to videos shared on social media. They included Khomeini Shahr in central Isfahan province — the hometown of the founder of the Islamic Revolution, the late Ayatollah Ruhollah Khomeini — where video showed a seminary that had been set on fire by demonstrators.
Iran's leaders have sought to defuse anger by acknowledging that many people are struggling economically, while blaming "enemies" such as the U.S. and Saudi Arabia for stoking violent unrest. President Trump has tweeted several times in support of the protests.
The stiff response by authorities has caused some protesters in Tehran to lose their nerve.
Moein, a 24-year-old engineering graduate who works as a taxi driver and had never protested before, joined demonstrators who chanted "Death to the dictator" near Enghelab Square for two nights.
"There is no future for me in this country," said Moein, who gave only his first name. "I thought, 'Let's go for the roots of our grievances.'"
But while chanting slogans Tuesday night, he was caught by a middle-aged man and handed to plainclothes police, who kicked him for several minutes. They hurled insults at him and at Rouhani, whom many hard-liners view as dangerous because he supported the 2015 nuclear agreement with world powers and has promised to increase social freedoms.
Moein managed to escape, he said, but the incident has scared him away from further protests.
"My friends tease me and call me chicken, but I won't participate," he said. "I say goodbye to street politics, unless the chance of victory seems 100%."
Special correspondent Mostaghim reported from Tehran and Times staff writer Bengali from Mumbai, India.
Follow @SBengali on Twitter
ALSO
Iran is seeing the biggest anti-government protests in years. What's driving the unrest?
Young, working-class and fed up: Iran's deadly protests driven by a new crop of dissenters
Two killed in three days of stunning protests in Iran: What our correspondent saw there
---
UPDATES:
5:10 a.m.: This article was updated throughout with staff reporting.
This article was originally published at 4:26 a.m.
---
Must-read stories from the L.A. Times
Get the day's top news with our Today's Headlines newsletter, sent every weekday morning.
You may occasionally receive promotional content from the Los Angeles Times.