U.S.-backed Iraqi forces keep up grinding battle against Islamic State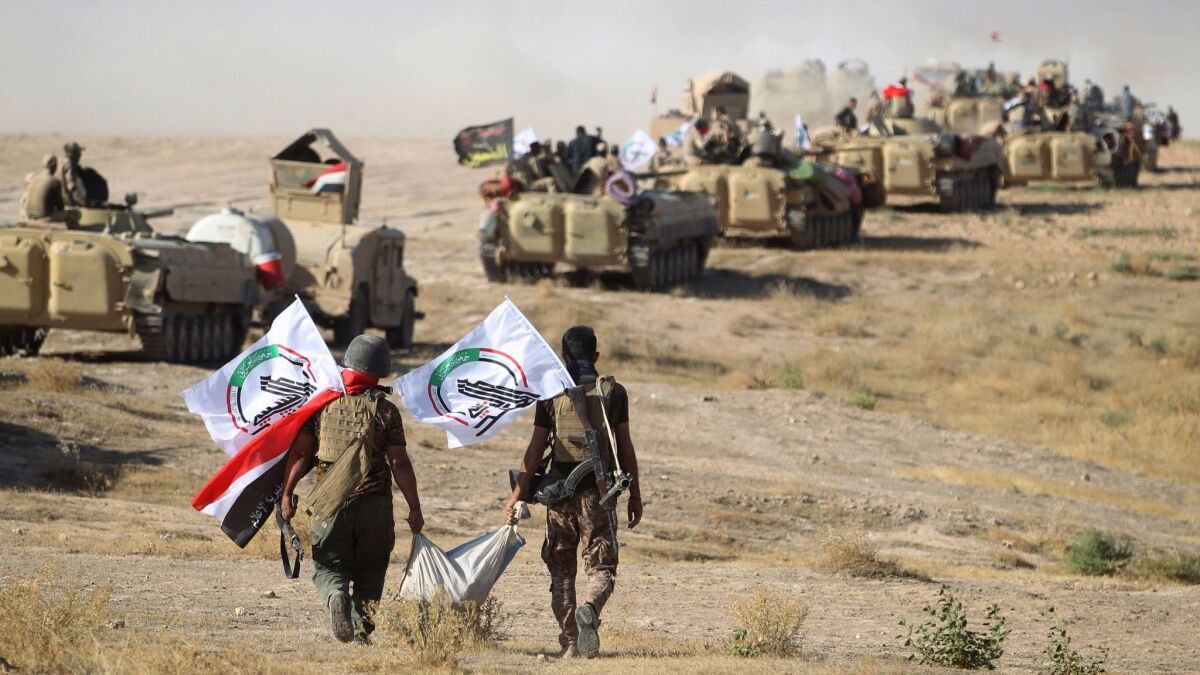 Reporting from baghdad —
The Iraqi army, backed by U.S. airstrikes and special operations commandos, punched through an outer ring of Islamic State defenses Tuesday in a 3-day-old push to reclaim Tall Afar, the militants' last major stronghold in northern Iraq.
Fighting in oven-like temperatures, Iraqi tanks and armored vehicles stormed across the desert and Iraqi special forces moving in from the northeast breached a thick city wall, U.S. and Iraqi officials said.
U.S. commanders say the offensive against the estimated 2,500 militants in and around Tall Afar will be grinding because Islamic State fighters built extensive defenses. Among them: They lined up derelict vehicles to push invading forces into a kill zone strewn with booby traps.
Recapturing Tall Afar would cut off one of Islamic State's last routes to move supplies and fighters to and from Syria, about 60 miles farther west, and mark a milestone in the bitter three-year effort to defeat the group that once controlled a third of Iraq.
"The fighting is tough but the momentum is with our partners," Lt. Gen. Stephen Townsend, the top U.S. general in Iraq, said in Baghdad.
Townsend met Tuesday with Defense Secretary James N. Mattis, who arrived on a previously unannounced visit to consult with U.S. commanders, Iraqi Prime Minister Haider Abadi and Defense Minister Arfan Hayali. Mattis also met with Massoud Barzani, president of the semiautonomous Kurdistan region in northern Iraq.
The Tall Afar offensive follows a successful but grueling nine-month campaign to retake Mosul, Iraq's second-largest city and crown jewel of Islamic State's self-declared caliphate.
Many Islamic State leaders fled Mosul during the fighting. The whereabouts of several senior commanders, including founder and leader Abu Bakr Baghdadi, is not known.
Islamic State "is on the run and they have been shown to be unable to stand up to our team, have not retaken one inch of ground," Mattis told reporters.
Mattis cited the progress in Iraq and the U.S.-backed operation in Syria to retake Raqqah, the capital of Islamic State's self-declared caliphate.
Brig. Gen. Andrew A. Croft, who leads the air campaign in Iraq, said the militants have shown less ability to defend their ground and launch counterattacks over the last three months.
"It appears more fractured, less robust, and sort of flimsy, is the word I would use," Croft said. "It is sporadic."
U.S. special operations forces are helping direct airstrikes against Islamic State positions in Tall Afar. U.S.-led coalition warplanes have launched about 150 airstrikes in and around the city to help Iraqi forces advance against vehicle-borne bombs, militant snipers and mortar teams.
Michael Knights, Iraq analyst at the nonpartisan Washington Institute for Near East Policy, said Iraqi security forces are experienced in urban combat but exhausted after their hard-won victory in Mosul. He predicted the battle for Tall Afar, which is just one-tenth the size of Mosul, will take about four months.
"Right now we can expect about 15 brigades — totaling about 15,000 to 22,000 troops — to take part, which is sufficient to crack Tall Afar by December," he said.
Iraq's army divisions, its counter-terrorism service and federal police are supporting the multi-pronged operation. There are also militia fighters under the umbrella of the Shiite-dominated Popular Mobilization Forces advancing toward the city.
The Shiite militias were barred from participating in the Mosul offensive because of objections from Turkey, the United States and other countries who see the Popular Mobilization Forces as undisciplined and loyal to Iran.
Tall Afar had a population of about 200,000, chiefly Sunni Arabs and Turkmens, before Islamic State captured it in 2014.
Turkey's president, Recep Tayyip Erdogan, has warned against heavy-handed tactics by Popular Mobilization Forces in Tall Afar, which he called "an entirely Turkmen town," a legacy from the Ottoman Empire.
An estimated 30,000 civilians fled the city before the battle but an estimated 20,000 civilians remain trapped there.
Asked about concerns that U.S. airstrikes had caused civilian casualties, Mattis replied that "no military in the world's history has paid more attention to limiting civilian casualties."
He had nothing but scorn for Islamic State.
"An enemy that hides behind women and children … [is] violating every standard of decency and fills us with conviction [for] what we have to do," Mattis said.
"I've seen people fleeing to [Iraqi security forces] and feeling safe when they get to them," he added. "We are the good guys and the innocent people in the battlefield know the difference."
Twitter: @wjhenn
ALSO:
U.S. special operations forces face growing demands and increased risks
The U.S. is launching 'danger-close' drone strikes so risky they require Syrian militia approval
The U.S. military is targeting Islamic State's virtual caliphate by hunting & killing its online operatives one-by-one
Must-read stories from the L.A. Times
Get the day's top news with our Today's Headlines newsletter, sent every weekday morning.
You may occasionally receive promotional content from the Los Angeles Times.