Veteran Mexican journalist Javier Valdez is killed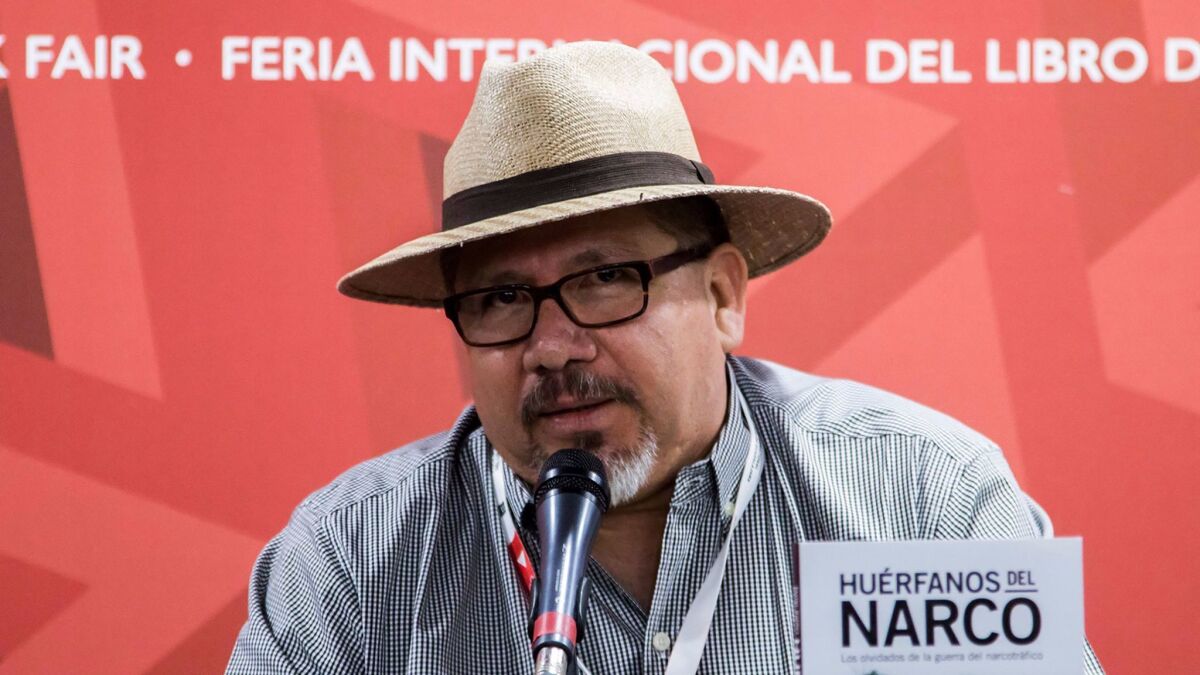 Reporting from Mexico City —
A well-known journalist in the violence-plagued state of Sinaloa in northwest Mexico was shot and killed Monday on a street in the state capital of Culiacan, marking the latest in a wave of killings of journalists in Mexico.
Javier Valdez, correspondent for the Mexico City-based daily La Jornada and a co-founder of the regional weekly Riodoce, was shot on a busy street in broad daylight, authorities said.
The veteran journalist's body, with his trademark straw hat still covering part of his head, remained on the street as police roped off the scene.
Law enforcement officials in Sinaloa confirmed the slaying, and the state prosecutor told reporters that police found 12 spent shell casings at the scene. Riodoce reported the news on its website.
Valdez, a father of two, was at least the fifth journalist killed this year in Mexico, which free-press groups have named as one of the most dangerous countries for journalists.
Mexican President Enrique Peña Nieto, who has been criticized for not speaking out more forcefully in previous cases of slain journalists, sent a Twitter message denouncing the killing and sending condolences to Valdez's family.
"I reiterate our commitment to freedom of expression and press, fundamental to our democracy," the Mexican president said, adding that he had instructed local and federal authorities to investigate the matter.
The U.S. ambassador here, Roberta Jacobson, also sent out a Twitter message condemning the slaying of the journalist.
Since 2010, the Committee to Protect Journalists, a New York-based advocacy group, has documented the cases of more than 50 journalists killed or missing in Mexico. Few of the killings have been resolved in a nation where drug violence and organized crime are endemic, especially in the provinces outside of Mexico City.
"In nearly every case of a journalist murdered in direct retaliation for their work, justice remains elusive and impunity continues to be the norm," the organization said in a study in May. "This lack of accountability perpetuates a climate of impunity that leaves journalists open to attack."
On Saturday, a group of 100 armed men attacked and robbed a group of seven journalists covering drug-related clashes in the western state of Guerrero. The journalists were robbed of cameras, telephones and other possessions, but were allowed to go.
Let them kill us all, if that is the death penalty for reporting this hell.
— Javier Valdez
Valdez was a prolific chronicler of the drug wars and narco-culture in Sinaloa, home base of the powerful Sinaloa cartel, once headed by Joaquin "El Chapo" Guzman. The former cartel chief was extradited to the United States in January on a range of charges.
Valdez was also an essential source for Mexican journalists and foreign correspondents traveling to Sinaloa to write about the drug violence. He was always gregarious and generous with his time, said colleagues, as tributes from stunned and grief-stricken fellow journalists and others flooded in on social media.
"Today in Sinaloa they killed the most brave and most admired journalist," Marcela Turati, a Mexican journalist, wrote in a Twitter message. "From the land of el Chapo he showed us how to cover el narco."
Valdez, like other Mexican journalists reporting on the sensitive nexus between organized crime and government in Mexico, was well aware of the dangers he faced.
In March, when a gunman killed Miroslava Breach, a journalist in the northern state of Chihuahua, Valdez sent out a defiant message on Twitter.
"Let them kill us all, if that is the death penalty for reporting this hell," Valdez wrote in response to the slaying of Breach, who was also regional correspondent for La Jornada. "No to silence."
In 2011, the Committee to Protect Journalists chose Valdez as a recipient of its International Press Freedom Award.
"Where I work, Culiacan, in the state of Sinaloa, Mexico, it is dangerous to be alive, and to do journalism is to walk on an invisible line drawn by the bad guys — who are in drug trafficking and in the government — in a field strewn with explosives," Valdez said in his acceptance speech in New York. "This is what most of the country is living through. One must protect oneself from everything and everyone, and there do not seem to be options or salvation, and often there is no one to turn to."
Later that same year, Valdez's Riodoce was awarded the prestigious Maria Moors Cabot Prize, which recognizes excellence in journalism in the Americas.
Valdez wrote several books about Mexico's drug wars, including a volume last year on narco-periodismo, or narco-journalism. An earlier book, "Los Morros del Narco," looked at the lives of youth caught up in the violent drug world.
Times staff writer Tracy Wilkinson in Washington and special correspondent Cecilia Sanchez in Mexico City contributed to this story.
twitter: @mcdneville
---
UPDATES:
4:55 p.m.: The story was updated with the prosecutor's report that spent shell casings were found at the scene.
4:20 p.m.: This story was updated throughout with staff reporting.
This story was originally published at 1:10 p.m.
Must-read stories from the L.A. Times
Get the day's top news with our Today's Headlines newsletter, sent every weekday morning.
You may occasionally receive promotional content from the Los Angeles Times.