At least 37 die in South Korean hospital fire, the country's deadliest in recent history
Firefighters carry a victim after the hospital fire in Miryang, South Korea.
(Kim Gu-yeon/EPA-EFE/REX/Shutterstock )
Rescue workers remove bodies after the hospital fire in Miryang, South Korea.
(AFP/Getty Images)
Firefighters help a staff worker after the hospital fire in Miryang, South Korea.
(Kim Hee-chu/EPA-EFE/REX/Shutterstock)
A firefighter searches the debris after the hospital blaze in Miryang, South Korea.
(AFP/Getty Images)
Firefighters battle a blaze at hospital in Miryang, South Korea.
(AFP/Getty Images)
Reporting from MIRYANG, South Korea —
The names of the dead and injured were taped to an outdoor plaster wall, printed guides for relatives trying to locate the victims of a fast-moving and devastating hospital fire here on Friday.
The lists had so many names.
Among them was Kim Jeong-ja, 48, the chief nurse at a hospital where flames and smoke swept through the first-floor emergency room on Friday, killing at least 37 people and injuring scores more.
After rushing to the building — located on a narrow street in the center of this southeastern South Korean city — Kim's family learned their beloved caregiver's fate. Doctors pronounced her dead at another hospital across town hours after the blaze.
"This situation breaks our hearts," said her younger brother, Kim Kyung-sik, who gathered Friday night with other relatives at a funeral home.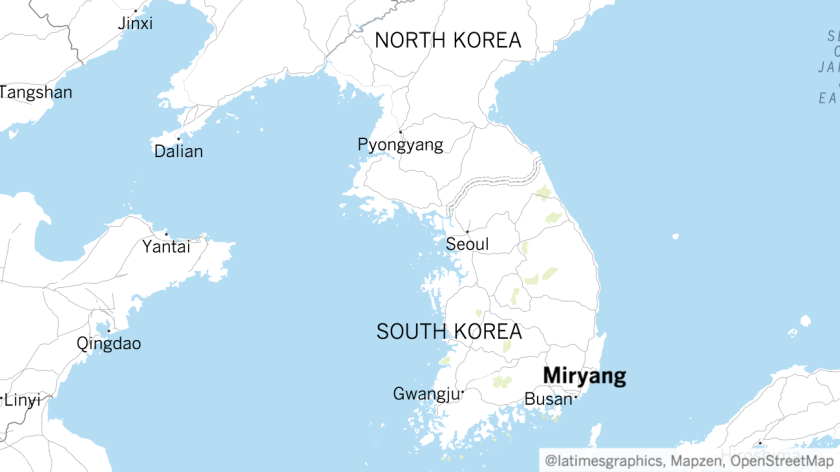 Friday's fire, the deadliest in South Korea in recent history, was the second major blaze to strike a multi-story structure in recent weeks. A fire at a sports complex in the central city of Jecheon killed 29 and injured three dozen others last month. The owner and manager of the eight-story complex was later arrested and charged with involuntary homicide after investigators found safety violations.
The firefighters who arrived within minutes of the first alarm during Friday's incident encountered a chaotic scene in this city of about 100,000, in South Gyeongsang province about 170 miles southeast of Seoul.
Thick, black smoke clouded the air around and above the mid-rise structure, billowing in all directions and nearly blocking out the sun.
As the smoke and flames spread, the growing fire became obvious to people in the neighborhood, a central area near the city's train station. A distressed bystander could be heard pleading "What can we do?" as firefighters from across the region rushed to the area.
Upset relatives, unsure about the fate of their loved ones, soon gathered and paced anxiously as they waited for news. Helicopters hovered overhead, and numerous fire trucks from neighboring jurisdictions crowded into the area.
"It was chaos," said Byun Song-sook, who owns a small grocery down the street. "We couldn't do anything."
The intense fire blocked the first-floor entry to the hospital's emergency room, initially impeding the firefighters' efforts to extinguish the flames.
Once inside the structure, the firefighters found victims who were particularly vulnerable. Most were elderly, some confined to intensive care units or suffering from respiratory illnesses. Many died on the second floor from smoke inhalation, according to the fire officials.
"We tried with all our strength to rescue them promptly and have them escape the building," said Choi Man-woo, the city's fire chief, who arrived at the scene shortly after the first call.
"I feel deeply sorry for the whole nation and the families of the victims to be holding this briefing after failing to rescue everyone," he said.
Doctors at the small hospital — which management said had no fire-suppression sprinklers — were treating about 80 patients at the time, most of them elderly. As many as 90 others from an adjacent nursing home escaped.
At least two of nurse Kim Jeong-ja's medical colleagues, a doctor and a nursing assistant, also died in the fire, the building management told a horde of reporters and photographers, including one who flew a small remote-control drone to capture images above the scene.
"I am truly sorry. I am sorry for the patients and their caretakers. I am very sorry," hospital director Seok Jeong-sik said.
The fire started about 7:30 a.m. Firefighters arrived within three minutes of the initial alarm, but the blocked entrance forced them to enter through windows in upper floors of the facility, which has a narrow street-side facade but extends deep within much of a city block.
Some of those who survived escaped by climbing down ladders extended to upper-floor windows, thick smoke wafting around them. Firefighters had to coax the elderly patients and others — some dressed in hospital gowns and scrubs — to make their steep descent.
Long, vertical emergency chutes — used in South Korean buildings in which traditional fire escapes are impractical — were also deployed from the upper floors. They remained as darkness fell on the scene Friday, hanging reminders of what must have been harrowing escapes for the elderly residents.
The dead ranged in age from the mid-30s to the early 90s, according to one of the lists posted by authorities.
Throughout the day, and hours after the flames were out, a large group of fire officials remained around the area, a neighboring consumer bank commandeered as their headquarters. Nearby workers from the Korean Red Cross served hot drinks, water and ramen noodles.
Investigators in protective gear and respiratory masks remained inside the building for much of the day, trying to determine a cause.
The source of the deadly flames and smoke remains unclear, but the incident seemed likely to stir public concern in a nation still concerned about the government's recent handling of safety issues. A major source of that concern is the 2014 ferry disaster that killed more than 300, many of them high school students, off the southern coast.
The incident's rescue and subsequent investigation caused widespread anger at former President Park Geun-hye, contributing to a political environment that led to her ouster last spring. Her successor, Moon Jae-in, came to office in May vowing to create a safer society — only to experience back-to-back catastrophic fires during his short tenure.
The death toll in Friday's fire represents a significant portion of the annual fatalities from such incidents in South Korea, population 51 million. In 2016, for example, about 280 people died in fire-related incidents, according to the Korean Statistical Information Service. By comparison there were 3,300 fire deaths in the United States, which has six times the population, in 2015, according to the U.S. Fire Administration.That's a fire mortality rate of 10.5 per million people. South Korea's fire mortality rate in 2016 was 5.5 per million people.
Prime Minister Lee Nak-yon, who visited some of the patients displaced by the fire on Friday, called for a thorough investigation.
"There can be questions about how this amount of damage occurred in such a short period of time," Lee said. "We have to offer convincing explanations to the people in a detailed and transparent manner and determine who is responsible."
Such answers remained elusive for Kim Kyung-sik, the younger brother of the deceased nurse, who had recently enrolled in an online university seeking a bachelor's degree and a higher-ranking job. Kim said the family, amid its grief, is consumed with questions about the incident, such as why his sister couldn't escape and whether she received immediate care.
"I can't help but wonder," he said. "It drove us crazy to hear the doctor pronounce her death."
Stiles is a special correspondent.
---
UPDATES:
6:50 a.m.: This article was updated throughout with staff reporting that includes names of some of the victims.
Jan. 26, 4:20 a.m.: This article was updated with a revised death toll of 37.
11:05 p.m.: This article was updated with a death toll of 39.
6:40 p.m.: This article was updated with an increased death and injury toll, information from a fire official and background on a previous fire in South Korea.
This article was originally published on Jan 25 at 6:10 p.m.
---
Must-read stories from the L.A. Times
Get all the day's most vital news with our Today's Headlines newsletter, sent every weekday morning.
You may occasionally receive promotional content from the Los Angeles Times.