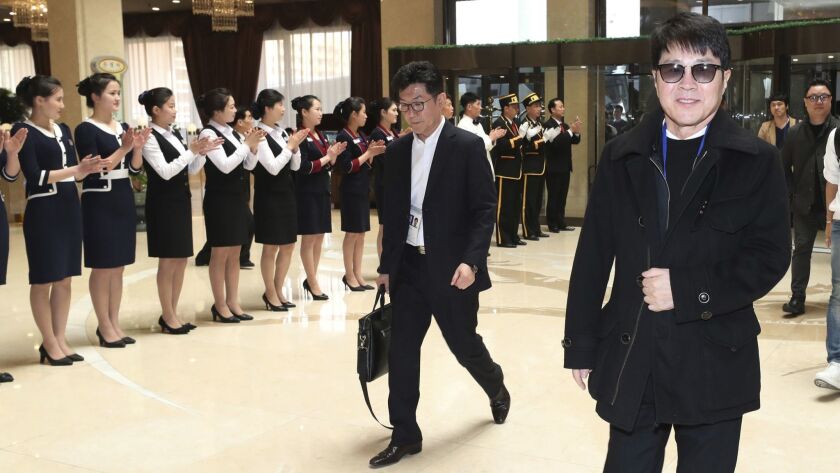 Reporting from SEOUL, South Korea —
From aging crooners to bubbly K-Pop starlets, some of South Korea's biggest pop stars flew to North Korea on Saturday for rare performances that highlight the sudden thaw in inter-Korean ties after years of tensions over the North's nuclear ambitions.
The concerts in Pyongyang on Sunday and Tuesday come ahead of a historic summit between North Korean leader Kim Jong Un and South Korean President Moon Jae-in at a border village on April 27. The meeting, which will precede a planned summit between Kim and President Trump in May, could prove to be significant in the global diplomatic push to resolve the standoff over the North's nuclear weapons and missile program.
The 120-member group that flew to Pyongyang also included government officials, reporters and a taekwondo demonstration team that will perform in Pyongyang on Sunday and Monday. Another team of 70 South Korean technicians went to Pyongyang on Thursday to set up equipment.
Singer Yoon Do-hyun, who previously performed in Pyongyang in 2002, was emotional after landing in the North Korean capital.
"My heart is bursting," Yoon told reporters, his eyes welling up with tears. "I am most curious about the reaction of the audience, how it would be different from 16 years ago."
The artists were greeted by Hyon Song Wol, the photogenic leader of Kim Jong Un's hand-picked Moranbong girl band who has been working out the details of the performances with South Korean officials.
"Your arrival in Pyongyang brings big expectations," she said. "A lot of famous singers have come."
---