Sri Lanka's president reinstates prime minister he fired 2 months ago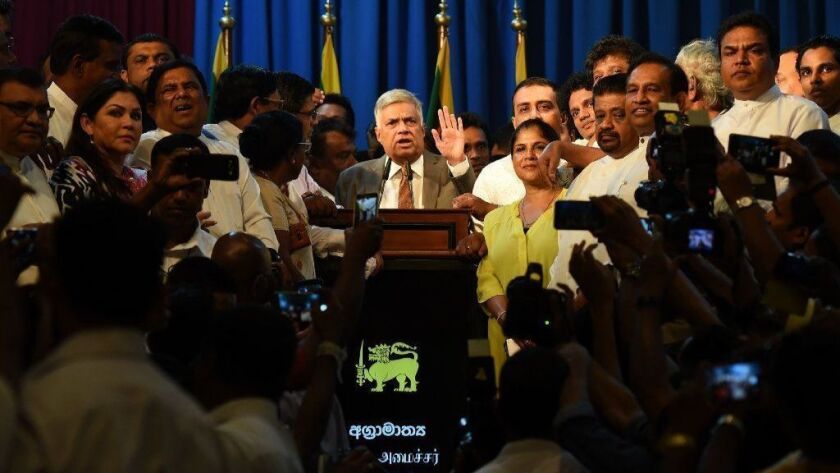 Reporting from COLOMBO, Sri Lanka —
Sri Lanka's ousted prime minister was reinstated Sunday, ending a seven-week constitutional crisis that had raised fears that the island nation was drifting back toward political instability.
Ranil Wickremesinghe was sworn in by the man who had fired him, President Maithripala Sirisena, according to photos released by Sirisena's office.
Wickremesinghe, 69, called it "a victory for Sri Lanka's democratic institutions and the sovereignty of our citizens."
He and Sirisena had been partners in a coalition government, but in October, following an escalating series of clashes over policy matters and perceived personal slights, Sirisena attempted to replace him with former strongman Mahinda Rajapaksa.
But Wickremesinghe refused to step down or vacate his official residence, creating an unusual standoff in which both he and Rajapaksa claimed to hold the same job, with the latter appointing his own Cabinet and working out of the prime minister's offices.
Sirisena attempted to dissolve Parliament and call fresh elections, but the country's Supreme Court blocked the move. Lawmakers then passed two no-confidence motions against Rajapaksa, denying him the legal authority to serve as prime minister.
Last week the Supreme Court ruled that the president's attempt to dissolve Parliament was unconstitutional and said Rajapaksa could not hold the prime minister's post until the court heard a case on the matter next month.
Facing mounting opposition from Sri Lankans as well as quiet pressure from the United States, India and other longtime allies, Sirisena finally appeared to back down. On Saturday, Rajapaksa said he was resigning as prime minister; the following morning, Wickremesinghe took the oath.
Addressing supporters afterward at his official residence, Temple Trees, Wickremesinghe acknowledged the economic and psychic toll the crisis had taken on a country still recovering from a two-decade civil war with ethnic Tamil rebels that ended in 2009, and years of alleged corruption and authoritarian rule by Rajapaksa.
The island nation of 20 million people is struggling under debt, much of it incurred during Rajapaksa's presidency when he took on costly loans from China to build infrastructure projects. During the standoff, China was the only country to recognize Rajapaksa as prime minister.
With no functioning government, the country was at risk of failing to pass a budget for next year and being without access to public funds starting in January, when a massive loan payment is due.
"We are dedicated to bring the country back to normalcy and kick-start development," Wickremesinghe said, adding that he would soon appoint a new Cabinet.
He later tweeted: "I thank everyone who stood firm in defending the constitution and ensuring the triumph of democracy."
Wickremesinghe's reappointment was an embarrassment to Sirisena, who had declared that he would not remain in office "for even one hour" if his former ally returned as prime minister. In 2015, Sirisena, a former health minister, had won a surprise election victory over Rajapaksa, promising to restore the country's fiscal health and clean up corruption.
The crisis has badly damaged Sirisena, who also made a series of controversial statements, including publicly alleging that Rajapaksa's party was offering bribes to bring lawmakers to its side before the no-confidence votes.
Political scientist Jayadeva Uyangoda said Sirisena had "repeatedly proved himself to be a liability to the whole country," and questioned how he and Wickremesinghe could put the standoff behind them and try to work together again.
"Only the constitutional part of the crisis has reached the stage of some resolution at the moment," Uyangoda wrote in a commentary. "The political side of the crisis and the intra-elite power struggle is far from over."
Rajapaksa, who retains loyalty among many ethnic Sinhalese, the country's largest ethnic group, hinted Saturday that he would organize his supporters and expressed regret that "the change of government that the people expected has now had to be put off."
"But the people will definitely get the change they desire," he said. "No one can prevent that."
Special correspondent Mushtaq reported from Colombo and Times staff writer Bengali from Singapore.
Shashank Bengali covers Southeast Asia for The Times. Follow him on Twitter at @SBengali
---
Must-read stories from the L.A. Times
Get all the day's most vital news with our Today's Headlines newsletter, sent every weekday morning.
You may occasionally receive promotional content from the Los Angeles Times.