Syrian activists say four children were killed in government shelling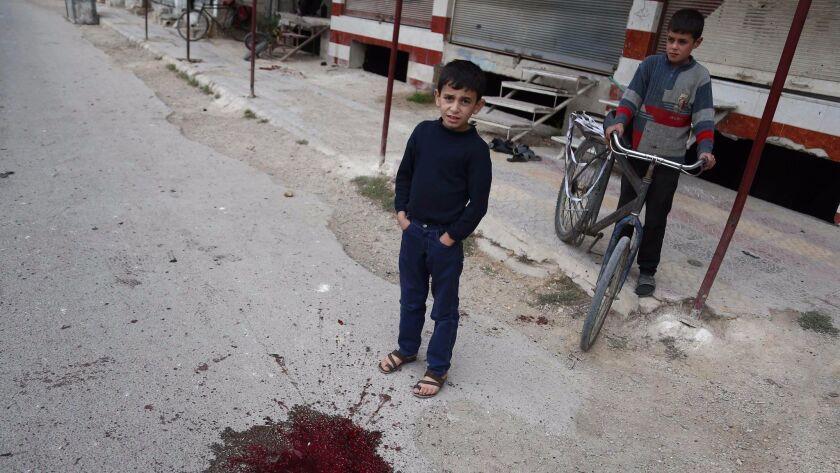 Reporting from BEIRUT —
At least four Syrian children were killed in government shelling as they left their school in a rebel-held town, part of an intensifying campaign against the last opposition holdouts outside the capital, Damascus, activists reported Tuesday.
The violence comes as Russian-sponsored talks are underway in the Kazakh capital, Astana, to consolidate so-called "de-escalation zones" designed to freeze the lines of conflict and allow humanitarian aid to rebel-held areas besieged by government forces. Syria is in its seventh year of a civil war that has left more than 400,000 dead.
The Ghouta Media Center and the Syrian Observatory for Human Rights said a shell landed at the gate of a school in Jisreen, a town in the eastern Ghouta suburbs of Damascus, as children were leaving for the day. The shelling left at least five dead, including the four children, one of whom had his legs blown off.
The shelling has hit a number of towns and villages in the suburbs northeast of the capital, leaving another three killed in the town of Musraba. Another shell in Harasta, also in eastern Ghouta suburbs, landed near a school but caused only injuries.
Residents of the eastern Ghouta suburbs, estimated at 350,000, have been living under a suffocating government blockade amid intense bombings. The violence and siege have continued even though the suburbs are part of a de-escalation agreement guaranteed by Syrian government backers Russia and Iran.
On Monday, the United Nations said it reached thousands of the suburbs residents for the first time in over a month. The area is one of the last remaining pockets of opposition to Syrian President Bashar Assad and depends on relief and smuggling to survive an enduring government siege.
The intense shelling comes as talks between the government, rebels, and their international sponsors Russia, Turkey, and Iran in Astana are due to close. The talks, which instituted four de-escalation zones around Syria, have greatly reduced the violence in many parts of Syria but a political solution with the insurgents remains elusive.
ALSO
Israel blows up Gaza tunnel, killing 8 militants, including an Islamic Jihad commander
One family's tale of life under Islamic State: 'We were living in a big prison'
A trip through horror, confusion and contradictions in Syria
---