Israel blows up Gaza tunnel, killing 8 militants, including an Islamic Jihad commander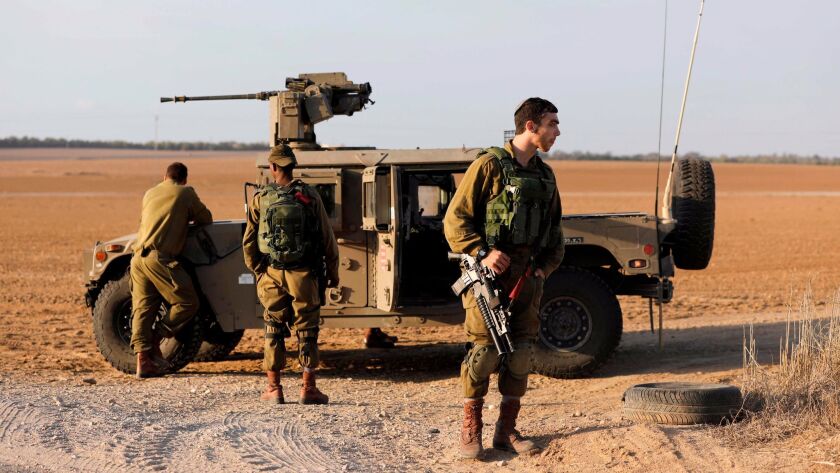 Reporting from Jerusalem —
It's a tale of two tunnels, and it augurs difficulties for the Palestinian unity agreement announced to international fanfare this month.
One tunnel was dug straight from the Gaza Strip, which is ruled by the Islamist militia Hamas, into a southern Israeli community. The Israeli army blew it up early Monday, detonating it from within Israel using as-yet unidentified "advanced technology," according to a statement made by the army.
Israelis and Gazans were awakened about 6 a.m. by massive booms as the tunnel collapsed on itself, killing eight militants, including Islamic Jihad commander Arafat abu Murshid and one of his deputies. Also among the dead were two Hamas operatives, who, according to unconfirmed Palestinian reports, arrived to aid the Islamic Jihad fighters.
Cooperation between the two extremist factions could be bad news for the future of Palestinian reunification, a process through which Hamas is projected to join Fatah, the internationally recognized ruling Palestinian party based in the West Bank city of Ramallah.
In a sign of the difficulties ahead, the Palestinian Authority issued contradictory signals on Monday. Fatah condemned Israel's attack on the Gaza tunnel, saying "perpetrators of these crimes won't escape trial."
At the same time, according to Israeli lawmakers who met with him today, Palestinian Authority President Mahmoud Abbas said he would appoint Hamas ministers to a unity government only if they recognized the state of Israel, which Hamas does not.
The Israeli government declined to comment on the tunnel operation. According to Israeli analysts, Israel chose a relatively restrained engagement because the tunnel was not directly linked to Hamas, an implacable foe. Late Monday, as quiet reigned, the military analyst Avi Issacharoff posted that "many people are breathing a sigh of relief this evening, both in Israel and in Gaza, including Hamas, because reports indicate the tunnel near Kissufim was controlled by Islamic Jihad, not Hamas. This reduced the possibility of escalation."
Kissufim, where the tunnel reached, is a kibbutz, or communal village, adjacent to the Gaza border.
The second Gaza tunnel was found by the United Nations at a school it operates under the auspices of the United Nations Relief and Works Agency, or UNRWA.
Danny Danon, Israel's ambassador to the U.N., decried "yet another terror tunnel under an UNRWA schoolyard. This is what Hamas rule looks like and this is more proof of the double war crime committed as terror tunnels are built to attack Israelis, while using the children of Gaza as human shields."
In a statement, UNRWA demanded "full respect for the neutrality and inviolability of United Nations premises at all times," but the tunnel, discovered Oct. 15 and disclosed late Sunday, gave some credence to Israeli claims that Hamas is not meaningfully changing its comportment.
The tunnels were revealed days before Hamas is expected to hand control of Gaza's borders to Palestinian Authority officers as part of the Cairo agreement signed on Oct. 12 in an attempt to end the decade-long split between Fatah and Hamas.
Speaking with journalists, Col. Atai Shelach, the former commander of the Israel Defense Forces Yahalom unit, which is responsible for destroying tunnels that infiltrate the country, said it is not "a wild guess to assume that there are many other tunnels. There are many at different operational levels. Some are just being started, some are in the middle and some of them nearly cross our border."
Detecting them, he said, remained a challenge. "But once you detect it, the easiest part is to destroy it."
The United States continues to pursue the restart of negotiations between Israel and the Palestinian Authority, which President Trump has described as "the ultimate deal."
On Sunday, U.S. Special Representative for International Negotiations Jason Greenblatt presided over a meeting between Israeli and Palestinian officials, including the Palestinian prime minister and Israel's finance minister. Greenblatt tweeted that "important progress" was made "on key economic issues — revenues, customs, and investment — that help support the search for peace."
On Saturday, Trump's son-in-law and senior advisor Jared Kushner returned from an unannounced visit to Saudi Arabia. The trip's aims were not revealed, but close Trump associate Tom Barrack told Politico, "Jared has always been driven to try and solve the Israel-Palestinian dispute. The key to solving that dispute is Egypt. And the key to Egypt is Abu Dhabi and Saudi Arabia."
It is not a view widely shared by Palestinians or Israelis.
Tarnopolsky is a special correspondent.
---
Must-read stories from the L.A. Times
Get all the day's most vital news with our Today's Headlines newsletter, sent every weekday morning.
You may occasionally receive promotional content from the Los Angeles Times.