Opposition claims victory in Zimbabwe election, but government says it's too soon to say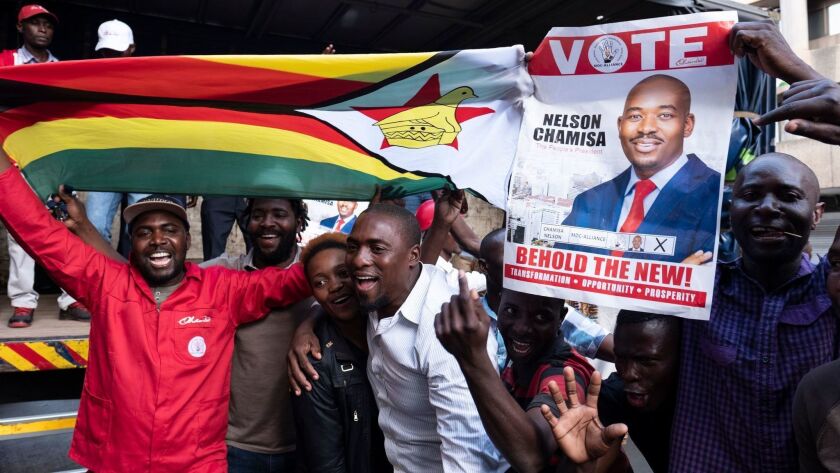 Reporting from JOHANNESBURG, South Africa —
Supporters of Zimbabwe's main opposition party danced in the streets of Harare -- this country's capital — Tuesday to celebrate what the party said was a clear win in Monday's historic polls – days before election officials expect to actually release full results.
After a peaceful polling day, the early claim of victory has set the stage for a tense week in Zimbabwe, with the ruling ZANU-PF party also indicating it was ahead in its tallies.
Nelson Chamisa, the 40-year-old leader of the opposition Movement for Democratic Change party, said in a tweet Tuesday that the group had results from "most of the over 10,000 polling stations" and that his party was "winning resoundingly."
President Emmerson Mnangagwa, Chamisa's 75-year-old opponent who has led the government since autocrat Robert Mugabe was ousted in November, also tweeted on Tuesday that the information he was getting was "extremely positive" and that he was "waiting patiently for official results as per the constitution."
More than 70% of the country's registered voters turned out to cast ballots in Monday's vote, the first election in nearly 40 years that Mugabe did not have his name on the ballot. Many Zimbabweans said they could not remember an election when there were so many voting polls open.
International monitors, some of whom were allowed to observe the elections for the first time since 2002, said voting went smoothly in some places but was disorderly in others. A preliminary report from the monitors is expected Wednesday.
The high-stakes contest between the two candidates, who have both pledged to repair the ailing economy and end Zimbabwe's international isolation, has raised concerns over possible post-election violence, as the country has seen in previous years.
Many of Chamisa's supporters have pledged to protest if the electoral commission declares that ZANU-PF has won. If the opposition prevails, some observers worry that the military that removed Mugabe from office last year might intervene again.
Chamisa said his party is now waiting for the Zimbabwe Electoral Commission, which he has repeatedly accused of being under the thumb of ZANU-PF.
Vote counting began at polling stations across the country after polls closed Monday evening. Priscilla Chigumba, who chairs the Zimbabwe Electoral Commission, said on Tuesday it was moving more slowly than expected. Though some results in local races have been announced, she said full and official results might not be announced until the weekend.
"We are absolutely confident there was no rigging," Chigumba told reporters at a press conference in Harare. "We will not subvert [Zimbabweans'] will. Whatever it is that comes out in our results is exactly what they decided."
Mahr is a special correspondent to The Times.
---
Must-read stories from the L.A. Times
Get the day's top news with our Today's Headlines newsletter, sent every weekday morning.
You may occasionally receive promotional content from the Los Angeles Times.