Hong Kong journalist slashed amid concerns of eroding media freedoms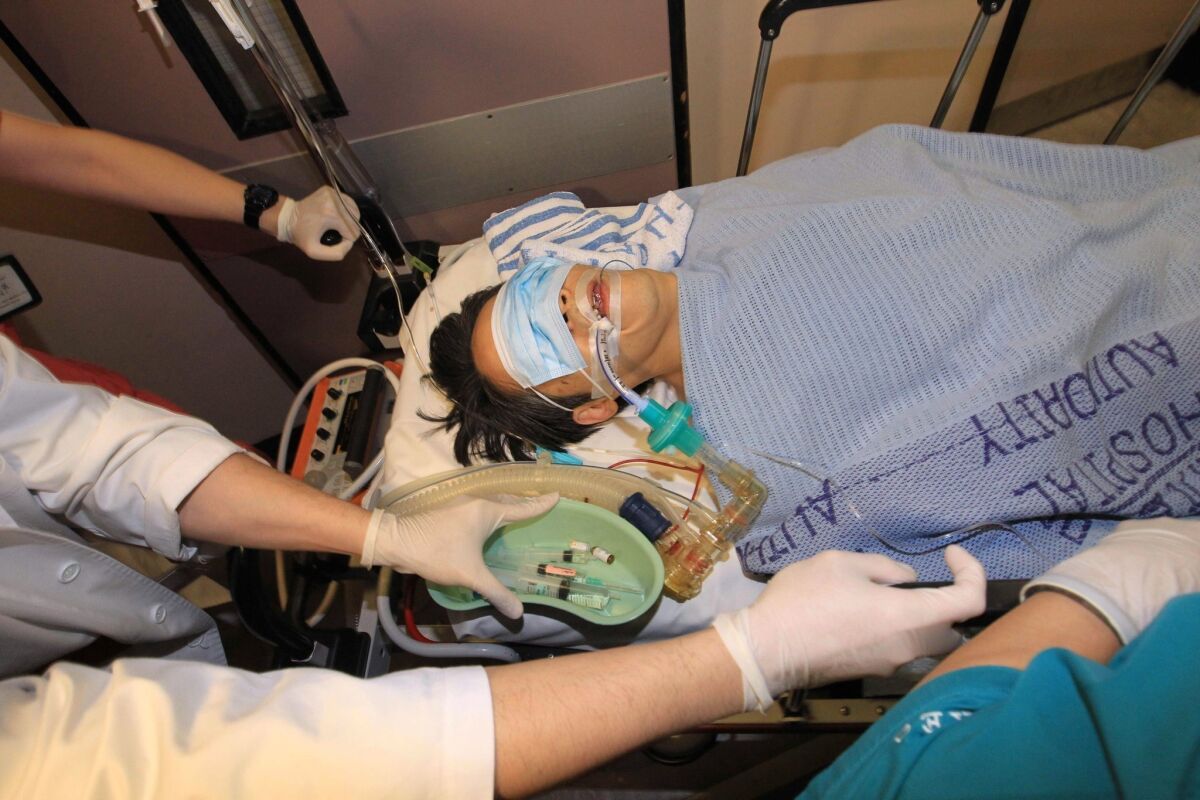 <i>This post has been updated. See the note below for details</i>
BEIJING -- A recently dismissed Hong Kong newspaper editor was hospitalized in critical condition Wednesday after assailants wounded him in the back and leg and fled on a motorbike.
The assault on Kevin Lau, whose removal as editor of the Ming Pao daily last month helped spark demonstrations over erosion of media freedoms, shocked a wide swath of the former British territory, which reverted to Chinese rule in 1997.
Under an arrangement known as "one country, two systems," Hong Kong is supposed to enjoy greater freedom of speech and the press, along with other liberties, than the mainland.
[Updated, 11:20 a.m. PST Feb. 26: Police later identified the weapon used to slash Lau as a meat cleaver, the Associated Press reported.]
It was unclear who was behind Wednesday's attack. The Hong Kong Journalists Assn. called on authorities to "pursue his attackers and those malignant forces behind them without fear or favor. The attackers must be brought to justice as quickly as possible to allay public fears."
"The growing number of attacks against members of the press in Hong Kong needs to be taken seriously by the local administration," the Hong Kong Foreign Correspondents' Club said in a separate statement. "Hong Kong's reputation as a free and international city will suffer if such crimes go unsolved and unpunished."
Hong Kong Chief Executive C.Y. Leung visited Lau in the hospital Wednesday. "Hong Kong is a law-abiding city," he said, addressing reporters afterward. "We strongly condemn this savage act."
In a report published this month, the Committee to Protect Journalists said "Hong Kong's media freedom is at a low point" due to several factors, including a rising number of attacks on and threats against journalists, a trend toward self-censorship and direct pressure by the mainland government.
Among the attacks cataloged in the report was a June 2013 incident in which three masked men burned 26,000 copies of the maverick Apple Daily and threatened distribution employees with knives.
That same month, the publisher of another outspoken publication, iSun Affairs, was beaten by men with batons.
On Sunday, at least 1,600 people marched in Hong Kong to protest those attacks and other efforts to intimidate local journalists.
Ming Pao is a Chinese-language newspaper respected for its independent stances; it recently participated in the International Consortium of Investigative Journalists' effort to investigate the tens of thousands of offshore accounts held by people in Hong Kong and China.
The investigation revealed that relatives of China's senior leaders have held secretive offshore companies in tax havens that helped shroud the Communist elite's wealth.
Lau was attacked Wednesday morning on the way to his car. The South China Morning Post, an English newspaper in Hong Kong, reported that he was able to call for help after his assailants fled. The paper, quoting a local lawmaker, said she was told Lau was "so heavily injured that his organs could be seen."
ALSO:
Opposing groups clash in Ukraine's Crimea region
Killers of British soldier in London sentenced, one to life in prison
Hong Kong journalist stabbed amid concerns of eroding media freedoms
Twitter: @JulieMakLAT
---
Must-read stories from the L.A. Times
Get the day's top news with our Today's Headlines newsletter, sent every weekday morning.
You may occasionally receive promotional content from the Los Angeles Times.