Farmworkers in Baja California protest low pay, poor conditions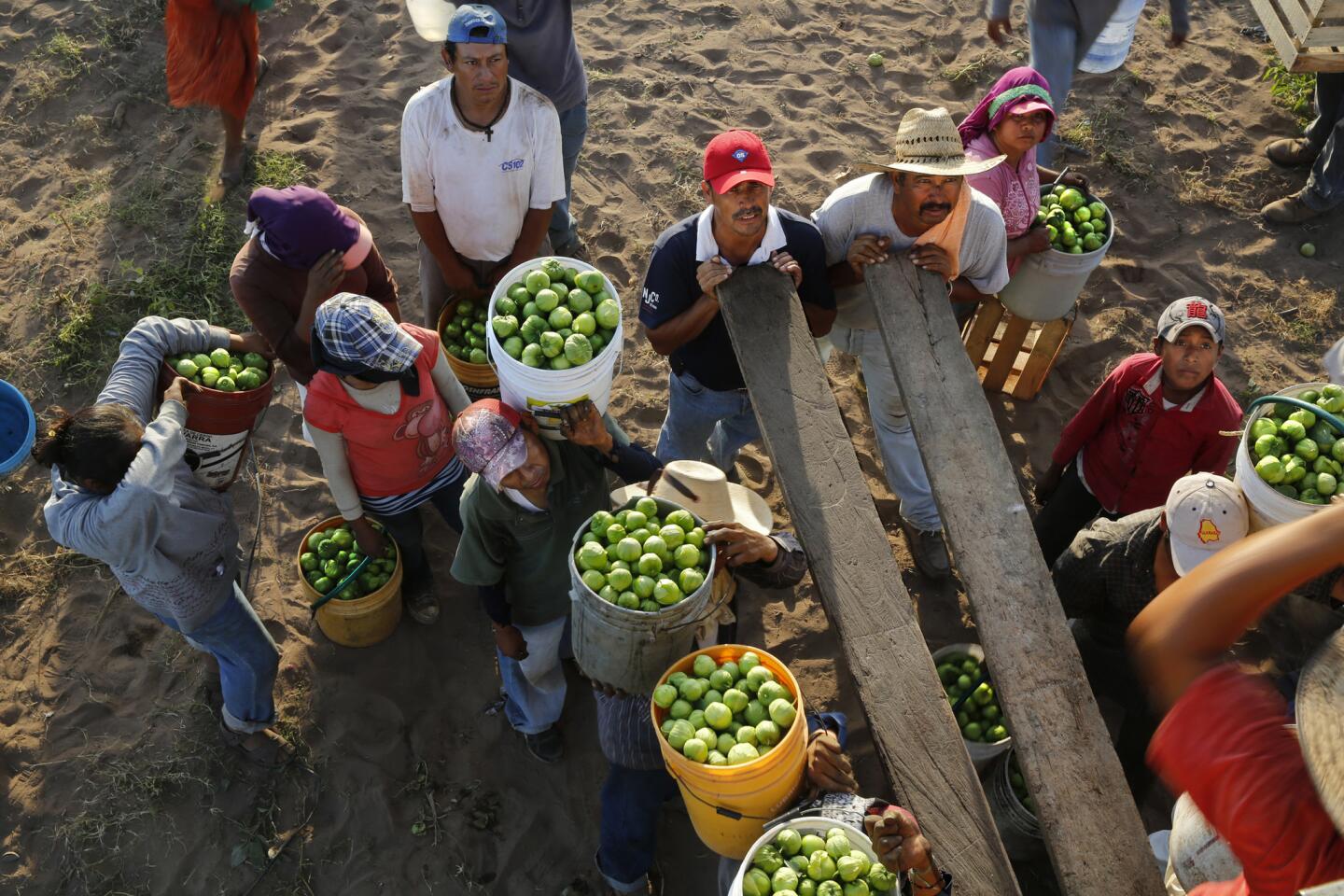 Workers wait to dump tomatillos into a cargo truck near the coastal pueblo of Teacapan, Sinaloa. Large, bright green tomatillos like these are favored by exporters.
(Don Bartletti / Los Angeles Times)
At the end of the day, Roma tomatoes are ready for transport in Cristo Rey in the state of Sinaloa. Half the tomatoes consumed in the U.S. come from Mexico.
(Don Bartletti / Los Angeles Times)
Laborers load broccoli at a farm in Vista Hermosa, Michoacan. Broccoli is not typically featured in Mexican cuisine, so much of the harvest is exported to the U.S.
(Don Bartletti / Los Angeles Times)
Broccoli is harvested in Vista Hermosa, Michoacan. No restrooms are provided for farmworkers.
(Don Bartletti / Los Angeles Times)
Laborers at Campo San Emilio, Sinaloa, sleep in their windowless rooms on vegetable crates and scraps of cardboard. Juan Hernandez, far right, wanted to visit his ailing wife in Veracruz. "But if I leave, I lose everything," he says.
(Don Bartletti / Los Angeles Times)
After a long day of work, laborers crowd in the bed of an open truck.
(Don Bartletti / Los Angeles Times)
International Greenhouse Produce operates one of the largest contiguous greenhouse complexes in North America.
(Don Bartletti / Los Angeles Times)
Farmworkers protesting working conditions at Mexican export farms in Baja California blocked a major highway and occupied several government buildings as officials scrambled to quell a widening strike that threatens one of Mexico's most valuable harvests.
Wednesday morning authorities said they had reopened the Transpeninsular Highway after dispersing crowds and arresting dozens of protesters, but the situation remained tense with hundreds of police and Army soldiers descending on the region bracing for more protests.
The laborers are demanding higher wages and government-required benefits that they say have been denied to them for years. They are targeting about a dozen agribusinesses that supply major U.S. retail and restaurant chains.
Government and business officials, they say, have refused to address their concerns. "Nothing is resolved, and now things are getting hot," said Faustino Hernandez, a farmworker from San Quintin.
Baja California Gov. Francisco Vega de Lamadrid traveled to the region Tuesday in an attempt to restart negotiations, but no progress was reported.
About 30,000 people work in the agricultural fields in the coastal region of San Quintin, about 200 miles south of San Diego. It is one of Mexico's leading agricultural export regions, shipping tons of strawberries, tomatoes and cucumbers annually to the U.S.
Many laborers stayed away from the fields Tuesday and hundreds spilled onto the highway, where they barricaded the road and burned tires. Municipal buildings, and a police station, in a string of towns along the coast from San Quintin to Colonet were occupied, and there were reports of looting and vandalism, according to Mexican news reports.
The highway links the region with export markets, and business leaders expressed concern that hundreds of produce trucks could be blocked from reaching export markets.
The strike is being led by a loose alliance of indigenous groups called the Alliance of National, State and Municipal Organizations for Social Justice. Most laborers in Baja California are from the southern Mexican states of Oaxaca and Guerrero.
Widespread labor abuses at Mexican export farms were documented in "Product of Mexico," a series published by The Times in December. Mexico's Secretary of Agriculture in February announced the formation of an alliance of produce industry groups to address social responsibility issues at the country's export farms.
Representatives from the Baja California trade group, Consejo Agricola de California, were not available for comment.
Twitter: @ricardin24
Sign up for Essential California for news, features and recommendations from the L.A. Times and beyond in your inbox six days a week.
You may occasionally receive promotional content from the Los Angeles Times.