In Egypt's election, the president's victory is assured. The question is what happens next?
Reporting from Cairo —
Across Egypt's vast capital, the smiling visage of President Abdel Fattah Sisi looms from billboards erected along major thoroughfares, from rows of posters affixed to lampposts and bridges and from banners dangling between palm trees.
Days before an election that critics labeled a farce, a few posters also appeared for Sisi's lone challenger, Moussa Mostafa Moussa, an obscure politician whose party endorsed the president before its leader entered the race hours before a January deadline.
But to the president's critics, the message is clear: Seven years after massive street protests that toppled President Hosni Mubarak and inspired "Arab Spring" uprisings across the region, the country has sunk back into repression reminiscent of the former strongman who ruled for nearly three decades.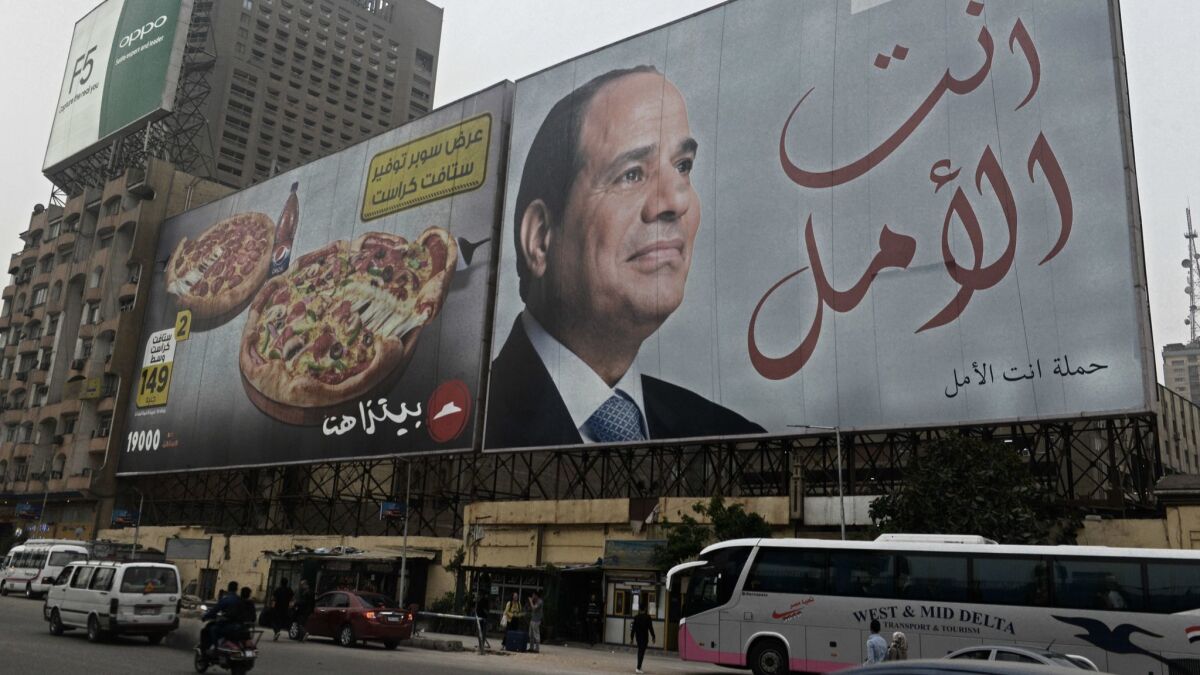 Any credible contenders for the presidency were arrested or exited the race soon after declaring their intention to run. Authorities also clamped down on the media, reportedly blocking access to hundreds of websites, detaining journalists said to "serve the forces of evil by deliberately spreading false news" and urging citizens to report to police any content they deem harmful to the country's image.
"The word 'election' is a generous way of describing what is taking place," said Timothy Kaldas, a nonresident fellow at the Tahrir Institute for Middle East Policy in Washington. "I think it's a kind of show of force."
What puzzled observers, however, was why Sisi's camp would go to such lengths to guarantee a victory many believed was already in the bag.
During the latter part of Mubarak's rule, the government and security establishment tolerated certain forms of dissent and even allowed the opposition Muslim Brotherhood to field candidates, spreading a veneer of democracy over an autocratic regime. The thinking was that by engaging its critics, the government could prevent the emergence of more potent threats.
Sisi is "obviously not like that, and for whatever reason, has decided that the limited opening that existed under Hosni Mubarak is what led to 2011 taking place, and he's utterly uninterested in that ever becoming a possibility again," said H.A. Hellyer, a senior nonresident fellow at the Atlantic Council, a Washington think tank.
The former military chief has presided over a broad crackdown since seizing power from Egypt's first democratically elected president, the Brotherhood's Mohamed Morsi, amid a popular uprising in 2013. Untold numbers of opponents have been jailed, sentenced to death or fled the country.
In 2014, Sisi garnered nearly 97% of the vote against a lone opponent.
The word 'election' is a generous way of describing what is taking place. I think it's a kind of show of force.
— Timothy Kaldas, a nonresident fellow at the Tahrir Institute for Middle East Policy
The imposition of painful austerity measures while carrying out large-scale infrastructure projects aimed at reviving Egypt's battered economy may have cost Sisi some popular support.
There also have been persistent attacks by Islamist extremists. At least two policemen were reported killed Saturday in a bombing in Alexandria that targeted the northern city's security chief. Gen. Mostafa Nimr survived the attack. There was no immediate claim of responsibility.
Some have speculated about possible discontent with Sisi's presidency within a section of the armed forces, which analysts say continue to play an outsize role in the country's politics and economy. Both the military chief of staff and the head of the general intelligence service were replaced in recent months, raising questions about whether they were deemed sufficiently loyal.
But Kaldas said it was worth noting how quickly and decisively Sisi's government was able to dispatch any challengers from the security establishment, "which again speaks to his relative power."
Two former army commanders, Lt. Gen. Sami Anan and Col. Ahmed Konsowa, were arrested and jailed for violating military rules after declaring their intention to run.
Another hopeful, Ahmed Shafiq, a former air force commander who served as prime minister in 2011, announced his candidacy from self-imposed exile in the United Arab Emirates only to be arrested and deported back to Egypt, where he briefly disappeared. He later posted a statement on Twitter saying he was "not the ideal person" to run the country because he had spent too much time abroad.
In addition to the former military officers, two other would-be candidates — Khaled Ali, a prominent human rights lawyer, and Mohamed Anwar Sadat, a former lawmaker and nephew of assassinated Egyptian President Anwar Sadat — also decided against entering the race, citing intimidation and other obstacles.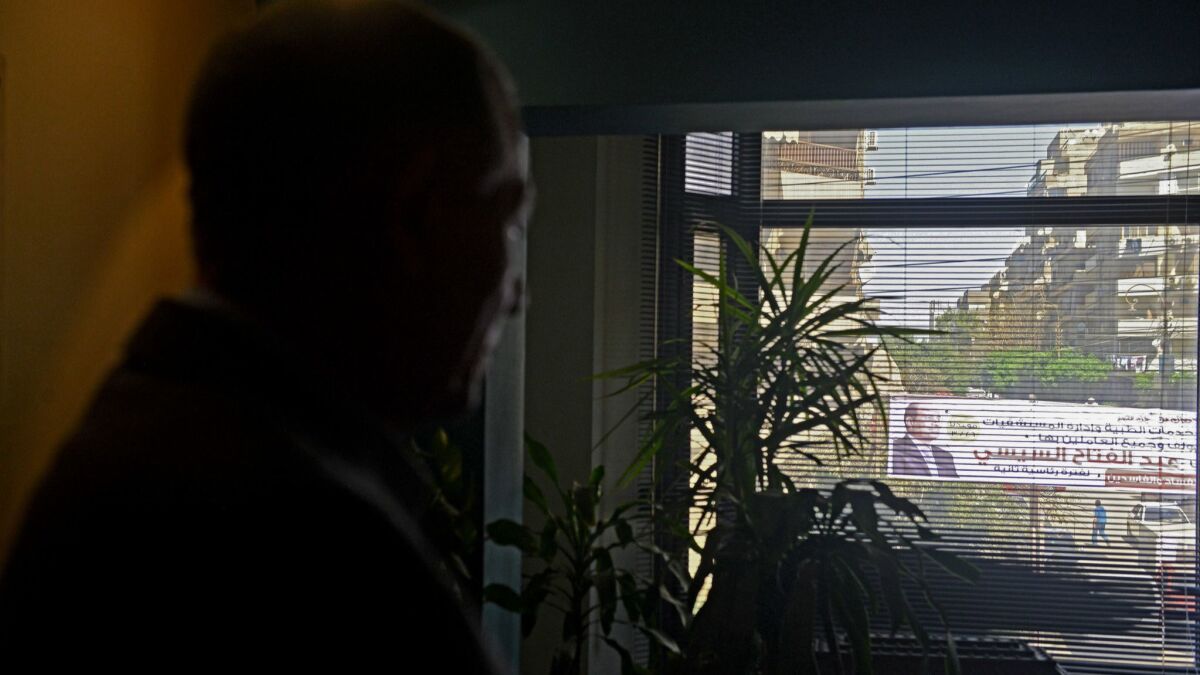 Sadat said threats were made against his campaign staff, and three hotels refused to host their events.
"It was obvious that they don't want to have any serious candidate," he said in an interview that took place under the seemingly watchful gaze of Sisi, whose image was visible on a banner erected outside Sadat's office window.
"Not that I or Shafiq or Anan will win," he added. "We all know that President Sisi is the one who has a chance, but at least a serious candidate who can speak out, who can debate. They don't want to see this happen."
Sadat declared the vote over before it began, calling it more of a referendum than a genuine election. "What concerns me is what comes next," he said.
Although Sisi has said he won't seek a third term, Sadat and other critics expect the president's backers to use a victory at the polls to push for constitutional amendments allowing him to remain in office for more than eight years.
Opponents say there is no one to prevent such a maneuver. Egypt's major Western allies, including the United States, have said little publicly about the way the election is being carried out.
Senior members of the Trump administration say they have brought up Egypt's human rights record in private discussions with Sisi's government. In August, the U.S. cut or delayed $290 million in military and economic assistance to Egypt in response to harsh restrictions on civic and other nongovernmental groups.
In an interview broadcast this week on Egyptian television, Sisi said it was not his fault there were only two election candidates.
"I swear to God, I wished there would have been one, two, three and 10 of the best people," he said. "But we are not ready yet. Isn't it a shame?"
Sisi's only opponent, whose last-minute candidacy was widely regarded as an attempt to give the vote some credibility, has been careful to avoid antagonizing the government, telling a state-run television program that he was "not here to challenge the president." But at a news conference this week, Moussa insisted he was "no puppet."
Although he said he did not have the funds to do much campaigning, he said he was in the race to win and hoped that, even if he loses, the president might consider his ideas to bring relief to Egyptians hit hard by escalating prices and the elimination of government subsidies.
The country's electoral authority has promised a free and fair vote.
With Sisi's victory a foregone conclusion, authorities concentrated on ensuring a strong turnout. Three days of balloting were scheduled, beginning Monday. Sisi's supporters blanketed Cairo with posters and organized rallies across the country, urging voters to take part. Pro-government media warned that a failure to do so was tantamount to treason.
In a predominantly Christian neighborhood of the capital, residents filed into a tent festooned with fairy lights to hear a bishop and lawmakers tout Sisi's achievements. "Long live Egypt," they chanted, as they waved flags and danced to patriotic songs.
Sobhy Asaad, who runs a nearby engineering supplies store, acknowledged that the election was not a real contest and said he had no problem with that. He considers it treasonous to criticize the government while the country is at war against Islamist extremists in the Sinai Peninsula, including a branch of Islamic State.
"I don't care about democracy," he said. "I care about my safety, and I care about my business."
Next week, he will cast a ballot for Sisi, whom he regards as a hero for delivering the country from the Muslim Brotherhood. Others in the neighborhood said they saw no point in voting.
"We know who is going to win," said a mother out buying groceries with her 19-year-old daughter. "They should have saved the billions of [Egyptian] pounds and given the money to the people. I don't even know the other guy."
Like others who were critical of the authorities, she provided only one name, Rehab.
As the pair hurried home, several other residents were putting up another banner urging Sisi on for a second term.
Special correspondent Ayat Al Tawy contributed to this report.
Twitter: @alexzavis
ALSO
Dozens of musicians have fled or been killed. Yet, in war-torn Syria, the orchestra plays on
Guilty by association: Families of suspected Islamic State members pay a steep price
War of words heats up between Trump administration, Palestinian leadership
---
UPDATES:
2:45 p.m.: This article was updated with at least two policemen killed in a bombing in Alexandria.
This article was originally published at 1:35 p.m.
---
Must-read stories from the L.A. Times
Get the day's top news with our Today's Headlines newsletter, sent every weekday morning.
You may occasionally receive promotional content from the Los Angeles Times.