Dozens of musicians have fled or been killed. Yet, in war-torn Syria, the orchestra plays on
Reporting from Damascus, Syria —
Linda Bitar sat up in her chair behind a pair of timpani and took a deep breath as the swell of the violins reached a climax.
"Ihkili, Ihkili, aan baladi ihkili," she sang, the lilt of the ney, a type of flute, blending with the words:
"Tell me, tell me, about my country, tell me. Tell me about my family, tell me about my house … swear to me you'll tell me about the olive tree."
The song, a moving lament for those who've left their homeland behind, seemed a fitting choice for Bitar and the other musicians assembled one crisp morning at Damascus' opera house. As the last remaining members of the Syrian National Symphony Orchestra, they have watched seven years of civil war hollow out their lives and slowly mute the music they once played.
Dozens of musicians have left, escaping the growing violence that has steadily reshaped the calculations of daily life in Damascus, Syria's capital. Others fled to avoid being drafted, while some who were studying or working abroad abandoned any thought of returning to Syria, where their passion for the classics seemed increasingly irrelevant.
The exodus left a musical void in the orchestra.
"More than 74 musicians left us.… Every absence was one we felt," said Missak Baghboudarian, the orchestra's conductor.
"We had reached a really good artistic level until 2010. Then in 2011 came the downfall — in numbers, in quality, in all details."
On Jan. 15, the orchestra celebrated its 25th anniversary by playing Tchaikovsky's "1812 Overture," a bombastic work it had performed in its inaugural concert. But this time, there just weren't enough musicians to capture the full strength of the piece.
"We played a video recording of the first concert, and you could see the orchestra back then was much larger than what we have now.… In the past, when we wanted a violinist, they would fight over who would play. Now we don't even have a dozen players," Baghboudarian said.
Wistfully, he listed works that were now out of reach.
"I can't imagine now Beethoven's Ninth, or doing a Bruckner or Mahler symphony.… Once we even did 'Kindertotenlieder,'" he said, referring to Mahler's ambitious song cycle that requires an expanded woodwind and percussion section.
Some of the first musicians to go were the Russians. A throwback to the days when the Soviet Union would dispatch musical "experts" to bolster the ensemble and mentor Syria's student musicians, they were paid roughly 120,000 Syrian pounds a month, which was then about $2,500.
It was a princely sum in prewar Damascus, but as the violence grew the country's currency plummeted.
Guest conductors stopped arriving, and invitations for the orchestra to play elsewhere in the region or abroad — once a signature feature every season — evaporated.
By late 2012, the Russian experts had all left and the rebel forces trying to overthrow President Bashar Assad's government had pushed within a few miles of downtown Damascus. The opera house, a landmark on the city's grandiose Umayyad Square, was suddenly within range of the missiles and mortars.
Showing up to rehearsal became a deadly prospect. At least five musicians were killed and others were wounded. Last month, Lama Fallouh, the program coordinator at the opera house, was killed in a mortar attack as government forces stormed the rebel-held enclave of Ghouta, outside Damascus.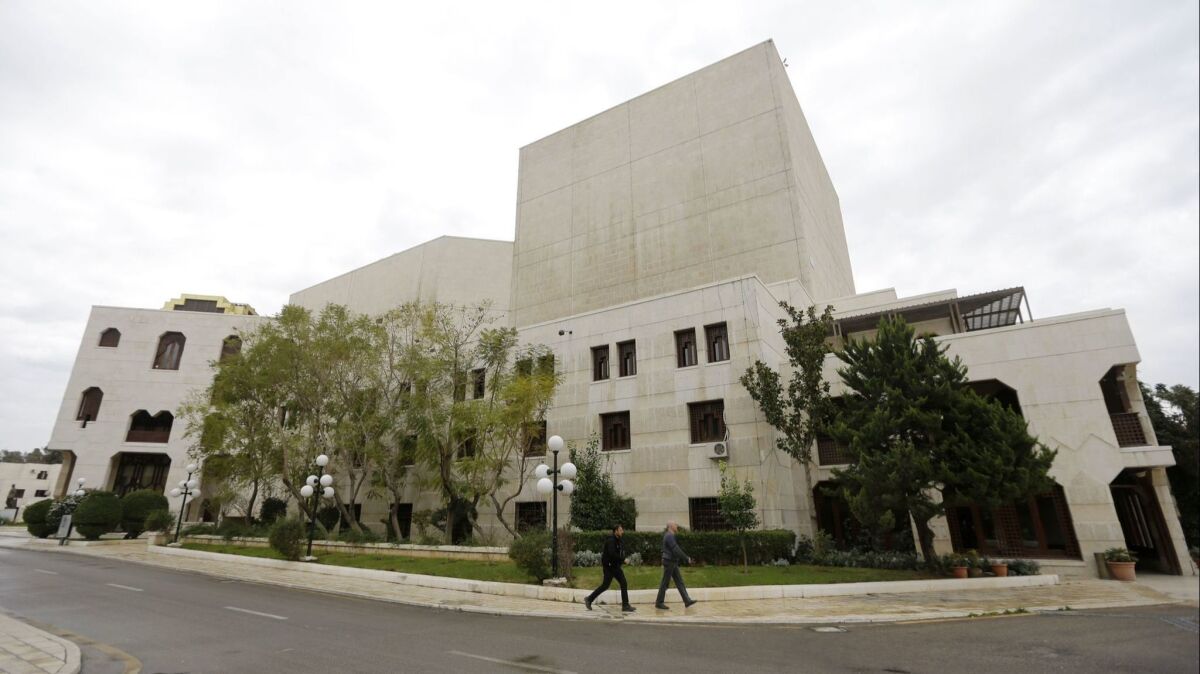 For a while, there was thought of suspending the orchestra's already reduced season.
"But then people started calling, sending us messages on social media … and we still had a full house in concerts, and this is what made us continue," Baghboudarian said. Defiantly, the orchestra even performed a January concert in 2015 as some 150 rockets rained down on Damascus.
"The performance was at 5 p.m. and we had people attending. So someone looks at death in the eye and is here to watch your concert. How much does he have to believe in it? And only one musician couldn't show up."
Still, the orchestra's season has now been reduced to about eight concerts, along with occasional performances at children's shelters, an effort to keep alive an interest in music in the next generation.
Of those who left the country, many still play professionally in orchestras in the U.S., Europe or neighboring Lebanon and Jordan. Others, though, put music aside and focused simply on survival.
Some traded off the global attention on the Syrian refugee crisis to extend their careers, while others abandoned the music profession altogether and tried to reinvent themselves in a new land.
One horn player hopped on a train after a concert in France and requested asylum once he crossed the border into Germany. Another fled by boat to play a concert in Bremen, Germany, and arrived without shoes, tuxedo or an instrument.
One of the last to leave was Athil Hamdan, a former principal cellist of the orchestra and the dean of its conservatory. His wife, Rawan Kurdi, was the concertmaster, the lead violinist who essentially serves as the quarterback of the orchestra.
They had a good life in Damascus, but when their house in the suburb of Qudsaya was shelled in 2012 they moved to Kurdi's parents' apartment in Dummar, another suburb then out of mortar range. But working in the opera house was still dangerous.
"We would rehearse and then hear a sound of explosions," Kurdi said. "We would have to run to the corridor and wait for it to stop."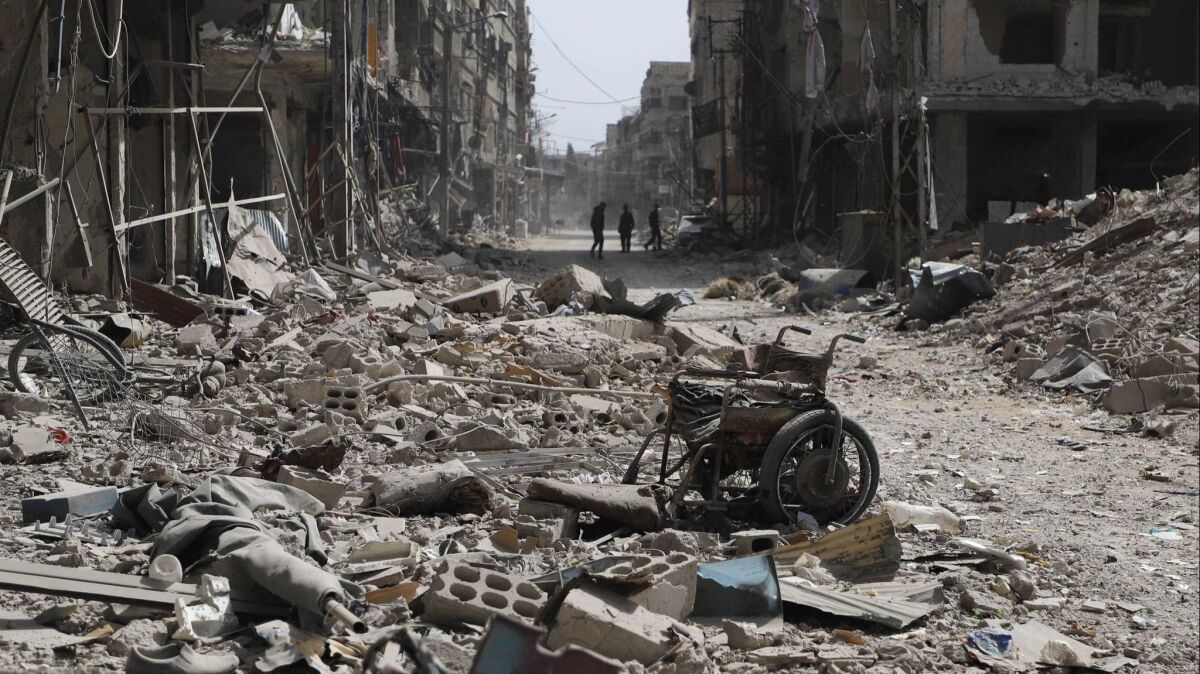 Their fears grew when their daughter, Rona, was about to enter preschool. Hospitals and schools were increasingly being hit by the erratic shelling.
"It was clear this wouldn't change, and we didn't want to wait for a moment of regret, where you go to rehearsal and a mortar falls on you," Hamdan said.
So he began to groom his replacement, a cellist named Mohammad Nameq, a talented musician with an air of melancholy.
"He would drop hints: 'You have to get used to giving signals to the section, soon you'll be principal.…' At times I would lead instead of him," Nameq said.
In the summer of 2015, Hamdan and Kurdi took a month of unpaid leave from the orchestra, grabbed a taxi to neighboring Lebanon and caught a plane to Germany, where Kurdi already had residency.
"On the plane, Rawan and I looked at Rona," Hamdan said, "we felt that our mission was completed. We had taken her away from the danger of war and that mutilated environment."
When they landed in Berlin, Kurdi remembers feeling relaxed for the first time in years.
"I couldn't believe there were people living on the same planet that I was, people who were living in happy circumstances, with regular water, with electricity," she said.
Back home, the orchestra carried on with two fewer musicians, two more instruments silenced.
"It was a loss for the orchestra, and for me," Nameq said. "He was a friend."
But when it comes to thoughts of returning home, Kurdi confessed she was surprised that she had none. The couple's daughter is enrolling in school; Kurdi is learning German and planning to return to school. And Hamdan still plays the cello.
"Since I came here I never felt I wanted to be back there. It's strange even for me," Kurdi said. "Now we have a life here."
For Thaer Eid, a Syrian violist living in Hanover, Germany, the only way to move forward with life as an immigrant was to give up his dream of returning to his homeland. Instead, he threw himself into academics, earning a bachelor's and then master's degree in music at the University of Hanover.
"So you can really start your life without trouble, you have to cut all these links or even the possibility of returning to Syria, because as long as you think of this possibility, you won't develop and improve," he said.
But Maias Yamani feels the tug to go back home.
A former member of the Syrian orchestra and now principal violinist with the Qatar Philharmonic Orchestra in Doha, Yamani said he awaits the day the fighting in his homeland finally ends.
"At some stage, the conservatory and the orchestra were a full life in music, but they also taught us the tenets of life," he said.
"We can't be passive. It's important to me that I return to do something there, to return to the little society we once had."
Bulos is a special correspondent. He is also a concert violinist who has played with several members of the Syrian national orchestra.
Twitter: @nabihbulos
---
Must-read stories from the L.A. Times
Get the day's top news with our Today's Headlines newsletter, sent every weekday morning.
You may occasionally receive promotional content from the Los Angeles Times.