Analysis: Iran maneuvers to win blame game if nuclear talks collapse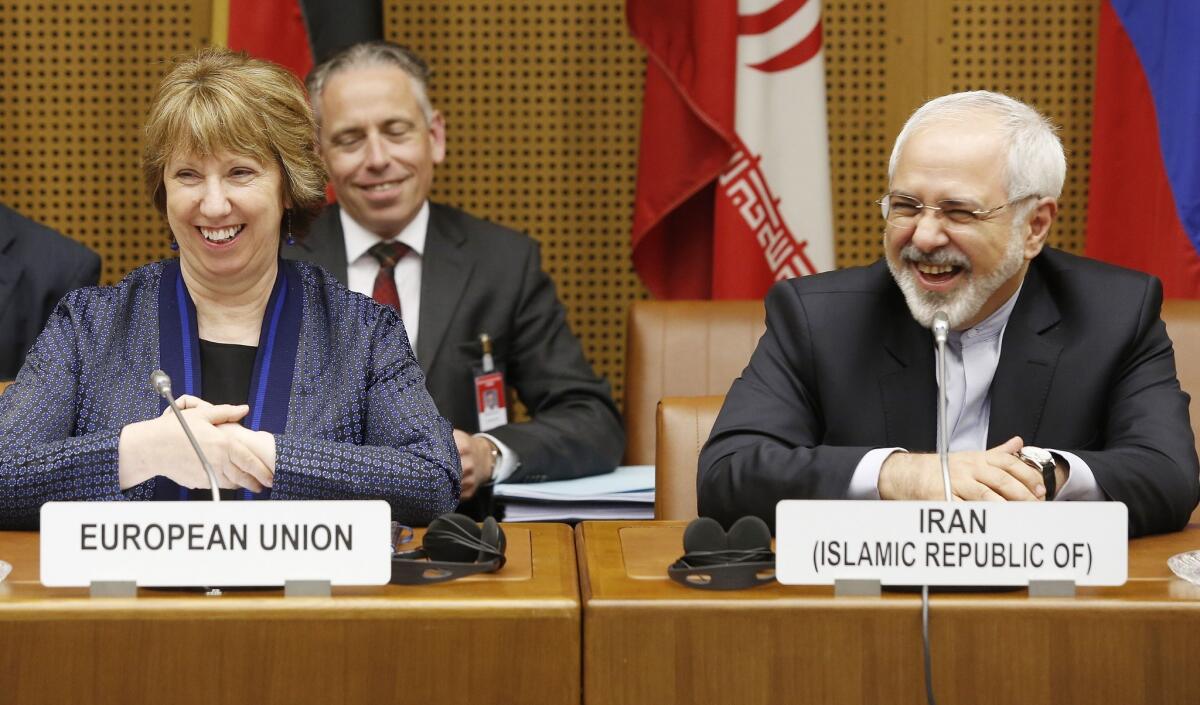 Reporting from Vienna —
Iran's nuclear negotiating team has come to this city hoping to seal a deal on its disputed nuclear program that will finally remove the international sanctions crippling its economy.
But just in case they don't win that diplomatic victory, they are carefully positioning themselves to come away with a valuable second prize: a win in the ugly blame game that would follow the collapse of negotiations.
Tehran's team wants to make sure that if its talks with six world powers collapse, many nations would conclude that Iran had been prepared to compromise and the obstacle was the maximalist demands of the United States and its hawkish Israeli and Persian Gulf allies.
The Iranians hope that if many countries come to that view the countries will begin to shed sanctions, allowing Tehran to sell its oil again, and to continue pursuing a nuclear program.
What happens to the sanctions, the world's great point of leverage on Iran, "depends on who wins the blame game," said Cliff Kupchan, a former State Department official who follows Iran for the Eurasia Group risk consulting firm.
Iran's last president, Mahmoud Ahmadinejad, liked to project an image of thunder and fire. He didn't look reasonable to the world audience, and didn't much care.
But the smiling team of President Hassan Rouhani and Foreign Minister Mohammad Javad Zarif seek to come across as reasonable representatives of a country that deserves more than pariah status.
In the run-up to this fifth round of talks, Iran's nuclear negotiating team has put considerable effort into convincing the world that they are not the threat to a diplomatic solution to the 2-decade-old dispute over Iran's nuclear ambitions.
At a news conference last Saturday, Rouhani stressed Iran's "goodwill and flexibility" and his hopes that a deal could still be wrapped up by the current deadline of July 20.
He seemed to signal that he was prepared to set aside Iran's longstanding enmity with the United States, saying it might cooperate with the U.S. on the struggle against Sunni extremists in Iraq. Of course, as a responsible world power, any Iranian step would be consistent with "international law," he emphasized.
Rouhani also argued that the sanctions are unraveling anyway. "Conditions will never go back to the past," he said, in an apparent effort to convince oil-consuming nations they will soon be able to resume oil purchases.
Foreign Minister Zarif, meanwhile, has been building a case that Iran's goals in the nuclear negotiations are reasonable and that the West's are extreme.
In a Washington Post Op-Ed article last week, Zarif wrote that in 2005, he and Rouhani floated a plan to the West that would have allowed an international panel to regulate Iran's nuclear program based on whether they thought it was peaceful. Instead, the George W. Bush administration demanded a halt to Iran's uranium enrichment, undermining diplomacy and leading to a huge expansion of the Iranian nuclear program.
"They were mistaking our constructive engagement for weakness," Zarif wrote.
He argued that "small but powerful constituencies" in the West have been calling for tough action against Iran by saying that the country is only a couple of months from having enough enriched uranium to build a nuclear weapon.
In fact, Zarif wrote, Iran would still need "several years" of work to complete all the complex processes needed to turn the fuel into a bomb.
He pointed out that 2005 and 2012 National Intelligence Estimates, which represent the U.S. intelligence community consensus, concluded that Iran wasn't trying to build a bomb.
The Iranian team is hoping that if the talks collapse, the defection of a few non-Western oil-importing nations, such as China, Turkey or India, might begin an accelerating unraveling of the sanctions.
Obama administration officials contend the sanctions have remained strong since the signing of an interim nuclear deal last November that eased some of the penalties on Iran.
Many countries remain wary of Iran's nuclear ambitions, in part because of evidence that Iran for years was secretly expanding the program.
Yet the administration has some vulnerabilities in the public relations battle.
One is that many countries are increasingly skeptical of the U.S.' heavy use of its powerful economic sanctions, which the White House this spring has imposed on Russia because of the dispute over Ukraine.
Many countries, including some in Europe, see Congress' use of sanctions as excessive.
A senior administration official, asked in a briefing this week about Iran's efforts to win over world opinion, may have bolstered its argument by warning that if Tehran didn't yield in negotiations it would be clobbered by more sanctions legislation.
"If Iran does not feel it can make the choices that are necessary, I have no doubt that Congress will take action," warned the official, who declined to be identified under administration ground rules.
Follow @richtpau for news about Iran
Sign up for Essential California for the L.A. Times biggest news, features and recommendations in your inbox six days a week.
You may occasionally receive promotional content from the Los Angeles Times.