With Syria's Ghouta area back in government hands, a pseudo-state ends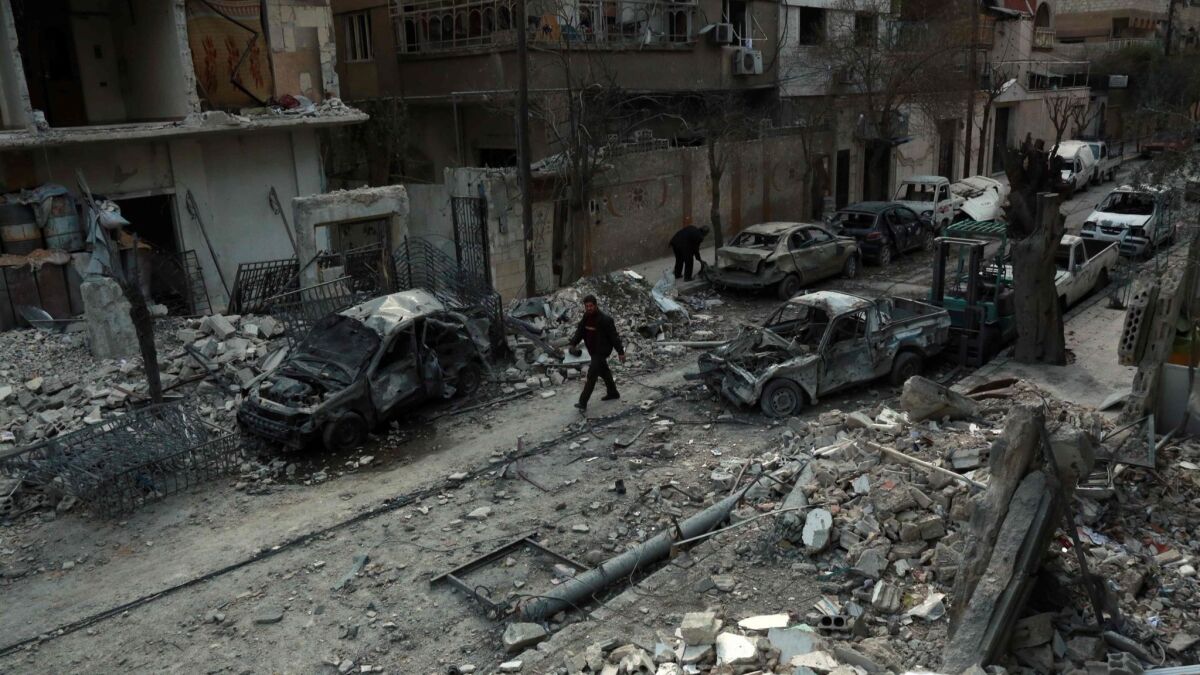 Reporting from Beirut —
On a clear day, drivers commuting into Damascus can glimpse the pulverized neighborhoods of the Ghouta area on the eastern flank of the Syrian capital.
Many residents became accustomed to having their morning coffee to the roar of warplanes heading out for the near-daily pounding of Ghouta since its takeover in late 2012 by rebels opposed to the government of President Bashar Assad.
Those living on the city's outskirts could even see what one resident called a nightly "light show" when hostilities flared up; it also meant they were closer to the rebels' routine salvo of mortar shells and rockets on central Damascus, a scant six miles away.
But on Saturday, after more than five years of a torturous stalemate, the Syrian army entered Duma, Ghouta's largest city, and in a grandiose statement declared the rebels' onetime enclave "purified from armed terrorist groups." The government refers to rebels as terrorists.
It had taken seven weeks of a brutal, bare-knuckled battle that killed and wounded thousands of people. In addition, the Assad government and its allies were blamed by many observers and activists for a suspected chemical attack April 7 that killed more than 40 people. But the opposition's top bastion near the capital was no more, and officials in Syria and its ally Russia denied responsibility for any chemical attack.
The retaking of Duma leaves Assad secure in his seat of power in Damascus, even as his rebel adversaries flounder to find a way to continue the fight.
The government also is taking over the rest of Ghouta, an agricultural area that by the 1990s had been overrun by factories and workshops, with laborers living in ramshackle slums, and which has faced decay and rampant corruption. It had a ready audience when the "Arab Spring" spread to Syria in March 2011.
Duma, which would become the heart of the rebels' future enclave, was one of the first areas to erupt in protests; other towns in Ghouta soon followed.
With the uprising turning bloody, protesters began to organize into armed factions, including the Army of Islam faction headed by Zahran Alloush.
Rebels expelled all government troops from Ghouta in late 2012. A few months later, they were conducting raids that reached Abaseen Square, the northeastern entrance of central Damascus and less than a mile from the cobblestoned pathways of the Old City quarter.
Bayan Rehan, an opposition activist from Duma, said the government's exit from Ghouta marked the start of a fledgling civil society. She, along with other activists and former state employees, saved civil and real estate records from destruction.
"We tried to rebuild the state institutions…. My group formed the first educational institute.… A local council was formed as well as a medical system and a civil defense entity," she said by phone Sunday. "And there were different strains of intellectuals: You had Communists, some secularists, Islamists."
It became even more stable than Damascus in some respects, she said, especially since the capital was full of checkpoints where a young man could be arrested and pressed into military service.
In 2013 the government decided it had had enough: It couldn't stanch the flow of fighters to Damascus from Ghouta, but it could cauterize the wound.
The army grabbed transit points into the rebel-held enclave to choke off supplies coming from Turkey and Jordan, even as other units pushed the front line away from the capital. (They stand accused of deploying sarin in a chemical weapons attack on Ghouta in August 2013 that killed hundreds.)
It was the beginning of a siege that, Rehan said, was "worse than shelling, worse than death, worse even than the chemical attacks."
Prices became five and even 10 times higher, forcing people to forgo basic foodstuffs. Sugar was scarce, so people used saccharin. Animal feed, ground and mixed with water to make a dough, took the place of flour.
One checkpoint in northeast Duma, the Wafideen crossing, Rehan said, became notorious for soldiers exploiting women sent to get food from Damascus. It also became known as the "million pound checkpoint," a reference to the exorbitant fees taken by government soldiers as well as rebels manning each side.
A businessman with strong links to the government as well as people in Ghouta, Mohyee Din Manfoush, built an empire based on taking dairy out of the besieged enclave in exchange for barley and food.
The rebels also dug tunnels stretching into neighborhoods adjacent to central Damascus where the army would not go. Capable of transporting consumer goods, arms, even vehicles, the tunnels became the backbone of a siege economy that enriched the main factions in Ghouta.
Meanwhile, Alloush was now at the zenith of his power, commanding thousands of men and an array of armor he displayed in an ostentatious military parade, televised and uploaded to social media, in March 2015.
He ruled over a pseudo-state of roughly 400,000 people he grudgingly shared with some other factions, but ran it with tactics that echoed those of the government he sought to dislodge in Damascus.
The factions began to interfere in civil society organizations, said Rehan, who, as the first female staffer in Duma's local council, was the target of particular scorn.
Dissent was not tolerated. Many activists were harassed.
"It was a policy of silencing the mouths.… It was the same policy as the regime: If you're not with us then you're against us," said Rehan.
Alloush launched a bid to rout the other factions and consolidate his power in Ghouta.
In the chaos, the government began retaking parts of opposition-controlled areas. The rebels never bounced back, and, when Alloush was killed on Christmas Day in 2015 in a government airstrike, they lost a charismatic leader whom even the West appeared willing to embrace.
It was during that fractured stalemate that the government began its Russian-backed campaign on Ghouta in February.
Employing the same playbook it had used during its battle for east Aleppo, the government marshaled its forces around the enclave as the army began an apocalyptic Russian-backed airstrike, artillery and rocket barrage, killing 1,700 people and forcing hundreds of thousands to hide in basements.
That made way for troops slicing Ghouta into three parts; they subdued each faction in its separate territory and forced members to accept safe passage to areas in the rebel-held north.
All that remained was the Army of Islam in Duma, whose leaders tried to negotiate a deal allowing them to retain control of the city under government stewardship, said Mohammed Alloush, Zahran's brother and a top official with the faction, in a phone interview Saturday.
For Damascus it was a non-starter. This month it started pounding Duma again, and was accused of deploying chemical weapons in an attack that killed 43 people and wounded about 500 others, to force a capitulation by the Army of Islam.
"We got a message [from the government] saying, 'The city will be destroyed with what you just saw if you don't respond,' meaning the chemical [weapons]," Alloush said.
"We gathered the civilians and the opinion was that an exit was the best we could get to preserve civilian life … not because of military weakness."
His group still does not know where it will settle or how it will sustain itself, he said.
Some activists have chosen to stay behind, along with what the U.N. estimates are 92,000 others displaced to government-held areas and as many as 200,000 people who stayed in Ghouta.
But some 63,000 people left, including Rehan. She is among those who went to Idlib.
Idlib, the largest area under rebel control, is thought to be the target of an upcoming government campaign. The rebels, despite the impending battle with loyalist troops, were concerned with fighting each other.
Even now there was danger, with warplanes prowling the skies over the province.
It was like going from "a quick death to a slow one," said Rehan.
At one point, she apologized for not answering questions promptly.
"I'm in an area with clashes," she said, "between rebels."
Bulos is a special correspondent.
Twitter: @nabihbulos
Must-read stories from the L.A. Times
Get the day's top news with our Today's Headlines newsletter, sent every weekday morning.
You may occasionally receive promotional content from the Los Angeles Times.