Family, dignitaries pay tribute as Nelson Mandela lies in state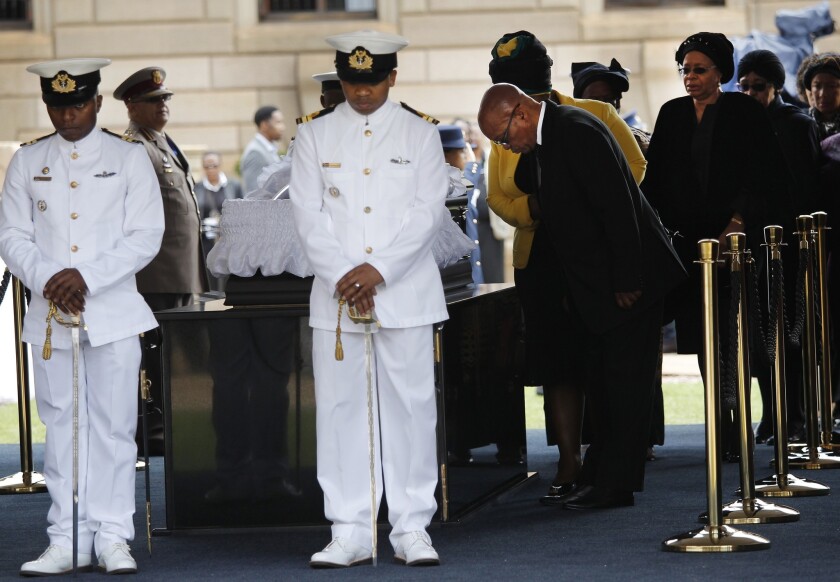 PRETORIA, South Africa -- Draped in a South African flag and carried by eight warrant officers representing the armed forces, Nelson Mandela's coffin was taken up the steps of the Union Buildings on Wednesday to lie in state.
Thin crowds lined the road as the coffin passed on its journey to the seat of government. The way was led by a phalanx of motorcycle police with their headlights on, many of them moved to tears, underscoring the somber reality of Mandela's death.
The mood was a departure from the joyful celebrations of recent days, which have marked the anti-apartheid hero's contributions as a freedom fighter and peacemaker.
Chantell Rooibadjie, 36, sprinted from her house in her pajamas to see the motorcade as it passed.
"I just wanted to pay my respects," she said. "It's not a nice feeling. I still feel like crying. I felt like it's my own father who's being carried."
Mandela's grandson, Mandla, the clan's tribal chief, looked stricken as the coffin arrived at the Union Buildings -- an important symbol in South Africa as the former seat of apartheid power and later the site of Nelson Mandela's inauguration as the first democratically elected president 19 years ago. The buildings are the current seat of the presidency.
Mandla Mandela followed the coffin as it was borne up into complex's stone amphitheater, which South African President Jacob Zuma on Wednesday formally named the Nelson Mandela Amphitheater.
The coffin which has a glass section from the chest up to show Mandela's face, was set under a grand mahogany canopy with a roof of translucent fiberglass tiles. Flowers placed near the coffin included orchids, lilies and a rare aloe from the Eastern Cape where Mandela was born and grew up.
Zuma filed in to see the body first, followed by Mandela's widow, Graca Machel, and former wife Winnie Madikizela-Mandela, wearing black turbans. They were followed by dozens of other family members, including one elderly relative draped in a South African flag.
South African and world leaders then filed past, paused and bowed in front of the coffin in homage to Mandela's achievement in negotiating a peaceful end to apartheid and ushering in a peaceful stable democracy. Former South African President Thabo Mbeki, who was Mandela's deputy and succeeded him, paid tribute as well.
F.W. de Klerk, the man who with Mandela negotiated the transition from white-minority rule and who shared the 1993 Nobel Peace Prize with him, showed visible emotion as he passed, blinking his eyes. They received the award 20 years ago, almost to the day, on Dec. 10, 1993.
Mandela's personal assistant, Zelda la Grange, wept as she viewed his body.
Another of Mandela's grandsons, Ndaba Mandela, urged members of the public to take a second to stop to look at Mandela as he lies in state.
He said looking at the casket was difficult but provided a sense of closure. Ndaba Mandela said the family was comforted by the huge contingent of foreign leaders who paid tribute, according to a Johannesburg radio station.
Next, staff at the Union Buildings filed through to view the casket.
"I just hope I won't cry," said Paul Letageng, 47, an asset manager in charge of equipment.
"It's amazing to think that 19 years ago he was inaugurated there, and now he's lying there. If he was not here, we would not have had peace in South Africa," he said.
After staff passed through, members of the public, bused in from several locations around Pretoria to avoid congestion, filed past the body, many of them decked out in African National Congress colors.
ALSO:
Obama handshake with Cuba's Castro stirs reaction
At Mandela memorial service, Obama urges world to honor his spirit
South African President Zuma humiliated at Nelson Mandela memorial
Twitter: @latimesdixon
---
Must-read stories from the L.A. Times
Get all the day's most vital news with our Today's Headlines newsletter, sent every weekday morning.
You may occasionally receive promotional content from the Los Angeles Times.