Floyd Mayweather Jr. used his superior boxing skills and stamina to defeat a game but outmatched Conor McGregor by technical knockout in the 10th round during a super-welterweight fight Saturday night in Las Vegas.
The best from Times boxing writer Lance Pugmire and columnists Dylan Hernandez and Bill Plaschke leading up to the fight:
Las Vegas
Less-than-capacity crowd still paid dividends for Mayweather-McGregor gate
The T-Mobile Arena attendance Saturday for the Floyd Mayweather Jr.-Conor McGregor fight was 14,623, about 6,000 shy of the capacity crowd for the Canelo Alvarez-Julio Cesar Chavez Jr. bout in May.
"You're not going to always get it right," Mayweather Promotions CEO Leonard Ellerbe told the Los Angeles Times Saturday night after the bout.
"It's all about delivery. The fans who were here enjoyed themselves."
Mayweather's powerful manager, Al Haymon, set prices for UFC champion McGregor's pro-boxing debut that matched Mayweather's 2015 victory over seven-division champion Manny Pacquiao — $10,000 for floor seats, and nothing in the lower bowl for less than $3,500.
One section appeared mostly empty in the building, and the massive number of Irish seen on the Strip were noticeably not represented the arena.
Yet, the prices did accomplish the intended goal.
Mayweather said after the bout that the money generated from the bout set a new live-gate record fro combat sports of nearly $80 million.
Las Vegas
Mayweather reaches 50-0 with 10th round TKO over McGregor
Floyd Mayweather Jr. closed out his distinguished career at 50-0. UFC champion Conor McGregor lasted into the 10th round in his pro boxing debut against the best boxer of his generation.
So, both men could declare victory Saturday night in their novelty boxing match at T-Mobile Arena.
Mayweather, 40, set aside the ills of age after a slow start, finding his groove to hammer McGregor with a series of punches that led to a 10th-round technical-knockout victory in front of 14,623 spectators, well shy of T-Mobile's capacity of more than 20,000.
"He's a lot better than I thought he was, but I was the better man," Mayweather said.
Mayweather did little offensively in the first four rounds, as McGregor landed clean jabs, punches and even some dubious mixed martial arts-inspired hammer fists to the back of the head.
But Mayweather soon reverted to the master tactician who knows how to win rounds, peppering McGregor with an impressive three-punch series of right hands in the sixth round.
His accuracy and tempo increased into the ninth, when McGregor resorted to desperate holds after being hurt by blows. Mayweather perfectly timed what he said was a strategy to test McGregor's cardio endurance beyond the longest possible UFC fight.
"We know in MMA he fights for 25 minutes," Mayweather said. "After 25 minutes, he started to slow down."
Said McGregor: "I thought I took the early rounds pretty handily. He had to change his style, and he adjusted."
In the 10th, Mayweather crushed McGregor with three hard rights as part of an onslaught that convinced referee Robert Byrd to stop the fight 1 minute 5 seconds into the round.
"I was just a little fatigued," McGregor said. "He was just a lot more composed with his shots. I have to give it to him. That's what 50 pro fights will do for you."
All three judges had Mayweather leading at the stoppage. Dave Moretti had it 87-83, Burt Clements 89-82 and Guido Cavalleri had it 89-81.
I guaranteed everybody this fight wouldn't go the distance
Floyd Mayweather Jr.
"I guaranteed everybody this fight wouldn't go the distance," Mayweather said. "Boxing's reputation was on the line. Boxing's a hell of a sport."
Mayweather's previous fight, against Manny Pacquiao in May 2015, was not a great night for the sport. It was dull and plodding.
"I owed [fans] for the Pacquiao fight," Mayweather said. "I said I wouldn't back down."
McGregor proudly hung in as total punches landed were 88-82 in Mayweather's favor after seven rounds. He also showed an impressive jab, landing 27 to Mayweather's 18.
In the end, Mayweather out-landed McGregor 170-111 in total punches, and 152-84 in power punches.
But McGregor can boast that nine of Mayweather's opponents in 12-round fights landed fewer than 100 punches in the entire bout. McGregor posted his 111 in less than 10 full rounds.
"When you're here in the squared circle, everything is different," McGregor said. "He's composed. Not that fast or powerful, but, boy, is he composed."
McGregor embraced Mayweather afterward, the pair sharing complimentary words.
"Conor's a hell of a champion," Mayweather said.
After the fight, McGregor said he thought Byrd should have let the bout go on, even though he didn't immediately dispute the stoppage in the ring after ducking and showing no willingness to throw a punch to answer Mayweather's attack.
"Let me try to recompose myself," the 29-year-old McGregor said. "I'm brand new to the sport. Let me walk back to my corner."
He was left to accept a moral triumph of sorts, knowing more millions of dollars await as he promised to return to UFC fighting, far prouder than he was when he lost to Nate Diaz in a UFC fight last year.
"I've been strangled on live TV and came back," McGregor cracked.
Before the fight, UFC executives described McGregor's involvement in the longshot attempt to defeat Mayweather as a "win-win," thanks to the massive mainstream attention Saturday's unique event brought him and the organization.
It could be the richest pay-per-view fight of all time.
There was no shame in losing to Mayweather, the UFC executives reasoned, noting that seven-division champion Pacquiao, along with four-division champions Miguel Cotto and Juan Manuel Marquez, had been convincingly defeated by the tactician.
"What can I say? I had a bit of fun and hopefully entertained the fans," McGregor said.
When the fight was over, Mayweather committed to a life in retirement — although he has come back three times after calling it quits previously — and said he'll earn more than $300 million for this fight.
"This was my last fight tonight. For sure," Mayweather said. "I look forward to going into the Hall of Fame someday."
Commendable showing for McGregor in defeat
Going into his fight with Floyd Mayweather Saturday night, there was widespread dismissiveness of Conor McGregor's chances. He didn't belong in the ring with Mayweather. He wouldn't land a punch. Given that backdrop, McGregor and his supporters have to take some solace and even pride in his knockout defeat. McGregor looked like he belonged with a boxing icon, and it made for an entertaining fight.
Early on, Mayweather appeared to have difficulty figuring McGregor out. As the fight progressed, Mayweather found more openings and began to land with regularity. More important, McGregor tired, as he often has in longer MMA fights. McGregor's downfall was that cardio and not an inability to compete with Mayweather. McGregor also forced Mayweather to step up his aggression and score the sort of impressive finish that Mayweather hasn't always delivered.
After the fight, Mayweather acknowledged that McGregor was better than he expected. McGregor was positively glowing with enthusiasm, clearly pleased with the performance he delivered. He secured a massive payday and may have raised his status in the process. If McGregor returns to MMA (and he said he would after the fight), his fights will be even bigger events than they were prior to his boxing foray.
Round 9: Mayweather puts McGregor in trouble
Great start of the round by McGregor with a nice body shot that hurt Mayweather. 
McGregor is being the aggressor again in this round. Mayweather seems to be content to defend this round. Good right by Mayweather. Good combo by Mayweather and McGregor looks hurt. 
This could be it. Solid combination by Mayweather has McGregor struggling to make it out of the round. Mayweather keeps coming forward and McGregor is in trouble. 
Will he make it out of the round? Mayweather is opening on McGregor, who is basically out on his feet. 
Great round by Mayweather and this may do it. I don't see McGregor getting through this. 
LA Times Card:  10-9 Mayweather (86-85 Mayweather)
Round 8: McGregor wins close round; fight even
Mayweather looking loose this round, although McGregor is landing some nice shots. Nice exchange for both fighters. 
Not a lot of action in the round but this is the best round for McGregor since the third. Nice combination by McGregor. 
A very close round. McGregor might have gotten it. But this will be the round that could be key in how the judges call it. 
LA Times Card: 10-9 McGregor (76-76 even)
Round 7: Power punches finally landing for Mayweather; McGregor tiring
Lots of clutching in this round, and it looks like McGregor is tiring a bit and is looking to recharge a bit. 
A good combo by Mayweather, and it forces McGregor to clinch. McGregor looks fatigued a bit. Mayweather is landing some hard rights. McGregor doesn't look like he has many answers at this point. 
Mayweather seems to be landing his shots easily. Another solid round for Mayweather. He is now in front. 
LA Times Card: 10-9 Mayweather (67-66 Mayweather)
Round 6: Best round of the night for Mayweather; fight is even
Mayweather turns his back on McGregor and the ref has to separate the two after some punches to the back of the head. 
Nice rights by Mayweather, and he is finally looking like the best of his generation. McGregor is looking tired and not solid on his feet. 
Good response by McGregor as he looks recuperated. The two are smiling in the middle of the ring. This seems like the round that it turns around for Mayweather. 
Some nice chants for McGregor, and he showboats a bit by putting his hands behind his back again. The best round of the night for Mayweather. It's even. 
LA Times Card: 10-9 Mayweather (57-57 even)
Round 5: Close round to Mayweather; McGregor tiring
Slower start to the fifth round. McGregor is landing his jab effectively. Mayweather is looking slow, lack of his footwork is evident. 
Mayweather is finally trying to take the action to McGregor but suprisingly McGregor has been able to evade them. McGregor is looking a little tired now. 
Not a ton of action, but Mayweather looks like he may be imposing his will. He even got a little push in after the bell. 
LA Times Card: 10-9 Mayweather (48-47 McGregor) 
Round 4: Close round that goes to Mayweather
McGregor throwing some combinations early in the round. They didn't hurt Mayweather but this is pretty shocking so far. There is nothing of the action from Mayweather that he promised. 
Mayweather is waking up a bit with a couple of quick jabs. Best round so far by Mayweather as McGregor is looking a little tired. 
Mayweather missing with some strong jabs. A close round but it's the first one for Mayweather.
LA Times Card: 10-9 Mayweather (39-37 McGregor)
Round 3: McGregor gets another one but is fighting a bit dirty
McGregor is getting away with a couple of rabbit punches and he continues to look the aggressor. The McGregor crowd is getting into it. More rabbit punches to the back of the head by McGregor. 
McGregor with a couple of nice jabs in the middle of the ring. Mayweather must be trying to tire out McGregor because he doesn't seem to be very interested in throwing many punches. 
Not much action again and is this really happening? A better round by Mayweather but McGregor might be on a 3-0 run. 
LA Times Card: 10-9 McGregor (30-27 McGregor)
Round 2: Another good round for McGregor
Mayweather content with sitting in the corner and waiting on McGregor to come to him. Mayweather is just measuring up McGregor right now and not a lot of action in the second. 
McGregor is switching up and has landed a couple of nice rights to Mayweather's face. McGregor looks like he belongs and Mayweather isn't doing anything at all, barely throwing punches. 
McGregor is missing more than landing, but Mayweather isn't throwing any punches. Close round but it goes to McGregor beacuse of more punches landed. 
LA Times Card:  10-9 McGregor (20-18 McGregor)
Round 1: McGregor wins first round with more activity
McGregor starts fast and Mayweather is content to rest on the ropes and wait this out. Very awkward stance by McGregor although his reach seems to be an advantage. 
McGregor begins showing off a bit by putting his hands behind his back. Mayweather still trying to figure things out. Nice left by McGregor in the best punch of the night with 30 seconds left. 
Nice early for McGregor. He's got one at least. 
L.A. Times Card: 10-9 McGregor
Mayweather vs. McGregor: Start of main event delayed because of outages and orders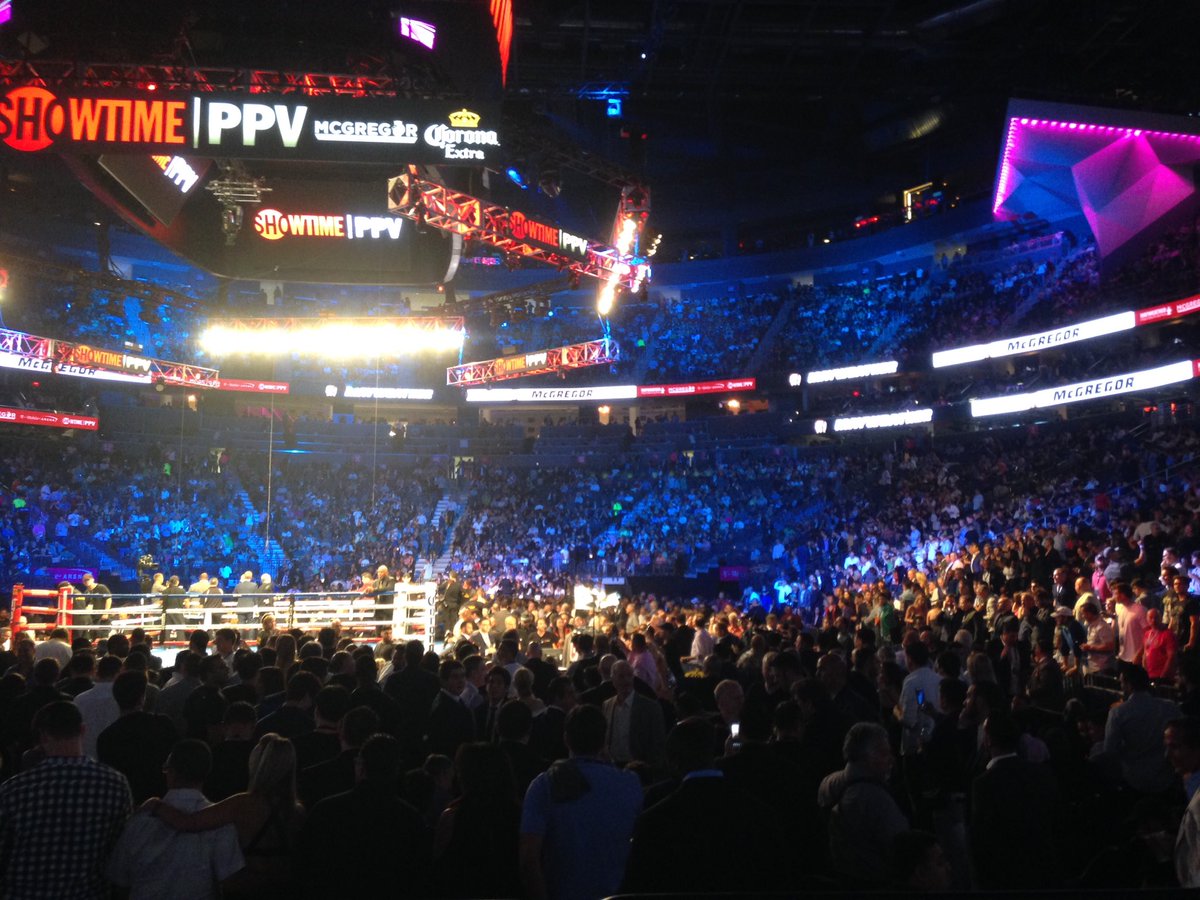 The start of Saturday's Floyd Mayweather Jr.-Conor McGregor boxing match will be delayed briefly, according to Showtime, due to a rash of last-minute fight orders and system outages.
"We have reports of scattered outages from various cable and satellite providers and the online offering," Showtime reported in a statement. "We will delay the start of the main event slightly to allow for systems to get on track."
Mayweather vs. McGregor: It's showtime, sort of
Tell me it's not true. You can't handle the truth. Damn right I can't.
OK, I'm exaggerating, something that never happens in boxing.
Times  boxing writer extraordinaire Lance Pugmire is reporting there may be a delay on the main event because of problems with people being able to buy the pay per view. You've known the fight was for months. If you are caught up in the volume, tough luck. But maybe the volume will catch up.
I've been in this business long enough to know that boxing promoters care only about the numbers — be it attendance or pay-per-view numbers. Can't tell you the number of times we've been brow beaten, cajoled, beer and dined to help promote their fight. But once the fight is there, you're on your own. They don't care. Their job is promotion.
In this case, little promotion was needed. It was like shooting fish in a small pond.
Now, the final warm-up fight is over in eight rounds. Replays showed Gervonta Davis won by hitting his opponent in the back of the head, called a rabbit punch, although it's unclear that any bunnies use them in everyday life.
In the end, we don't care. The long, national suffering has gone on long enough. Time to start the main event.
Clearly the main event won't start at five minutes before the hour (notice the agnostic use of time zones).
But, now it is time.  How much time we don't know although the fact Showtime is showing a long canned feature on Mayweather is not a good sign.
Enjoy the fight. For the behind-the-scene stories, come back here or catch The Times print edition.
Las Vegas
Gervonta Davis wins in lackluster performance against Francisco Fonseca
Gervonta Davis lost his belt by missing weight even before fighting Saturday and his inattention in the ring also led to a more difficult bout than he believed.
Referee Russell Mora controversially awarded Davis an eighth-round knockout victory on a left-handed punch that struck opponent Francisco Fonseca in the back of the head.
Davis (19-0, 18 knockouts) said he hurt Fonseca with a body blow before the punch, and explained that the disputed shot "capped" the damage, although fans who watched replays in the arena booed that thought.
"Everyone saw I was going down from a blow that was not legal," Fonseca said. "I want a rematch. … Even though he came in at 160 pounds, he didn't hit as hard as he says he does."
Davis lost the belt by weighing 132 pounds, two over the junior-lightweight limit Friday, losing his belt and putting the International Boxing Federation title on the line only for the 40/1 underdog Fonseca.
Fonseca (19-1-1) rocked Davis so hard with a punch in the seventh, the former champion was forced to grab the ropes to remain standing.   
Davis immediately swinging aggressive uppercuts to open the bout, trying to end the fight impressively, but he was locked in a tougher test than he thought.
Costa Rica's Fonseca landed a head-jarring punch that forced some flush blows in the third.
Davis responded with a power punch in the fourth and began some showmanship before Fonseca smacked him with a few clean shots.
In the fifth, Davis began showing more seriousness, backing Fonseca with a left, and he landed a hurtful left to the gut in the sixth.
The bout served as the co-main event to the Floyd Mayweather Jr.-Conor McGregor boxing event matching the 49-0, five-division boxing champion against the charismatic UFC champion McGregor, which was not complete at press time.
Davis, after working out under Mayweather's guidance and training feverishly in a rubber suit Thursday night, revealed again the difficulty some boxers have in making weight.
He apologized on Twitter afterward, posting: "I'm young. I'm growing. I had a chance to make the weight. I knew I couldn't make it and that's that. I will have a belt again.
"I lost the belt, not a fight. … I will make it up."
That left Davis' stablemate at Mayweather Boxing Club, former super-middleweight champion Badou Jack, to fight for a belt. He succeeded, stopping Nathan Cleverly by fifth-round technical knockout.
Copyright © 2017, Los Angeles Times