The literary films of summer 2014
Pierce Brosnan also stars in the summer thriller "The November Man," adapted from Bill Granger's novel "There Are No Spies." (August)
(Mel Melcon / Los Angeles Times)
John le Carre's "A Most Wanted Man" comes to screens with Phillip Seymour Hoffman, Rachel McAdams and Willem DeFoe, directed by Anton Corbijn, second from left. (July)
(Jay L. Clendenin / Los Angeles Times)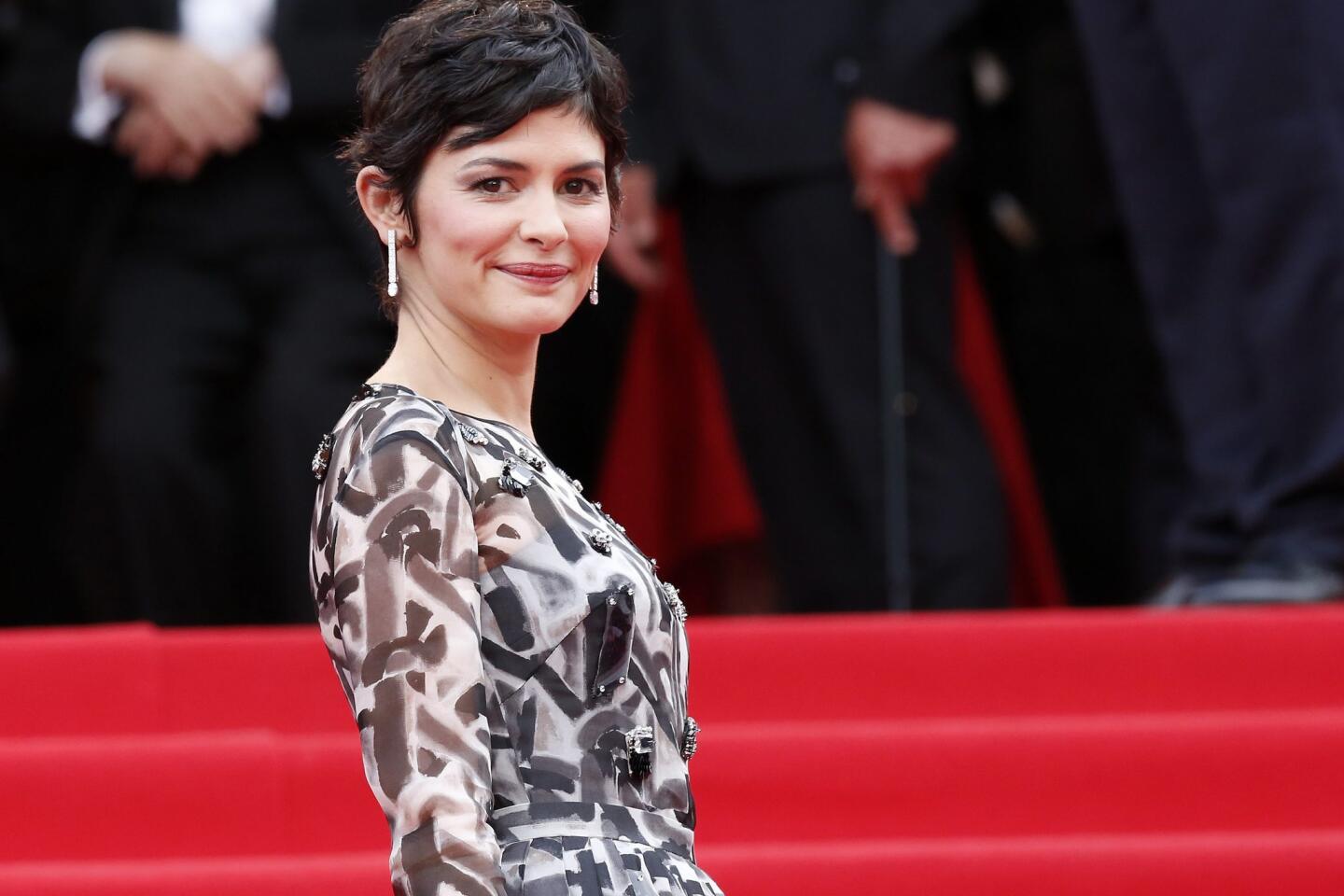 Audrey Tautou stars in "Mood Indigo" from director Michel Gondry, based on French writer Boris Vian's novel (previously published in the U.S. as "Foam of the Daze"). (July)
(Sebastien Nogier / EPA)
Book-loving moviegoers saw the summer of 2014 get off to a great start with the adaptation of John Green's young adult novel "The Fault in Our Stars," which topped the box office during its opening weekend earlier this month.
The success of "The Fault in Our Stars" cuts through the notion that literary films should be serious winter movies and released around the holidays for contention in the Oscar race. This summer we'll see more young adult books made into films, several literary thrillers and some surprises.
------------
FOR THE RECORD
June 25, 11:35 a.m.: An earlier version of this post identified the author of "Venus in Furs" as the Marquis de Sade. It was written by Leopold von Sacher-Masoch. The post also stated that Stanislaw Lem was Russian. He was Polish.
------------
Literary films of summer 2014 include adaptations of books by Patricia Highsmith, Elmore Leonard, Nick Hornby and Cormac McCarthy. And some films aren't adaptations but are still awfully bookish.
Here's our cheat sheet, organized by month:
June
"Third Person" from director Paul Haggis is not a literary adaptation, but its central character is a writer, as its movie poster makes clear. He is played by Liam Neeson; the film also stars Maria Bello, Mila Kunis, Olivia Wilde, Kim Basinger, Adrian Brody, James Franco and others.
"Venus in Fur," in French, is directed by Roman Polanski. The film is based on a stage play, which, in turn, was based on the Victorian classic of illicit sexuality, the book "Venus in Furs" by the Leopold von Sacher-Masoch.
July
"The Congress," starring Robin Wright. Wright plays an actress who sells a complete digital version of herself to a movie company, later winding up partly in a digital world and partly in a strange dystopia. Very loosely based on Polish science fiction writer Stanislaw Lem's "The Futurological Congress."
"A Long Way Down," adapted from the novel by Nick Hornby ("About a Boy"). Four strangers meet on a London rooftop where they each planned to commit suicide -- but then spend time together instead. Starring Pierce Brosnan, Toni Collette, Aaron Paul and Imogen Poots.
"Mood Indigo" starring Audrey Tautou. Adapted from a book by French writer Boris Vian, which has been released in English with that title and in a new edition as "Foam of the Daze," it's an absurdist science fiction romance directed by Michel Gondry.
"A Most Wanted Man" is adapted from the novel by John Le Carre. It stars Philip Seymour Hoffman in one of his last roles, along with Rachel McAdams, Willem Defoe and Robin Wright (busy!).
July honorable mention: "And So It Goes," starring Michael Douglas and Diane Keaton and directed by Rob Reiner, takes its name from Kurt Vonnegut's "Slaughterhouse-Five" -- but this film has nothing to do with the novel.
August
"Child of God" is adapted from an early, dark Cormac McCarthy novel. Directed by James Franco (busy!), the film stars Scott Haze and Tim Blake Nelson.
"The Giver," adapted from Lois Lowry's young adult novel, which won the 1994 Newbery Award. Jeff Bridges is an elderly man who helps Brenton Twaites see what's behind his uniform futuristic world.
"The Hundred Foot Journey," which stars Helen Mirren, is from the novel by Richard C. Morais set in the south of France; French and Indian cuisines and cultures collide.
"If I Stay," adapted from the bestselling young adult novel by Gayle Forman about a 17-year-old facing incredibly difficult decisions. The film stars Chloë Grace Moretz and Jamie Blackley.
"Life of Crime," an adaptation of Elmore Leonard's 1971 novel "The Switch." Starring Jennifer Aniston as a wealthy 1970s housewife who is kidnapped -- and her husband doesn't want her back. With Tim Robbins, Isla Fisher, Mos Def, Will Forte and John Hawkes.
"The November Man" starring Pierce Brosnan (busy!) is adapted from bestselling thriller writer Bill Granger's novel "There Are No Spies."
"The Two Faces of January" is adapted by from the novel by Patricia Highsmith. Like her Ripley series, this involves travel, love and deceit. Starring Viggo Mortenson, Kirsten Dunst and Oscar Isaac.
"When the Game Stands Tall," a true story of high school football, is adapted from a book of the same name by Neil Hayes. The film is directed by Thomas Carter and stars Jim Caviezel and Michael Chiklis.
Like passing notes in class; I'm @paperhaus on Twitter
Sign up for our Book Club newsletter
Get the latest news, events and more from the Los Angeles Times Book Club, and help us get L.A. reading and talking.
You may occasionally receive promotional content from the Los Angeles Times.