Should L.A. have a Wanda Coleman Memorial Library?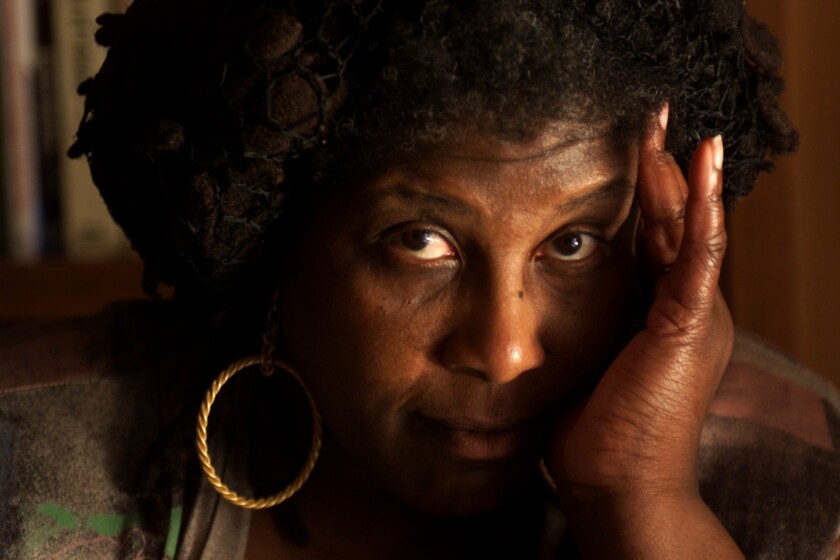 Los Angeles Times Book Critic
Little more than a year after the death of Wanda Coleman, the poet's husband, Austin Straus, is asking the Los Angeles Public Library to honor her memory. In a letter sent earlier this month to the Board of Library commissioners, Straus requests that the library's Ascot branch, on Florence Avenue and Main Street in South Los Angeles, "be renamed The Wanda Coleman Memorial Library."
This, it should go without saying, is a great idea.
In her 2005 book "The Riot Inside Me," Coleman recalls her early visits to the library, although even there, she writes, she was required to work the system: "At that time," she tells us, "books were segregated — you had boys' literature and girls' literature. When I went to the library (Ascot and Downtown branches), I could read 'Cheryl Crane, Nurse," books by the Bronte sisters, and Nancy Drew mysteries — yes, those horrible things! But I wasn't allowed to read Sir Arthur Conan Doyle or H.P. Lovecraft — the boy's books."
Her solution? "I would have my father go to the library with me. I would pick out what I wanted and he would check the books out. … Then I could read to my heart's content!"
Here, we see the adult Coleman in protean form: engaged, resourceful, unwilling to be bound by the arbitrary limits of a culture against which she would push throughout her life. In that sense, her heritage as a poet, as an essayist and as an Angeleno begins at the library. For her, books were often "hard to come by," in a neighborhood where "[t]here were no colored-owned bookstores."
At the same time, they were absolutely necessary. I think of her reflections on Lewis Carroll, whose nonsense rhymes "made perfect sense" to Coleman "in my childhood world — Los Angeles in the '50s."
She continues: "It was a city where up was down and down was up. Black adults were always scrounging for money, regardless of how good or how bad they were. … Distances were deceptive and maps untrustworthy. … We were free citizens, yet there were places in the city that we could not visit after sundown."
Half a century later, things have changed and yet they haven't — both in Los Angeles and across the United States. This is still a looking glass city when it comes to race and class and even poetry, which makes Coleman's work as piercing, as relevant, as it ever was.
For Straus, then, the point is not only to celebrate Coleman's legacy. It is also a way to place her in a context, one that extends into the future as well as the past.
In fact, the Los Angeles Public Library does not rename branches, although a branch can be "dedicated" in the name of someone. "Once we receive a request," explains library spokesperson Peter Persic, the Board of Library commissioners decides whether to deny or to move foreward with the process, which includes "a three month comment period to gather input from the community."
Coleman, of course, was for many years a central figure in Los Angeles' literary community, which is part of what makes this such a vivid and appropriate way to honor her.
"Please consider my request," Straus writes, "noting that many L.A. poets support this idea, will donate signed copies of their books, will help raise funds for the library, and will participate in annual, and perhaps more frequent, poetry readings at the library. … (I hope ultimately to give this library an excellent poetry section, probably the best one in town.)"
twitter: @davidulin
---
Get the latest news, events and more from the Los Angeles Times Book Club, and help us get L.A. reading and talking.
You may occasionally receive promotional content from the Los Angeles Times.