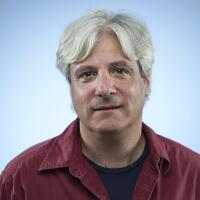 David L. Ulin is the former book critic of the Los Angeles Times. A 2015 Guggenheim Fellow, he is the author or editor of nine books, including "Sidewalking: Coming to Terms with Los Angeles," the novella "Labyrinth," "The Lost Art of Reading: Why Books Matter in a Distracted Time" and the Library of America's "Writing Los Angeles: A Literary Anthology," which won a California Book Award. He left The Times in 2015.
"Punk Rock Is Cool for the End of the World" showcases the late L.A. poet's work in a compilation by David Trinidad.

This weekend, Union Station — the last classic rail terminal to be completed in the United States — will mark its 80th birthday with live music, a model train exhibition, food trucks and a crafts fair.

The novel takes place across decades and tells overlapping stories as it tries to piece together a fallen world.

I can't stop thinking about a photograph that has been making the rounds on social media: David Hockney and Joni Mitchell, holding hands earlier this month as they walk through Hockney's new exhibition at L.A.